Styling 
Karla Ortiz
Photography 
Tereza Janakova
Hair & Make-up 
Veronika Robova
Model 
Cristina Piccone, Fusion NYC
Look 1
Dina Suit Jacket and Pant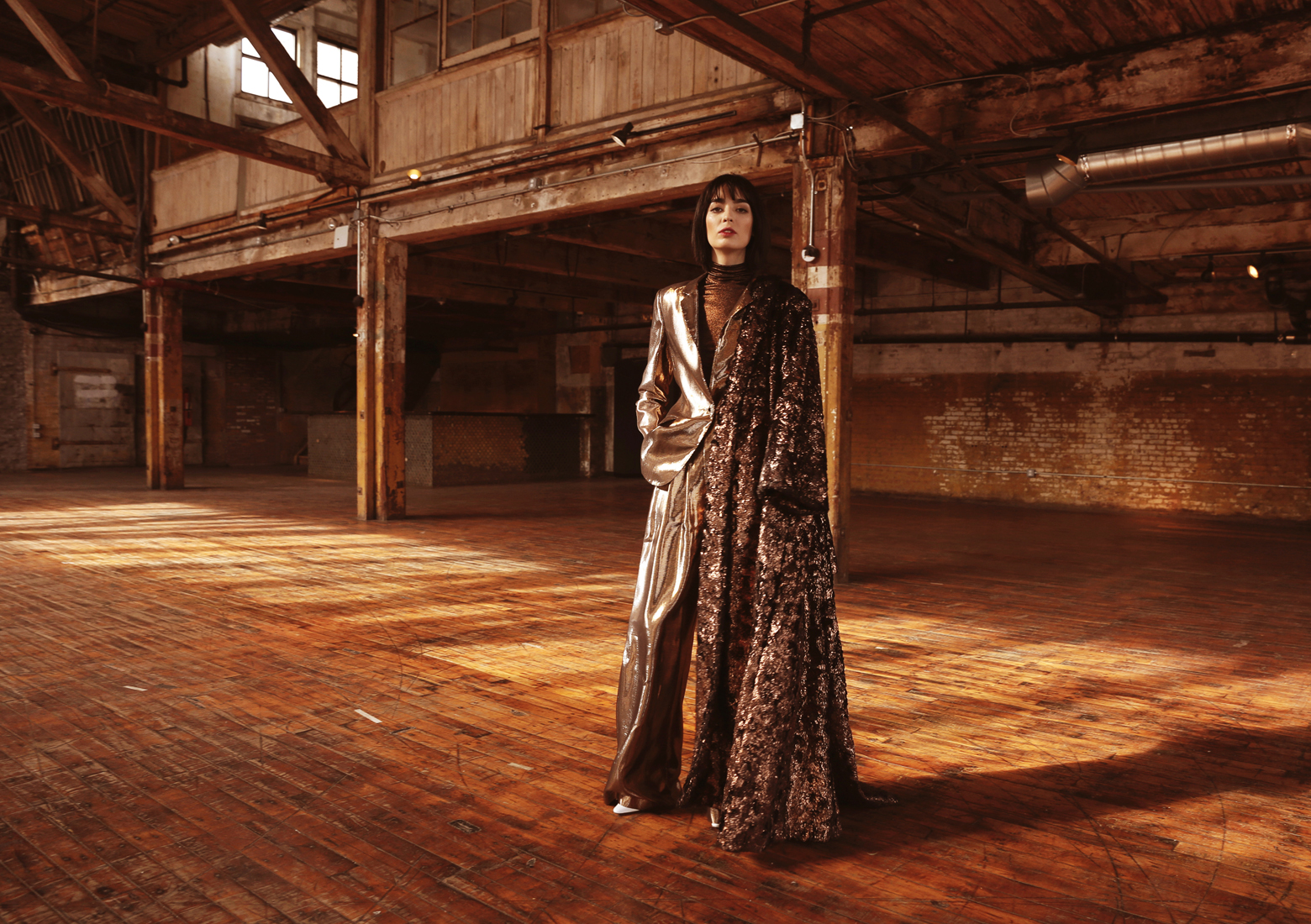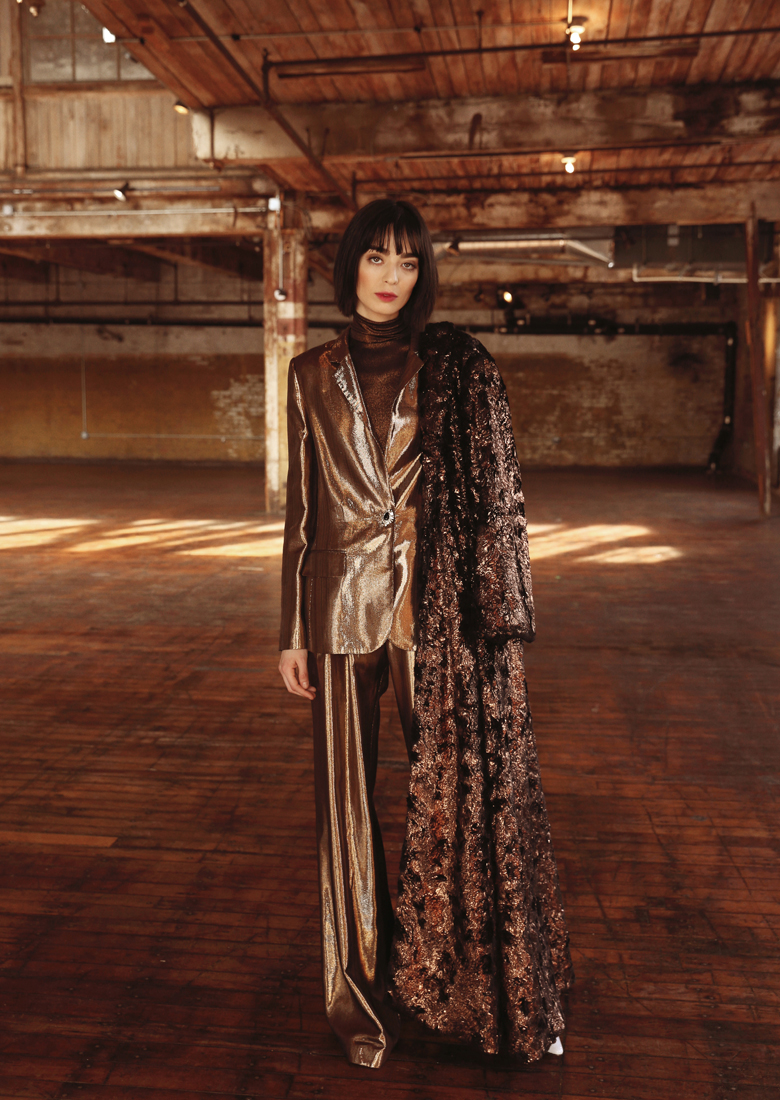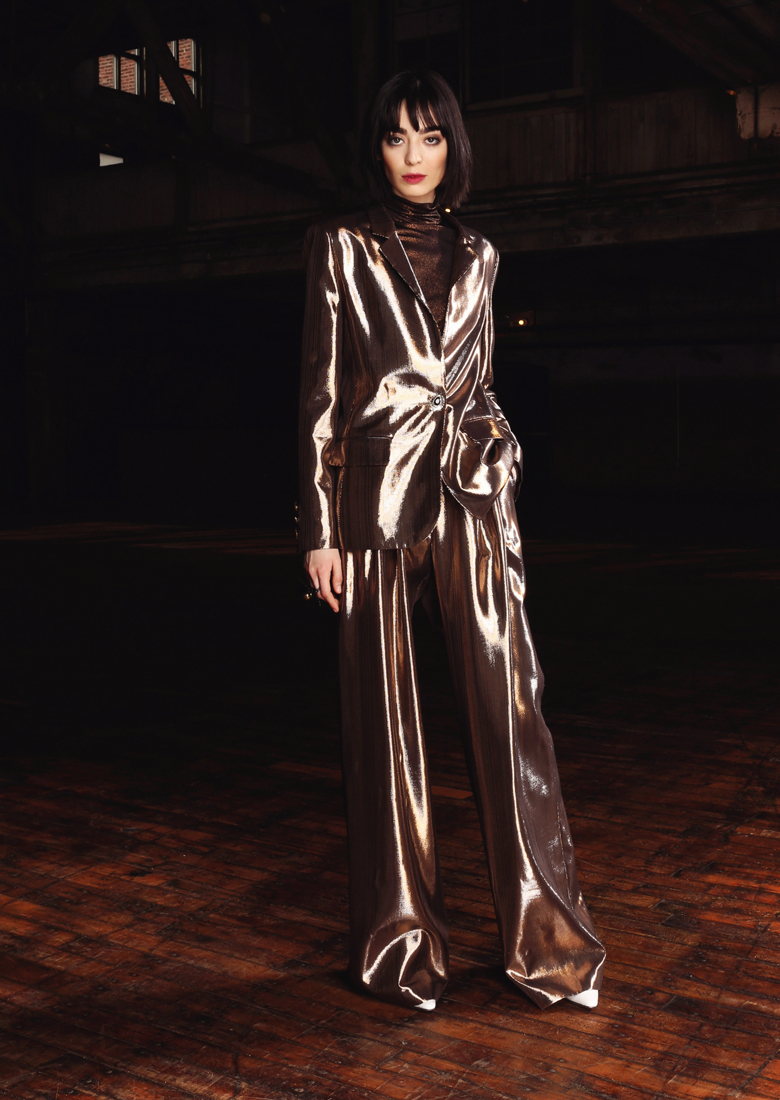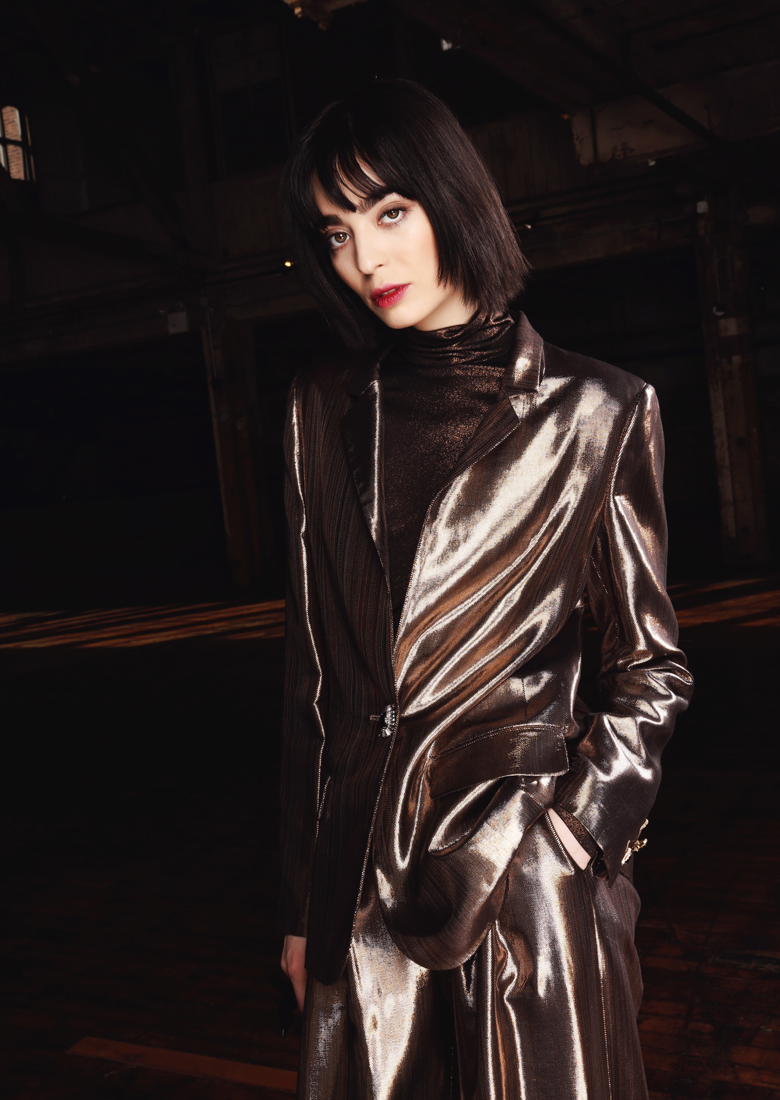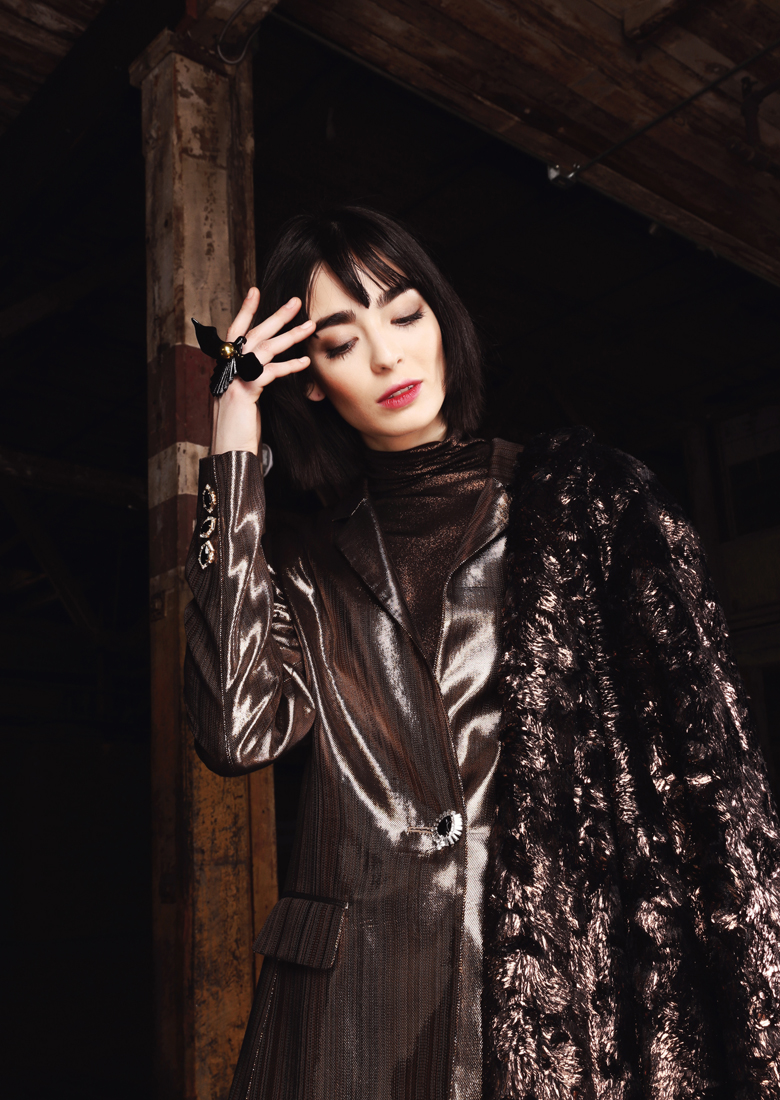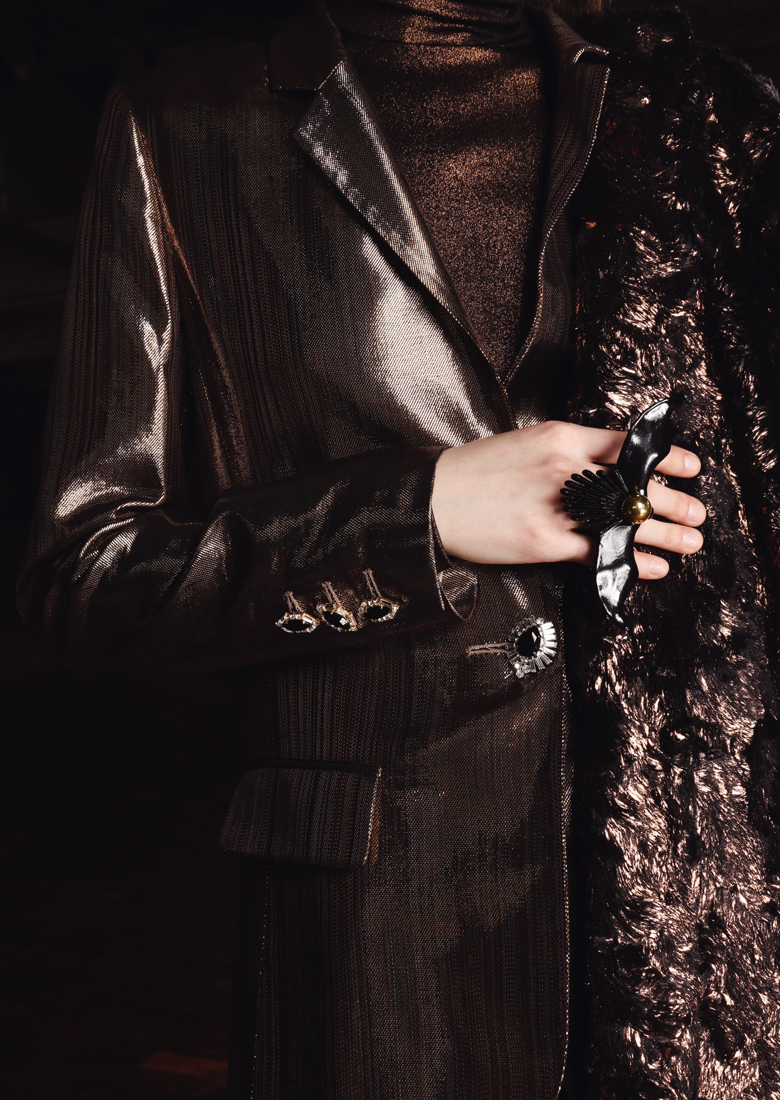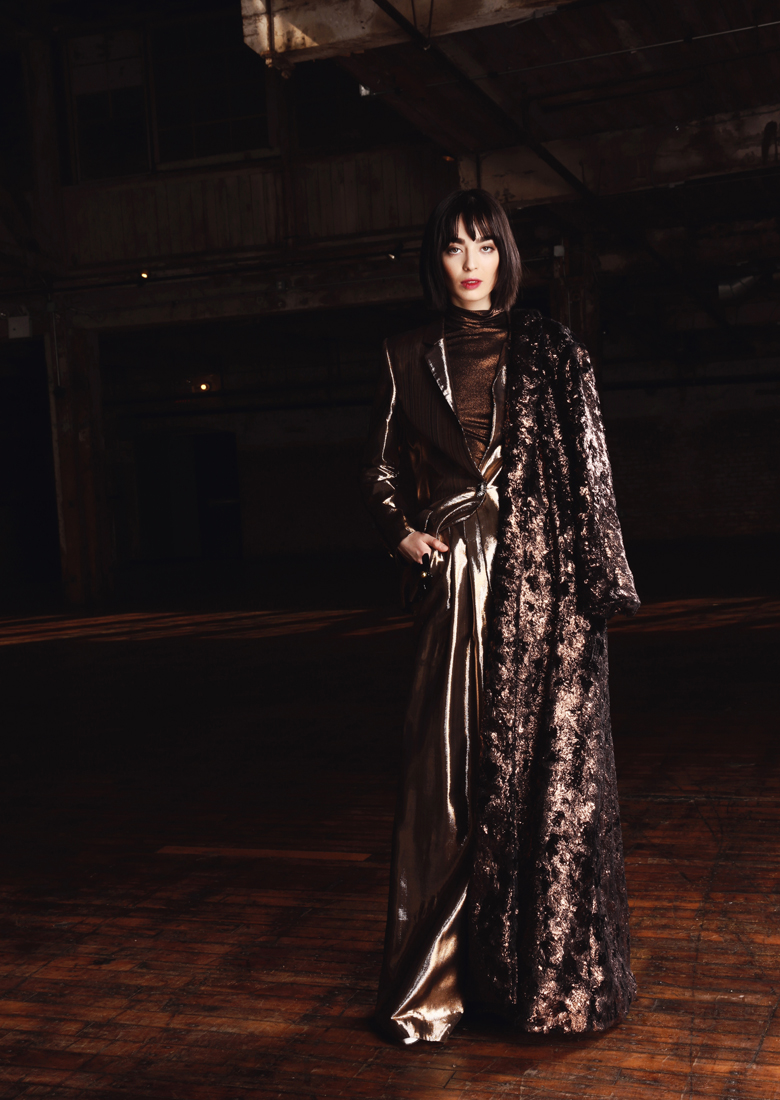 Look 2
Power Dress in Burnt Copper Metallic Stretch Twill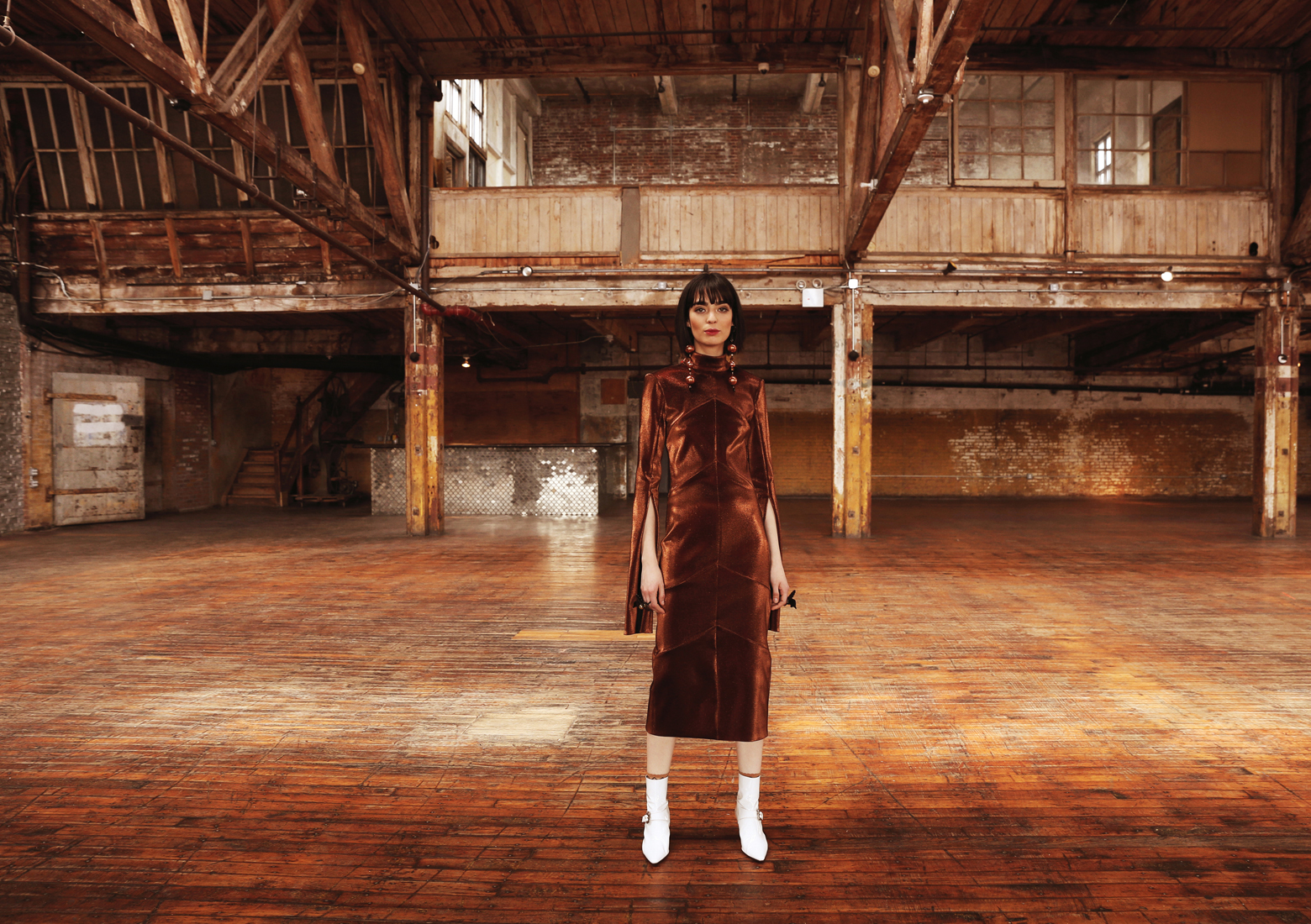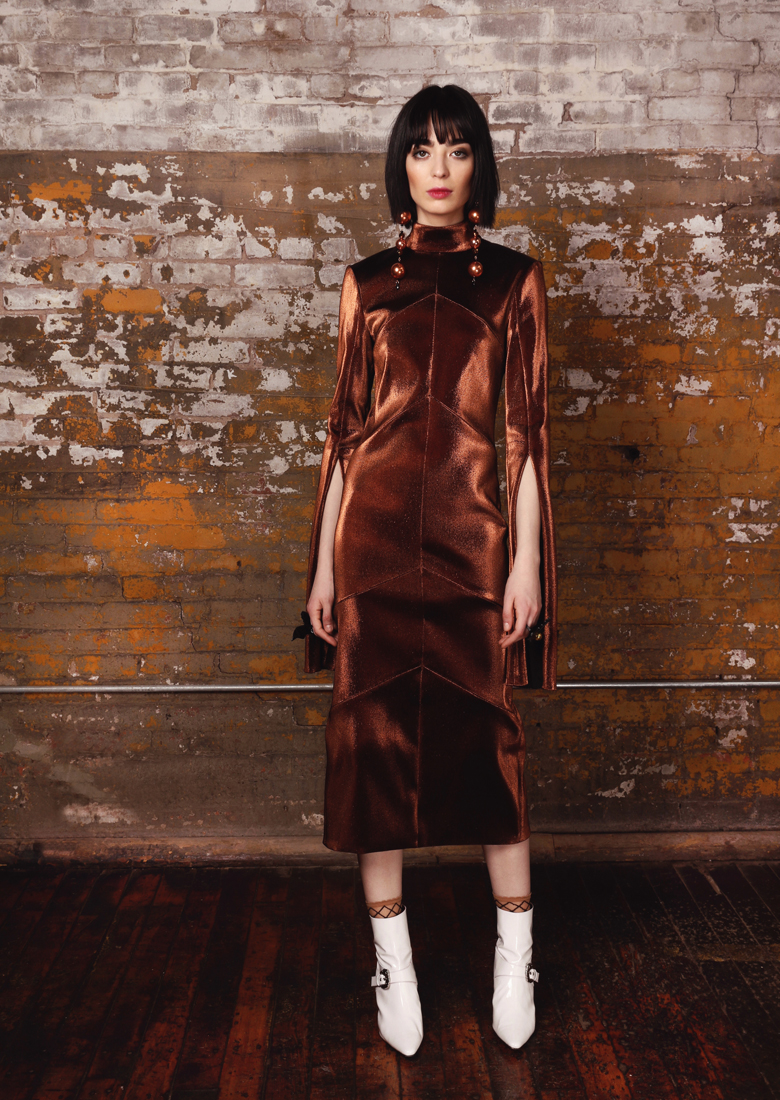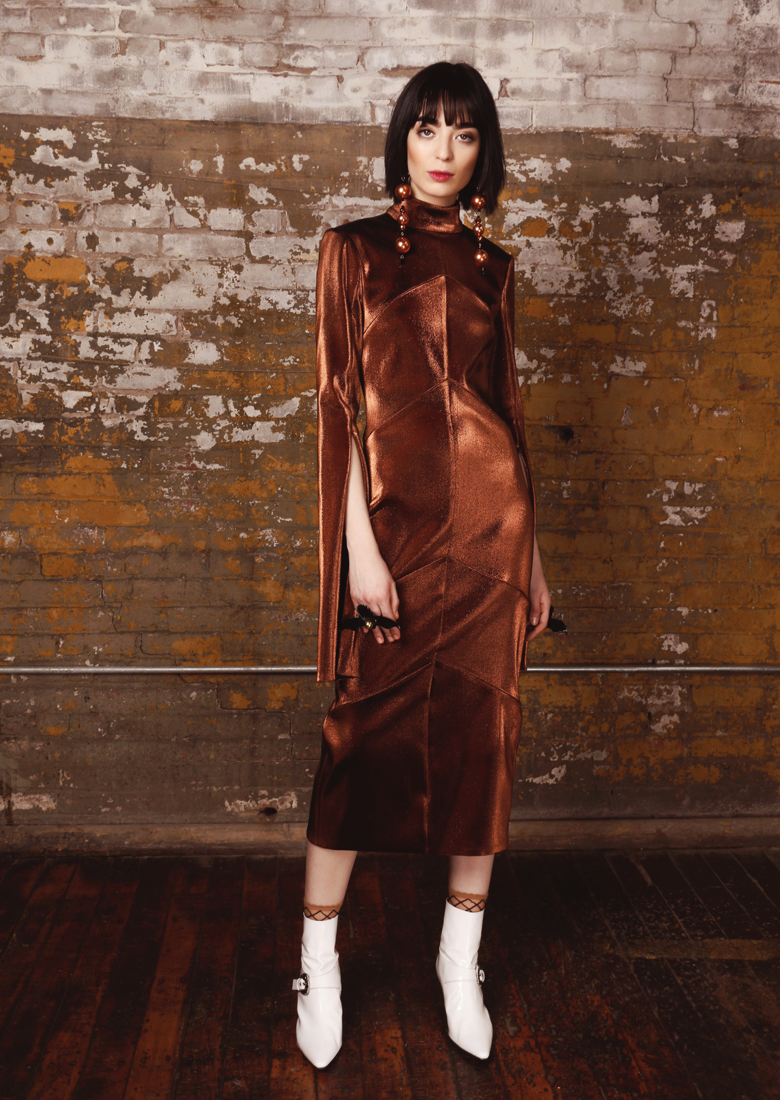 Look 3
Sarnai Opera Coat in Novelty Raffia with hand-appliqued feather hem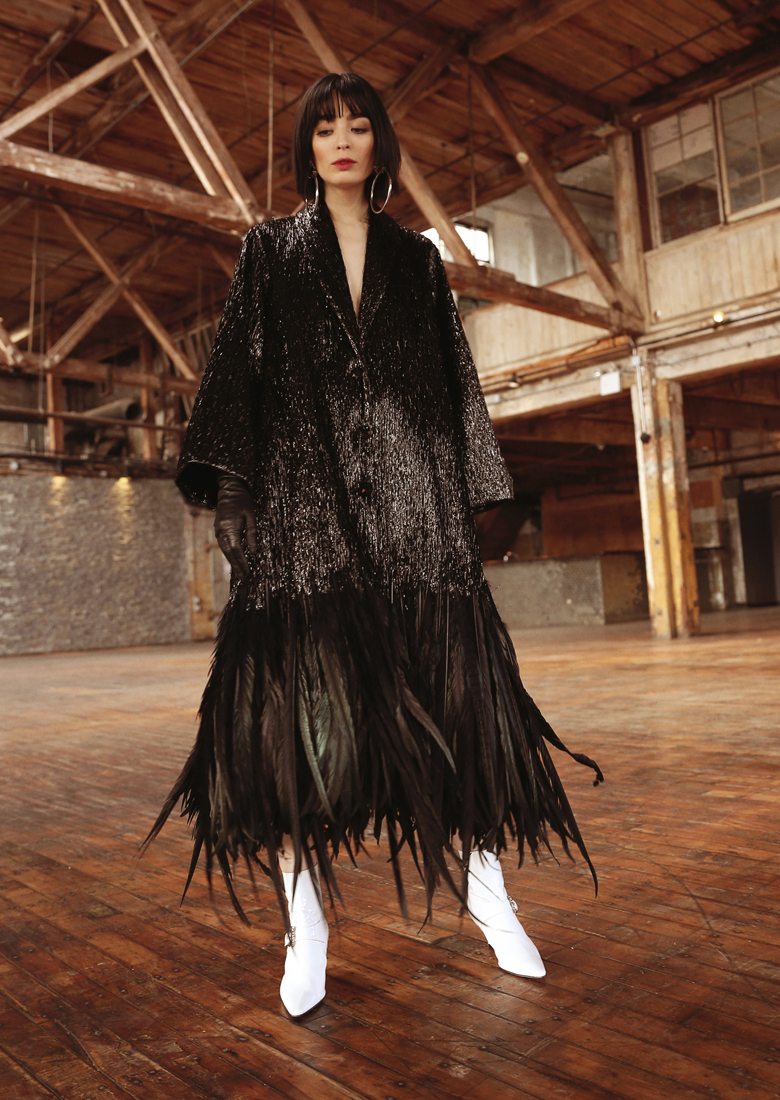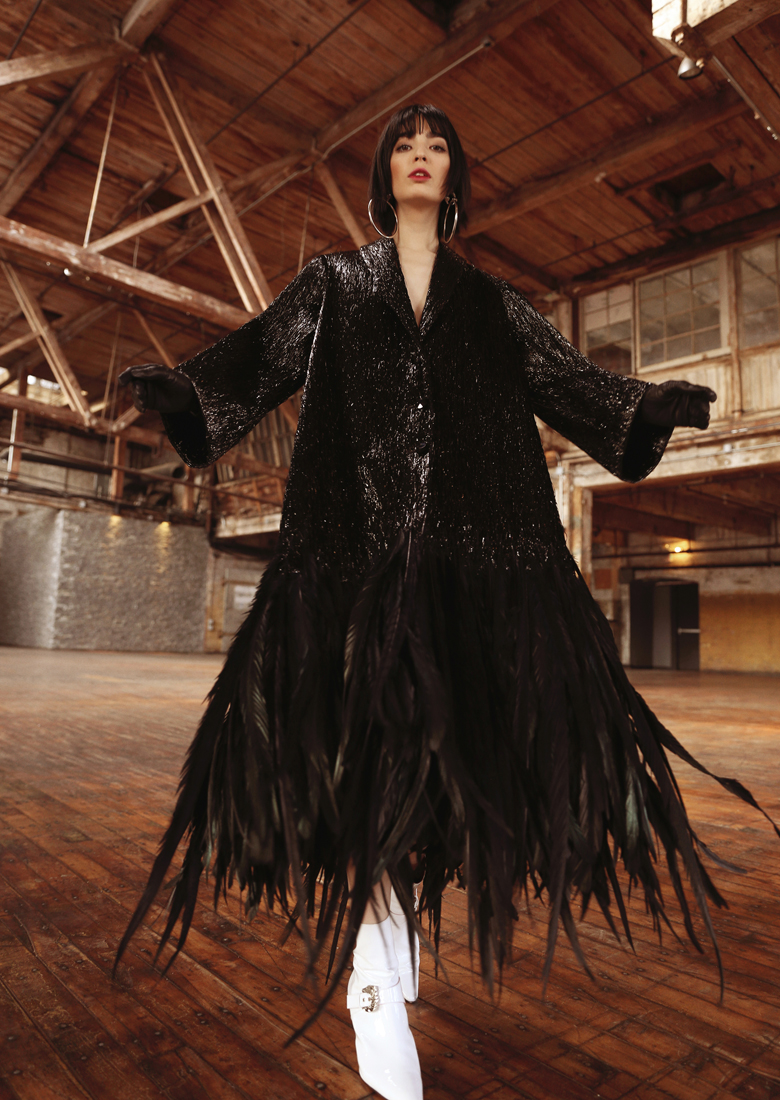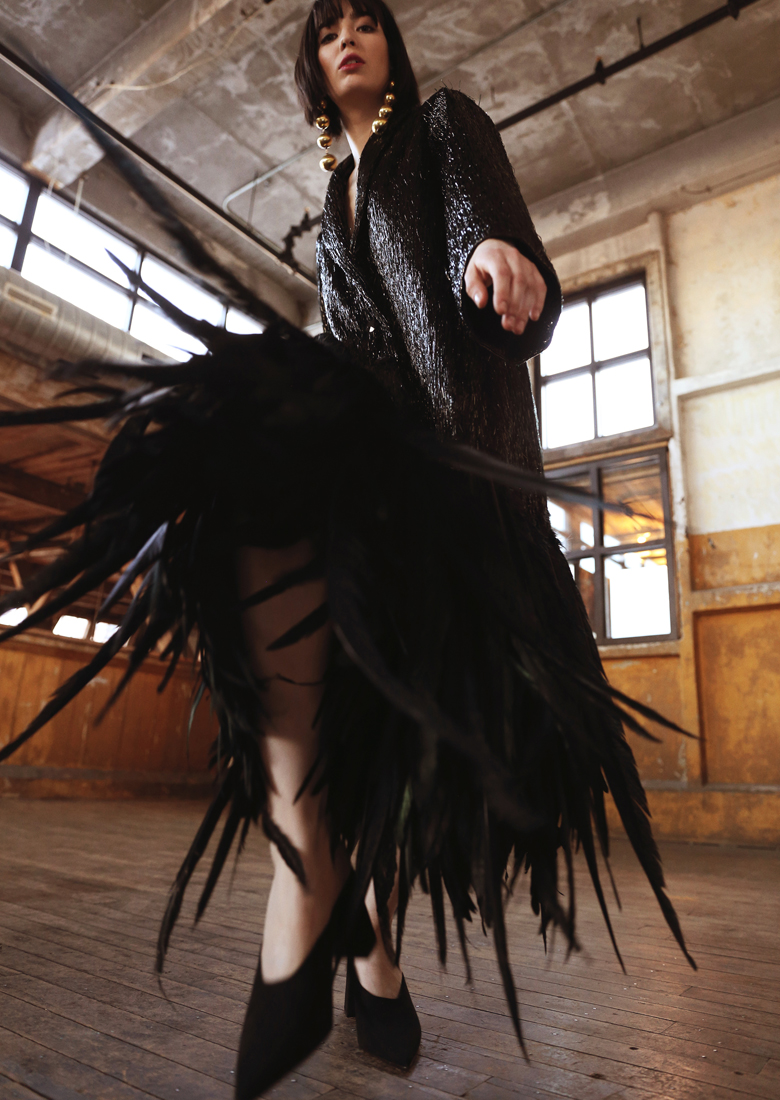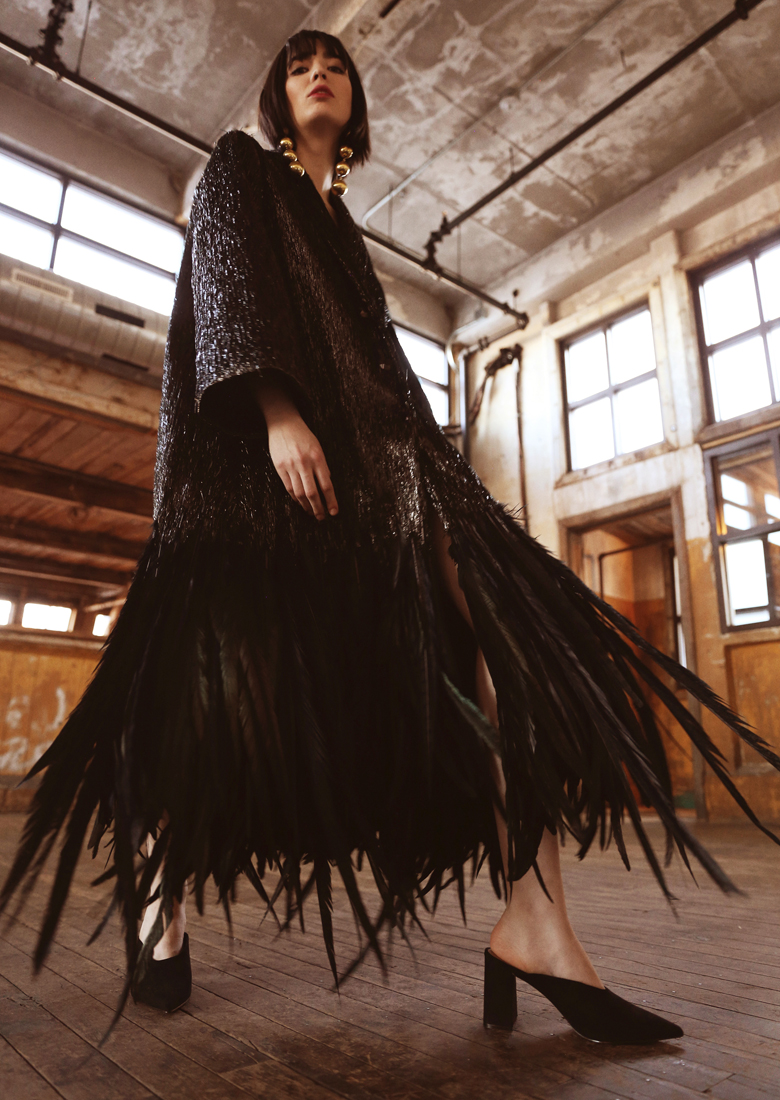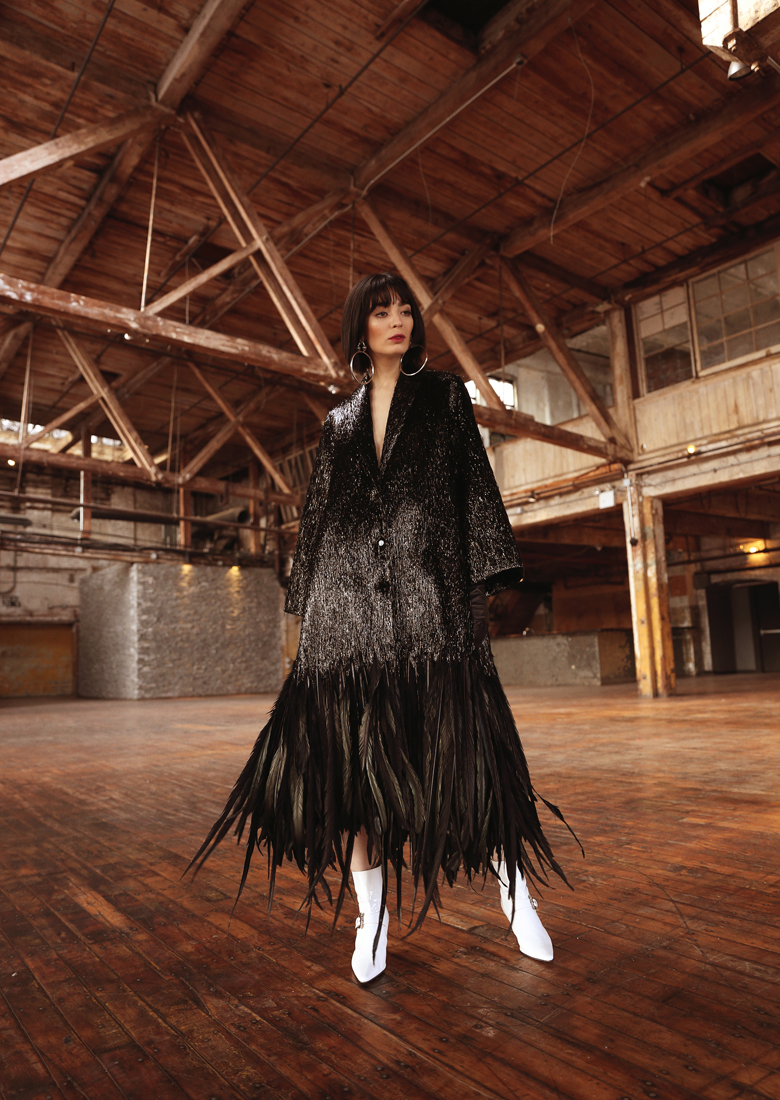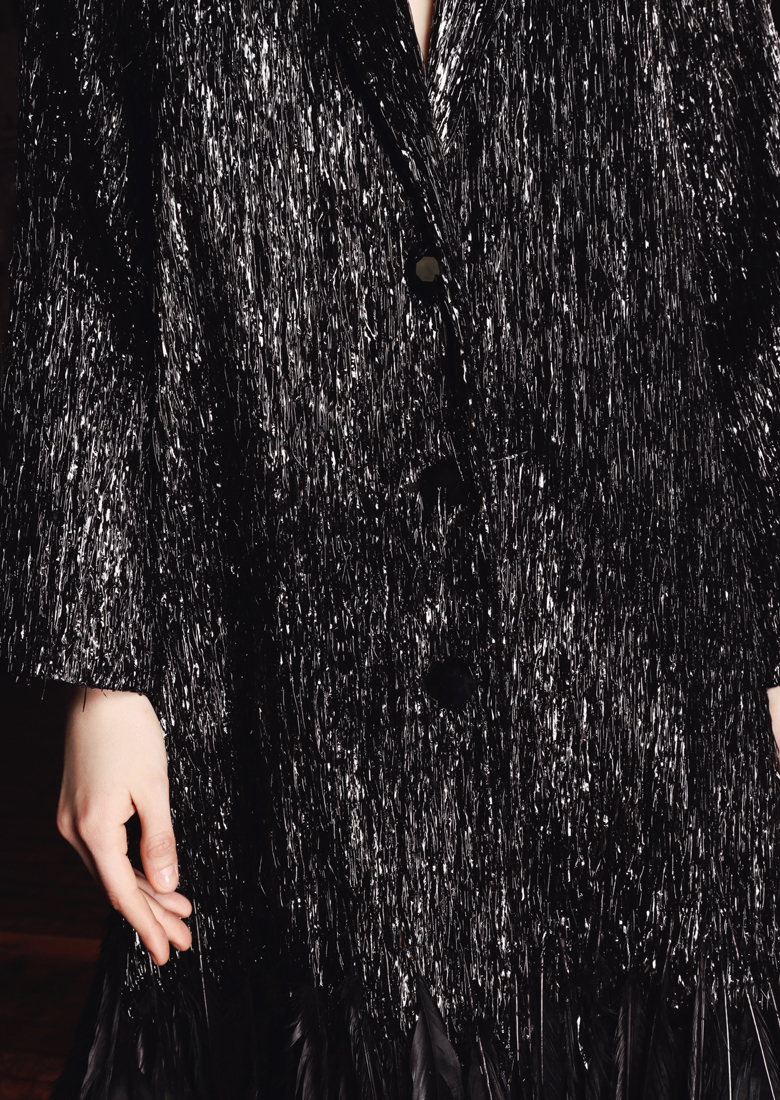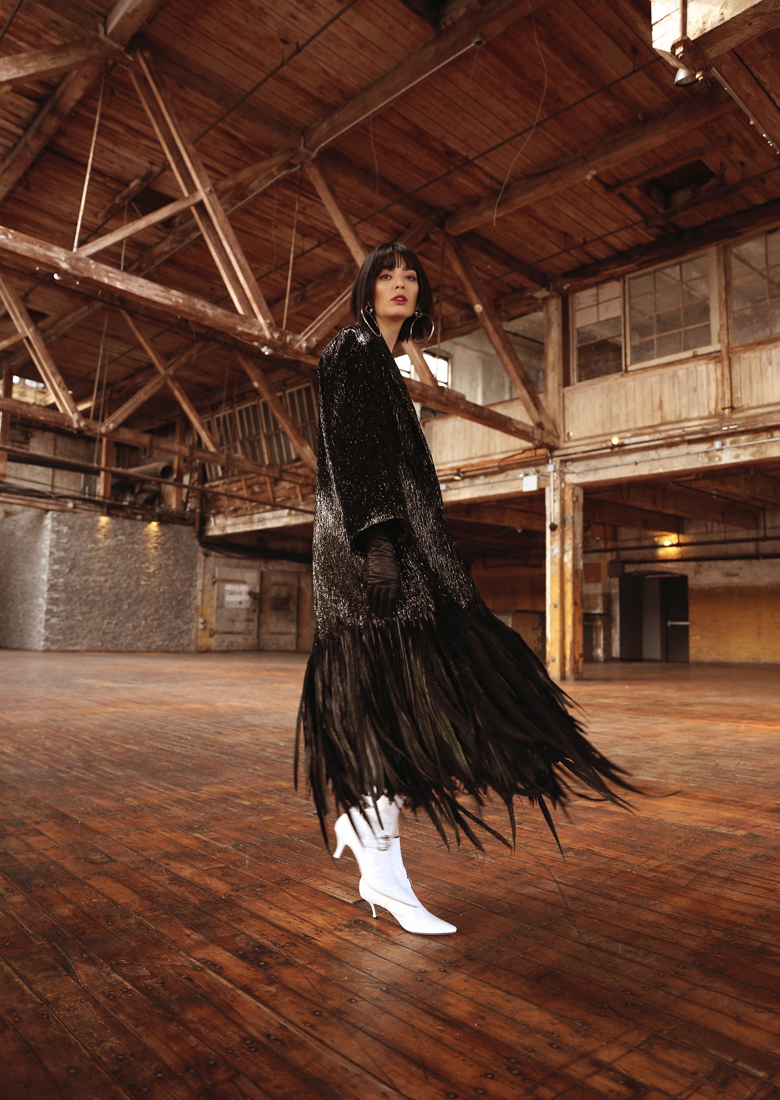 Look 4
Cascade Top and Palazzo Pant in Black Crepe Back Satin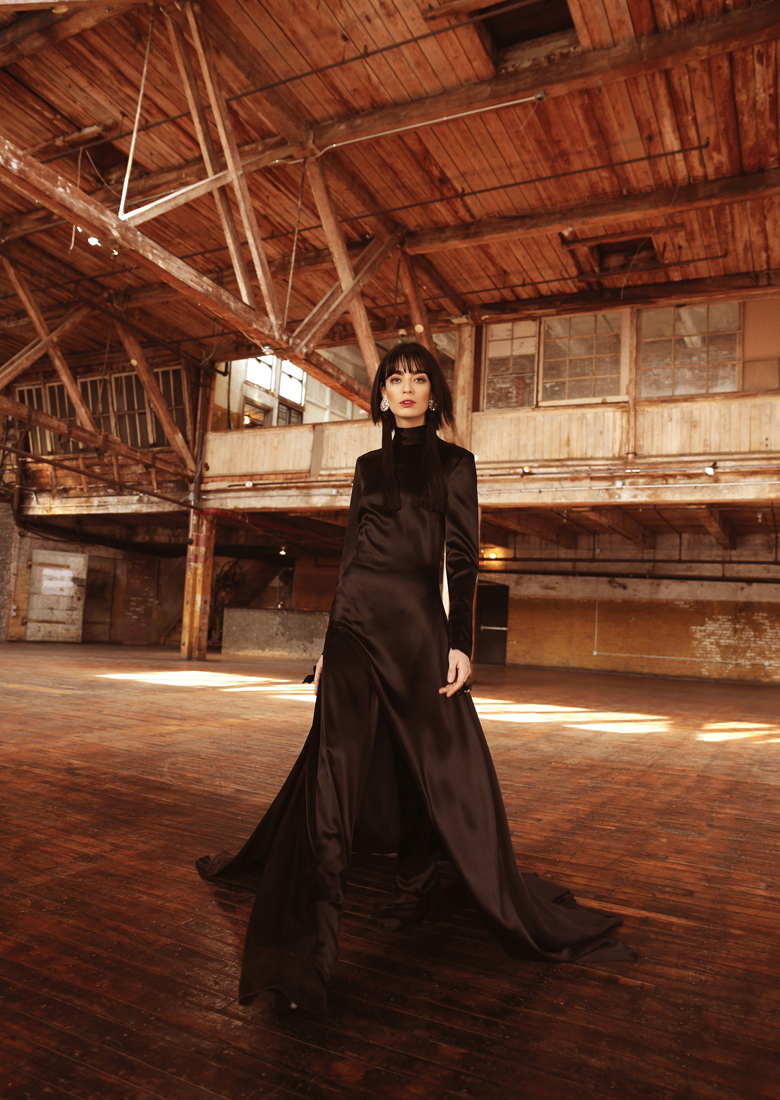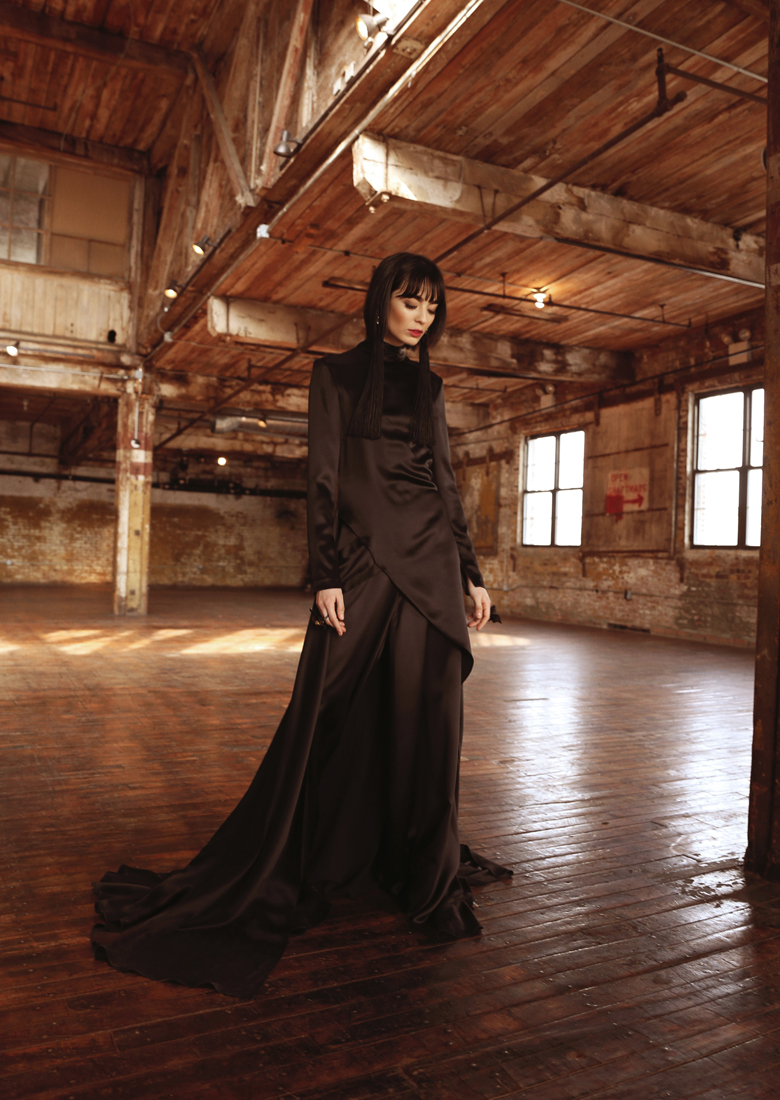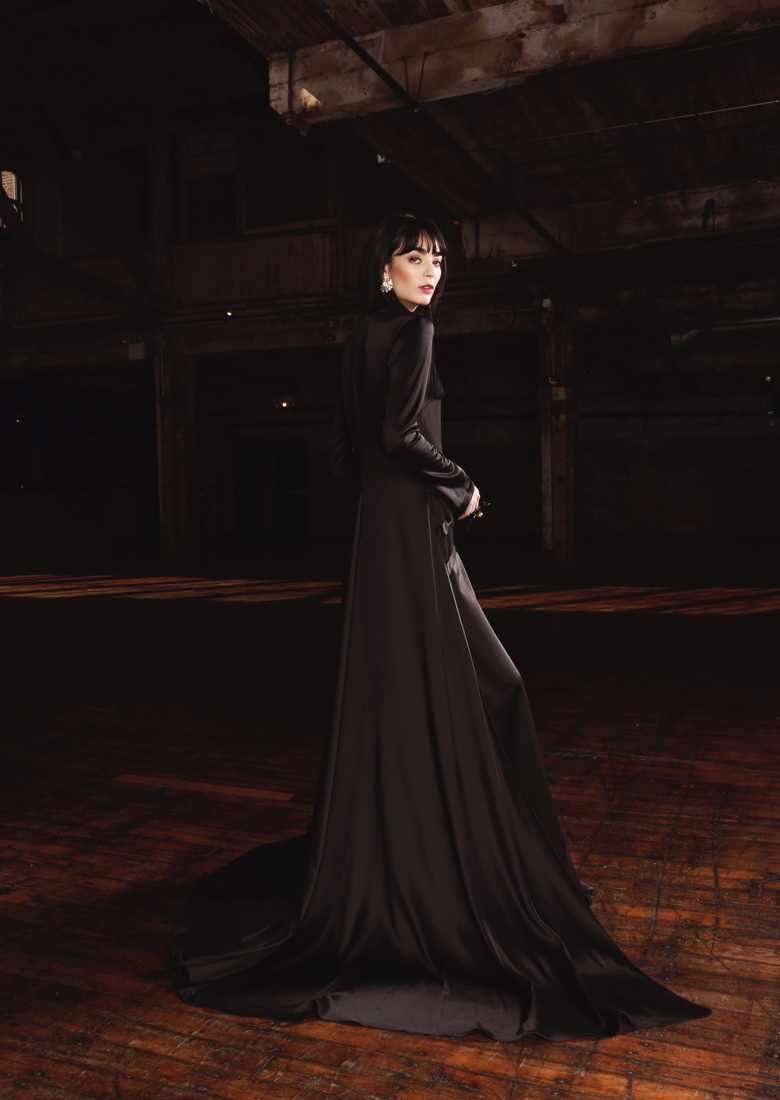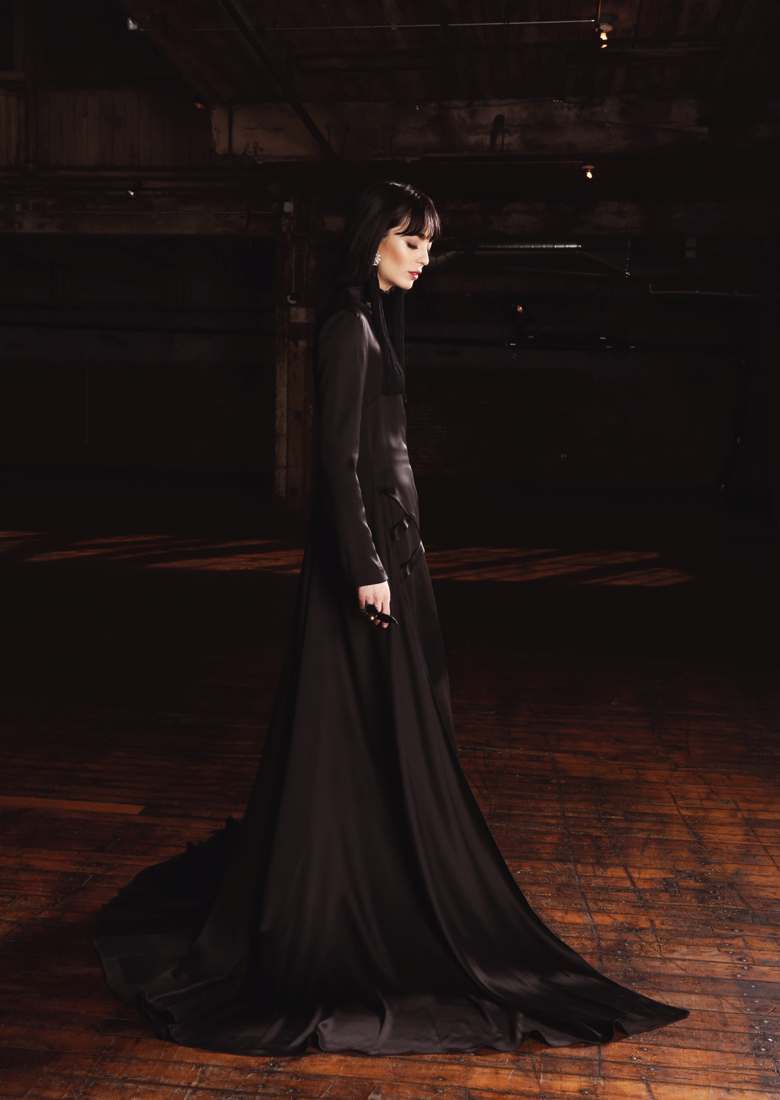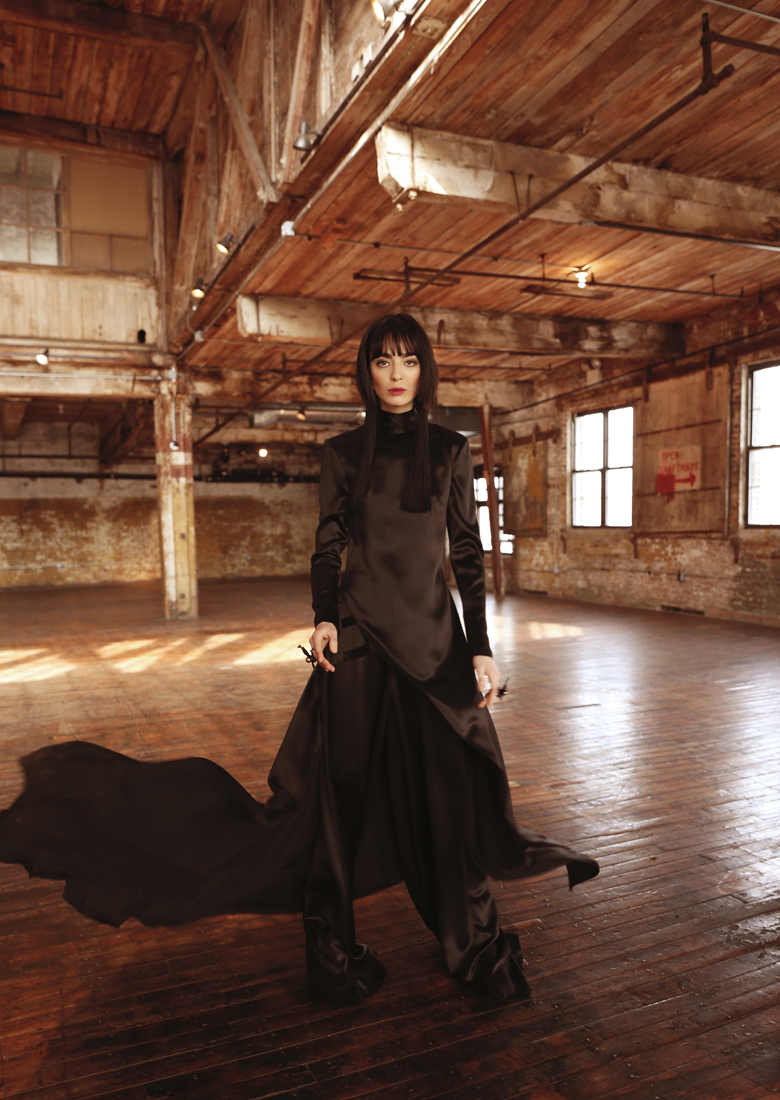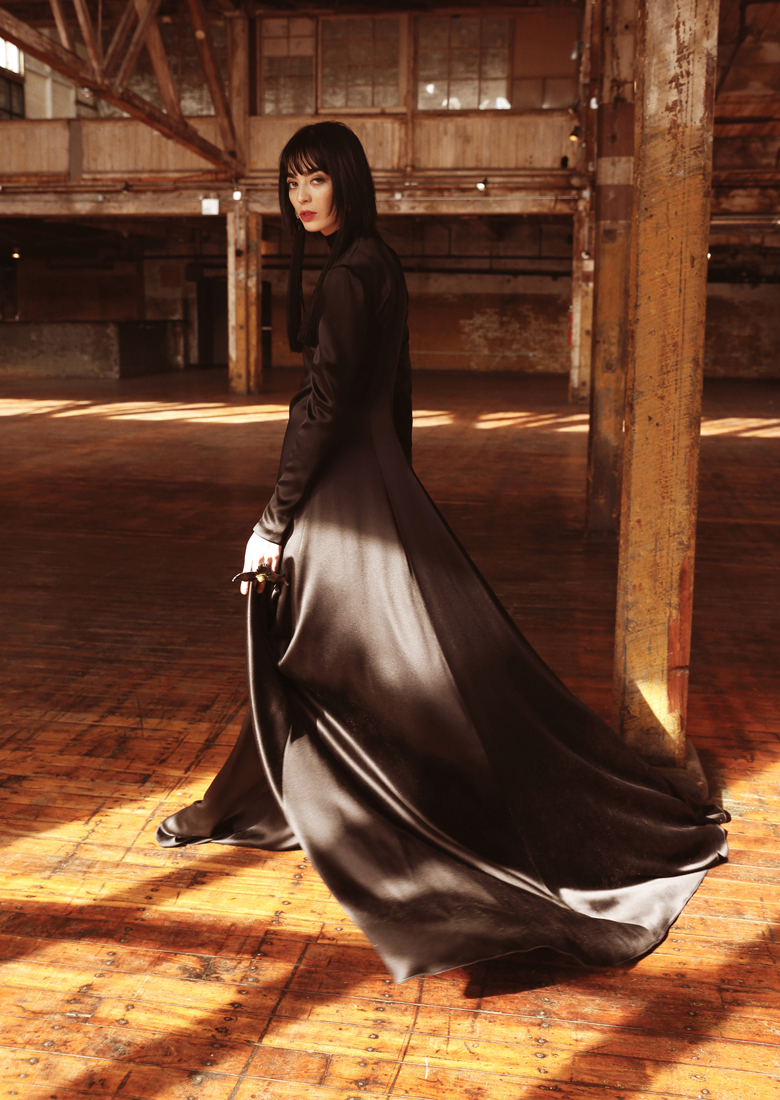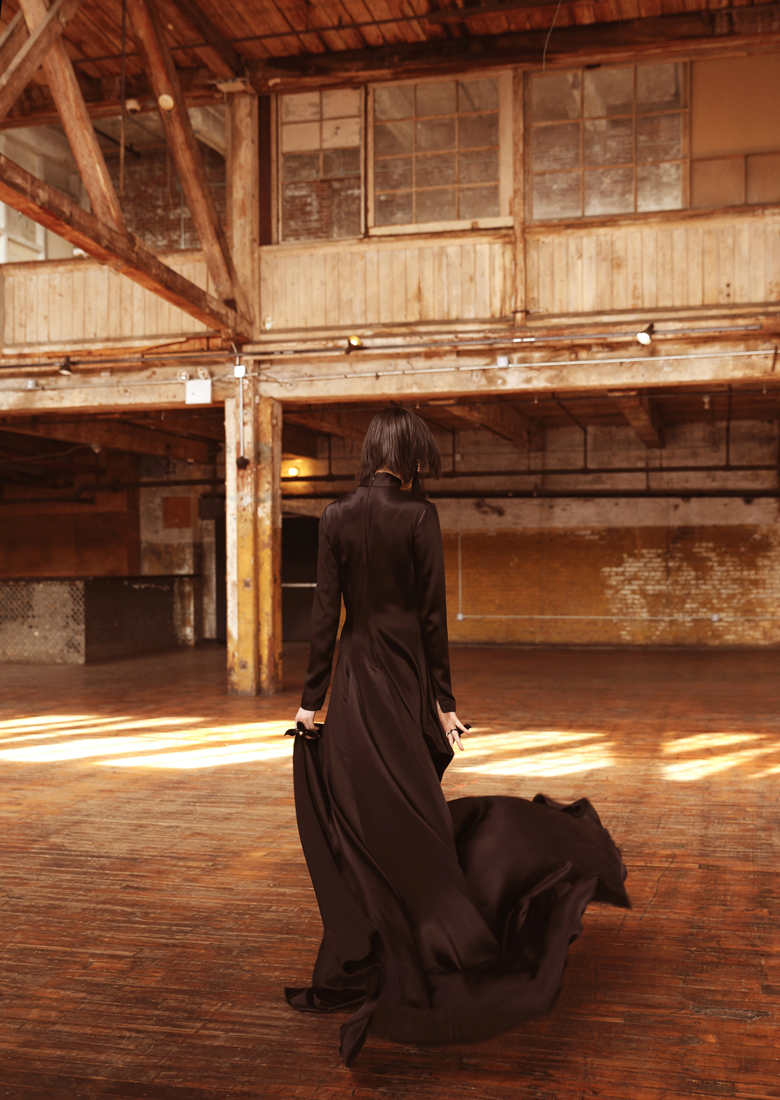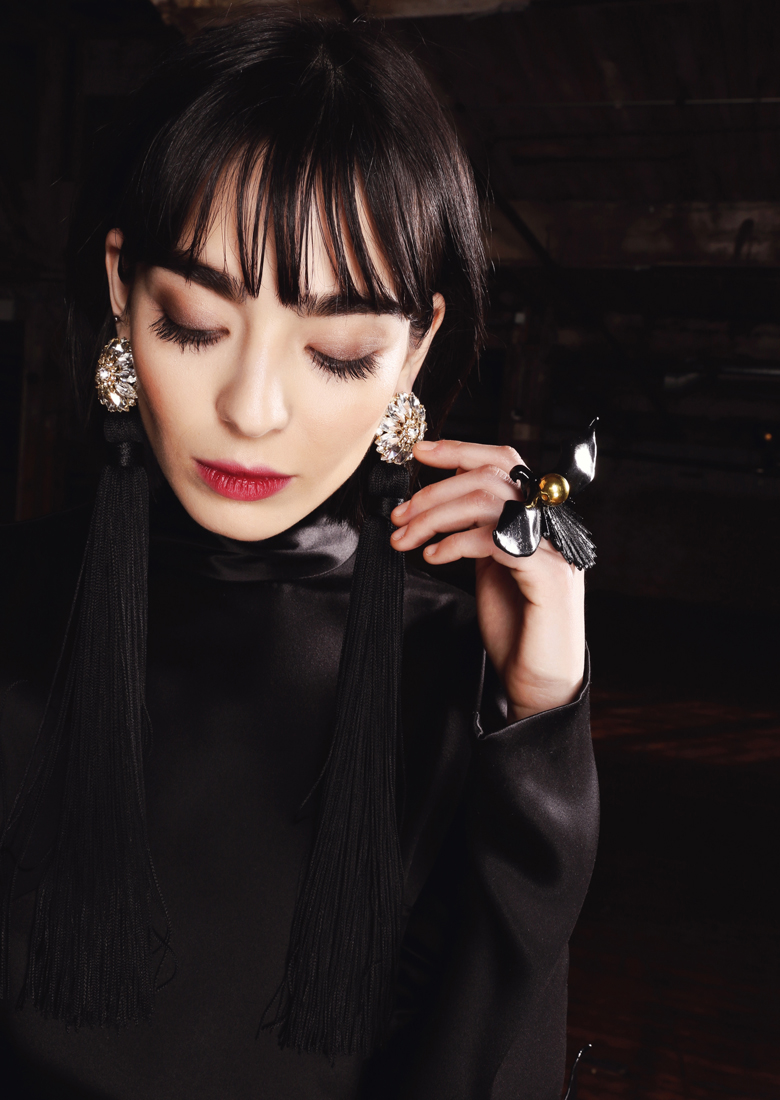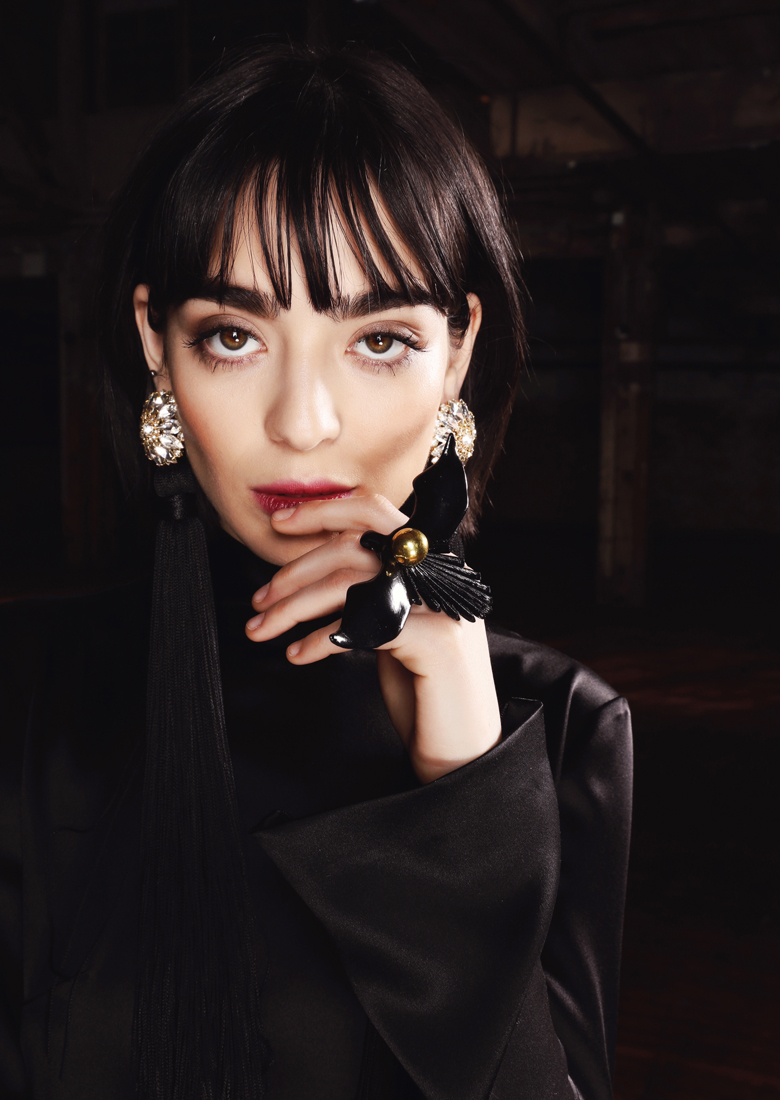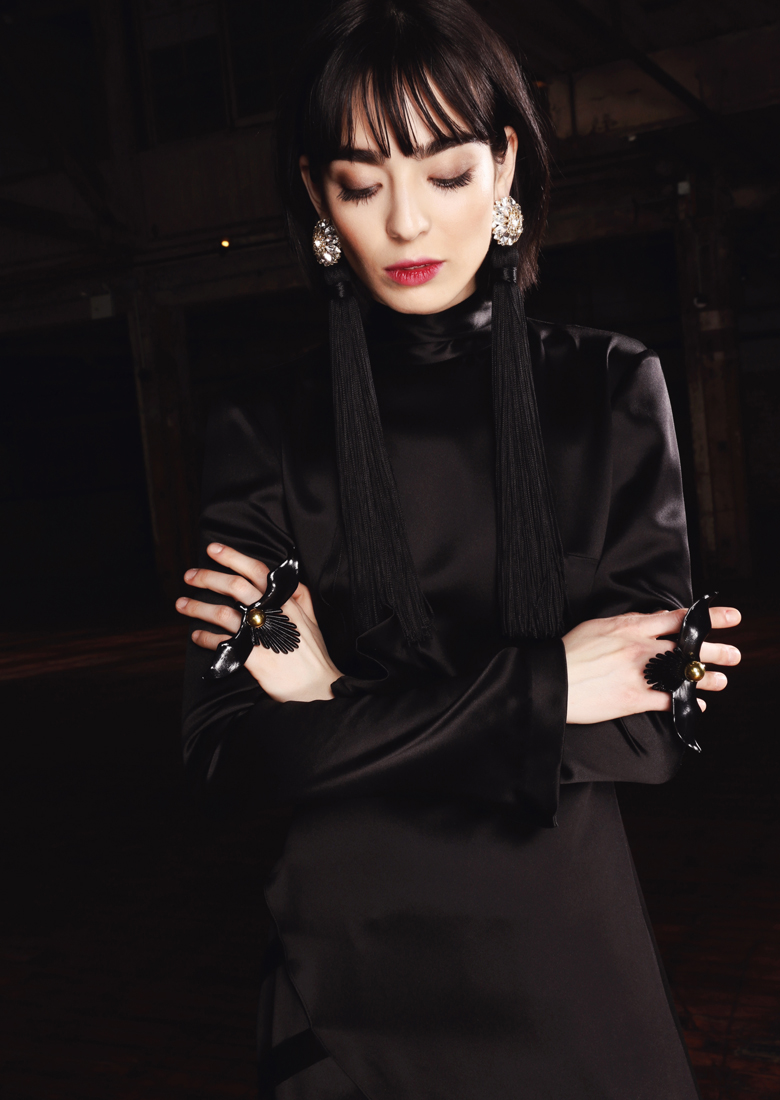 Look 5
Alicia Gold lame V-neck blouse and pencil skirt with Onyx Fox Fur and Shearling Car Coat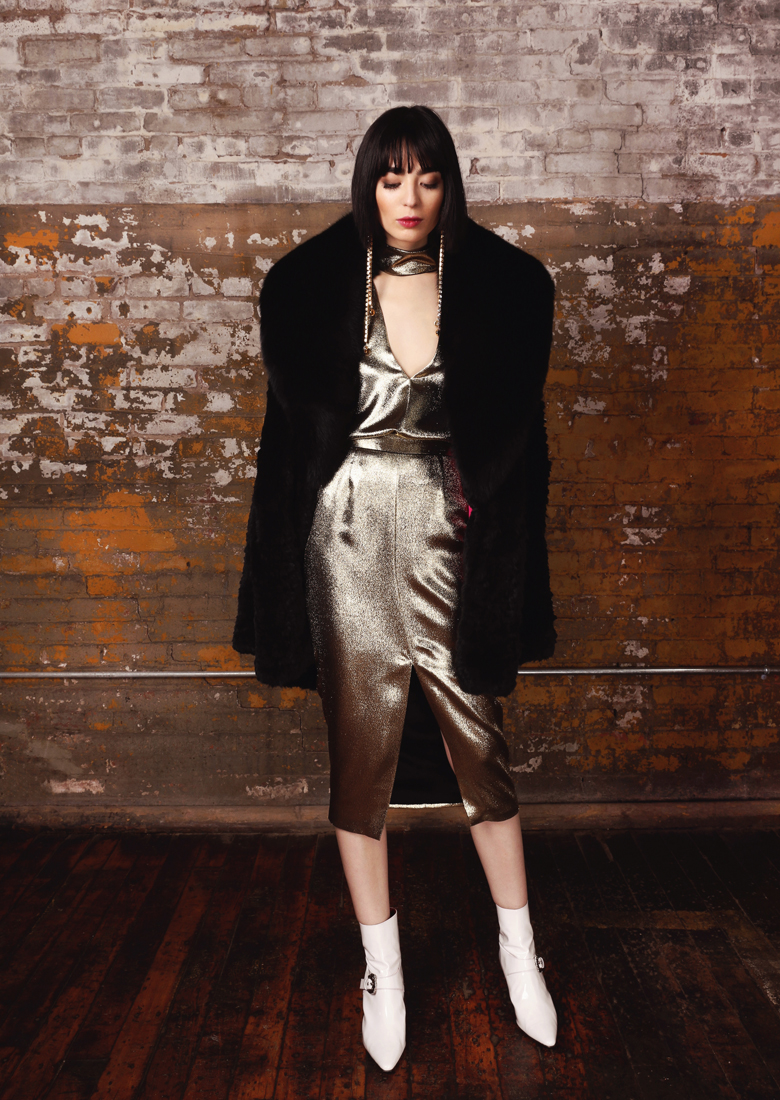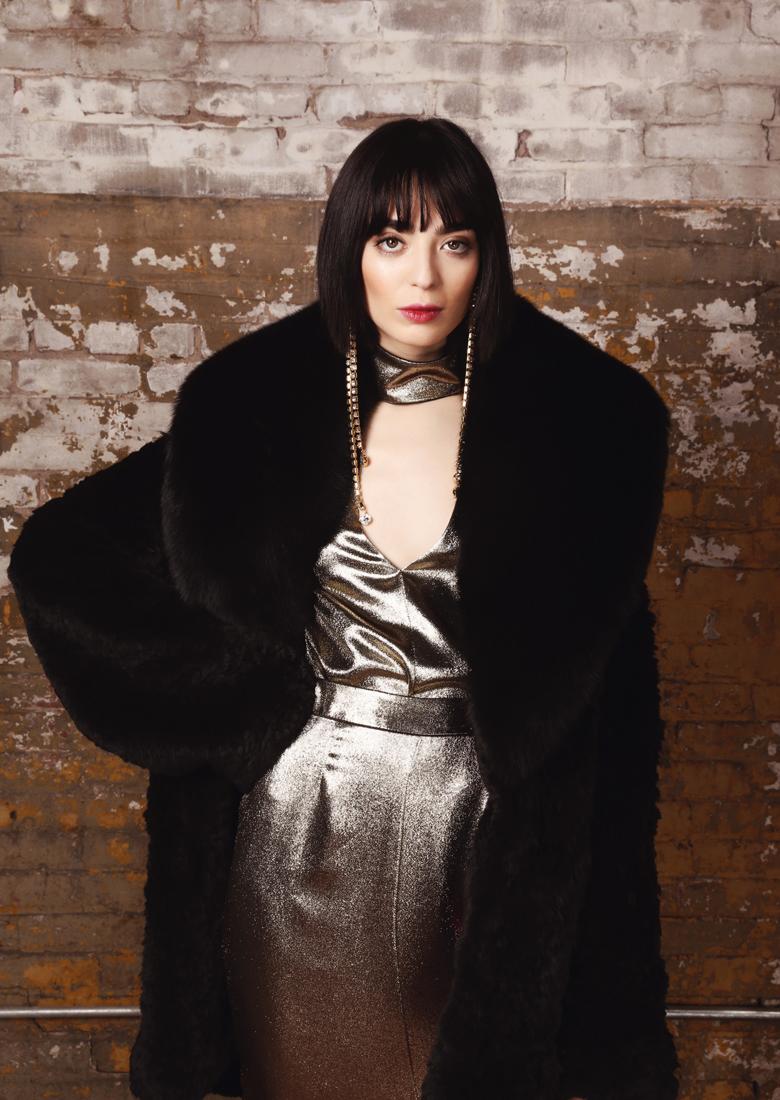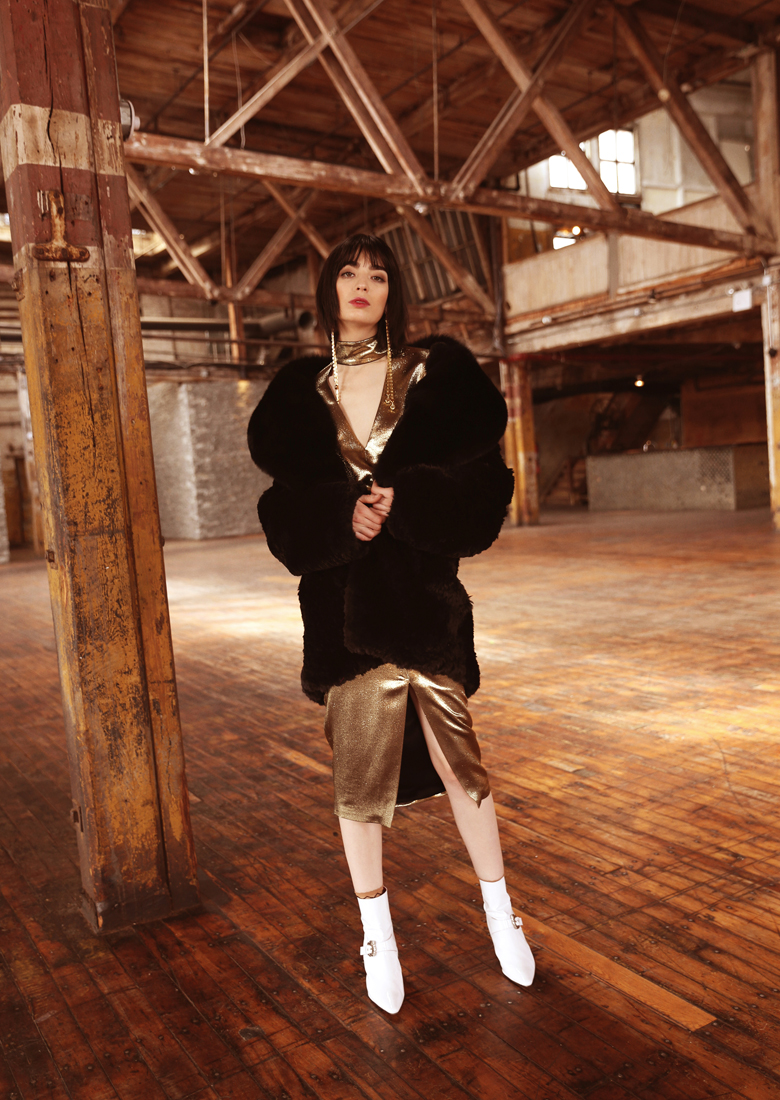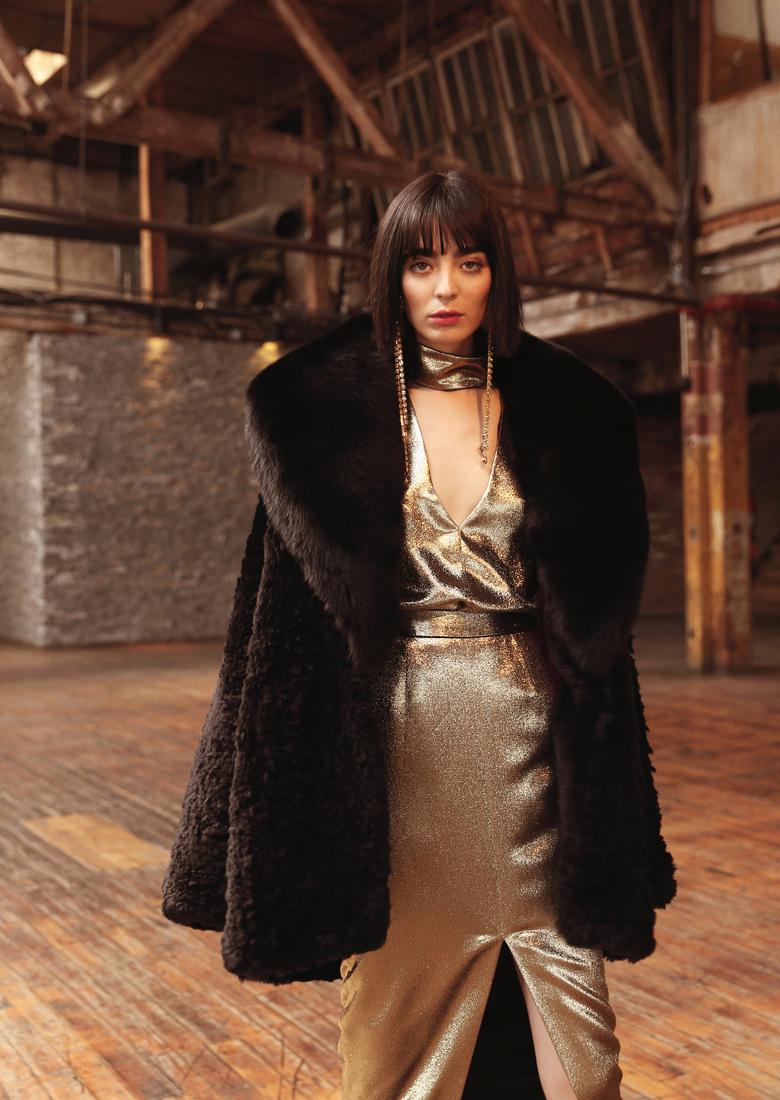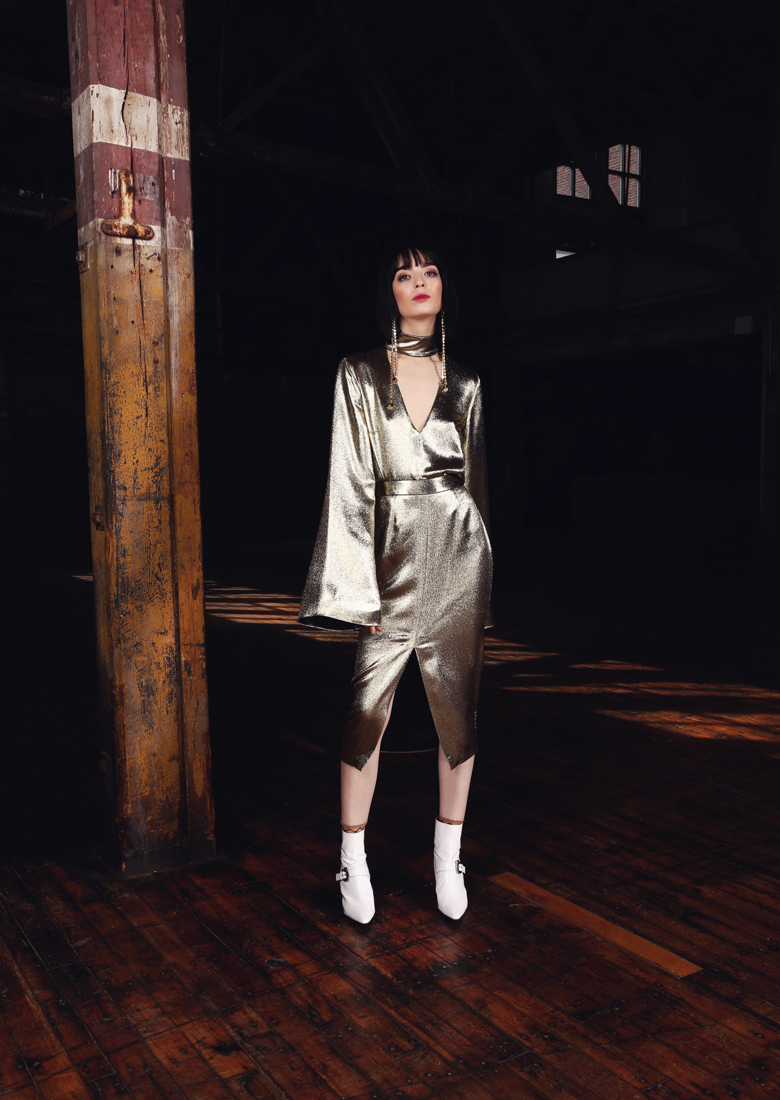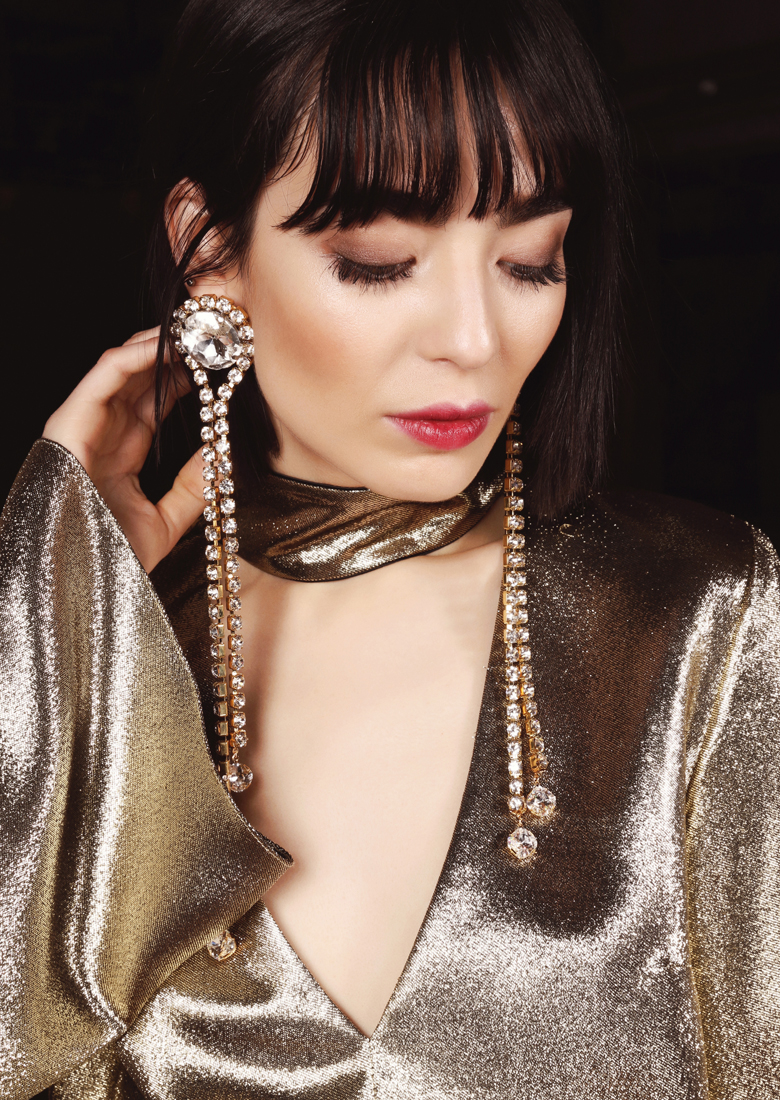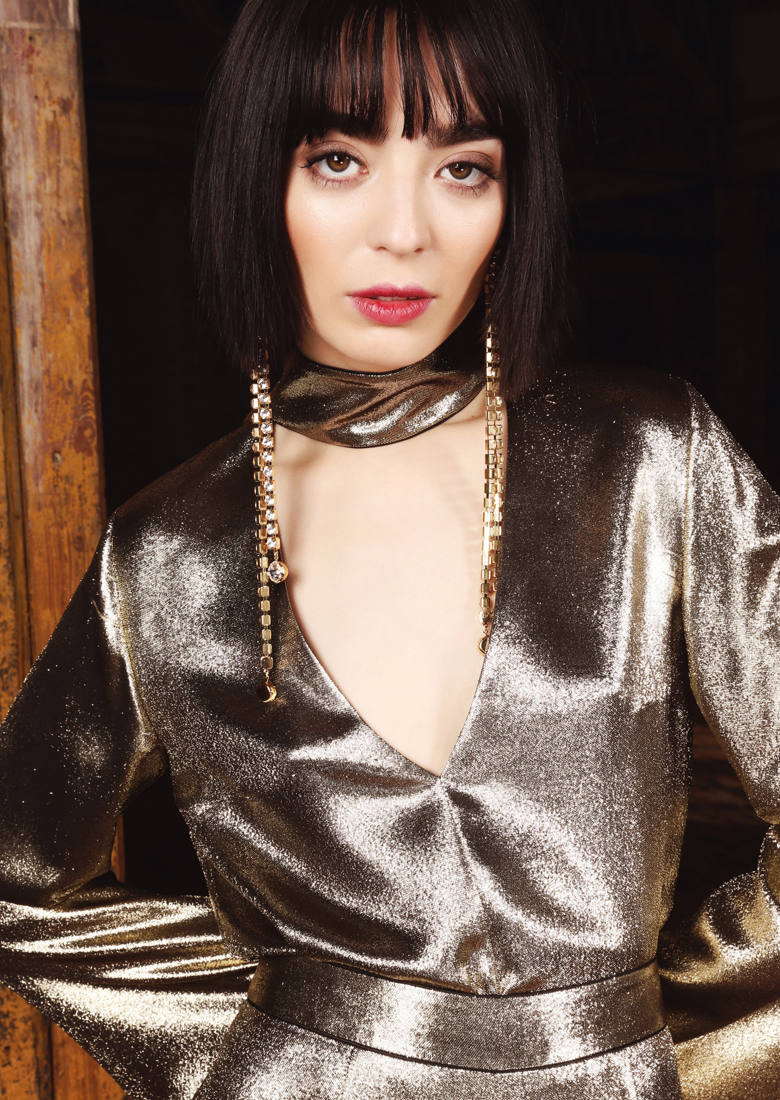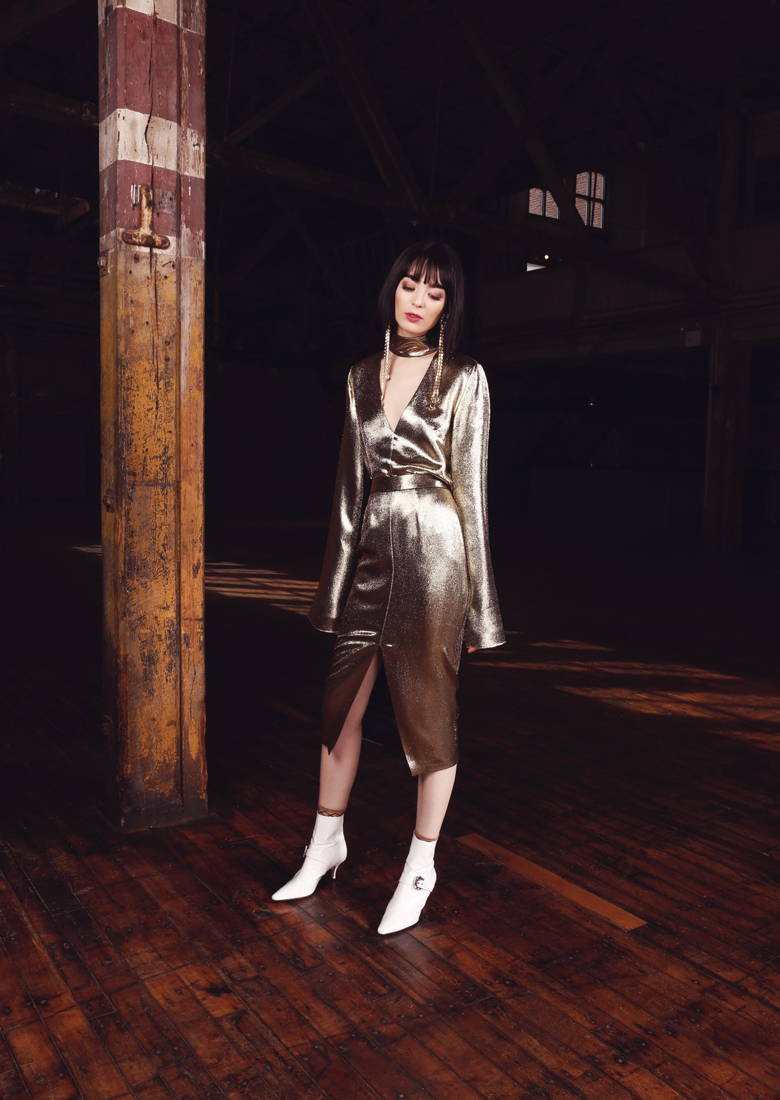 Look 6
Kyran Metallic-foiled Faux Fur Robe Coat and Belt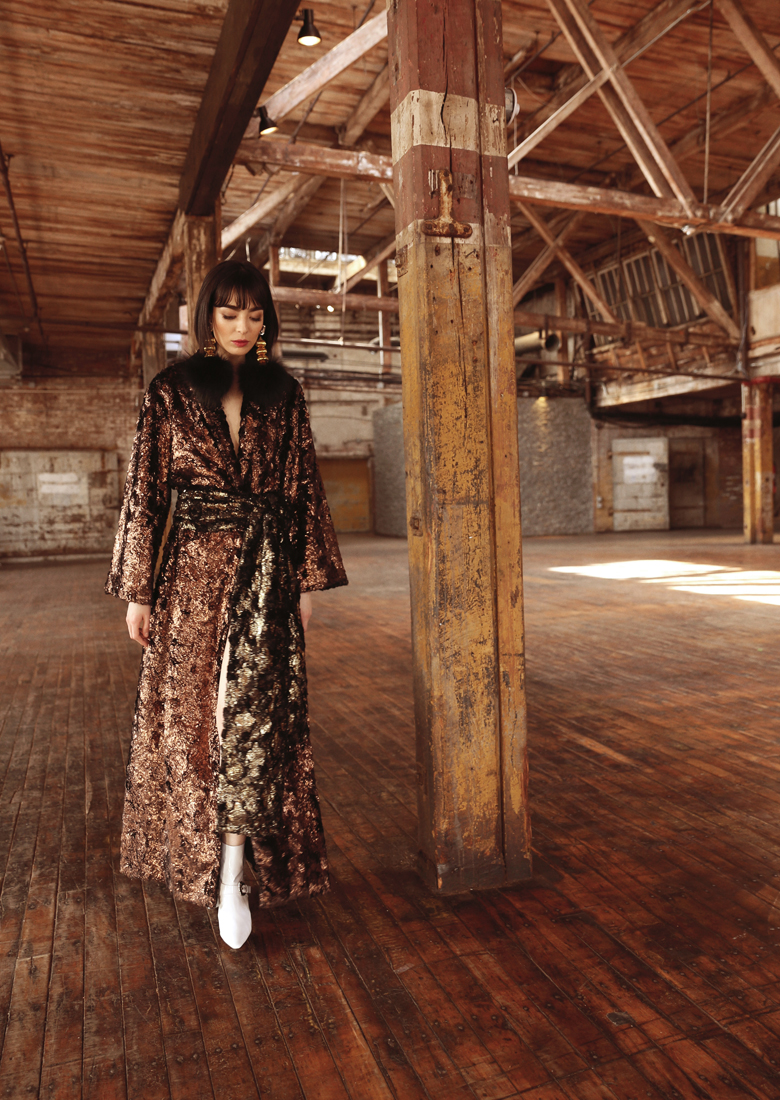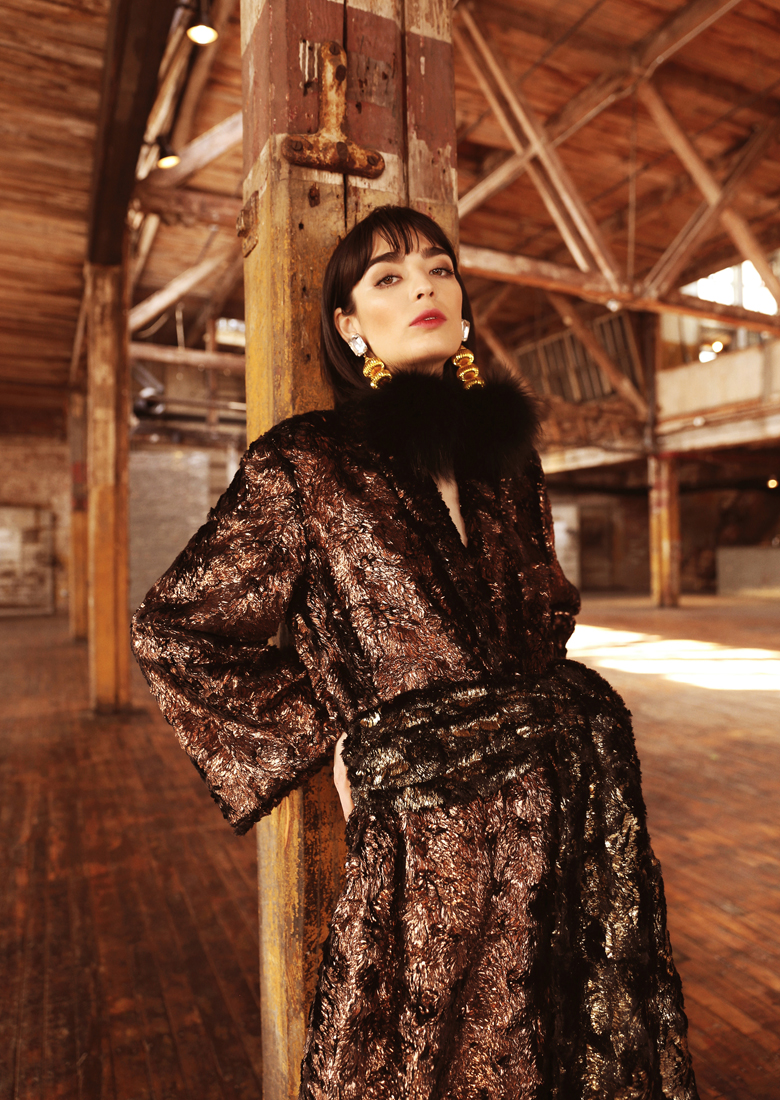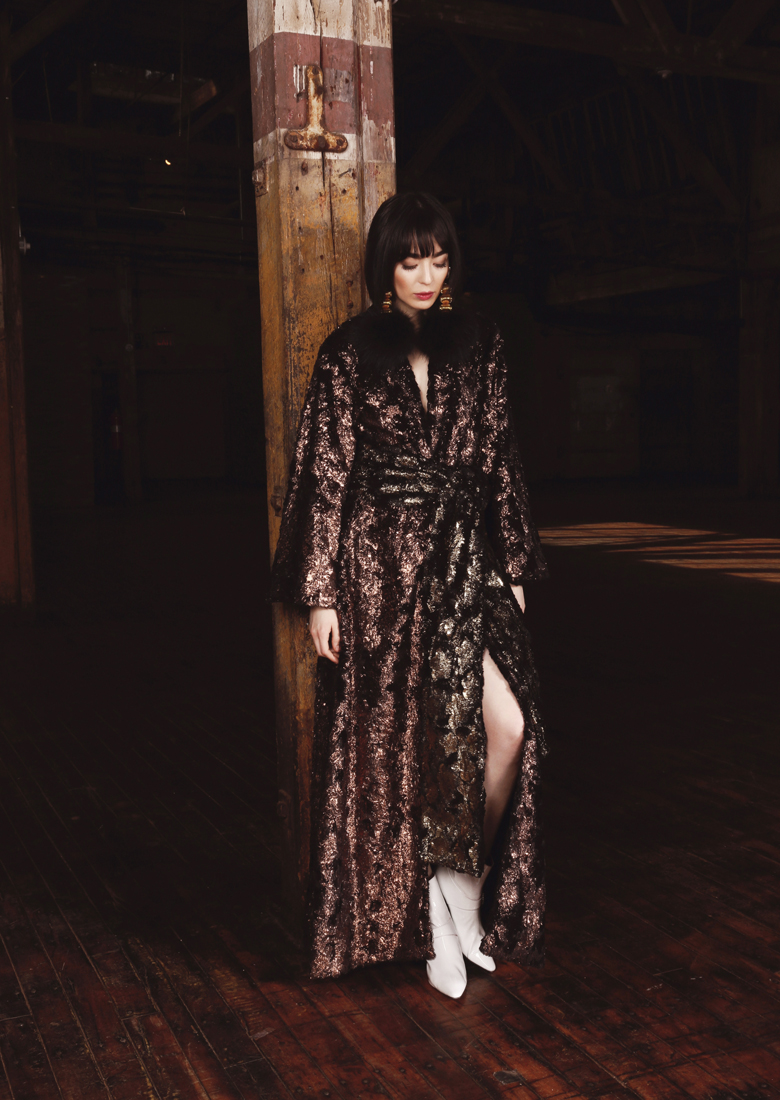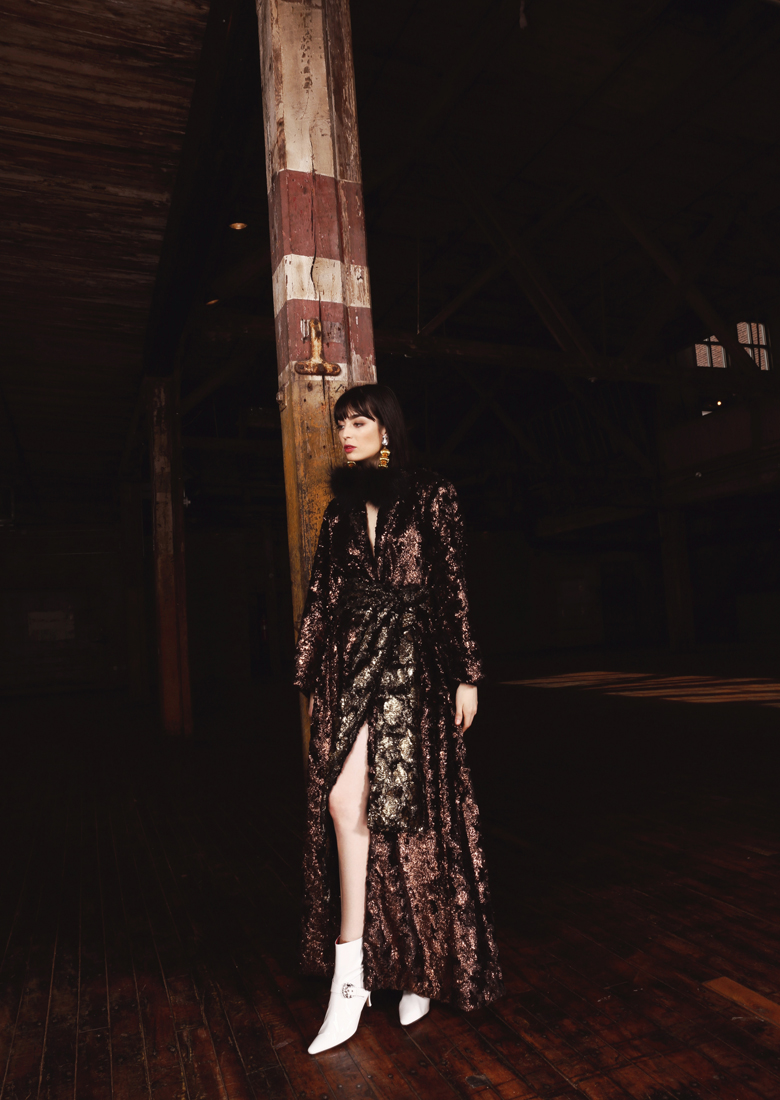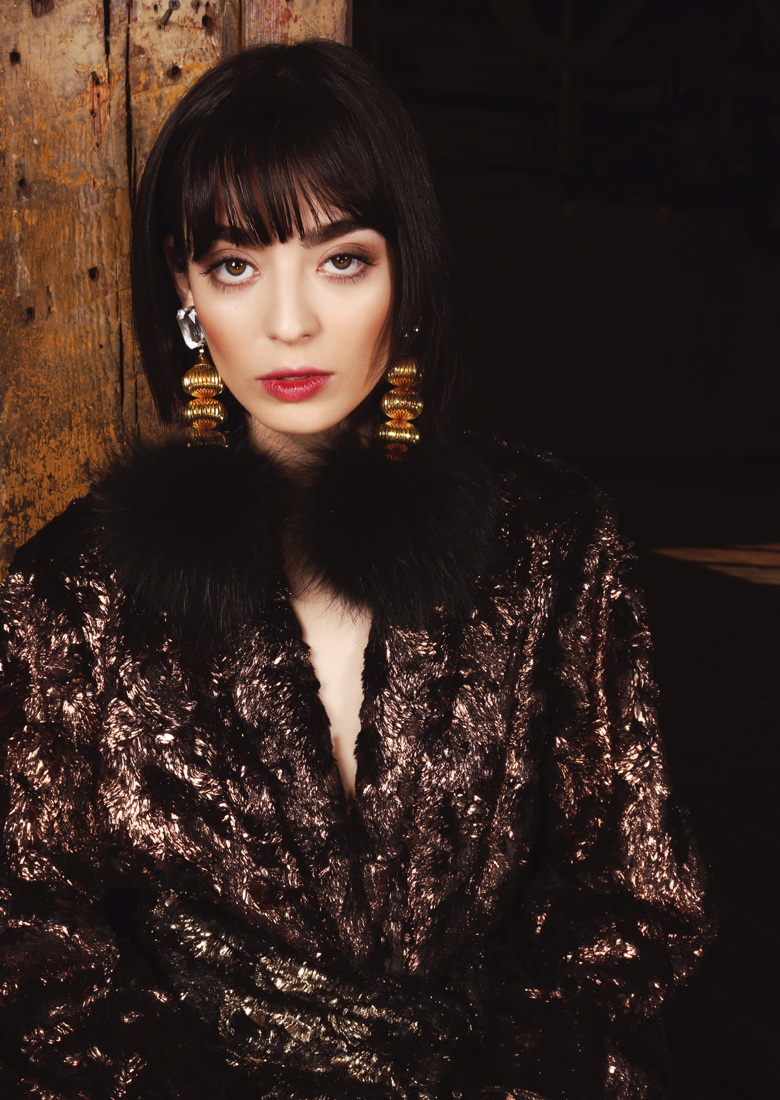 Look 7
Askar Embellished Cropped jacket and matching A-line Skirt. Cream organza framed on ivory silk wool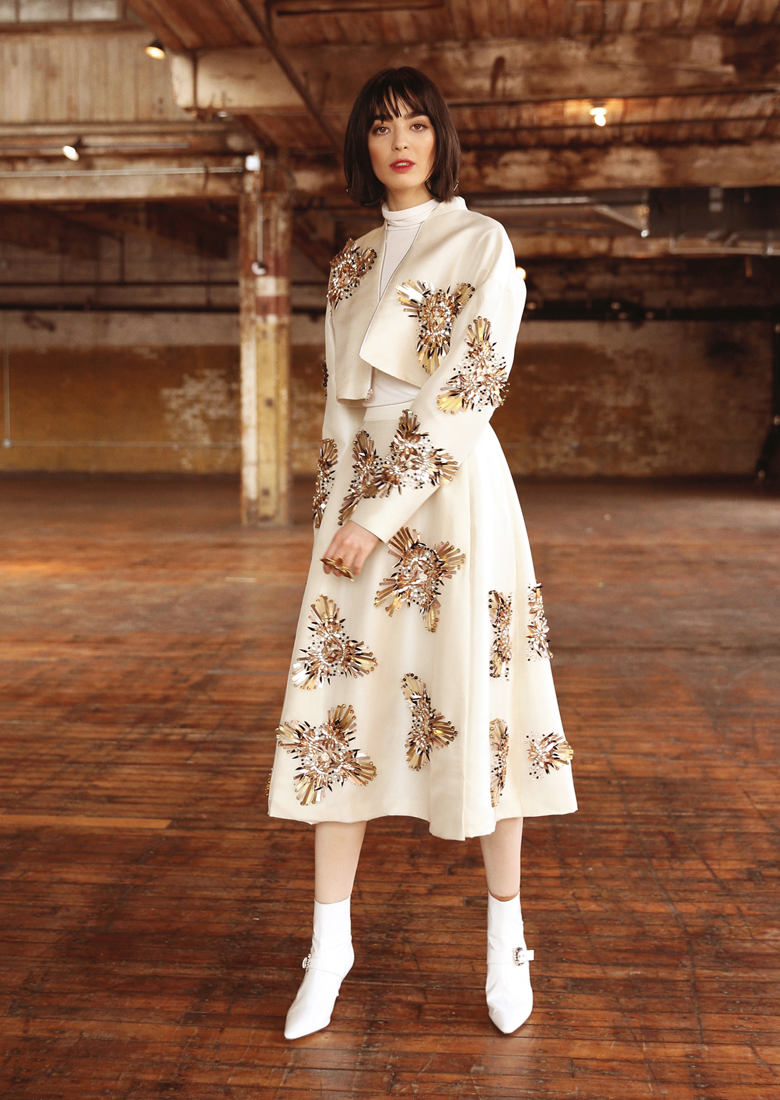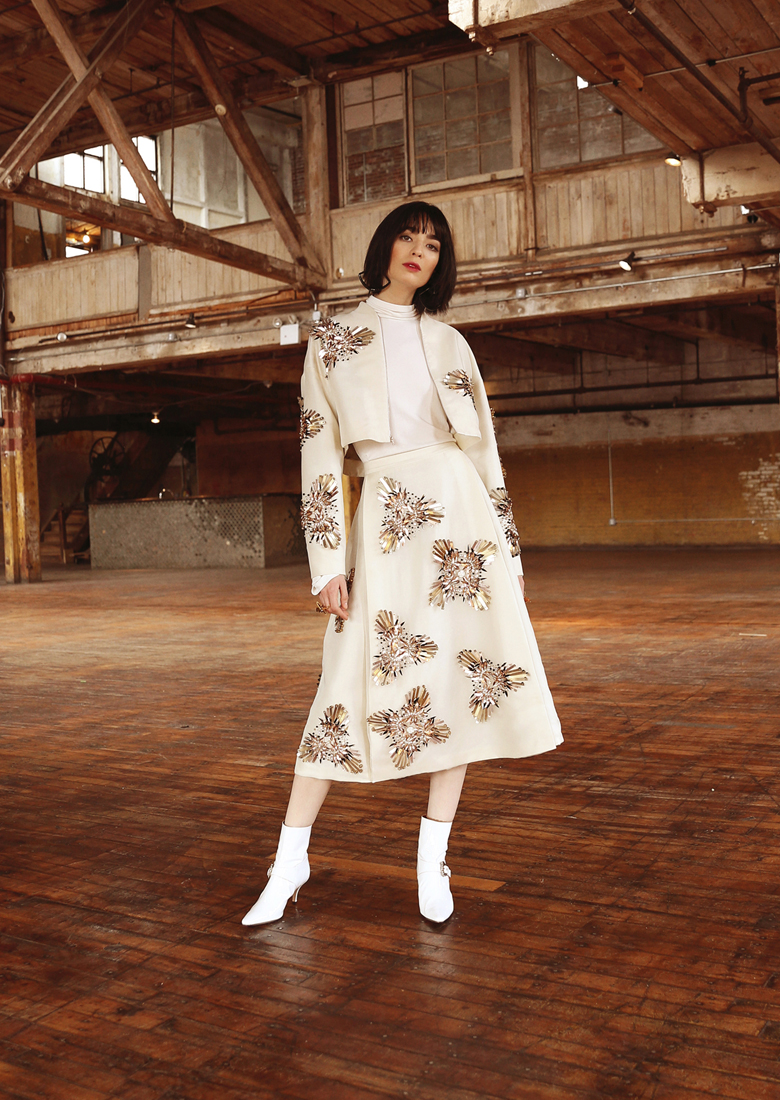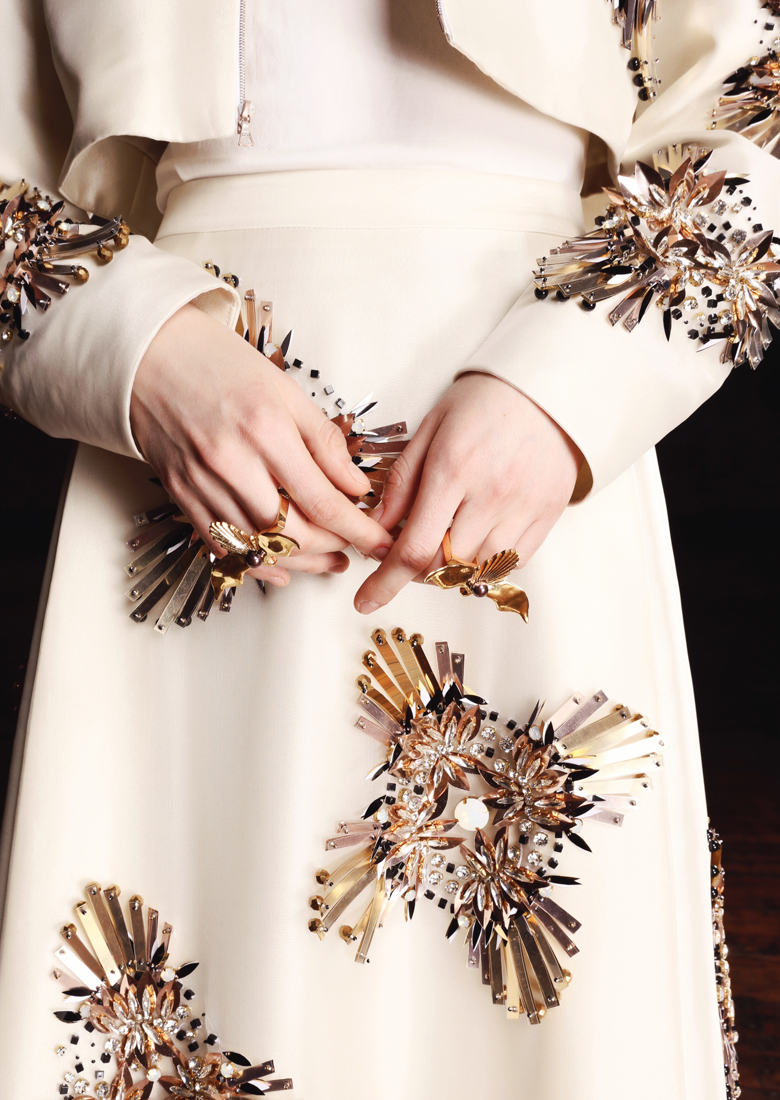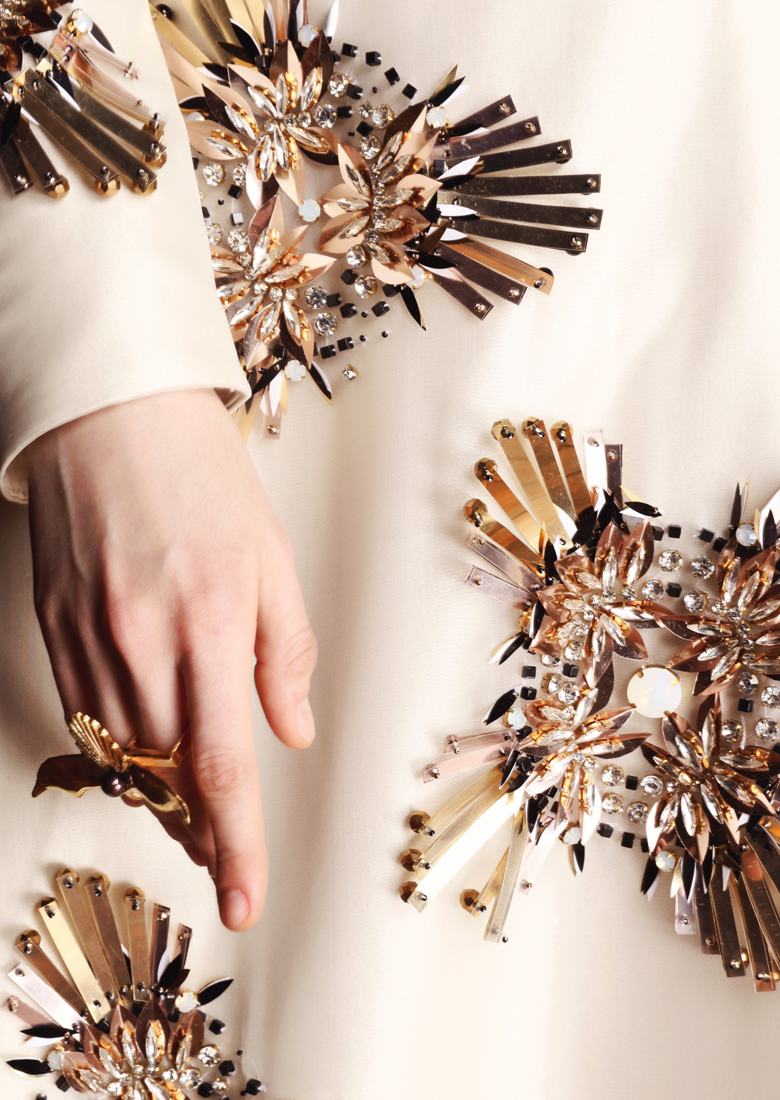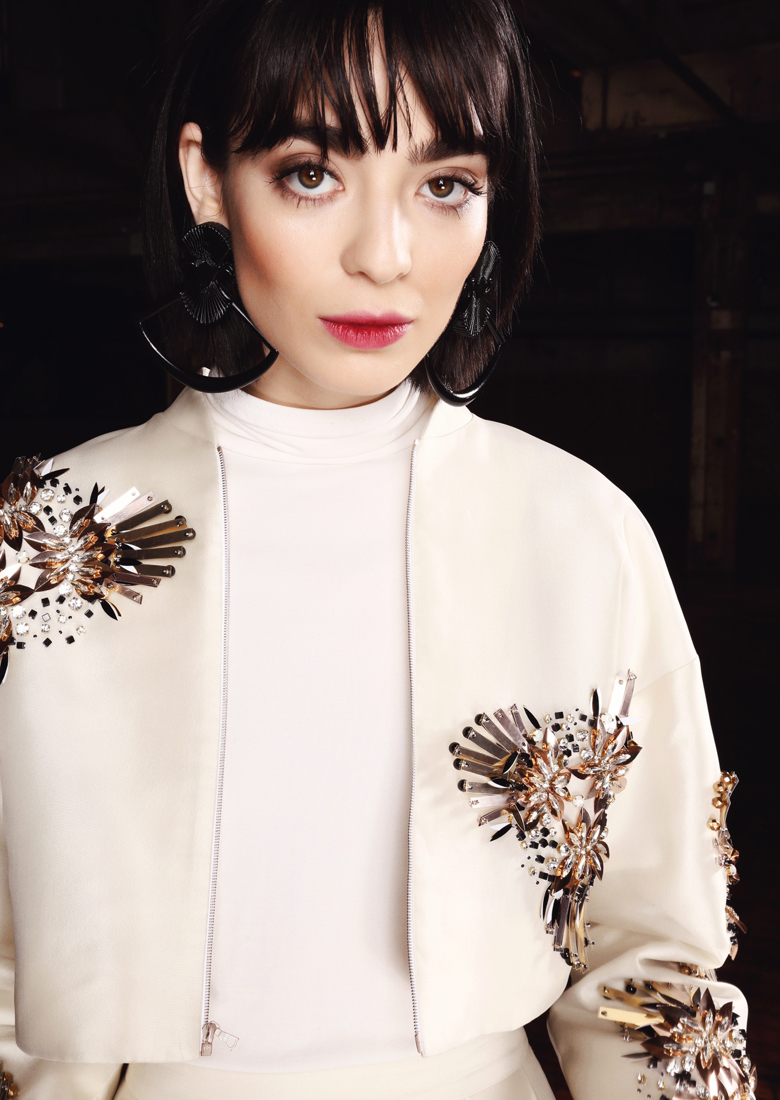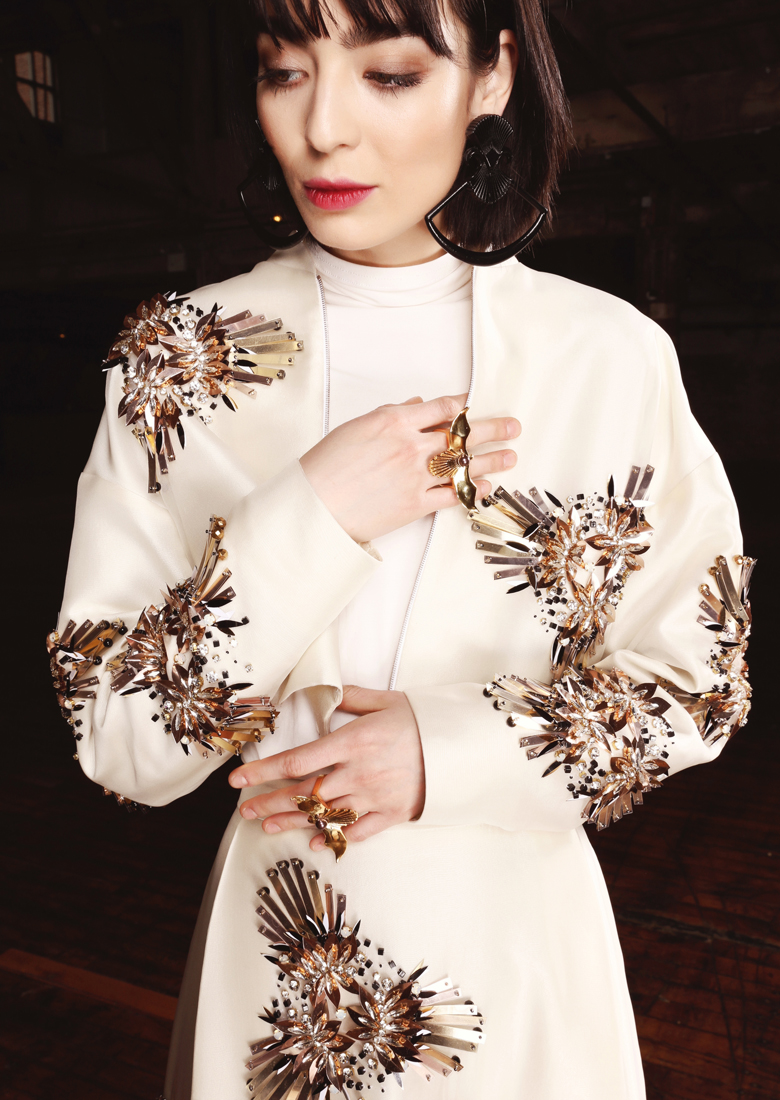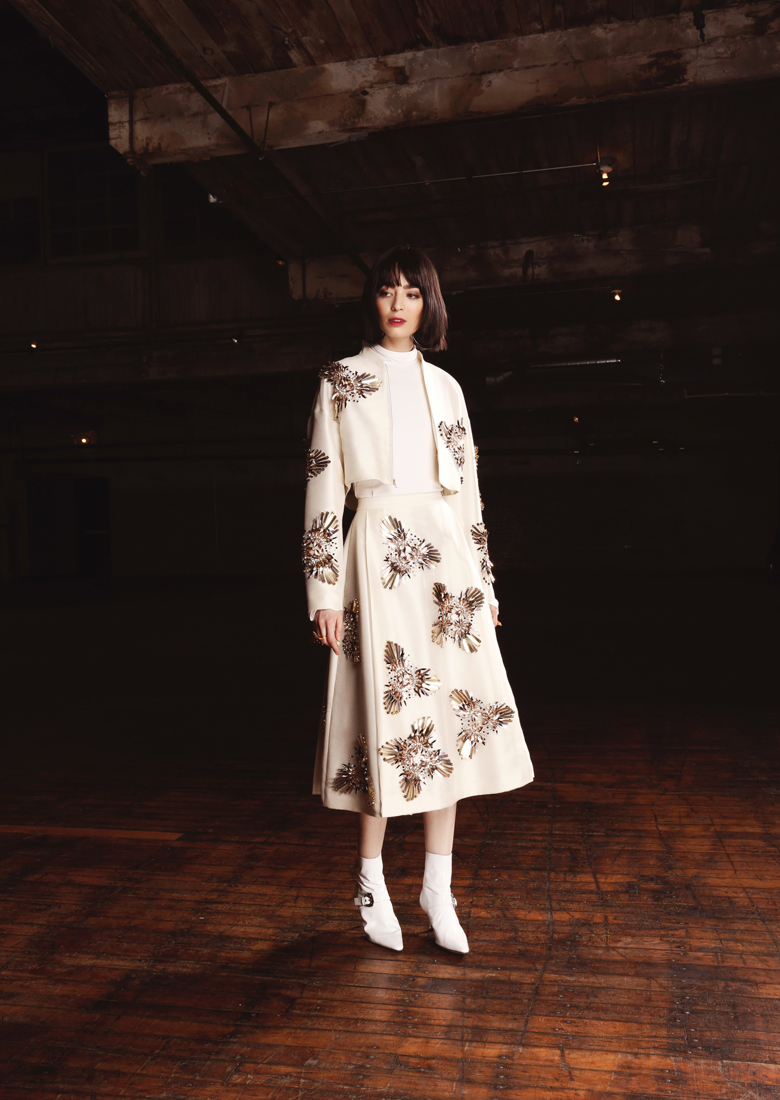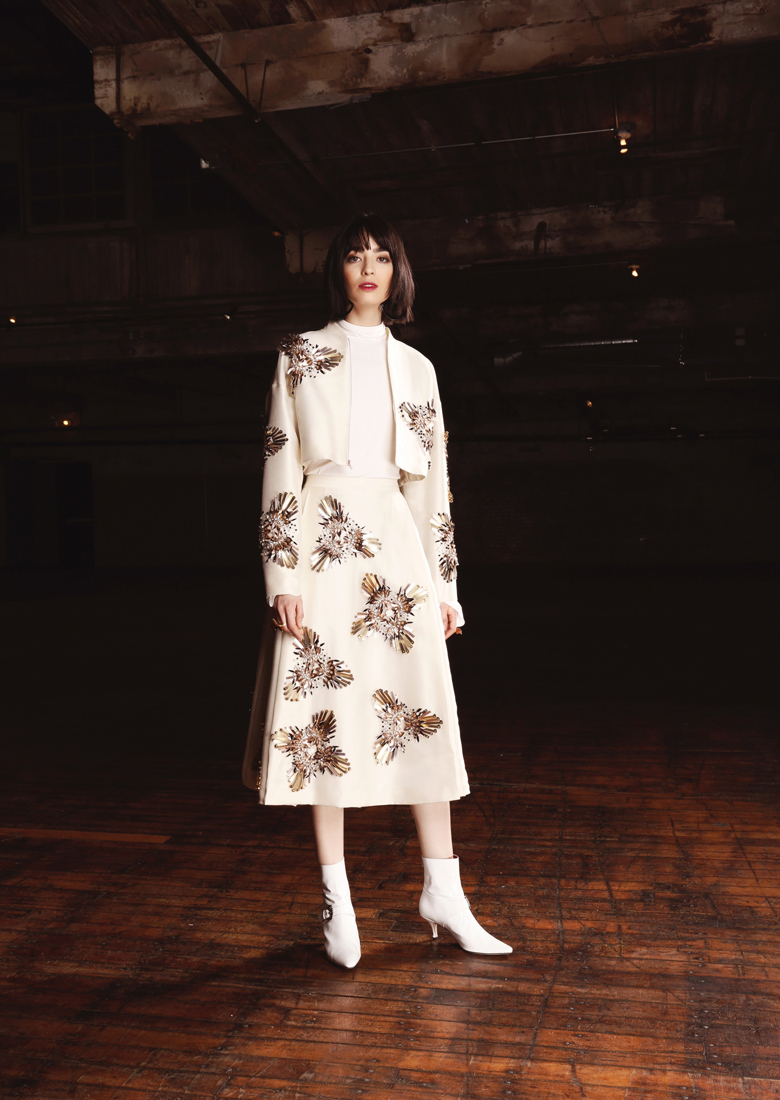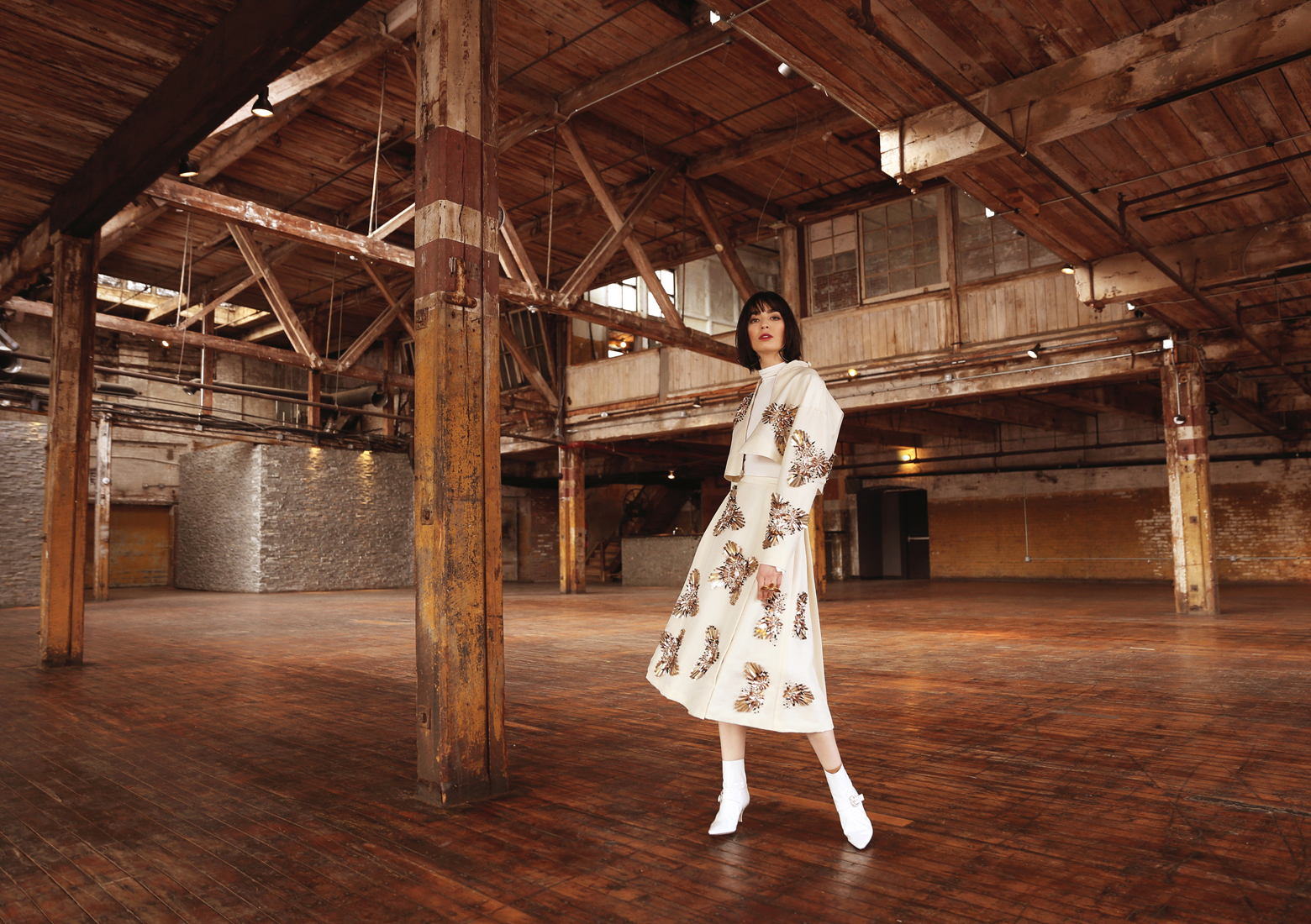 Look 8
Huntress Overcoat in Ivory Alpaca Coating with Inka Rib Knit Sweater Dress. Shown with Ivory Bird in Flight Knuckle Duster Ring and Black Vinyl Embellished Clutch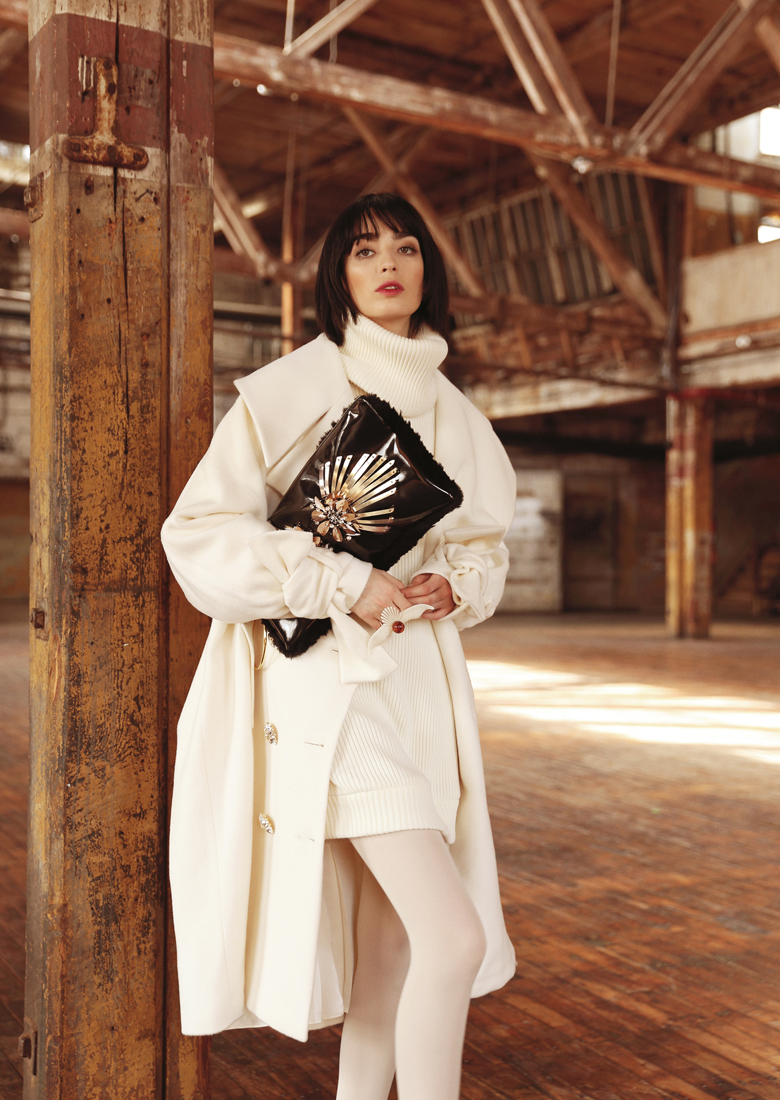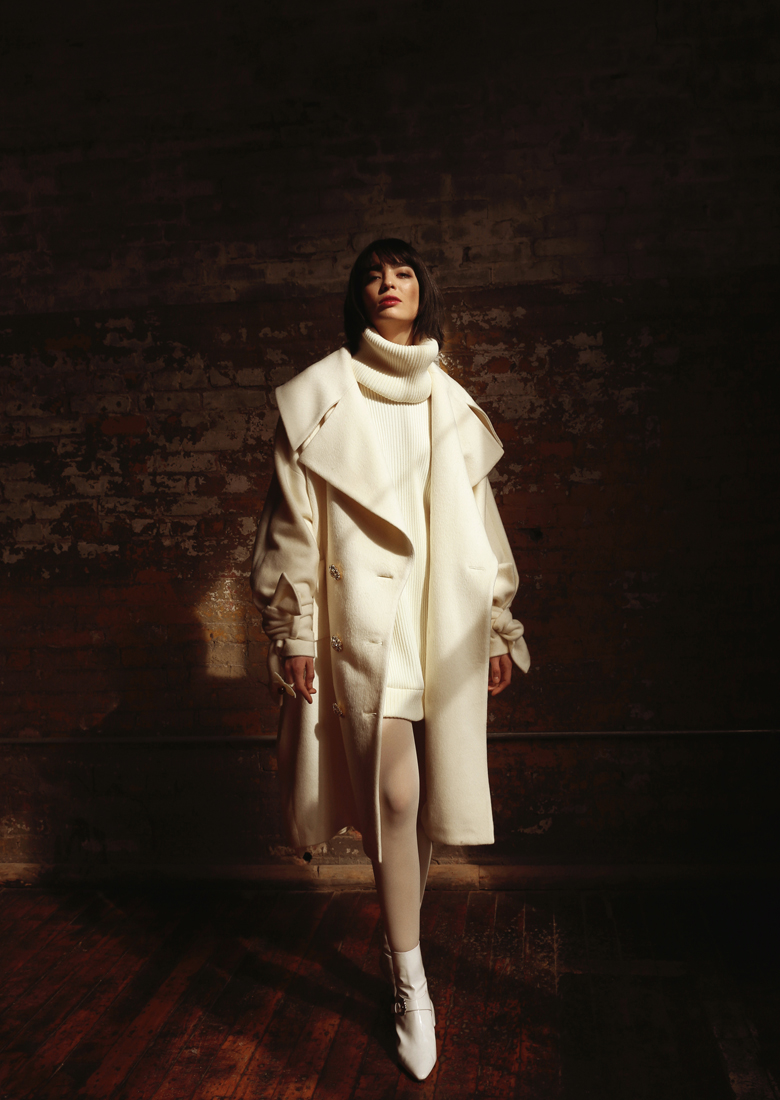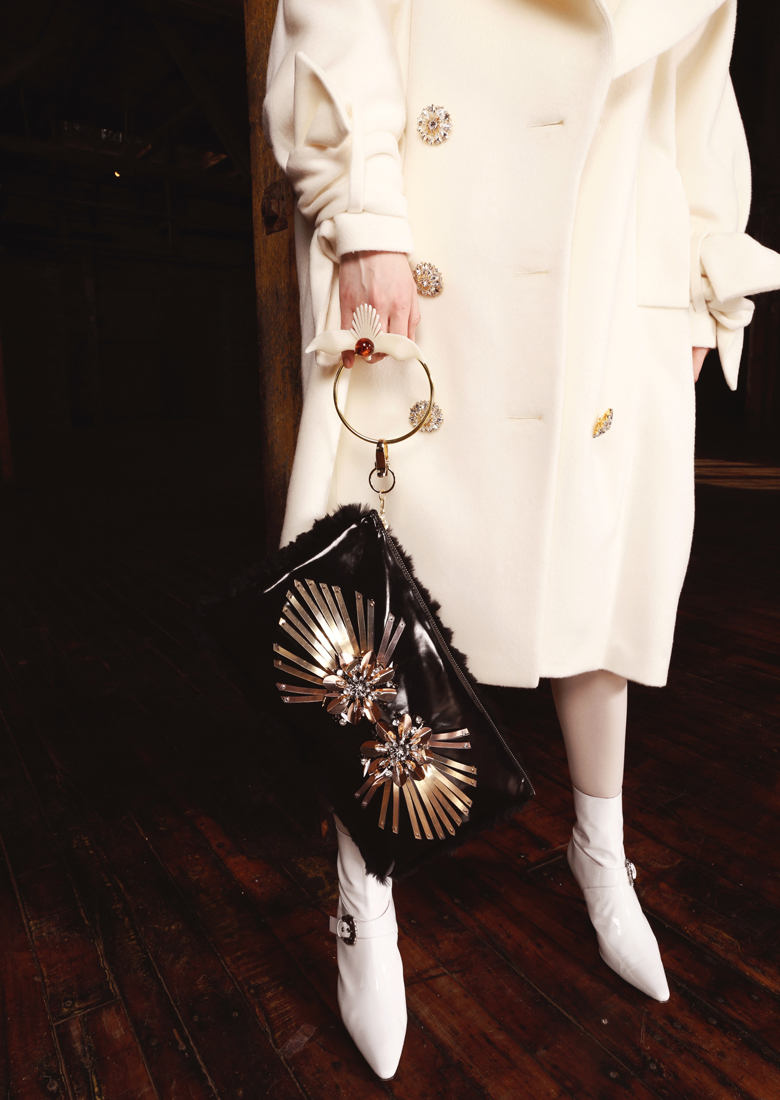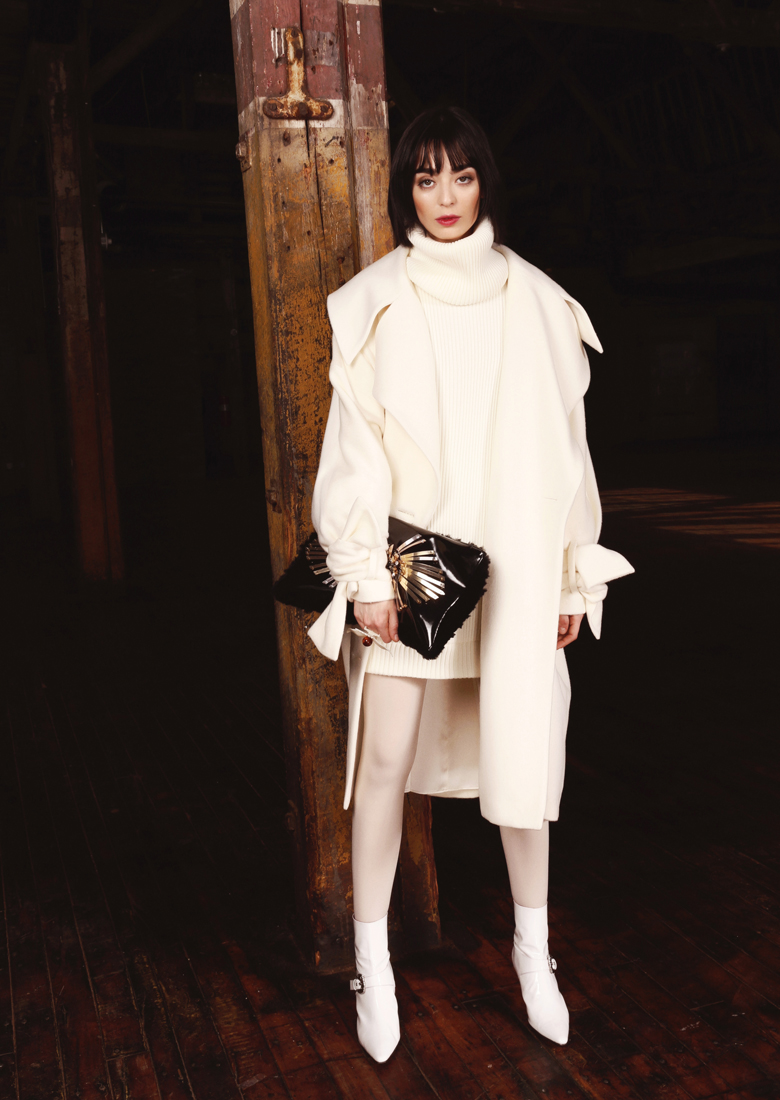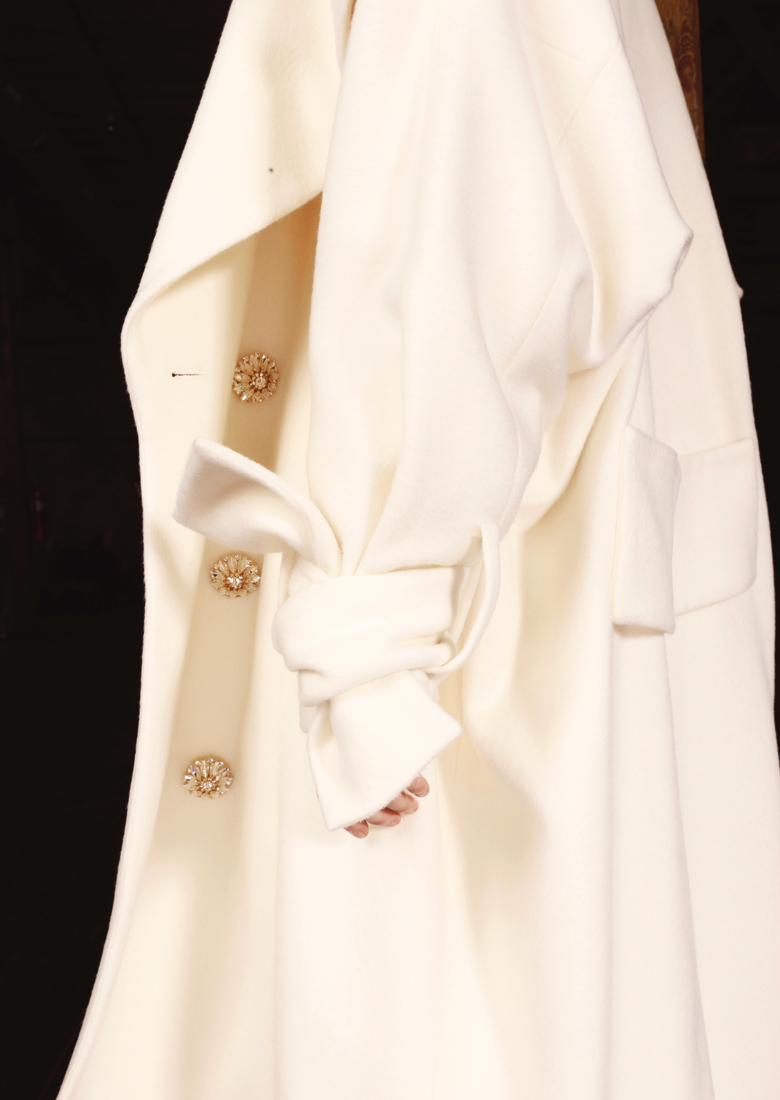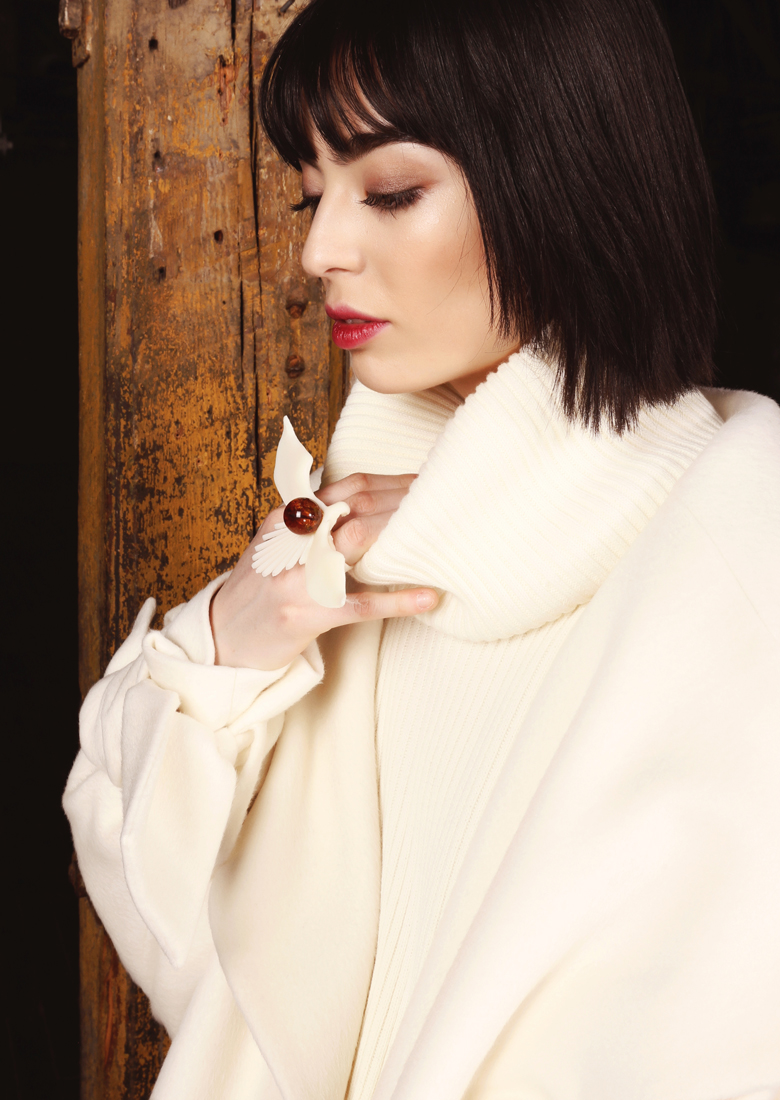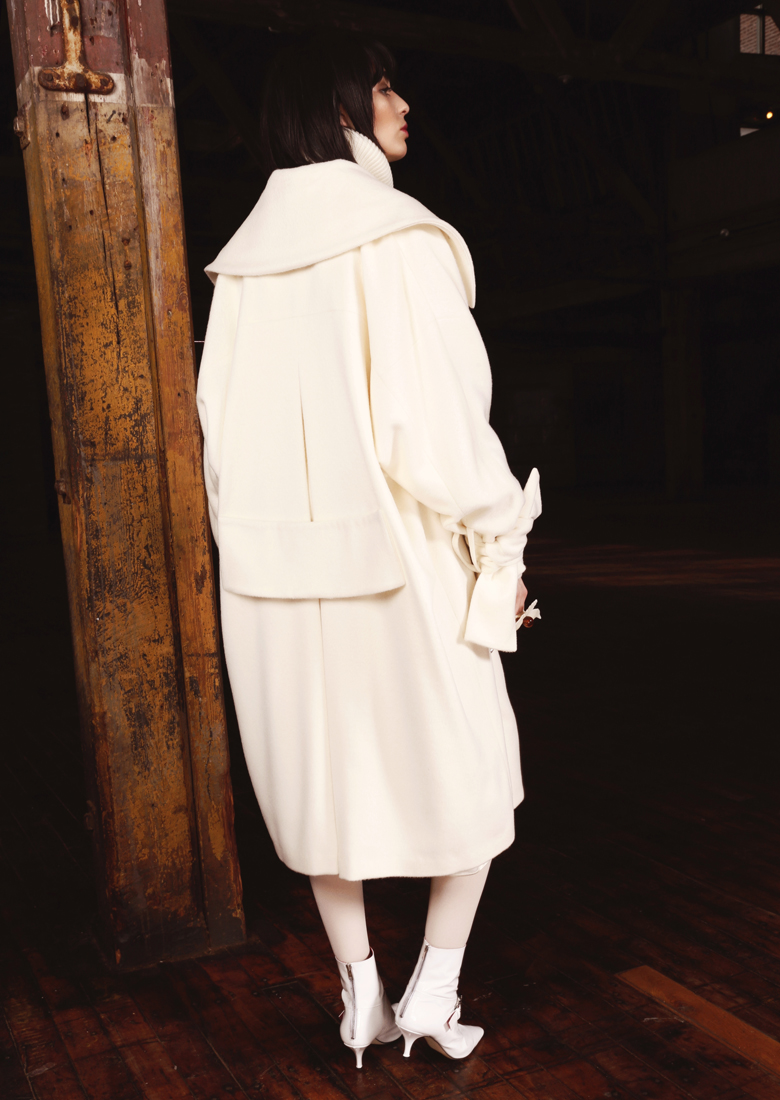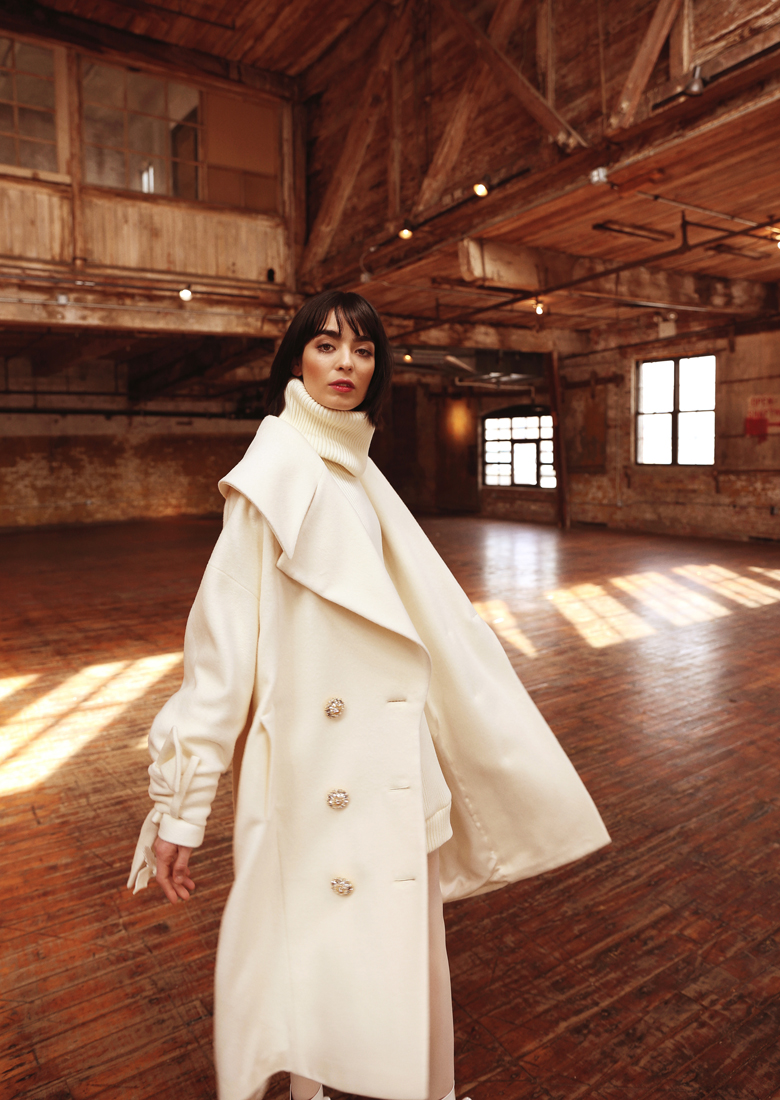 Look 9
Hand Draped Knot Sleeve Mini Dress in Taupe Silk Wool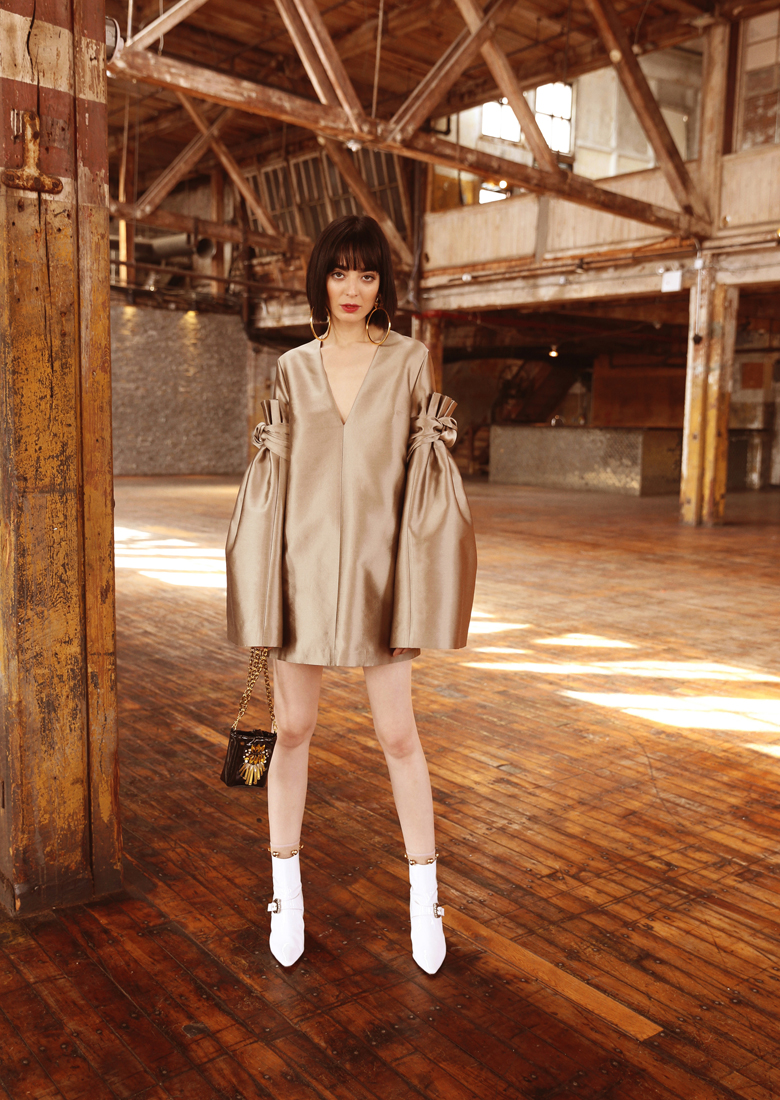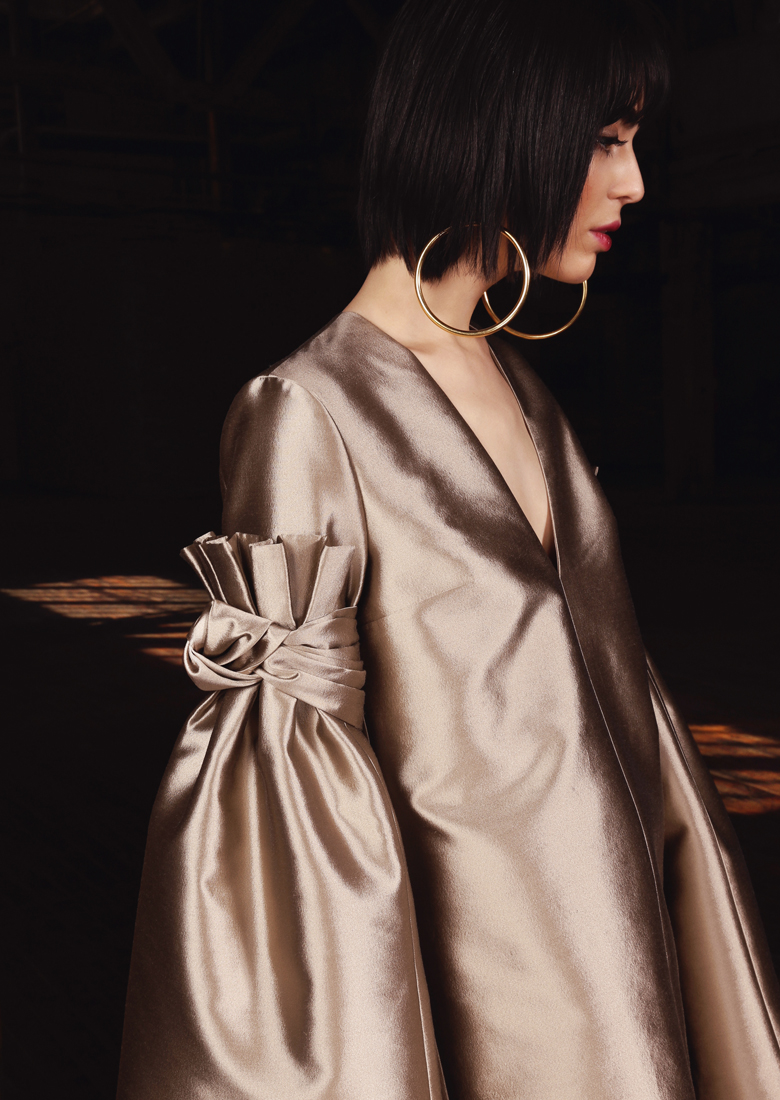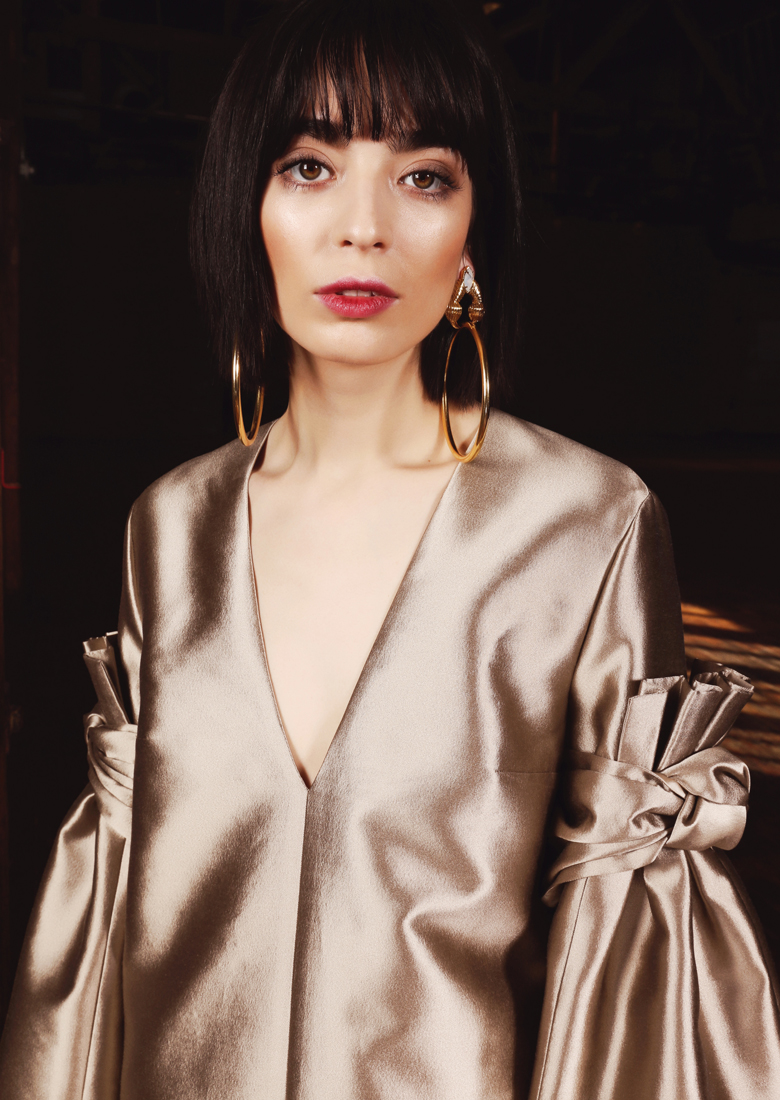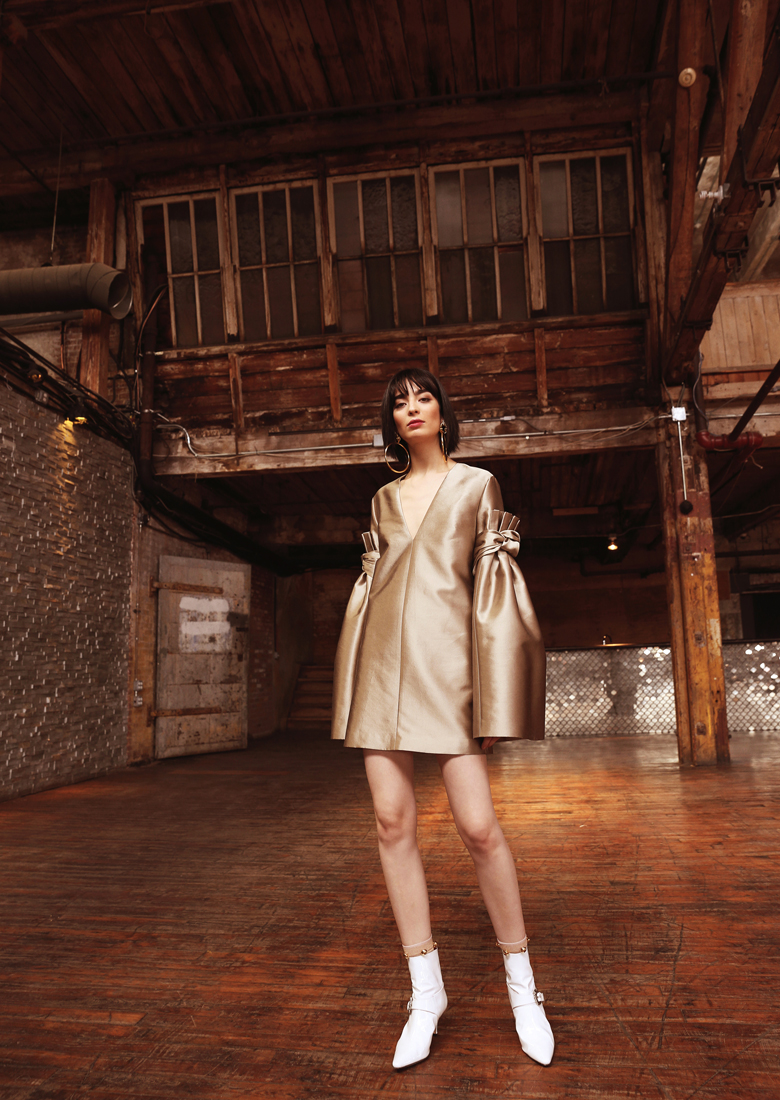 Look 10
Dania Duster Coat in Taupe Crepe Back Satin with Detachable Feather Cuffs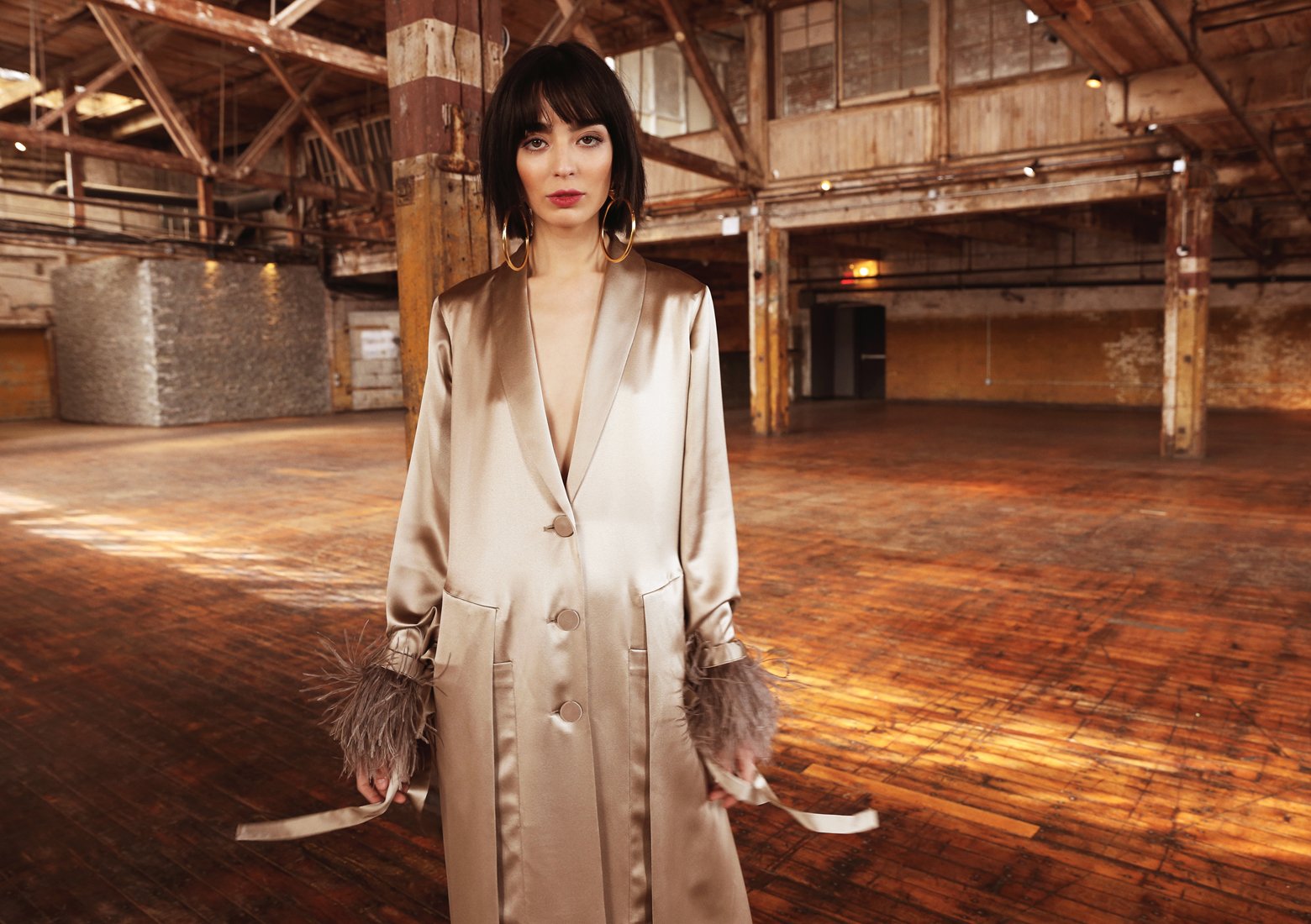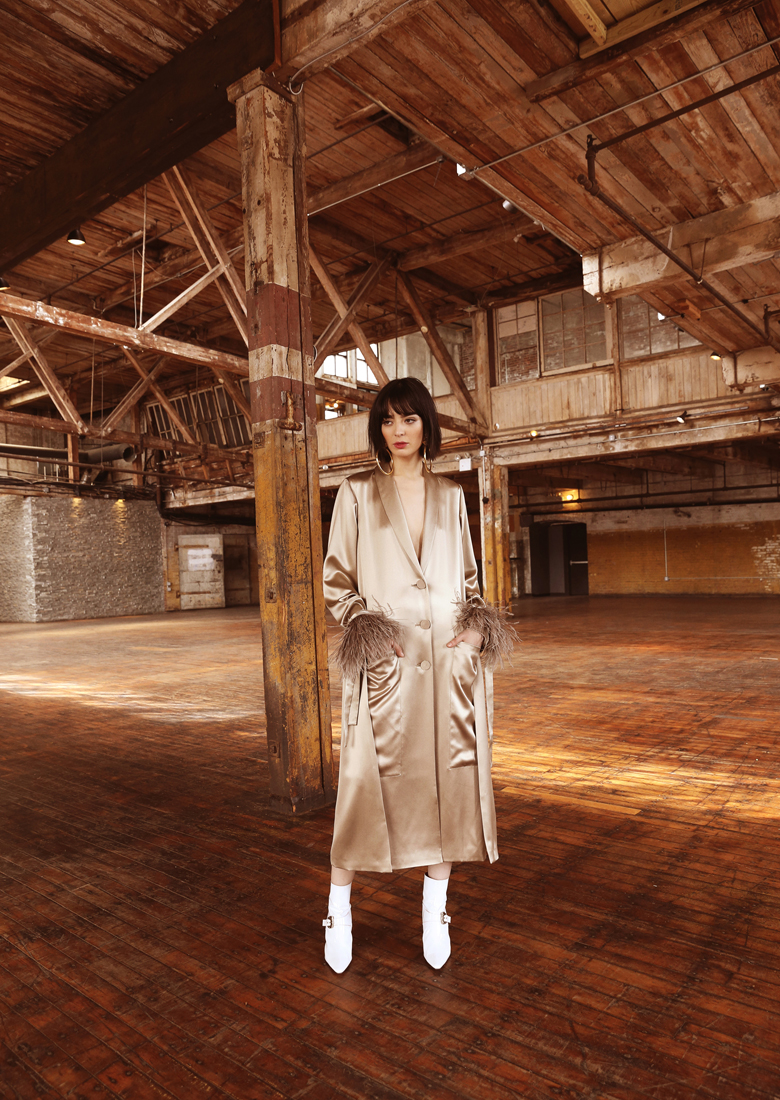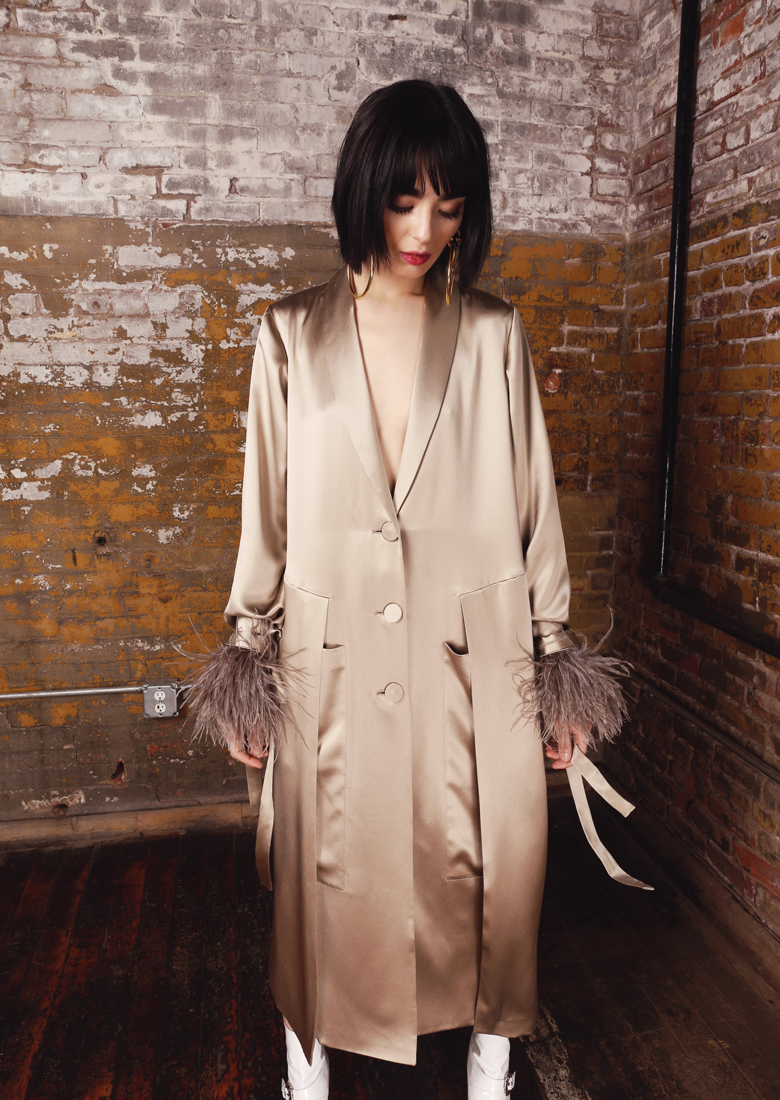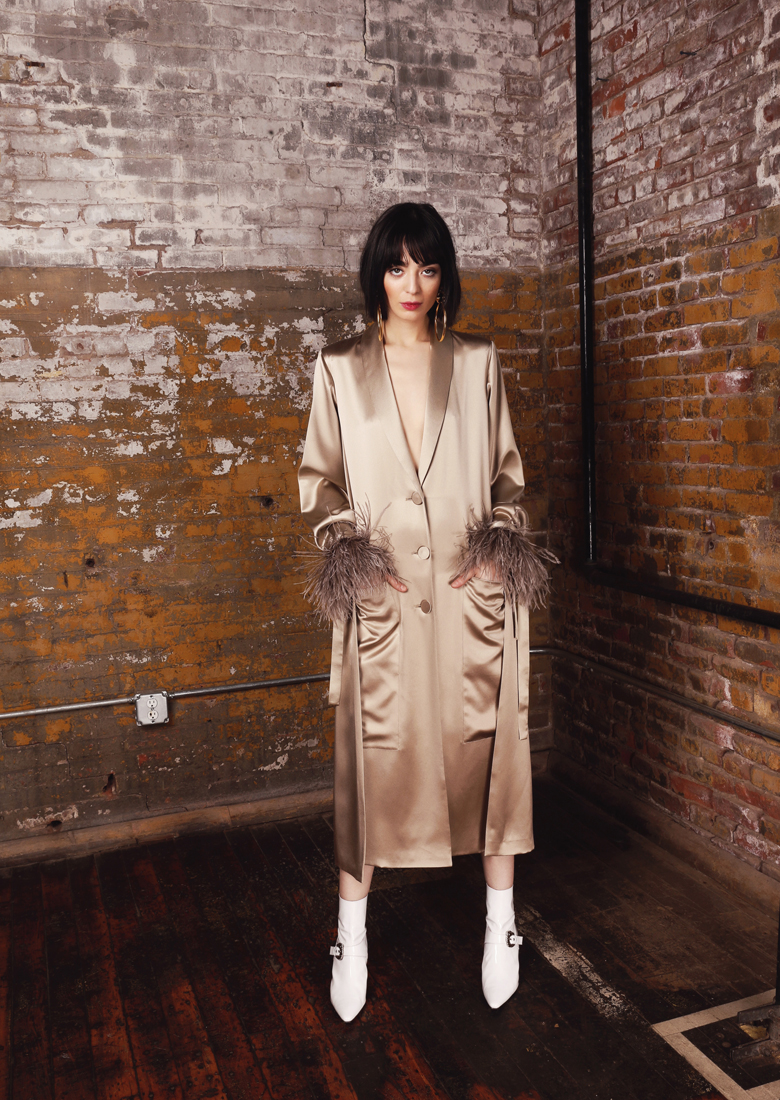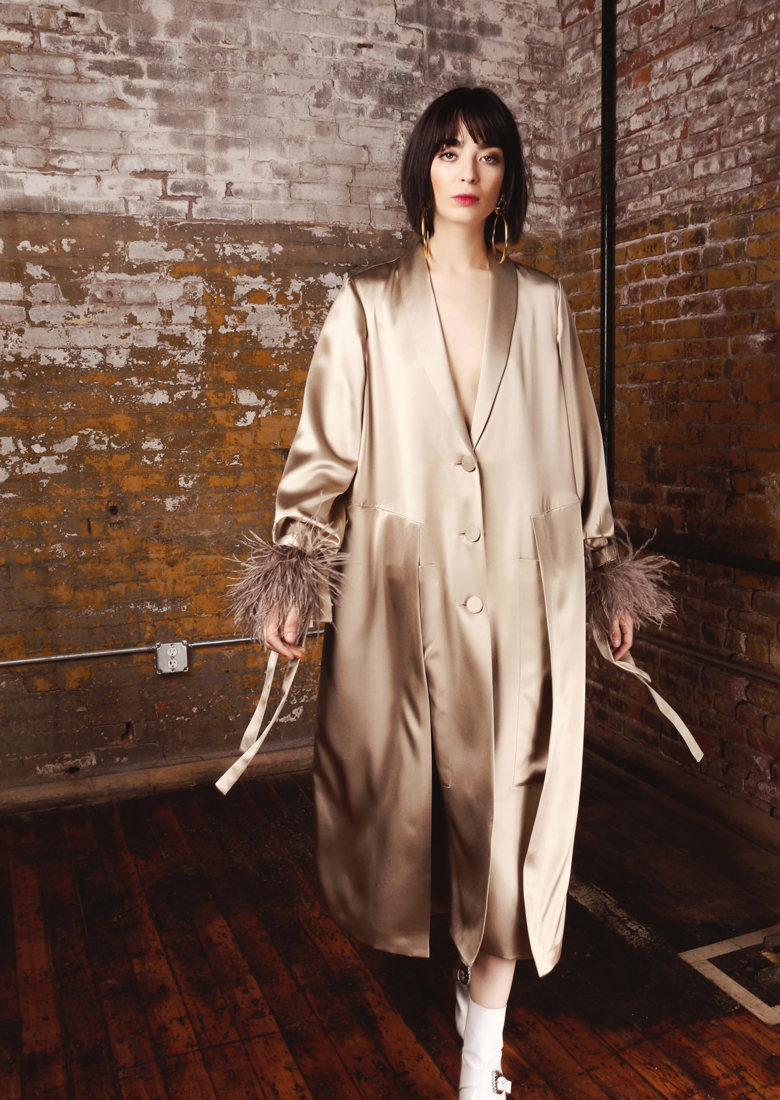 Look 11
Marjan Wide Cuff Palazzo Pants in Taupe Crepe Back Satin with Inka metallic chiffon button front blouse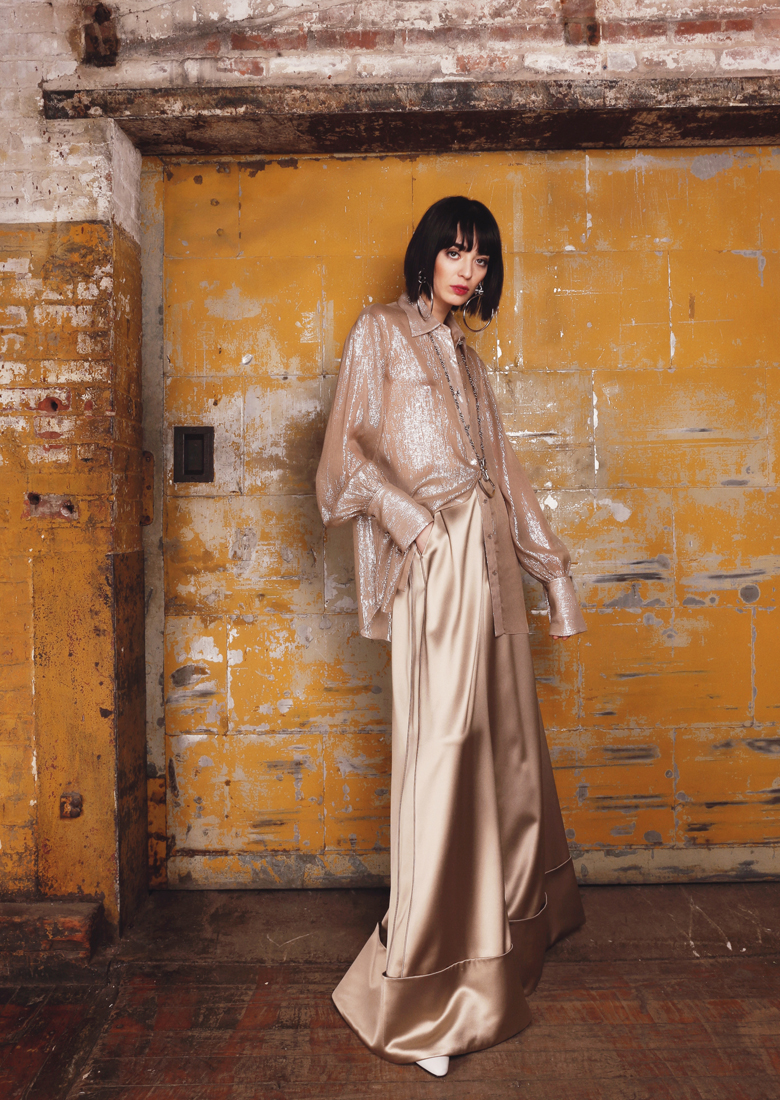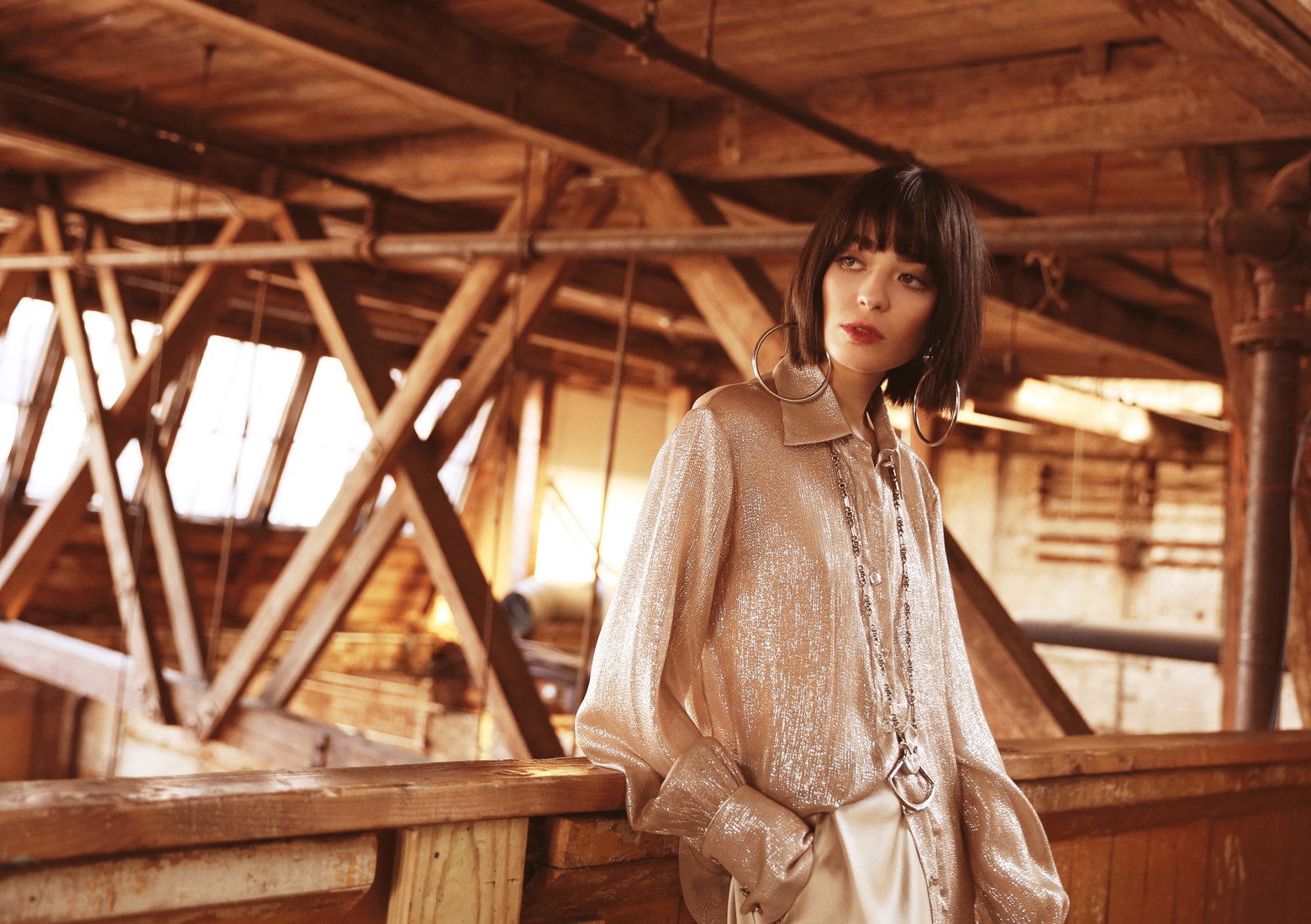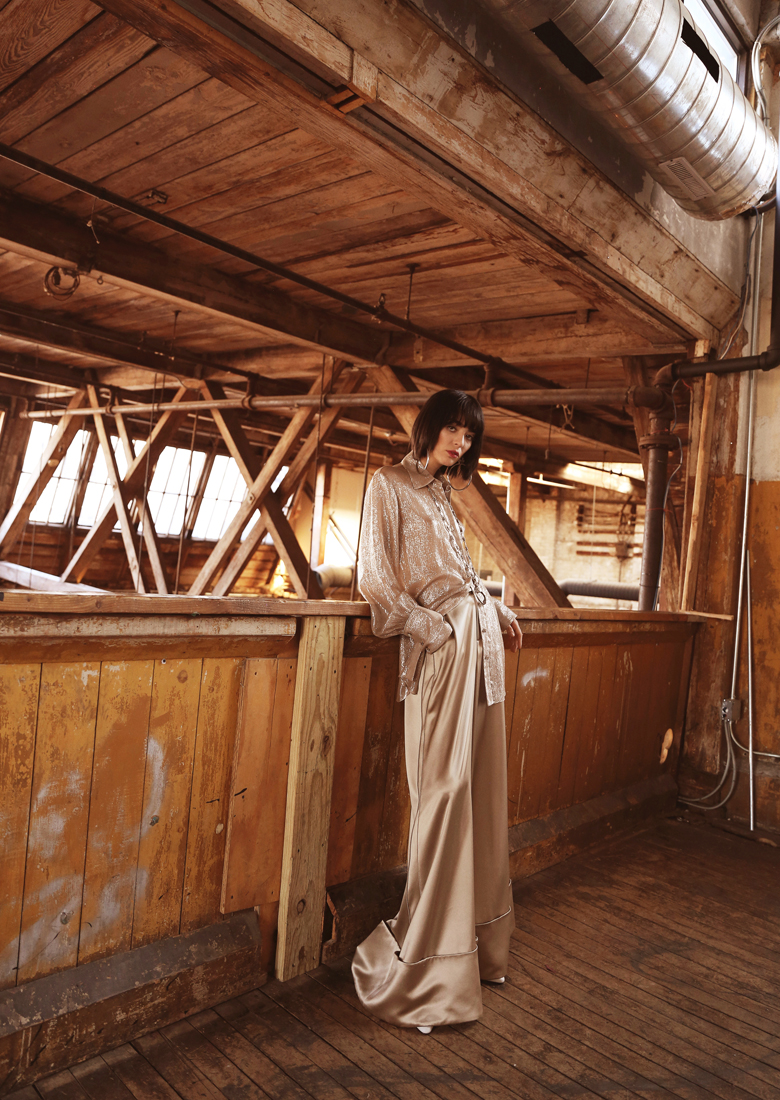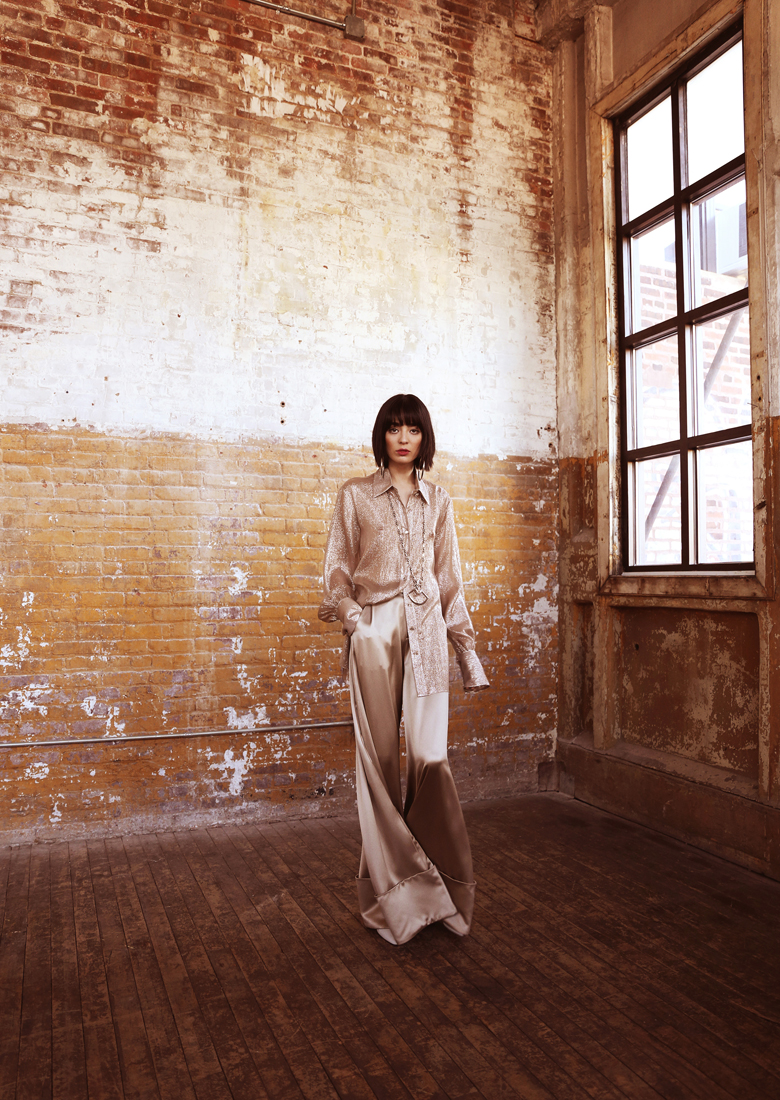 Look 12
White Gold Evening Suit in Iridescent Metallic Twill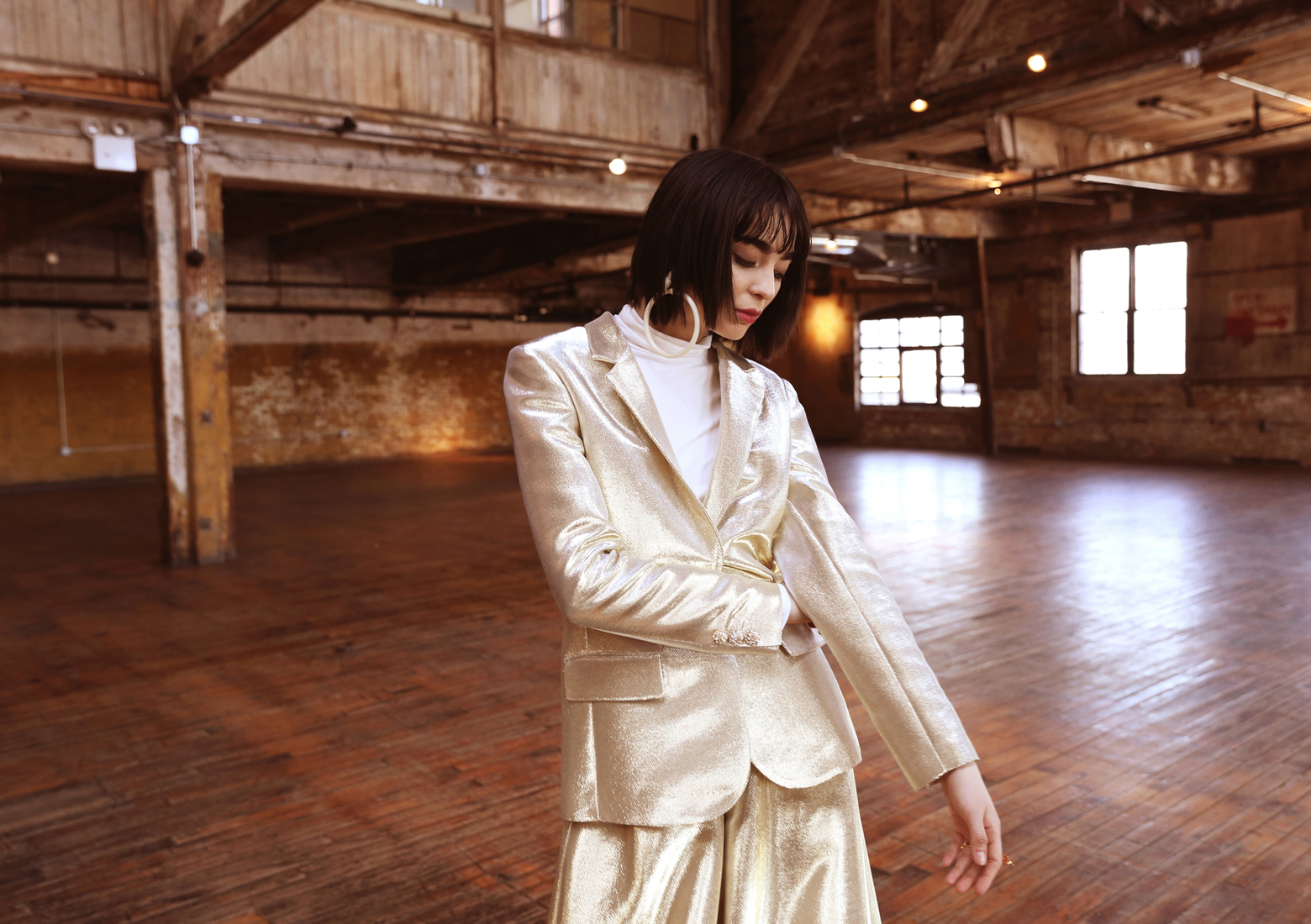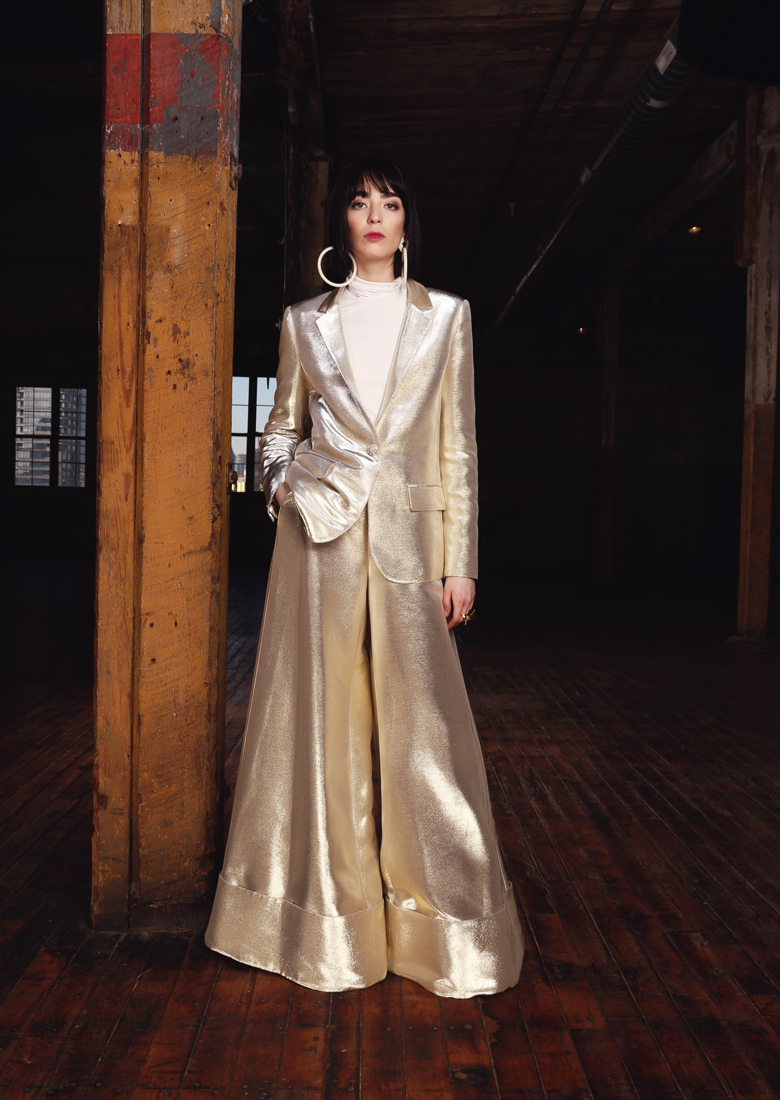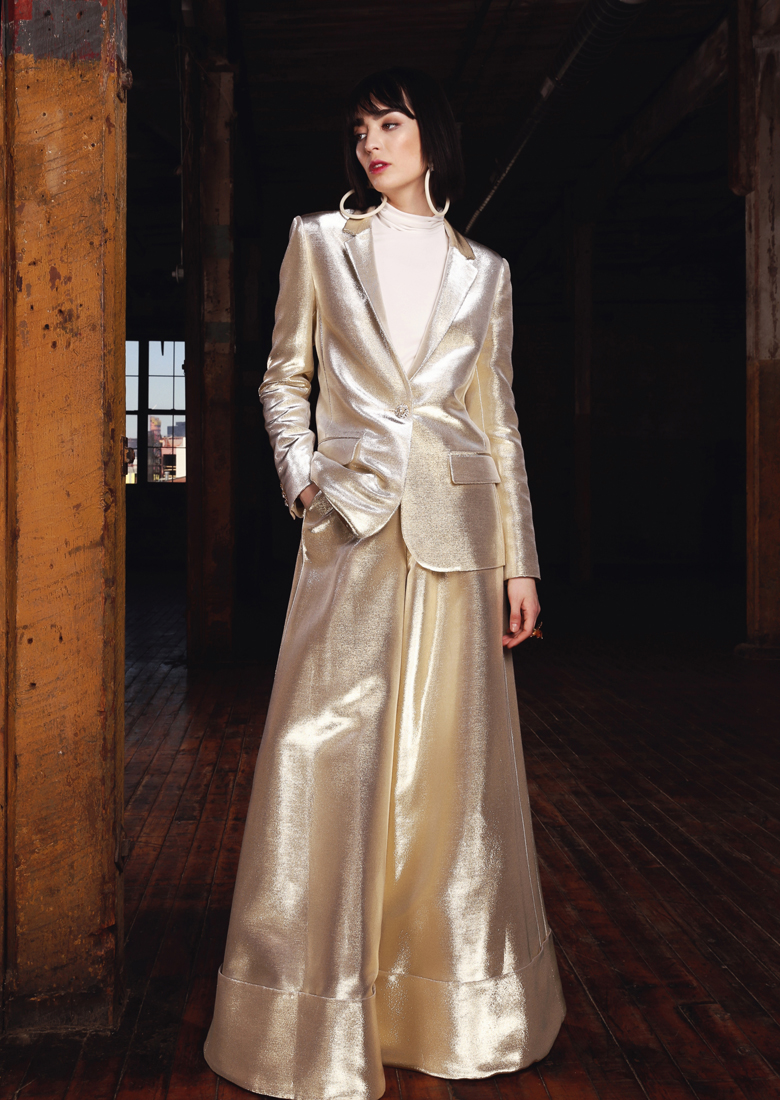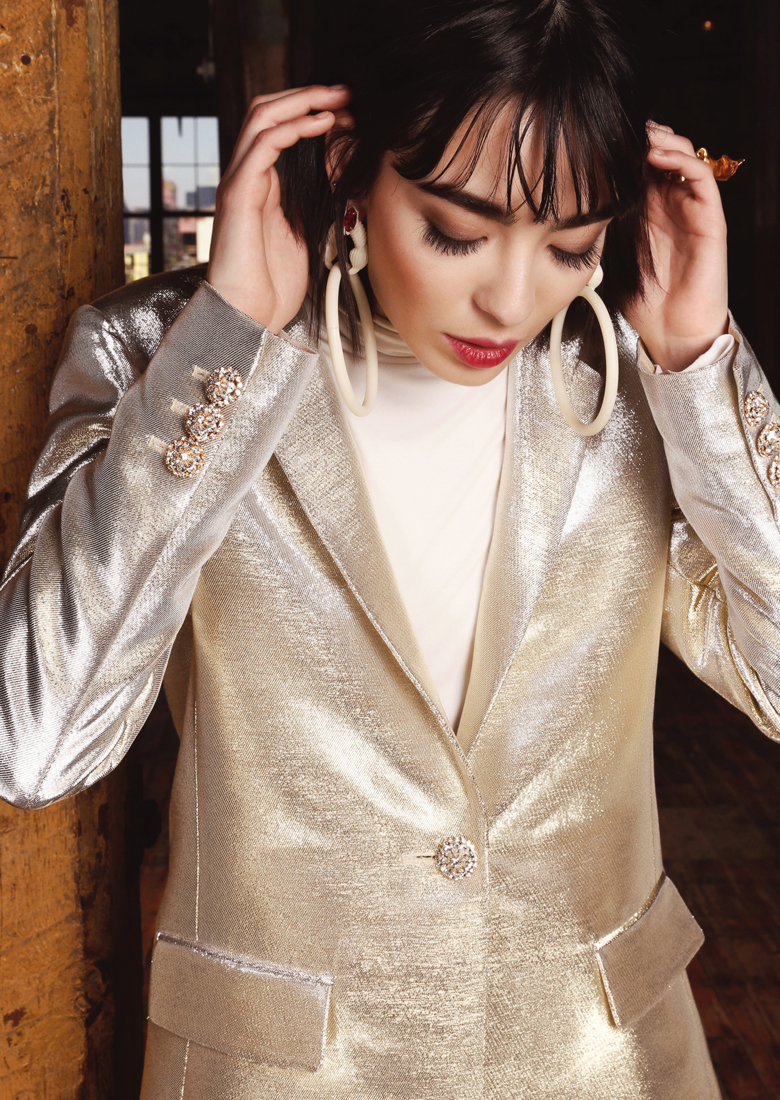 Look 13
Arman Velvet Tunic and Palazzo Pant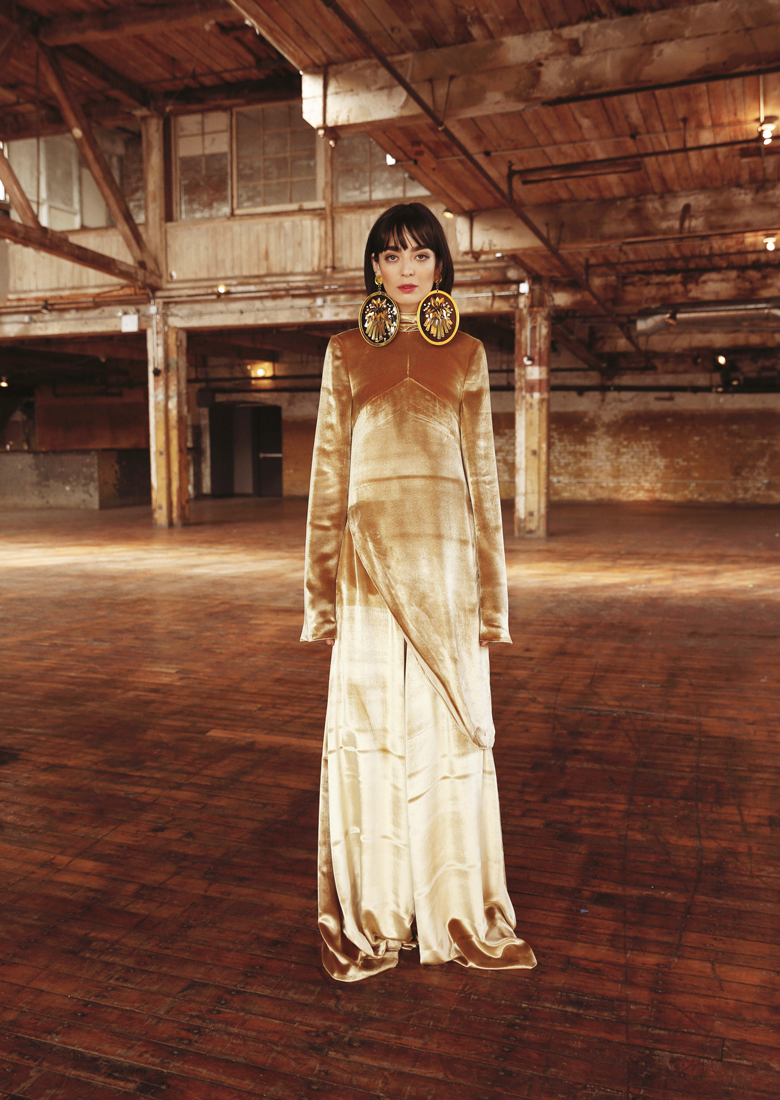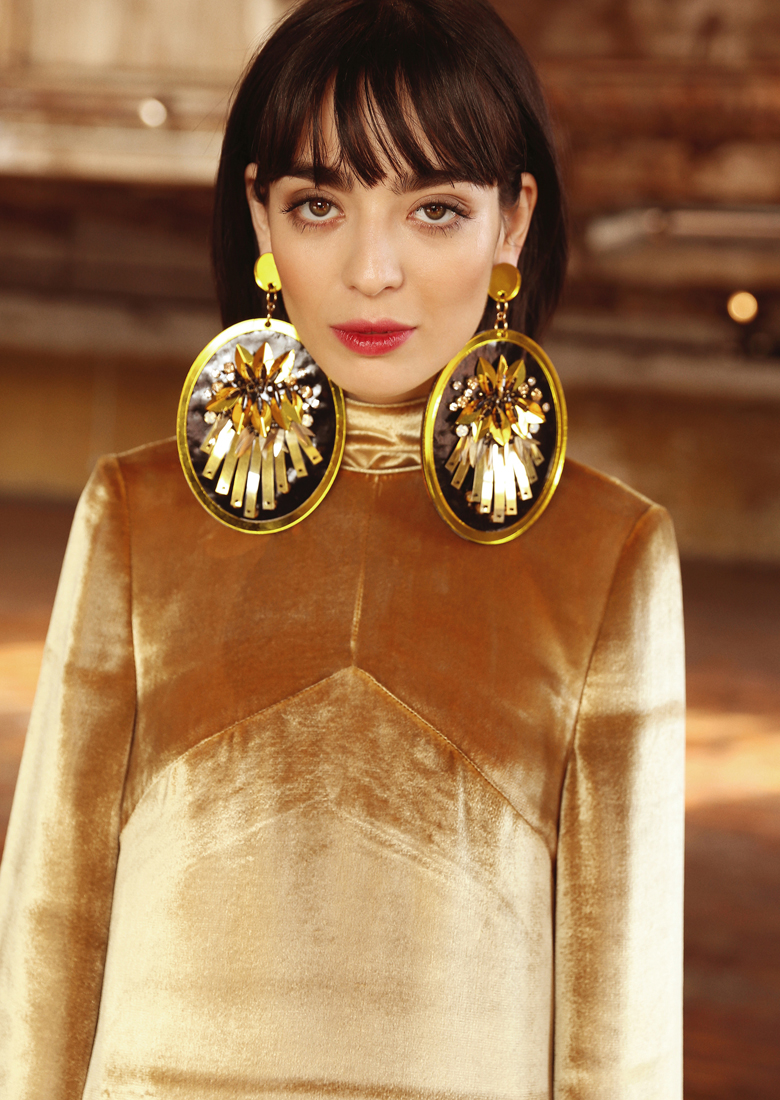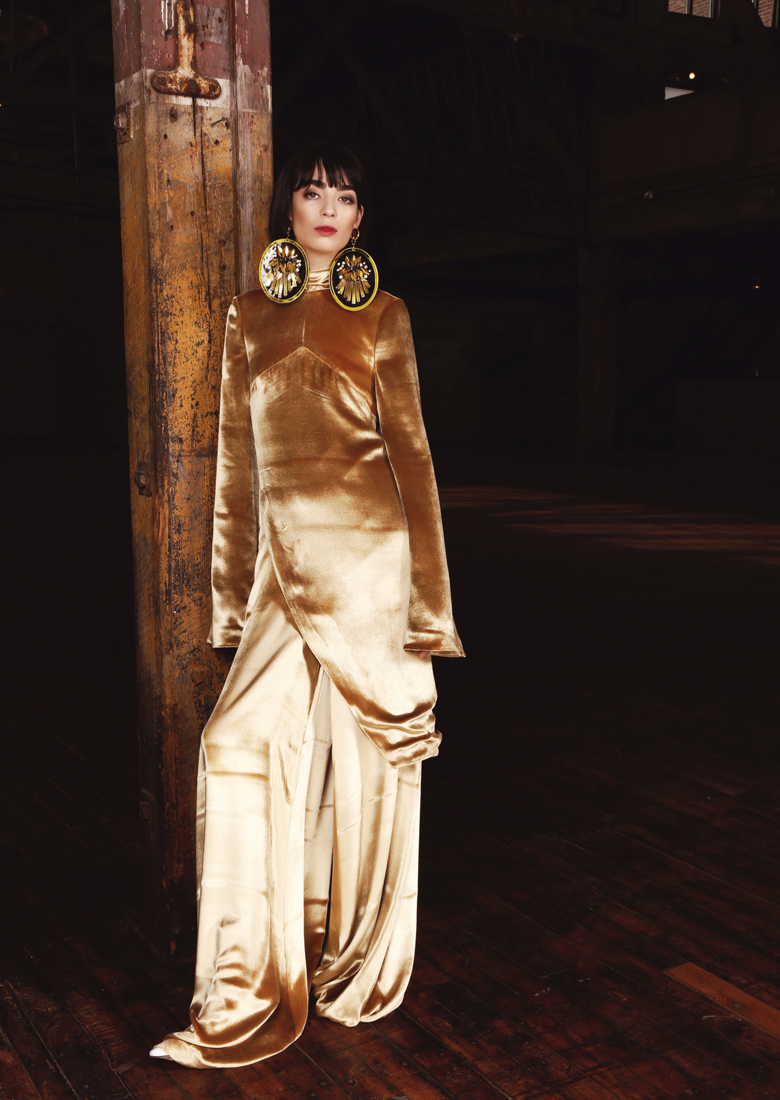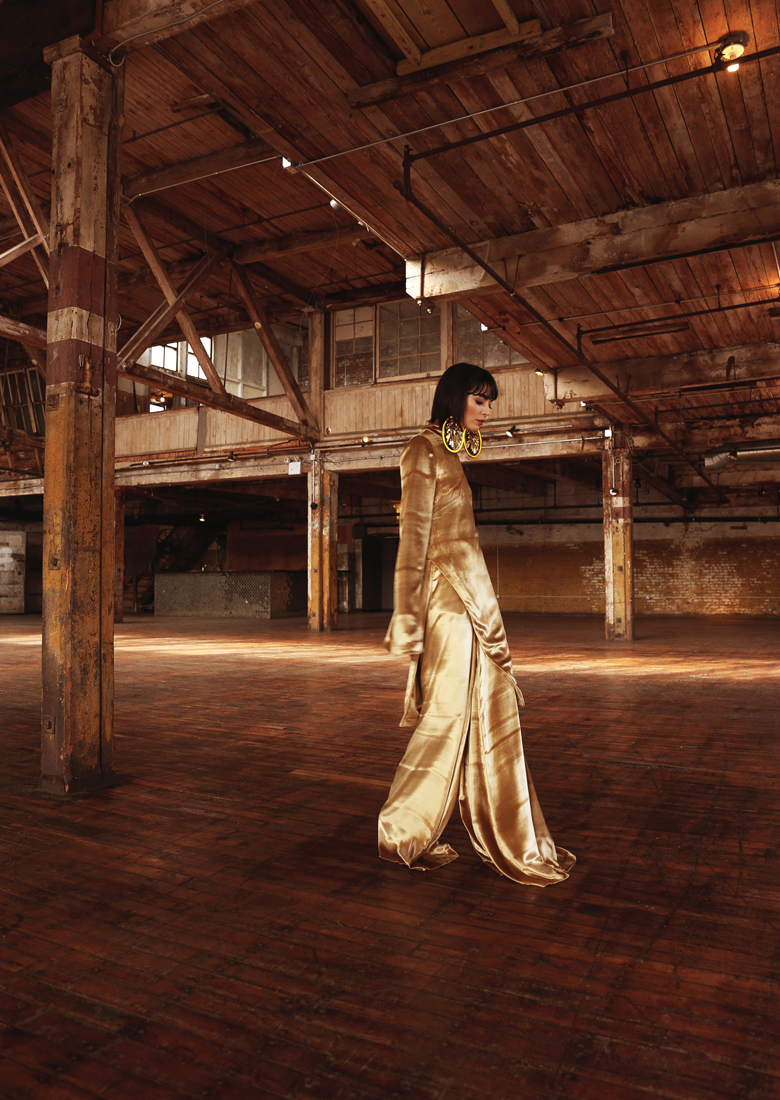 Look 14
Lola Gold Lame Gathered Cuff Blouse and A-line skirt with jeweled belt. Shown with Black and 18K gold plated 3D printed bead earrings and Black Bird in Flight Knuckle Duster Rings.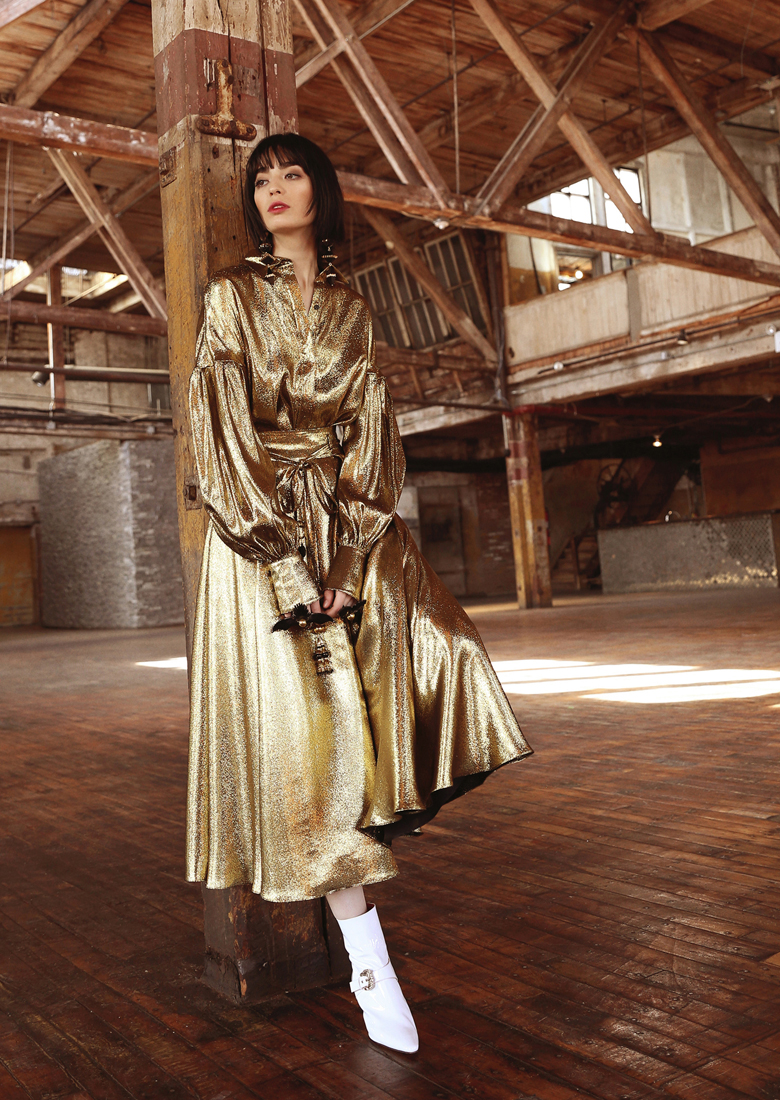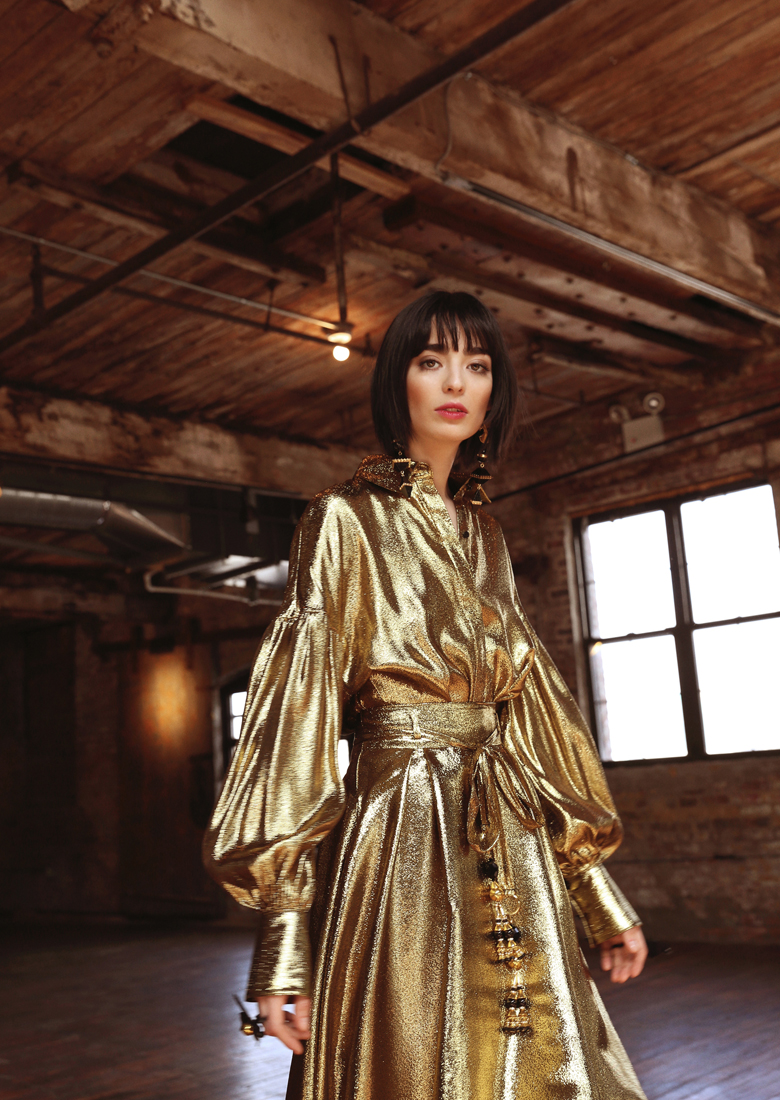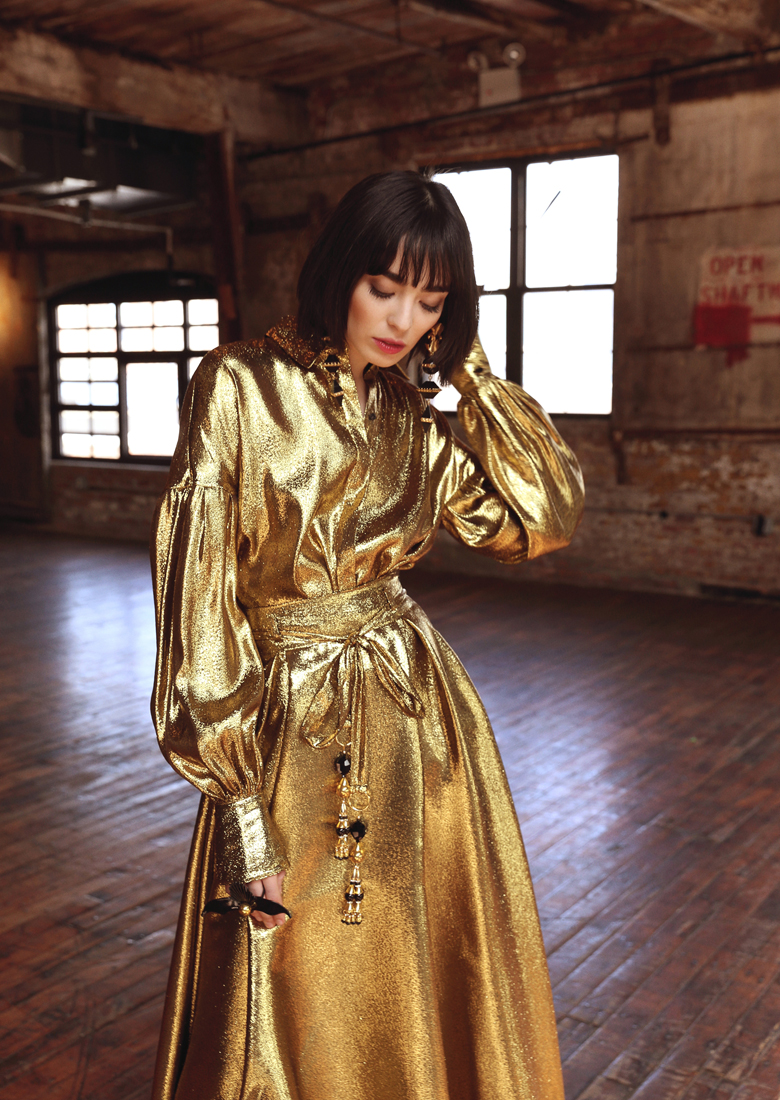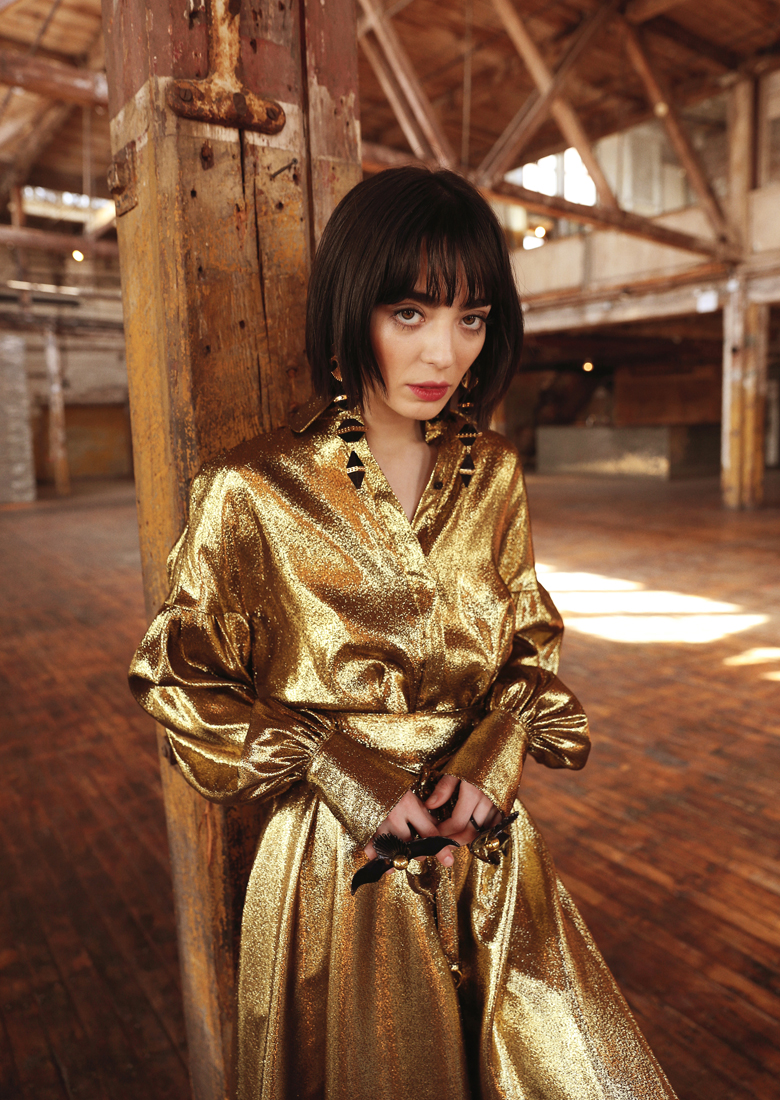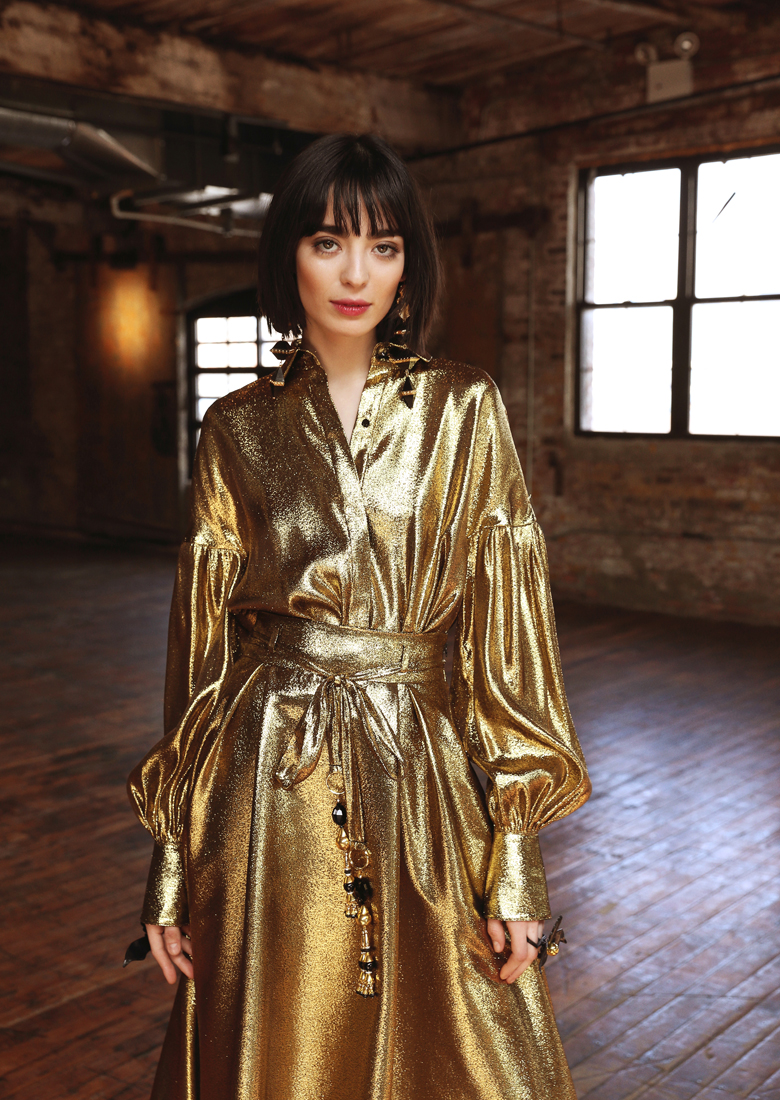 Look 15
Gold Moire Trumpet Dress with Detachable Collar Detail. Shown with 18K Gold Plated Claw Hoop Earrings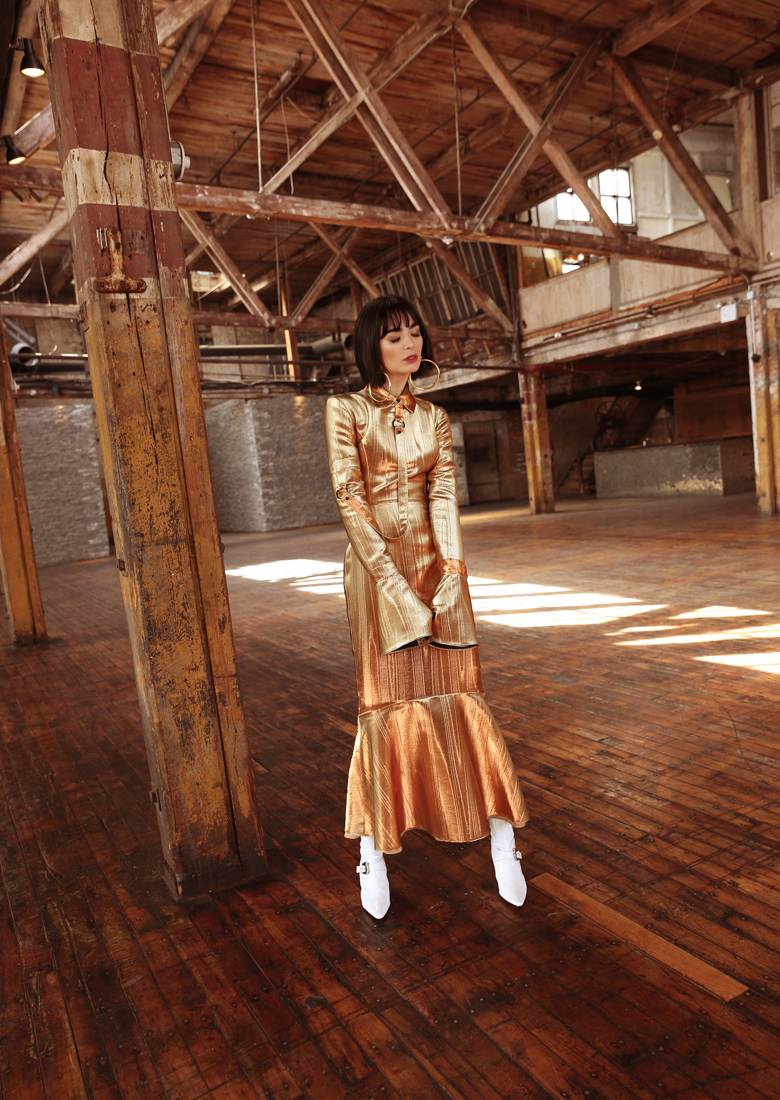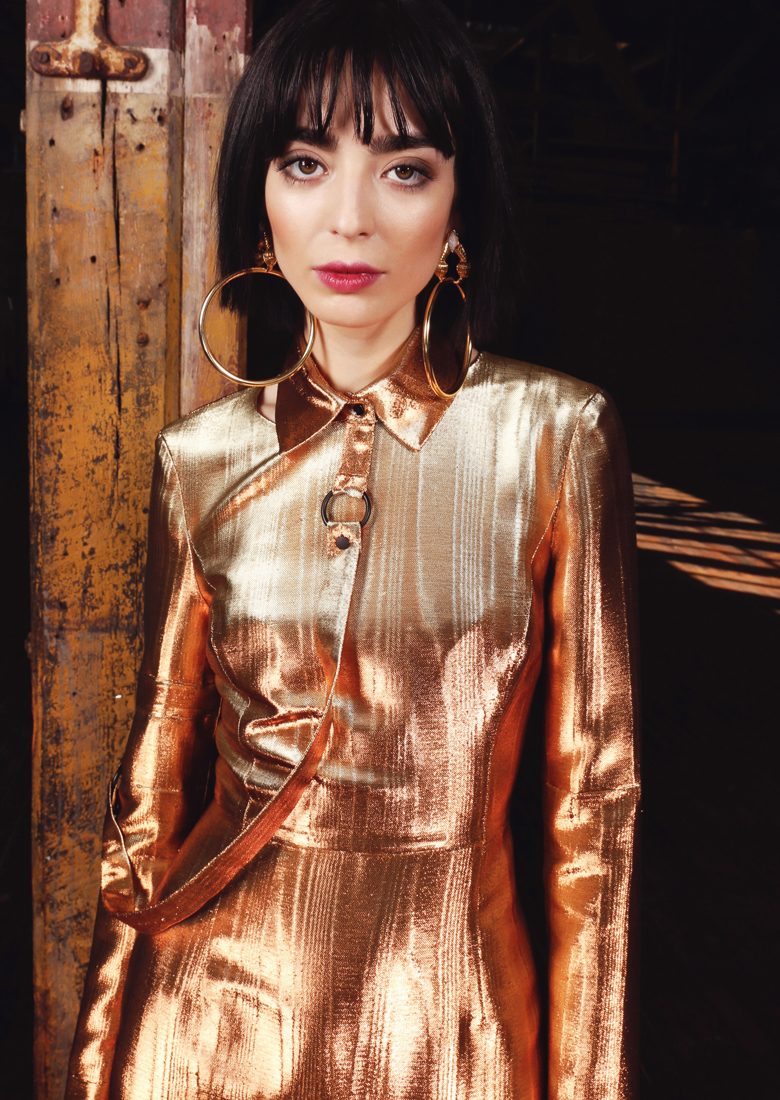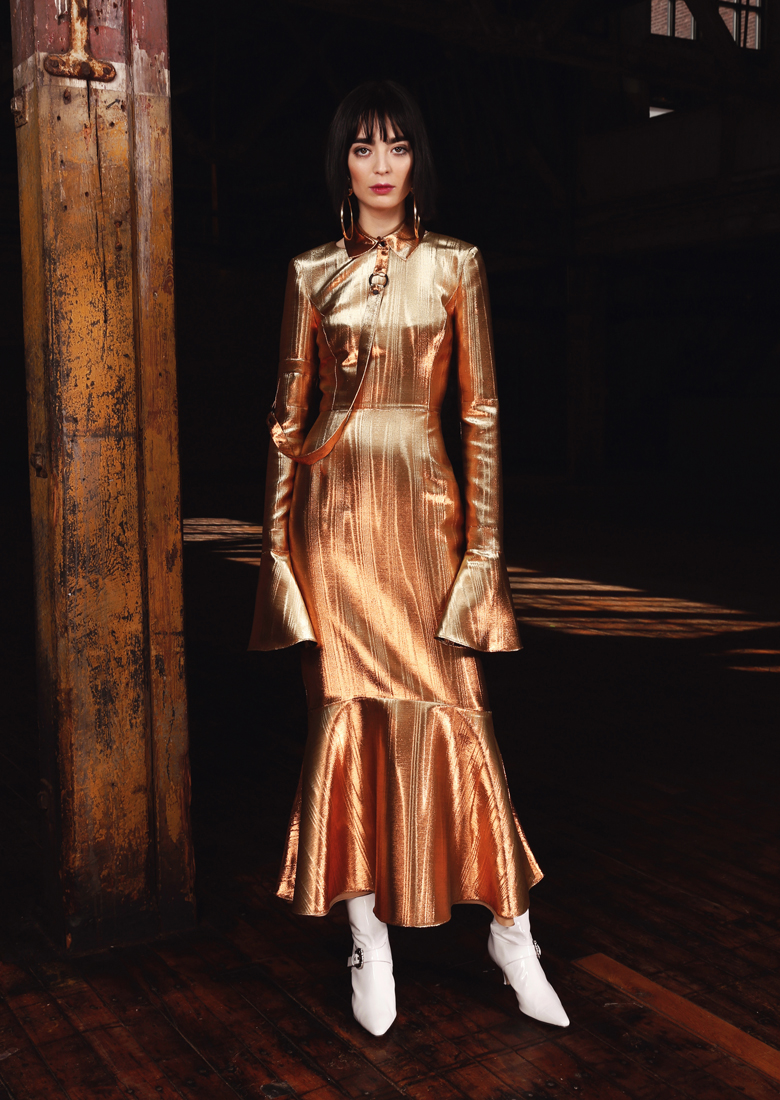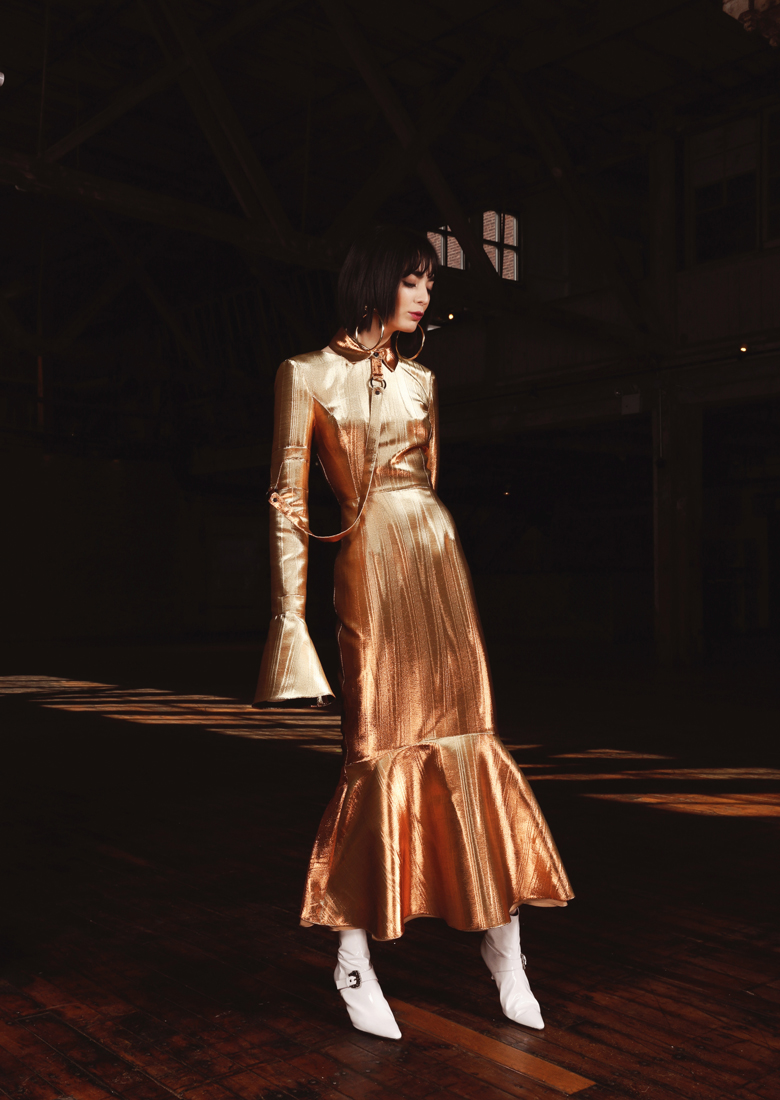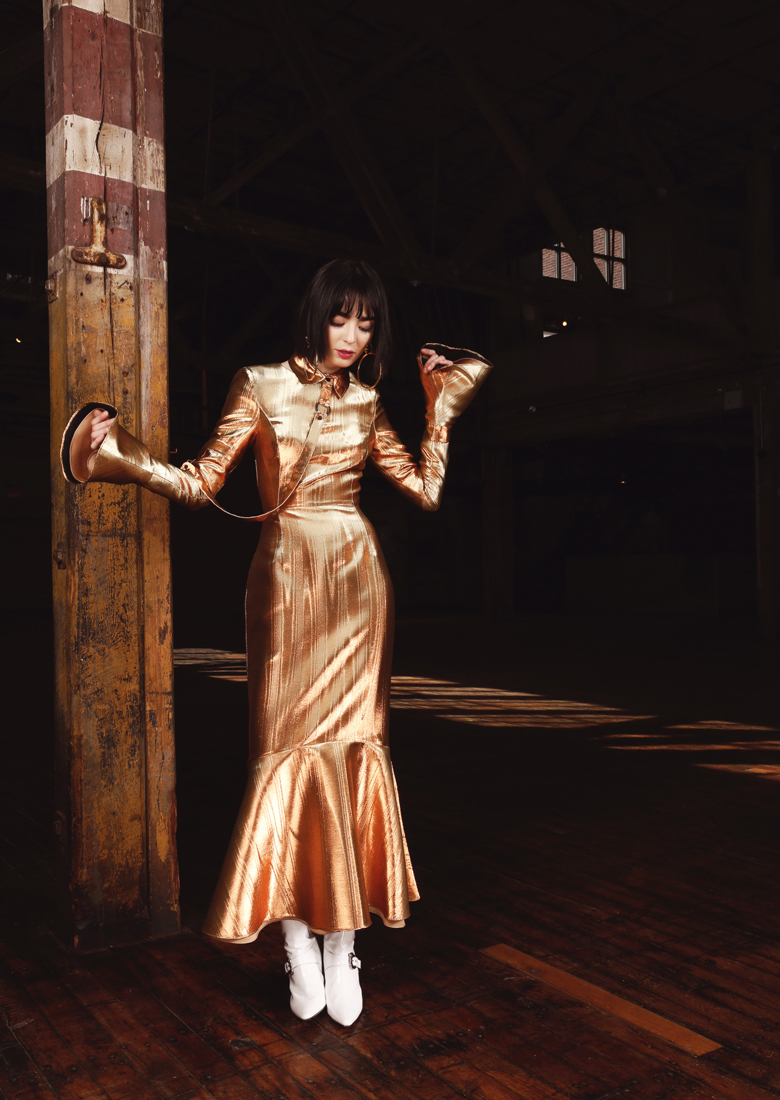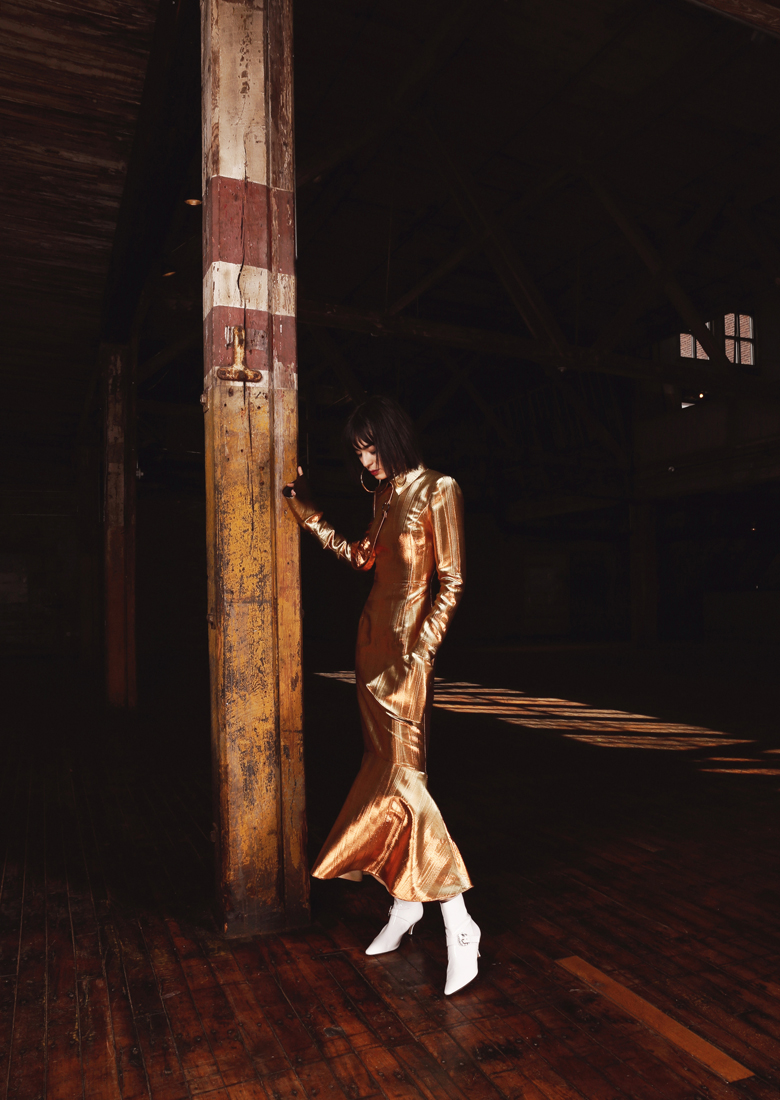 Look 16
Alicia V-Neck Blouse in Orange Lame with Matching A-line Skirt. Shown with 3D printed Claw Hoops in Bone with Black Rhodium Scallop Pendant Necklace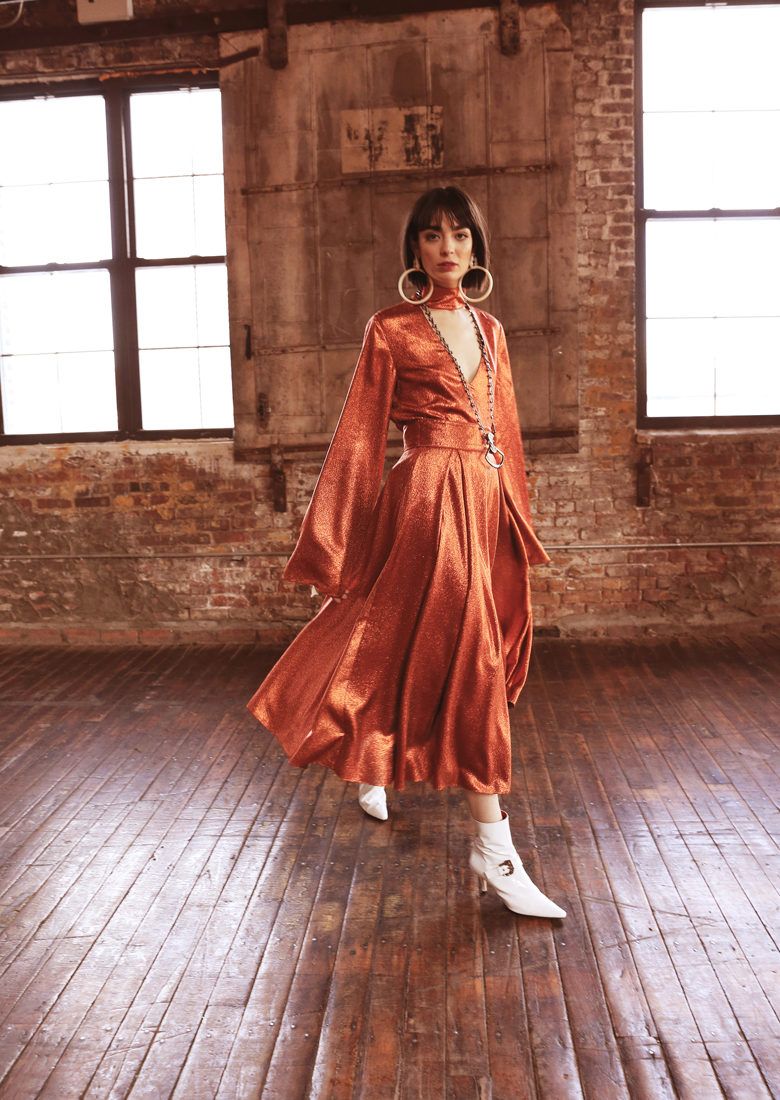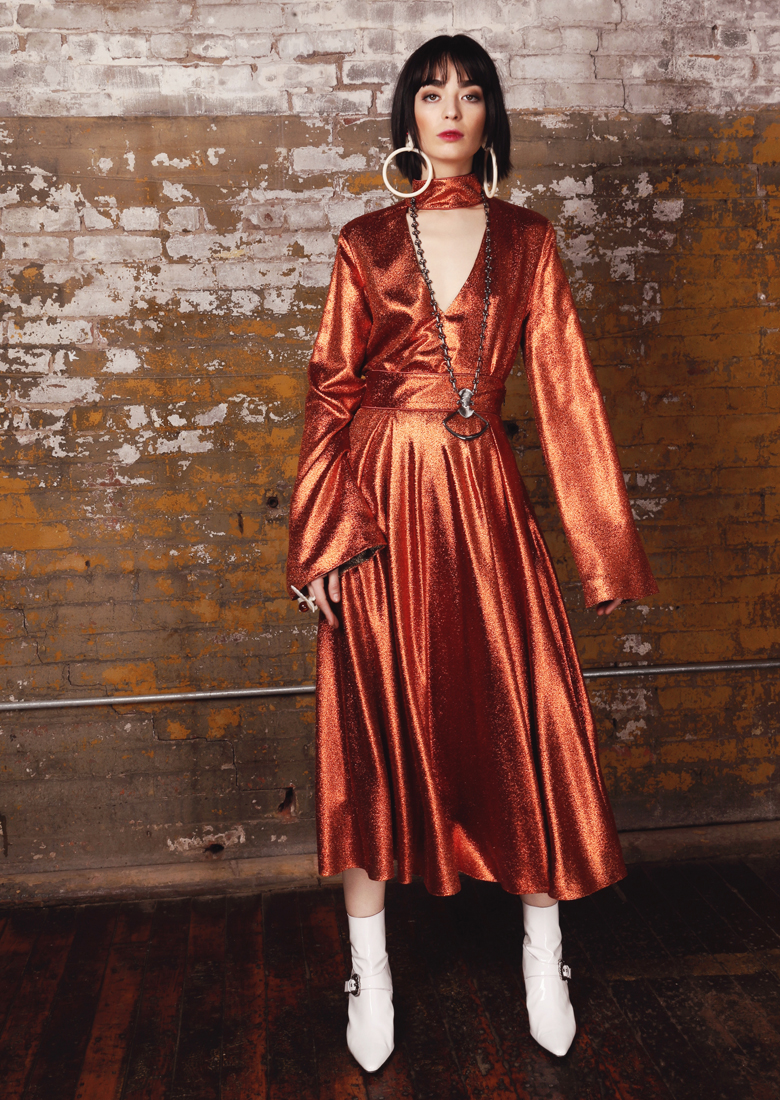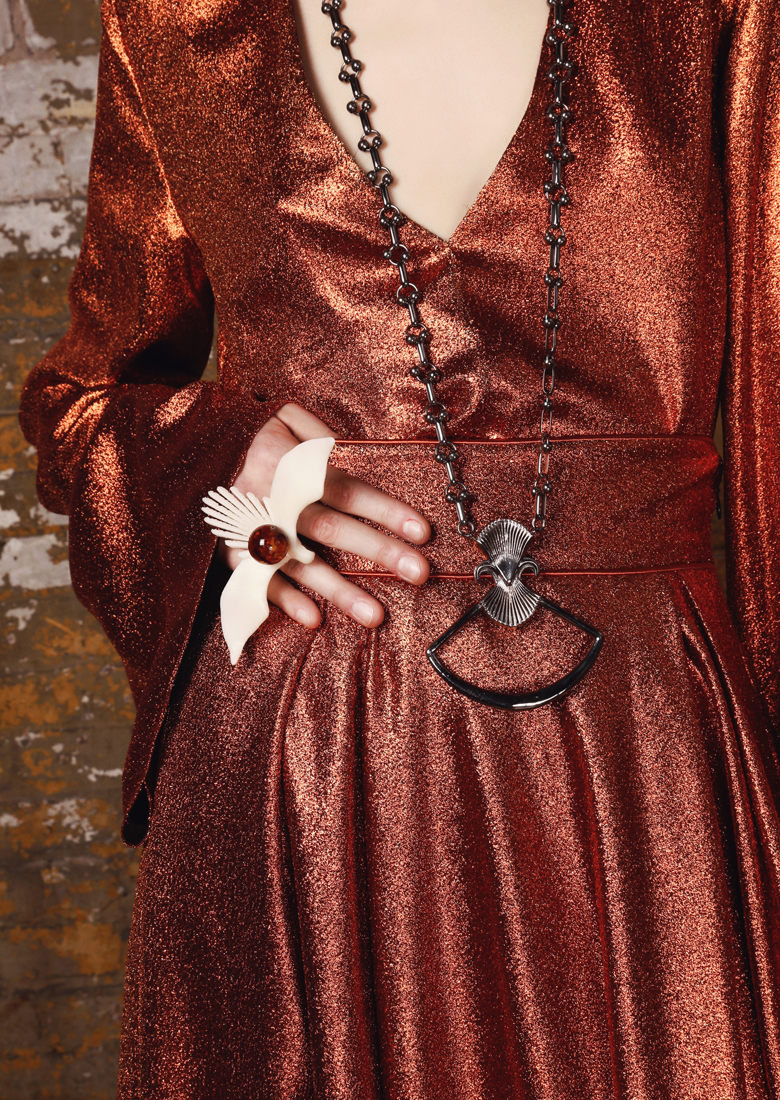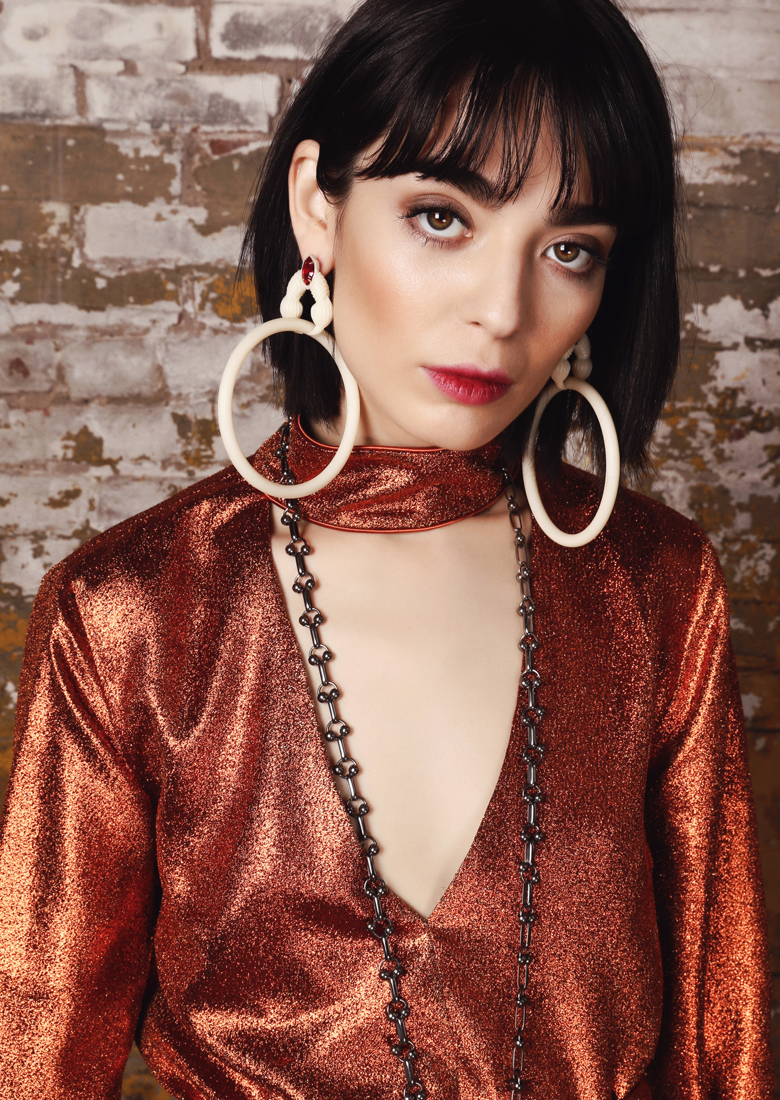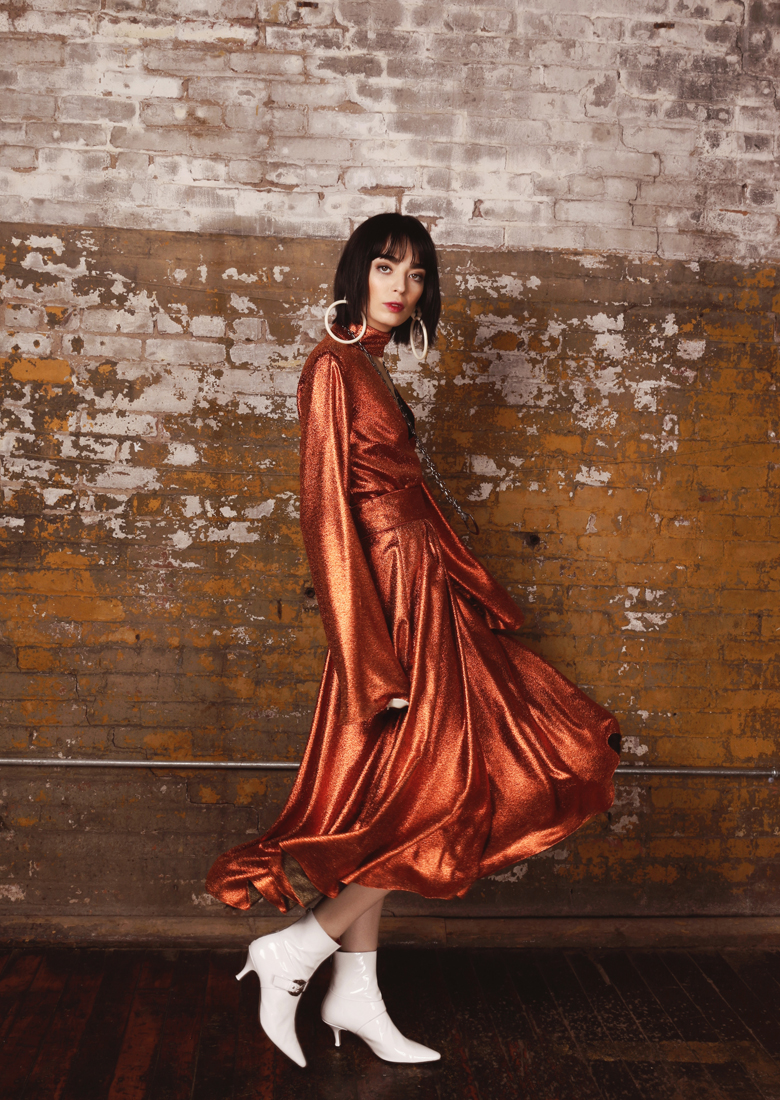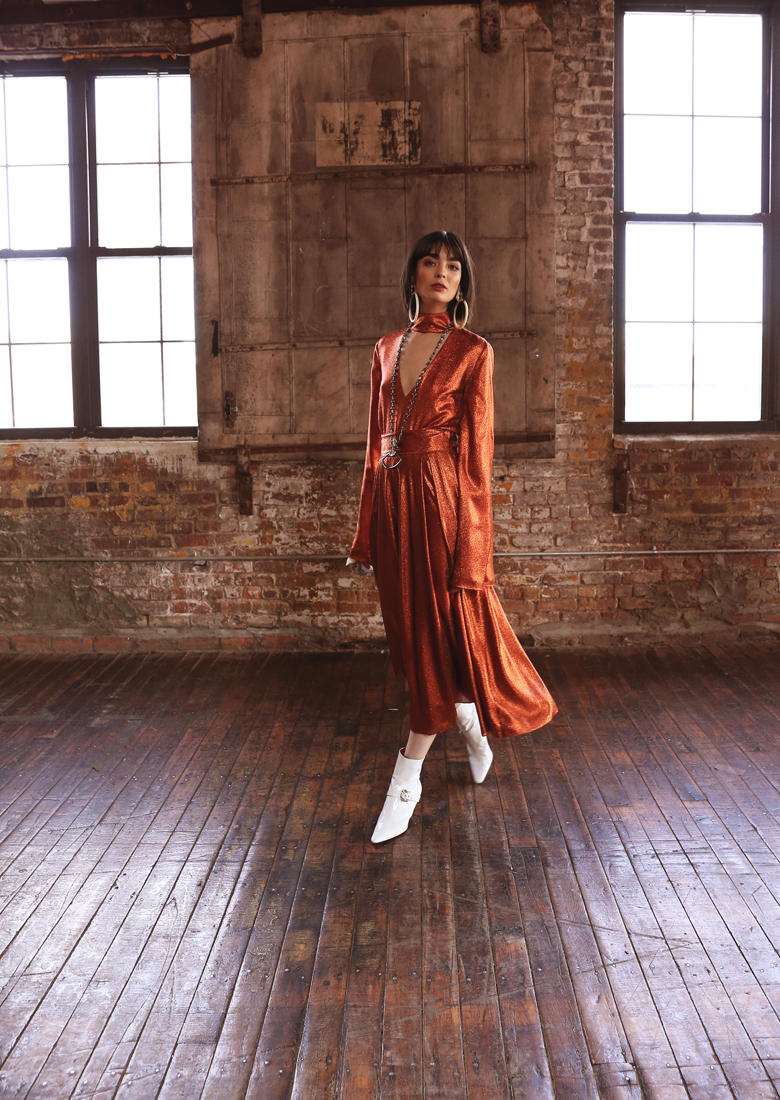 Look 17
Aliya Black Velvet Floor Length Dress with button closure side seams and adjustable tie straps. Shown with Altai micro bag, Black Vinyl Embellished Clutch Purse and Altai embellished gloves.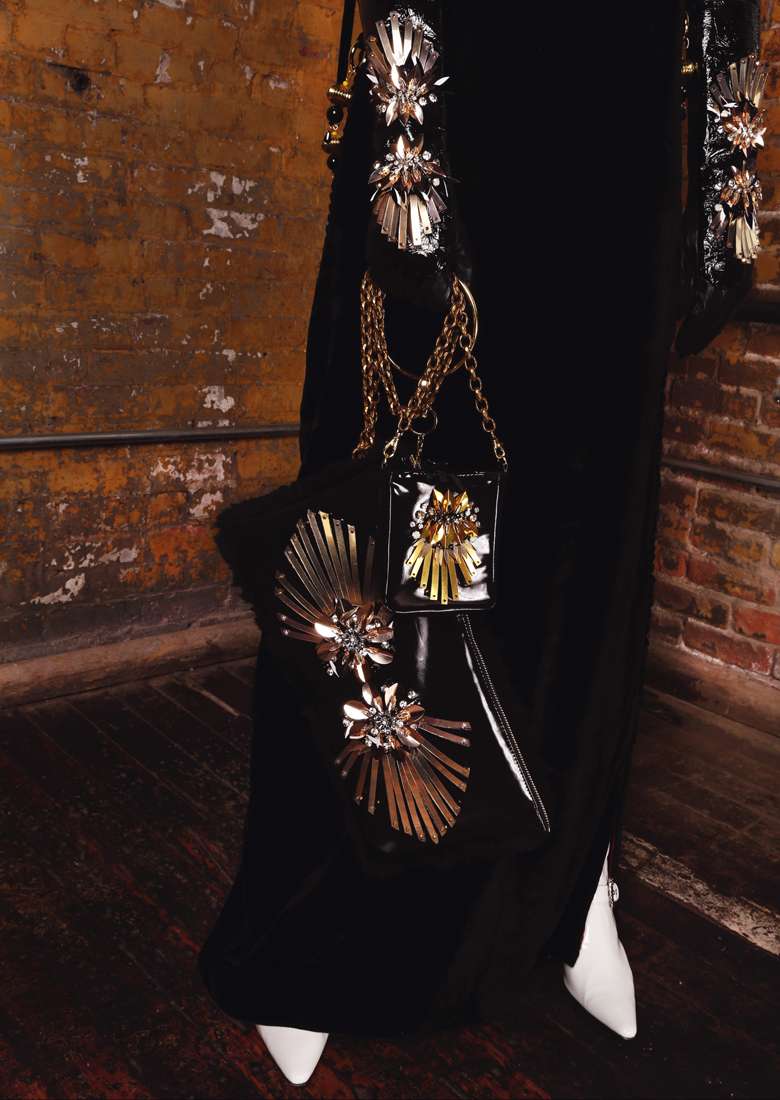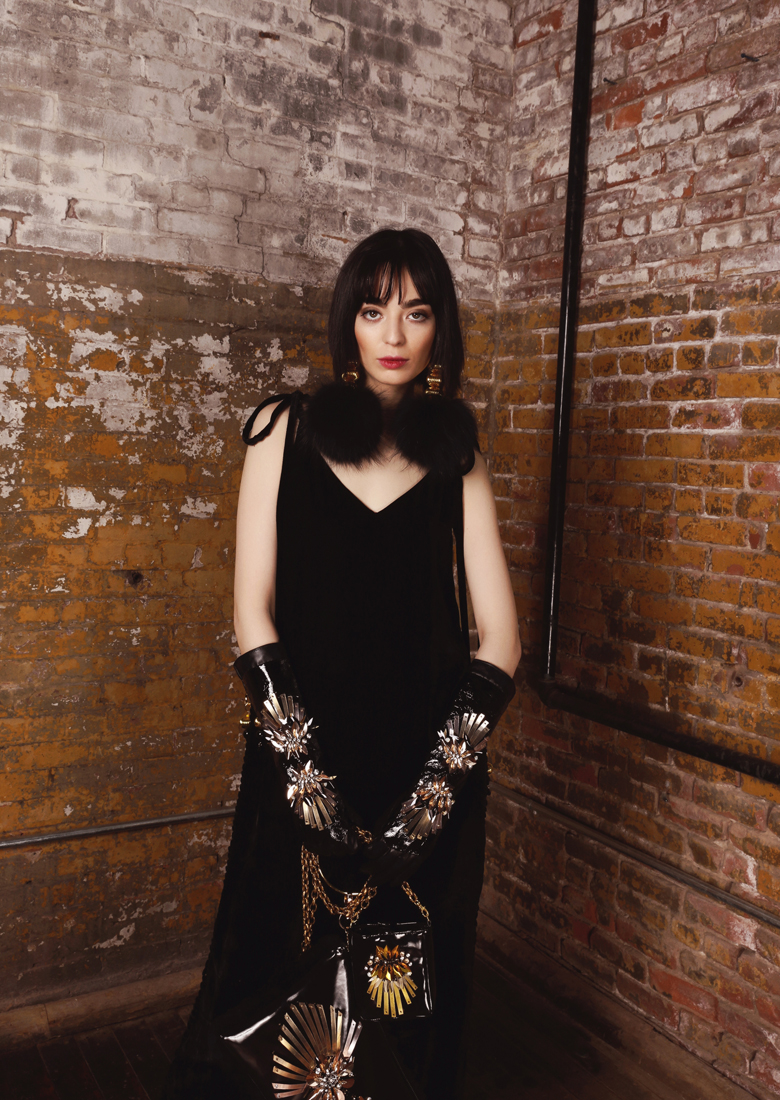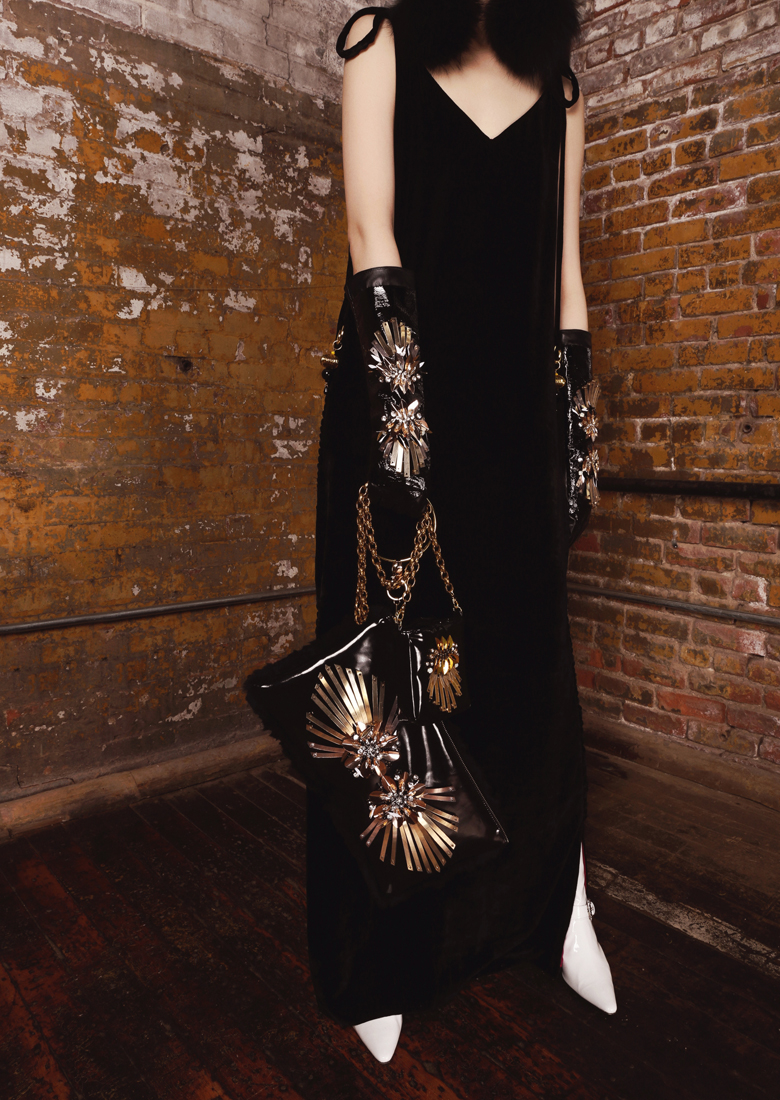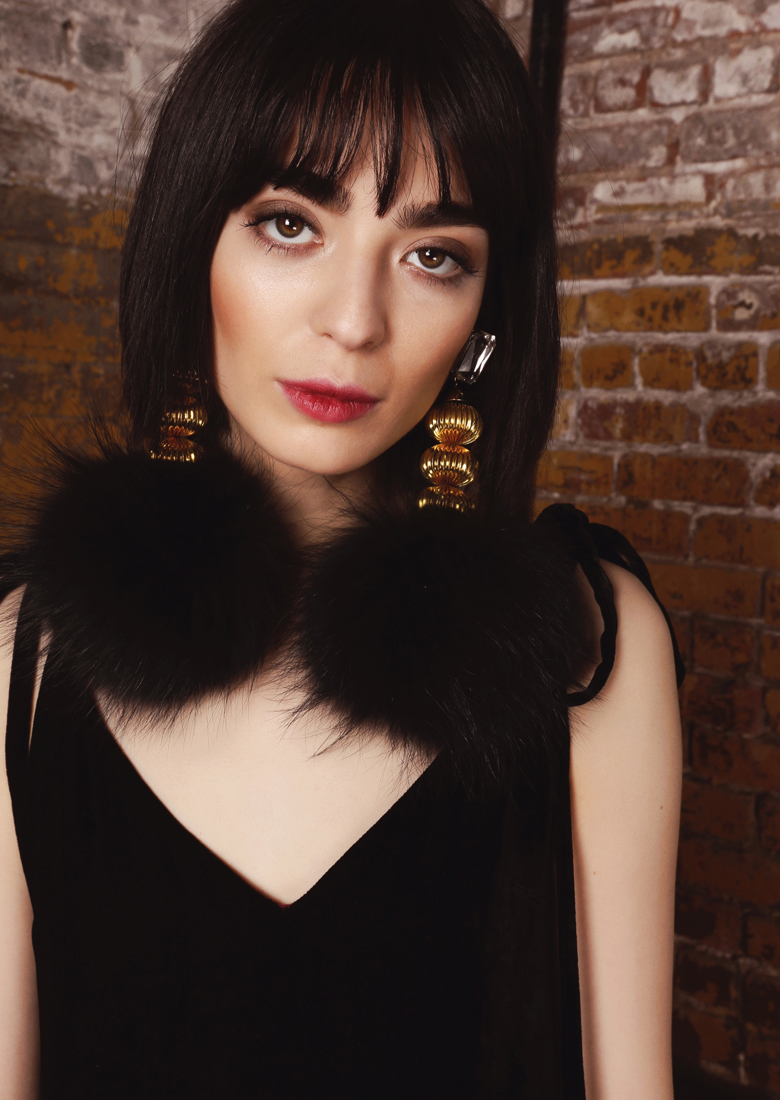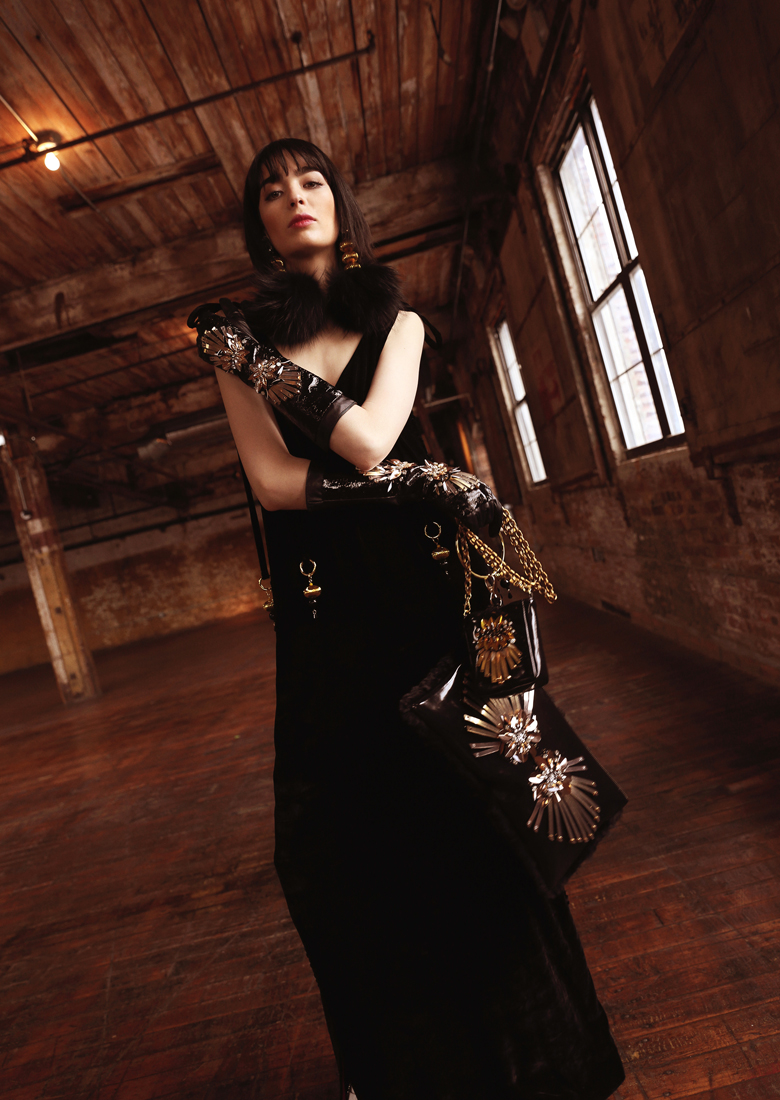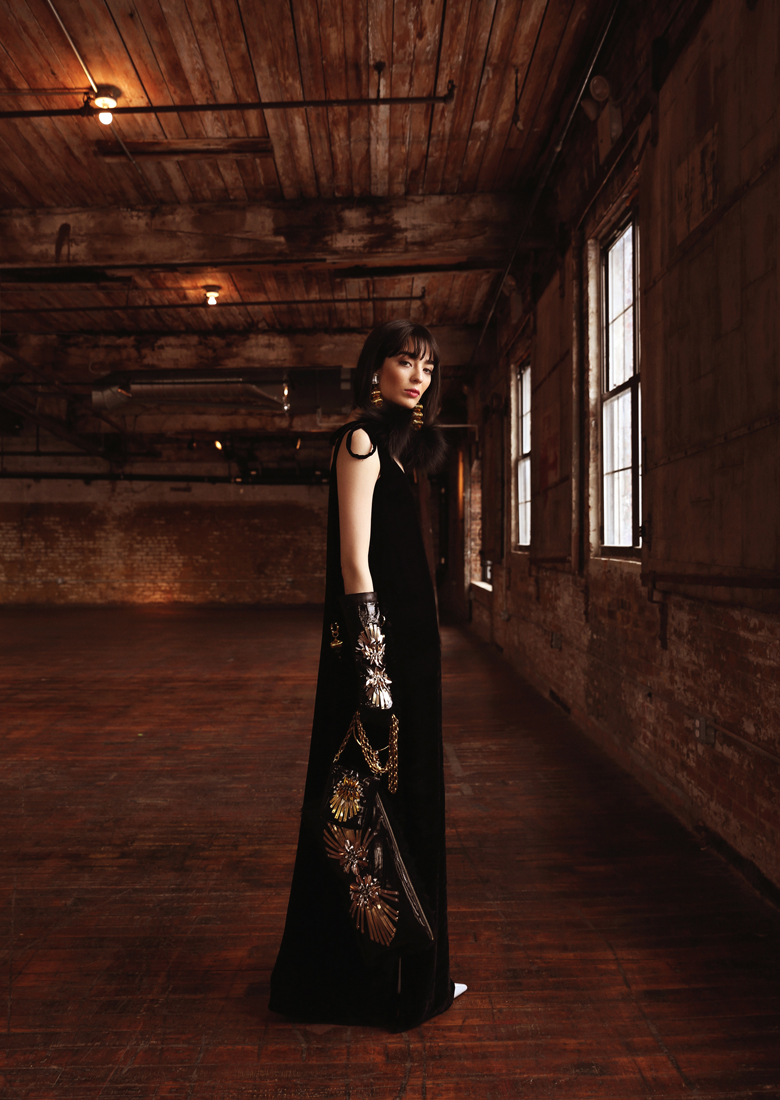 Look 18
Taiga Black Velvet Sweater and train pant. Shown with Gold and Black Laser Cut Triangle Earrings and necklace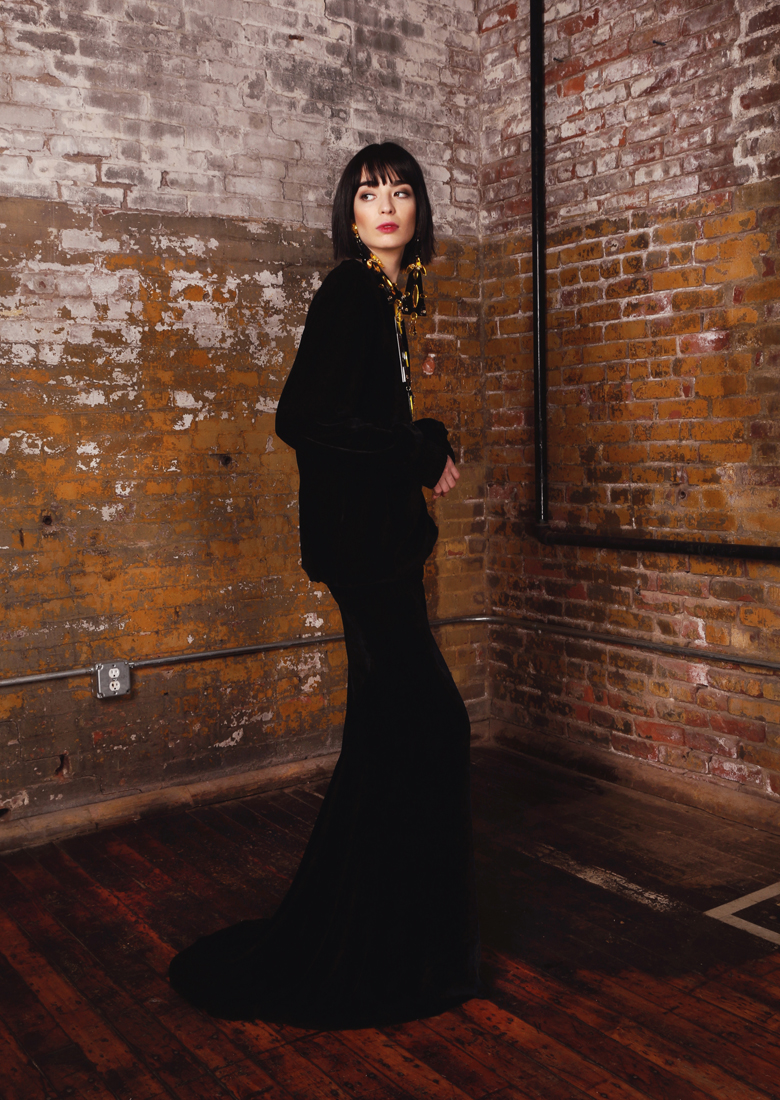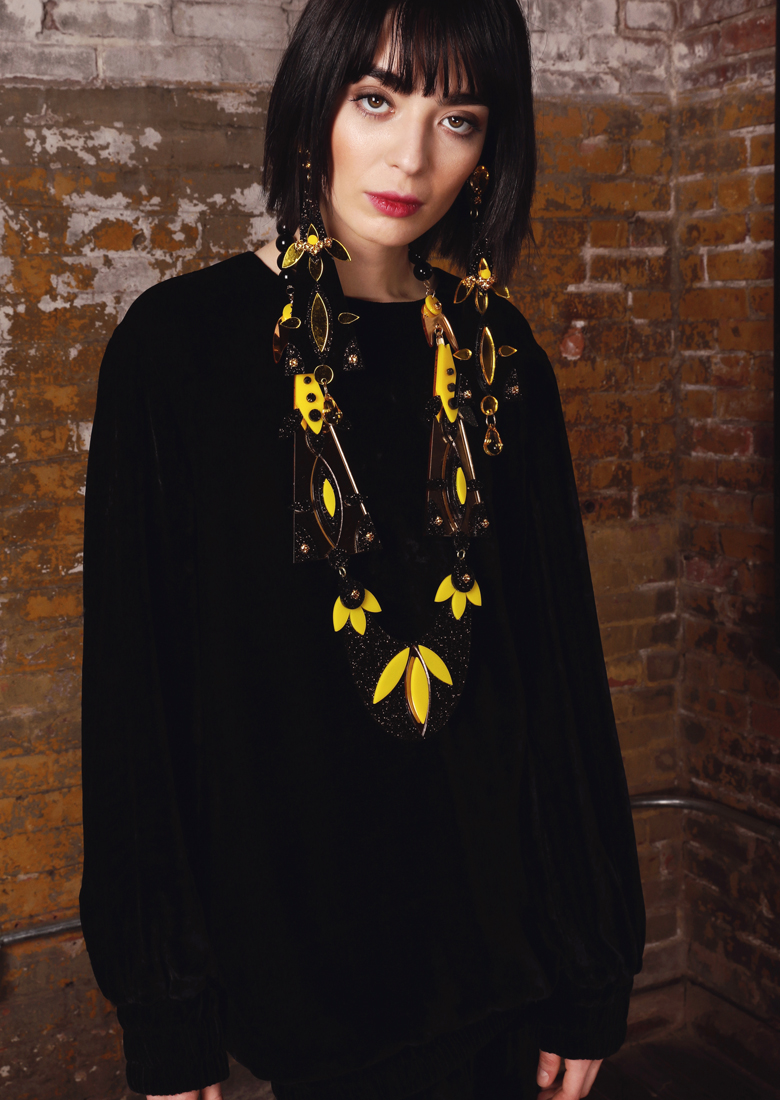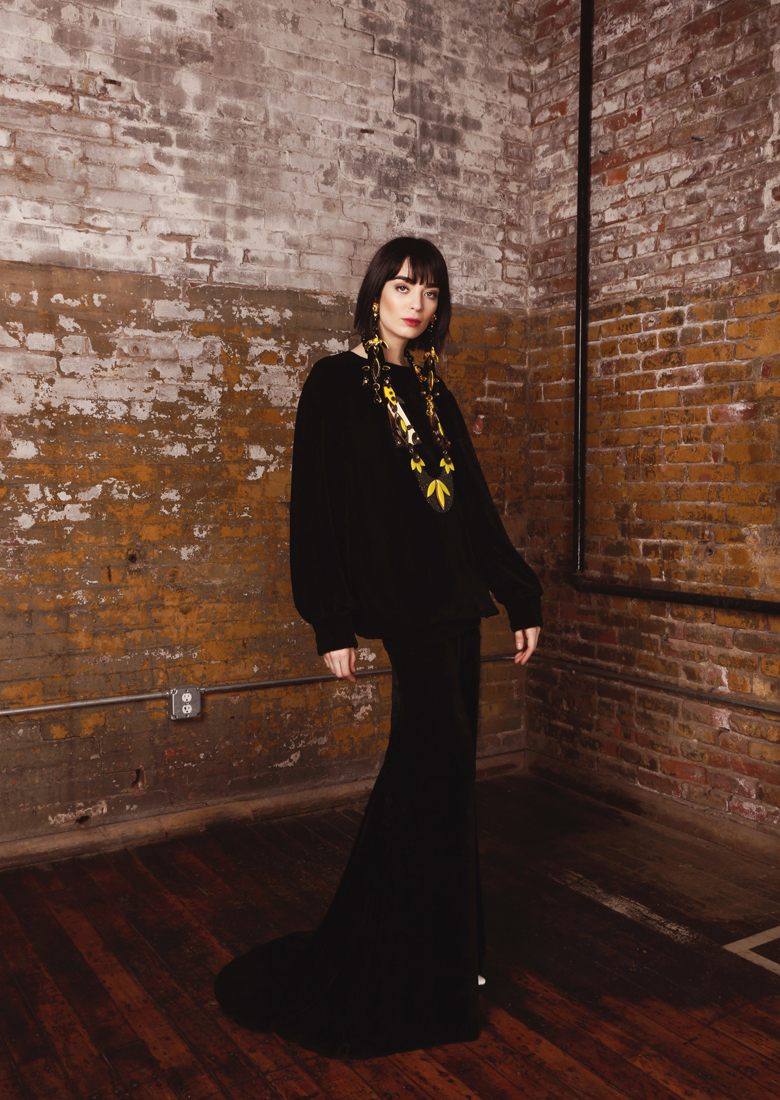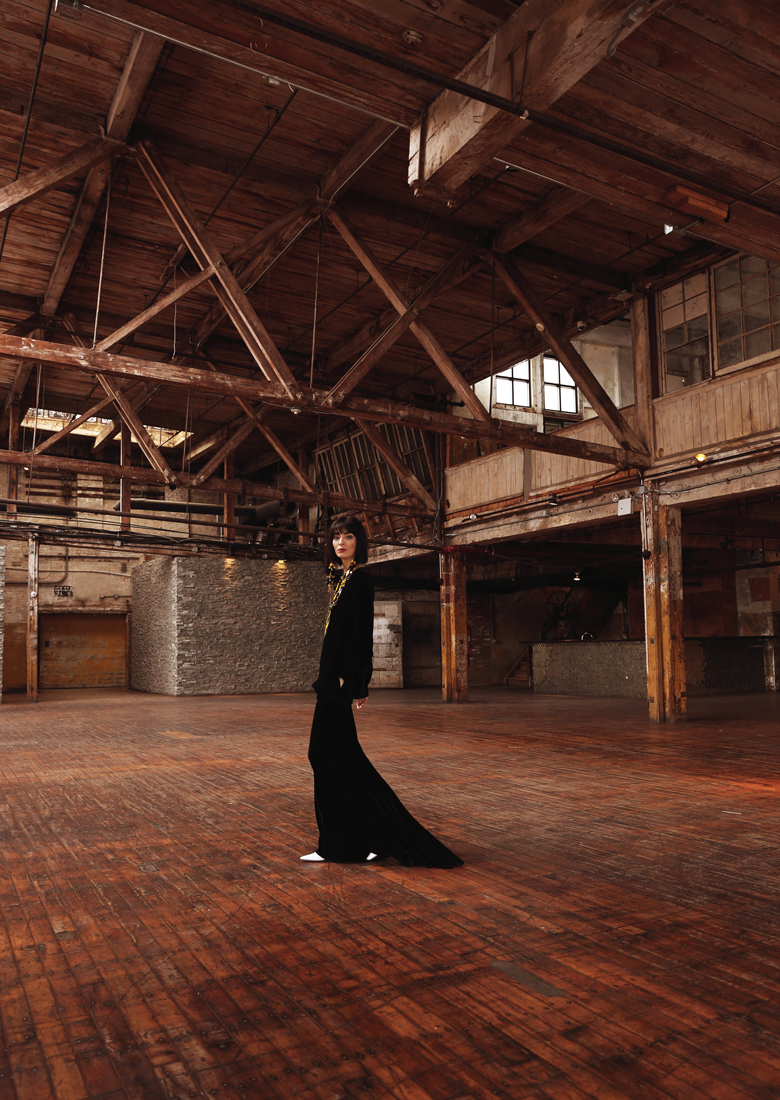 Look 19
Vika Column Gown in silver and black sequins. Shown with 18K gold Bird in Flight rings and 3D printed black Scallop bead necklace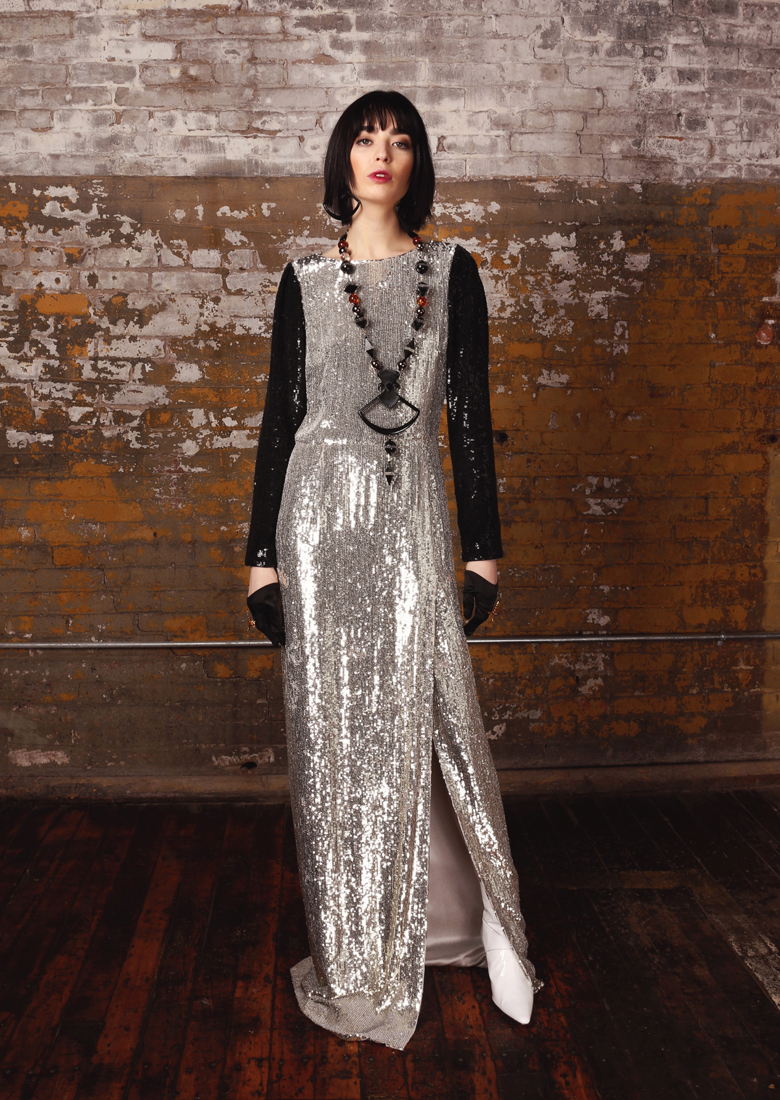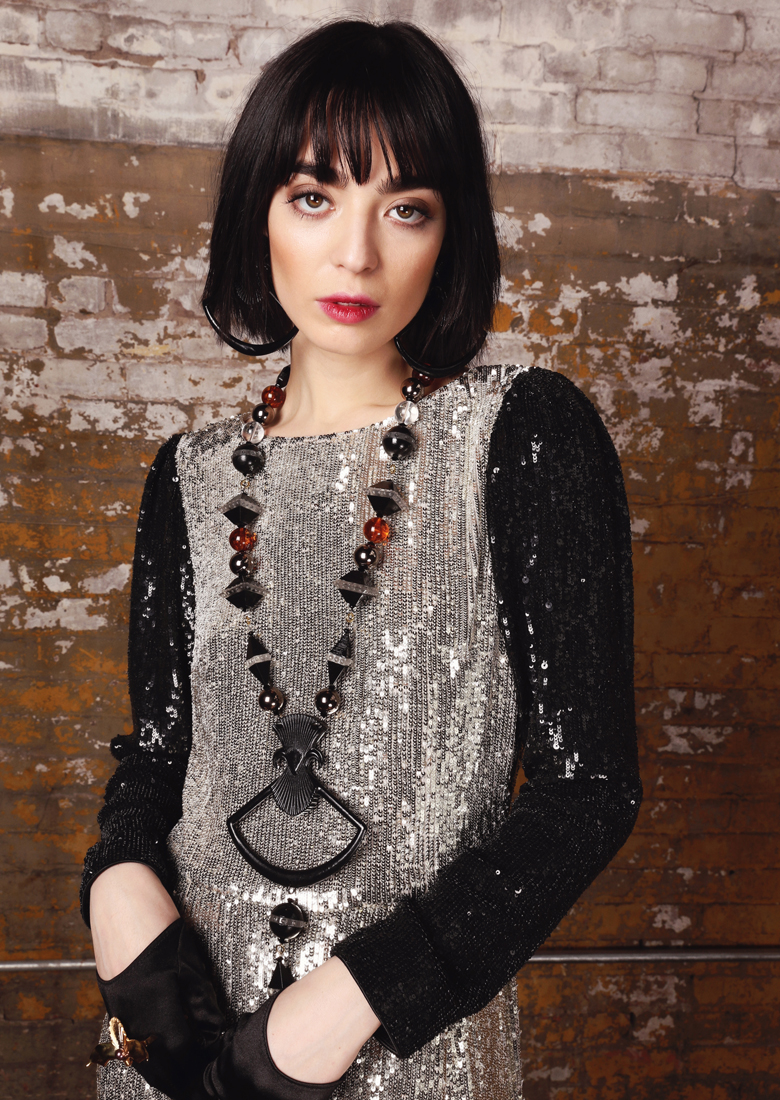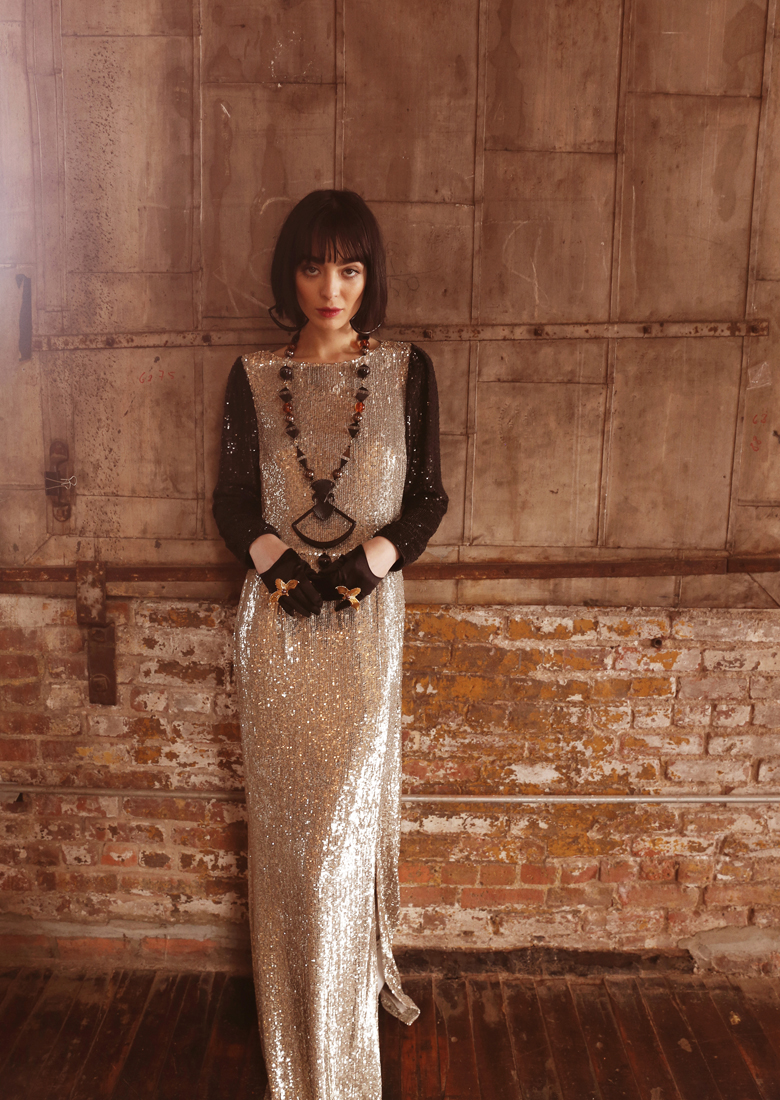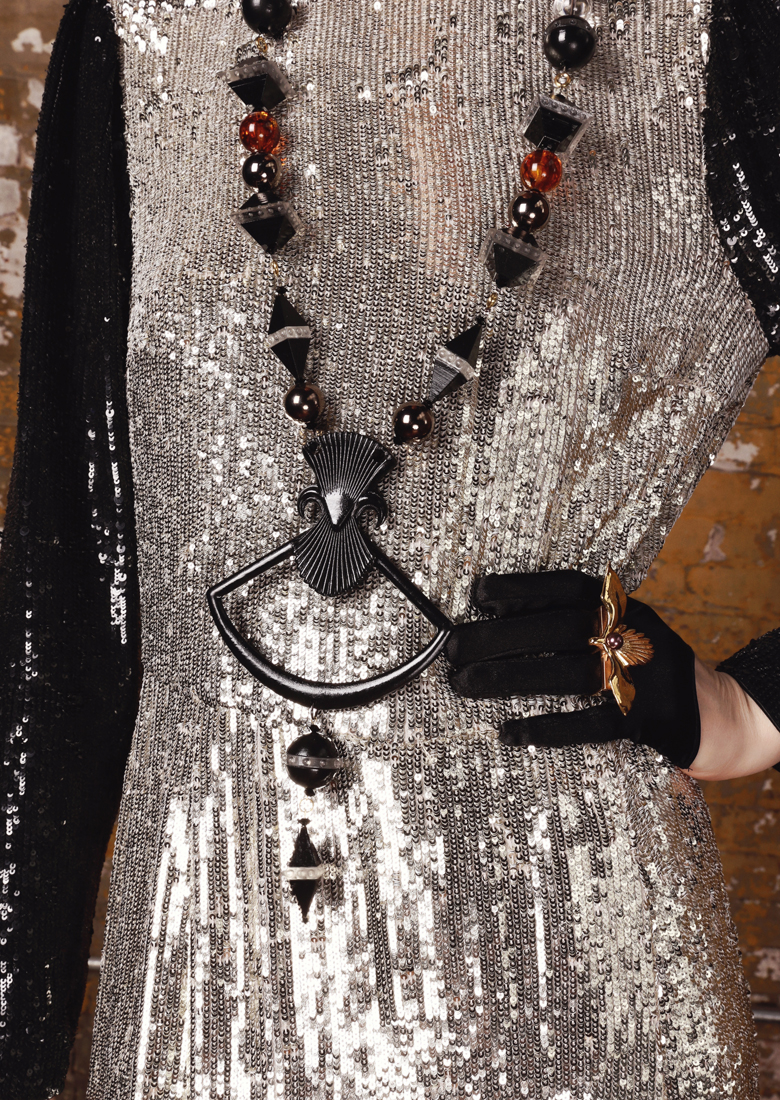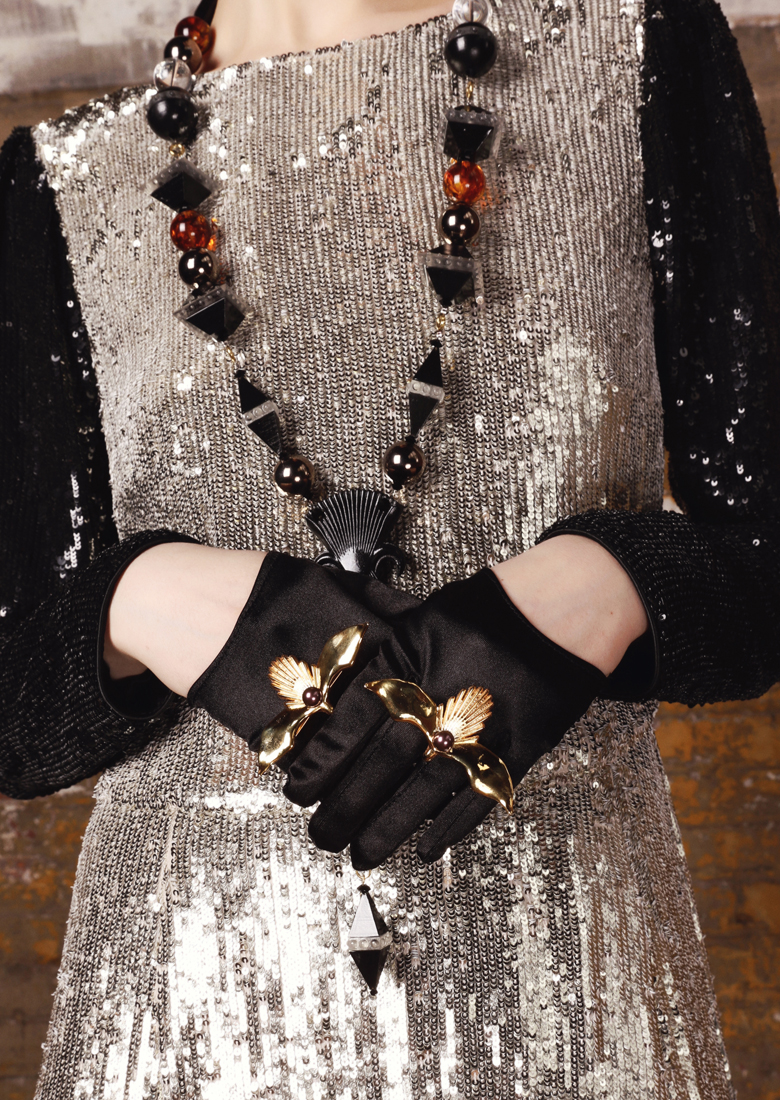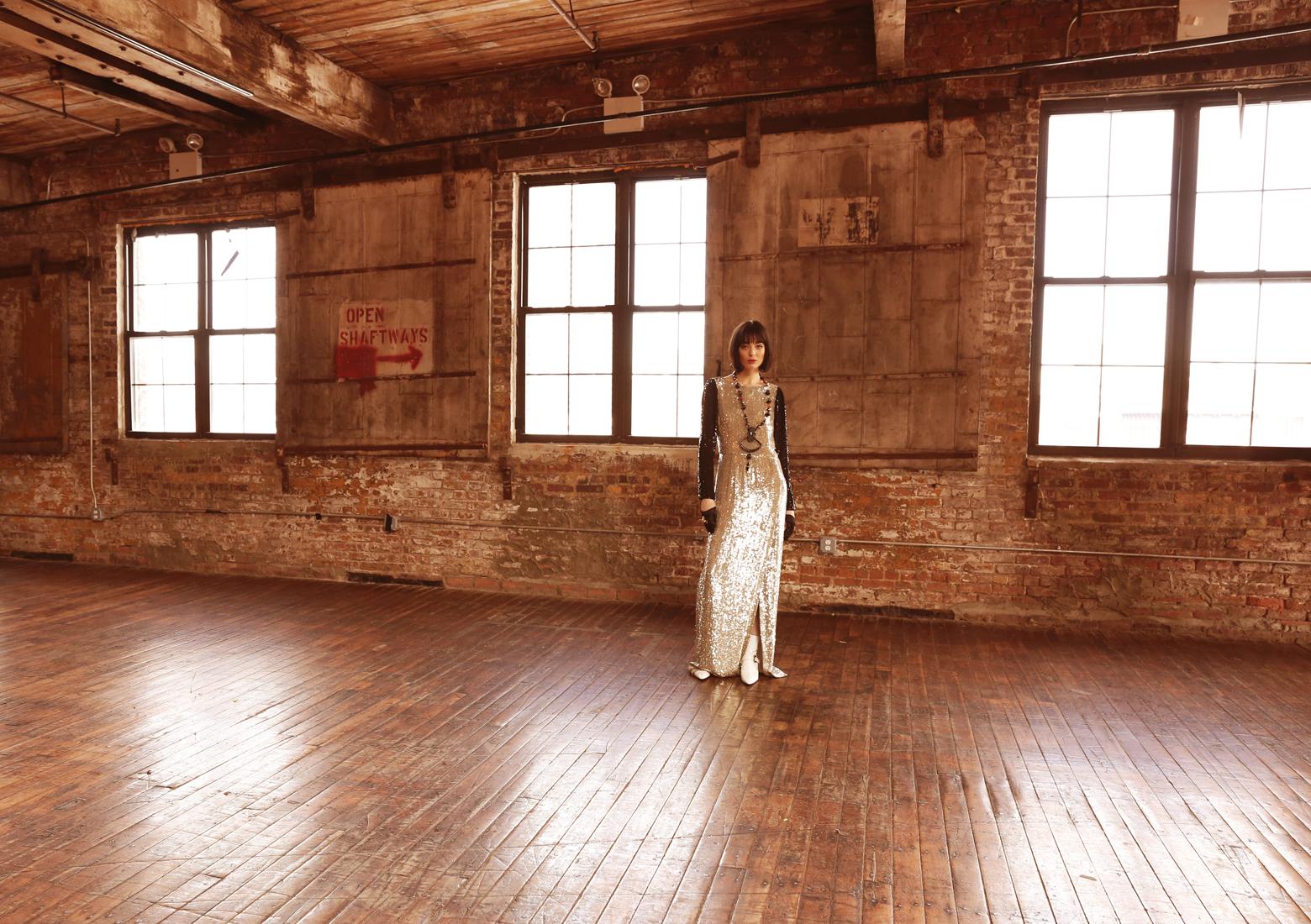 Look 20
Karina Burgundy Shearling Bomber Jacket with matching camisole and side-slit pencil skirt. Shown with 18K gold plated Scallop pendant necklace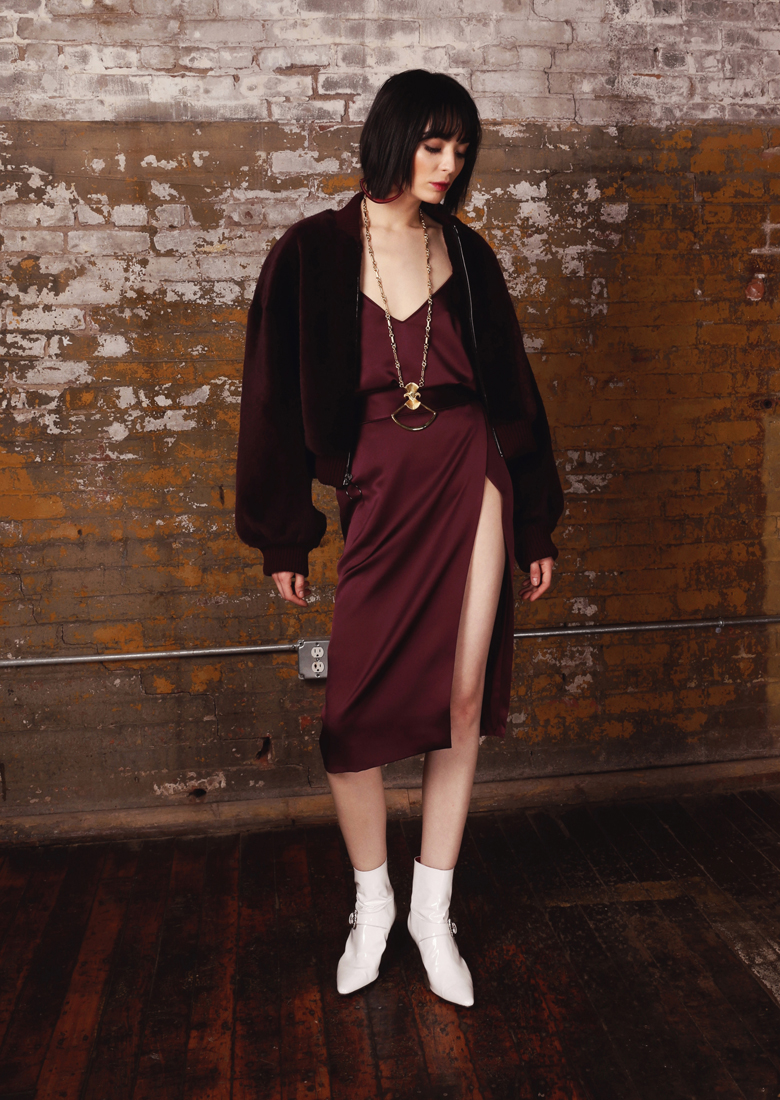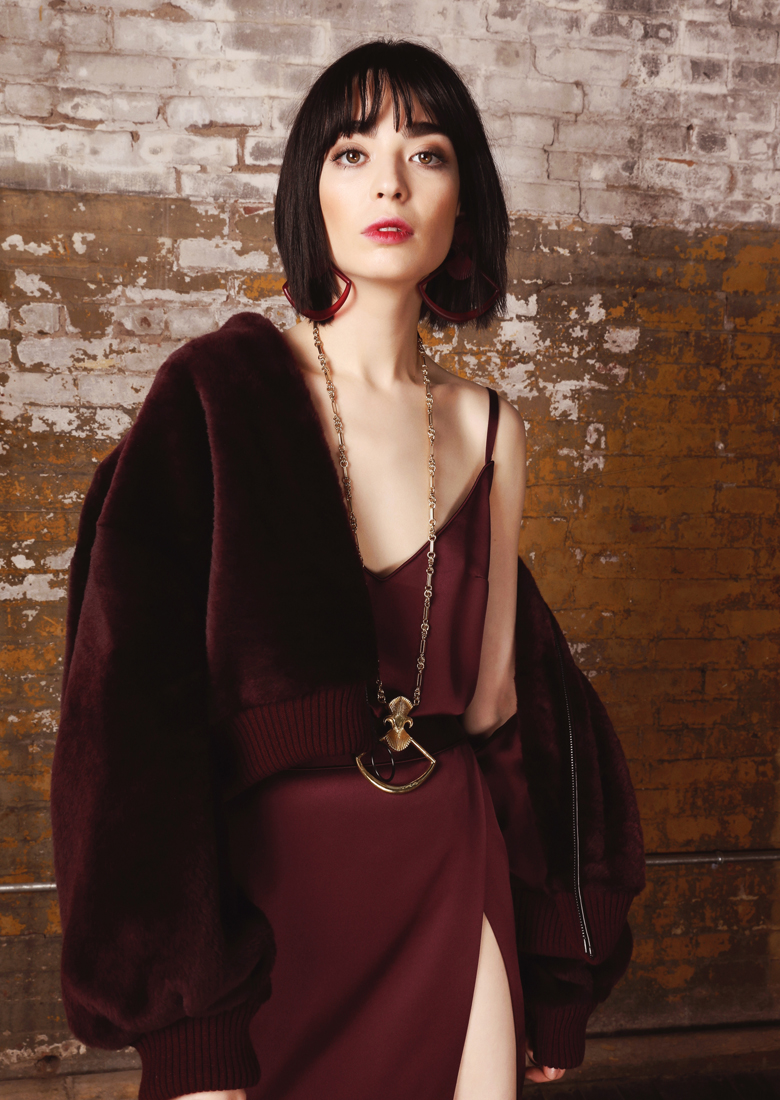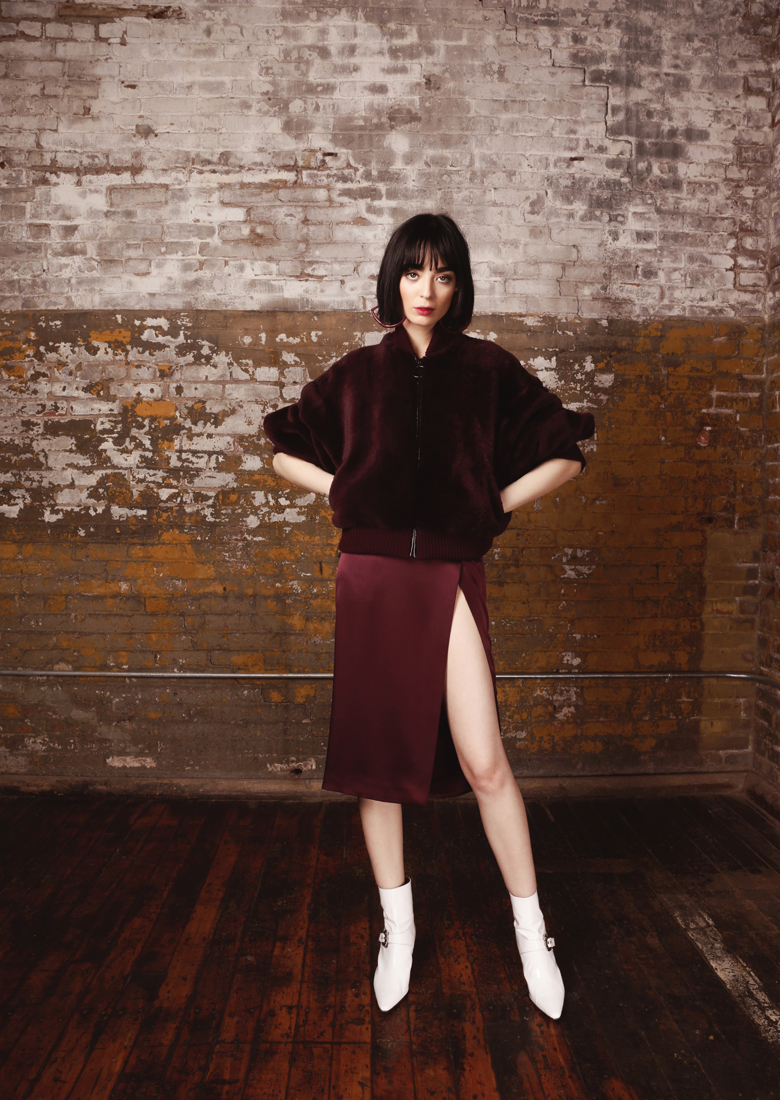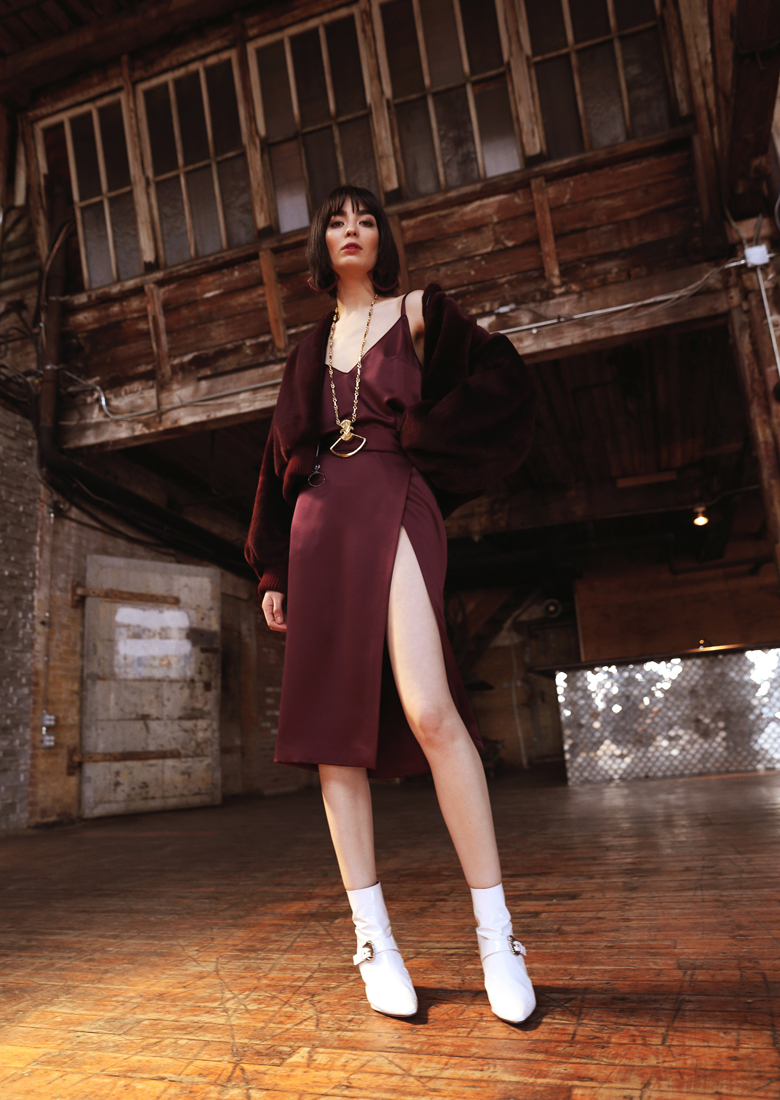 Look 21
Dania Duster Coat in Burgundy Crepe Back Satin with matching camisole and elastic waist sport pant. Shown with Altai embellished leather gloves.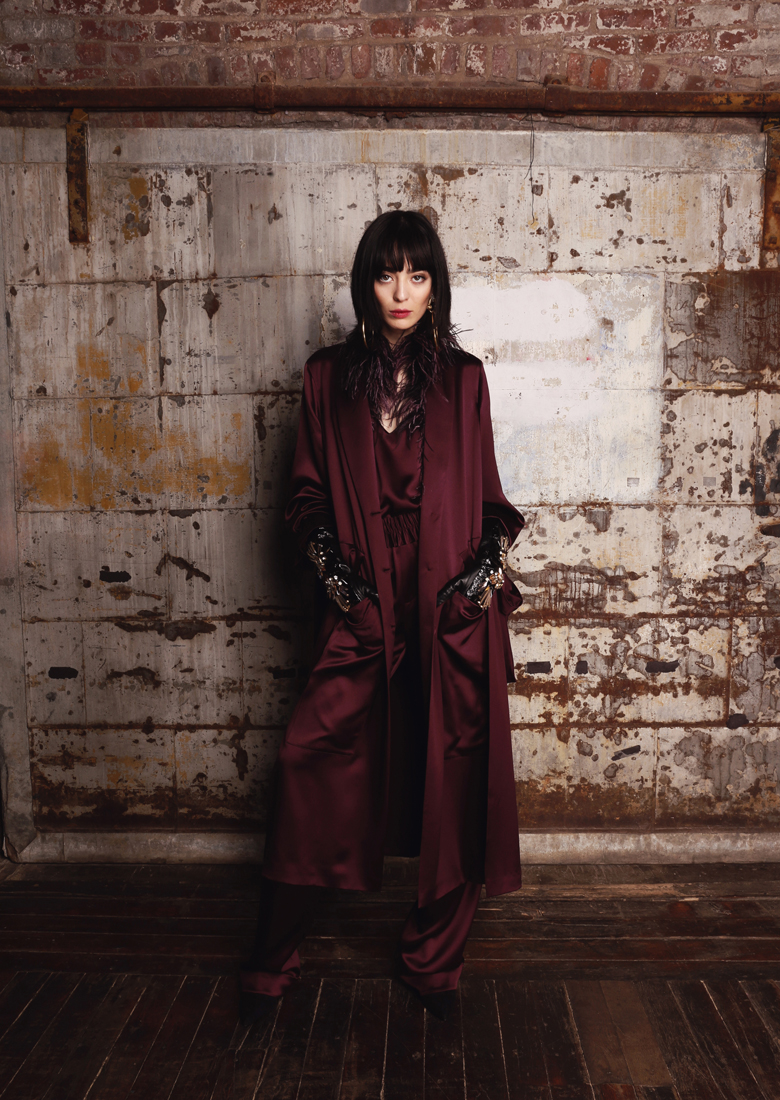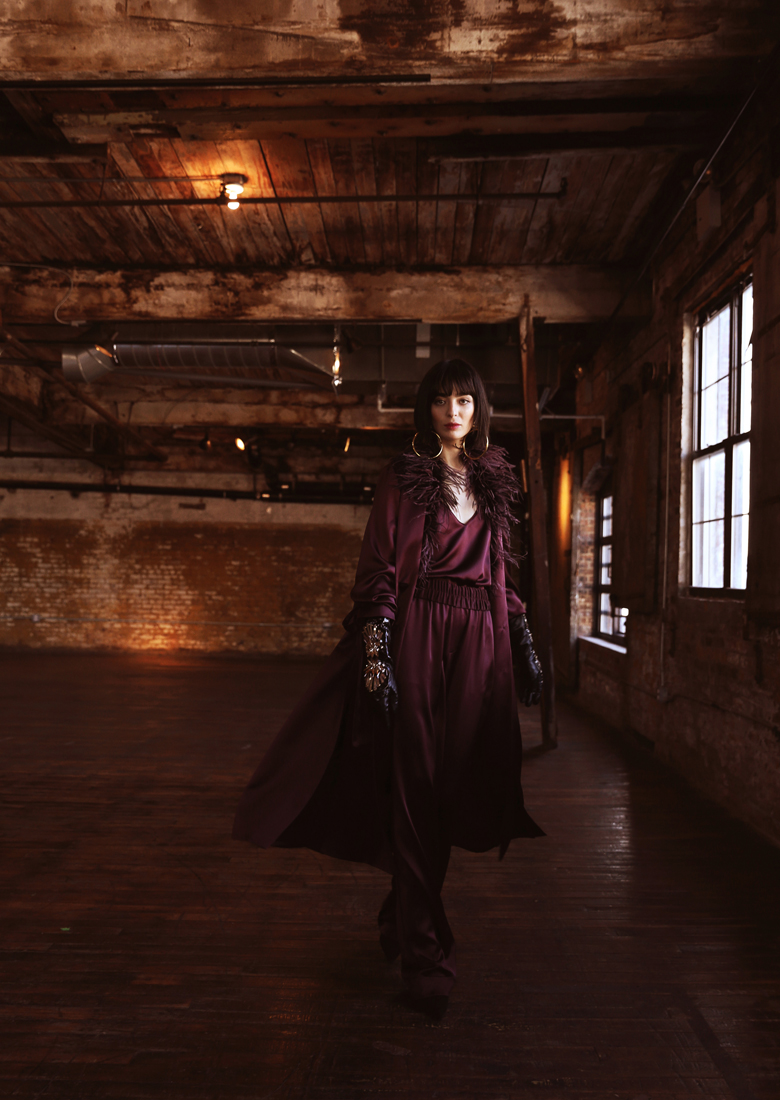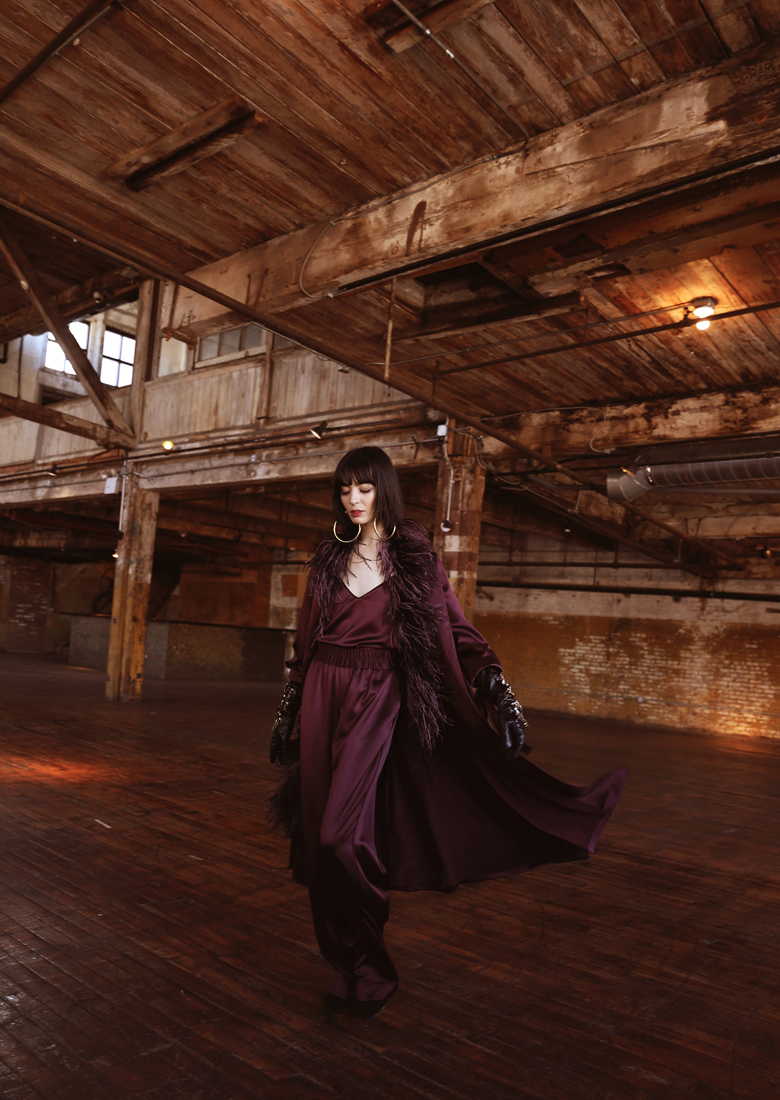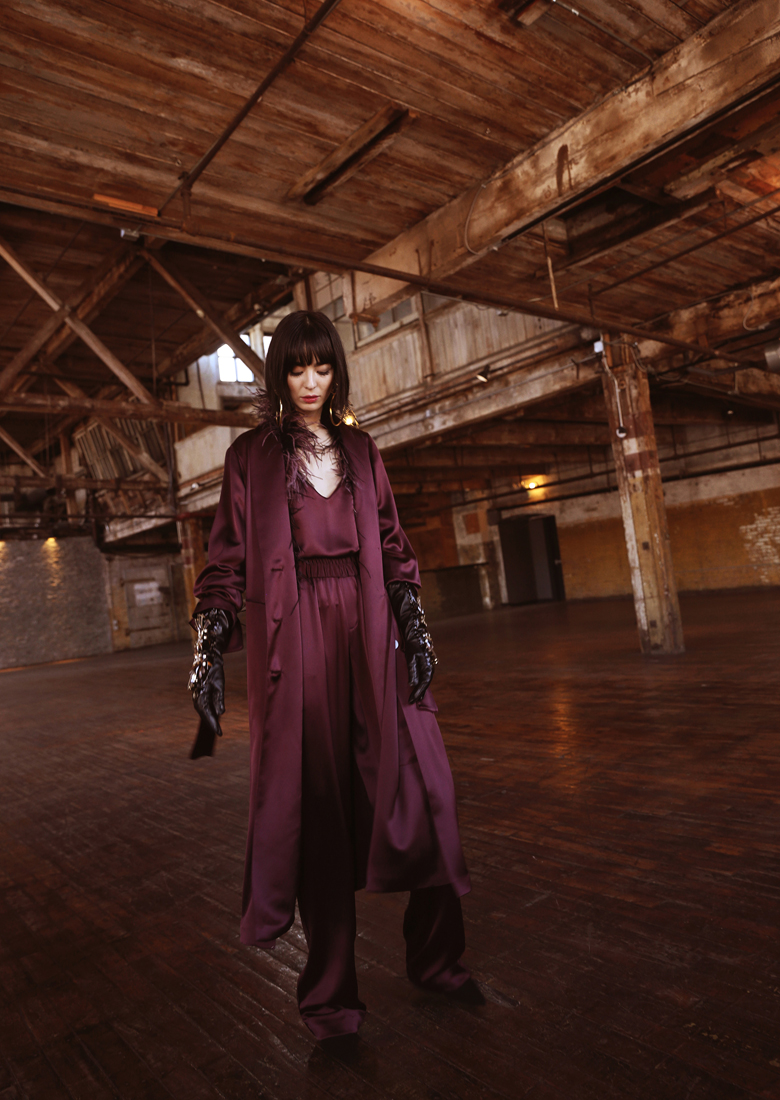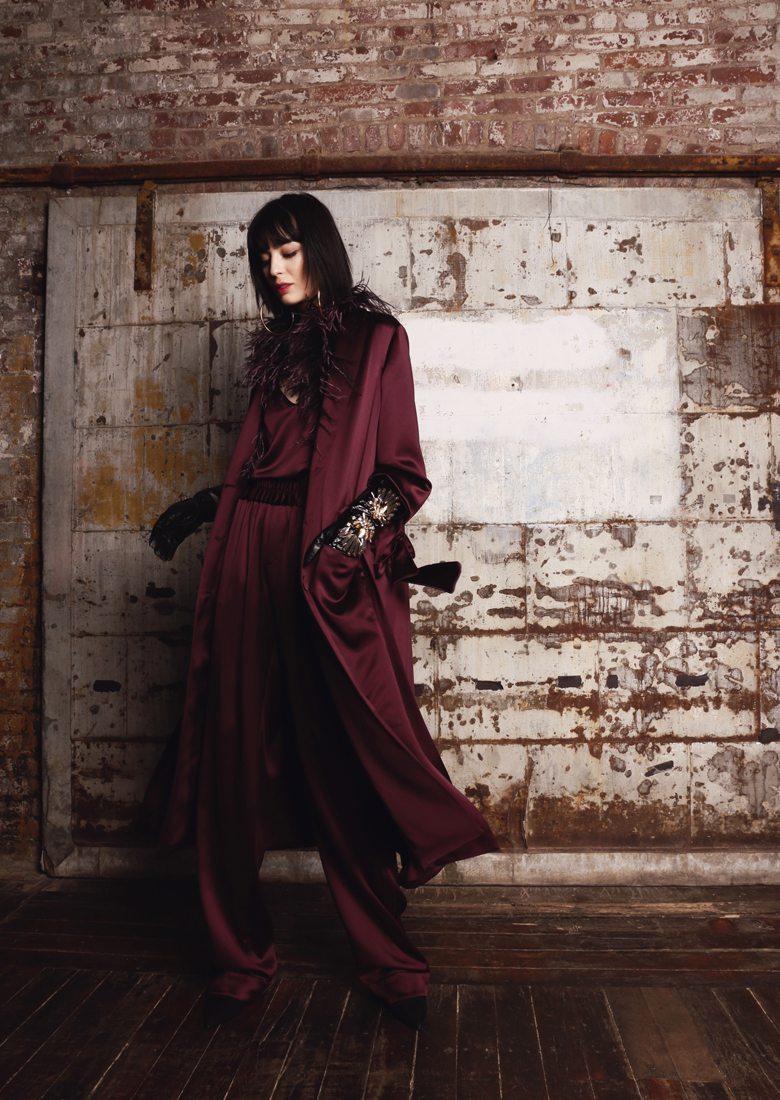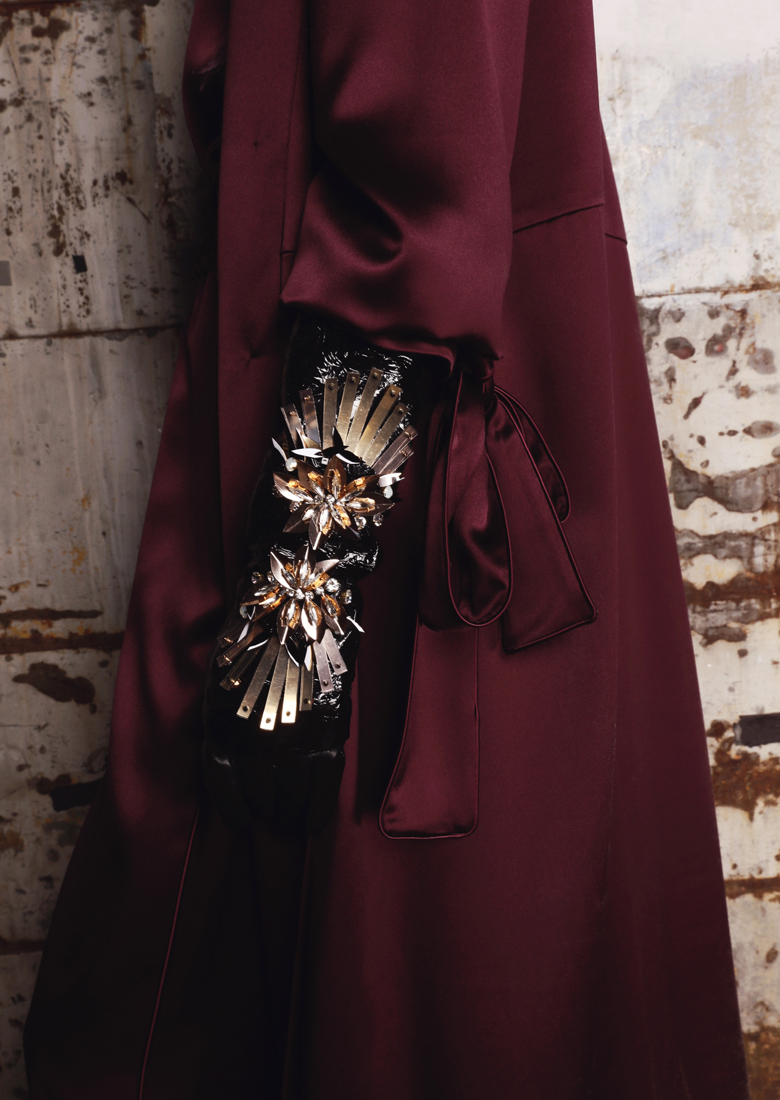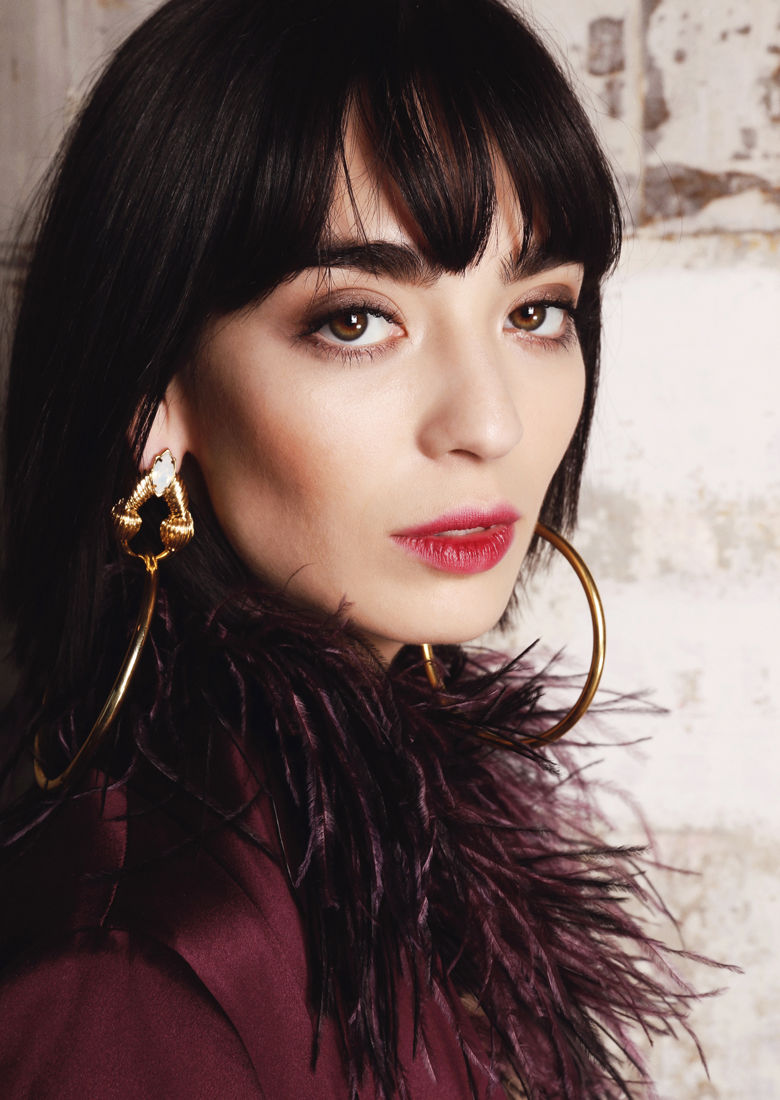 Look 22
Sultan Velvet Burnout Deep-V Blouse with Black Charmeuse Collar and Cuffs with Sultan Palazzo Pant. Shown with Frosted Magenta and 18K gold plated 3D printed bead earrings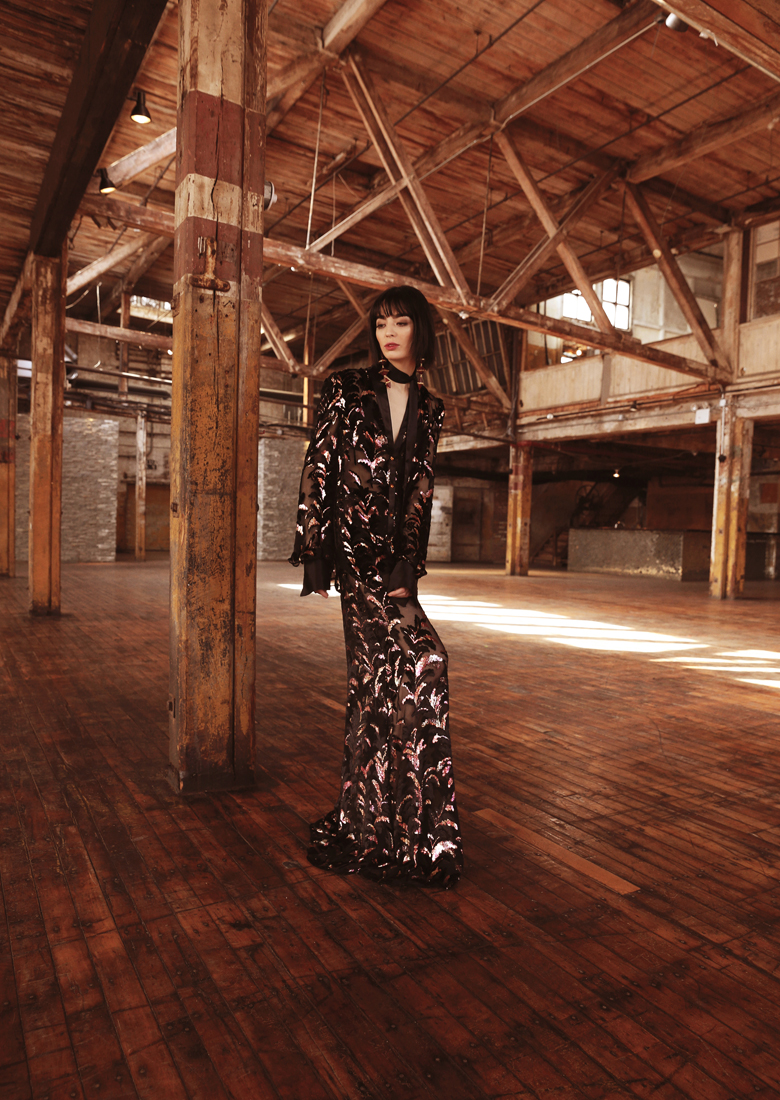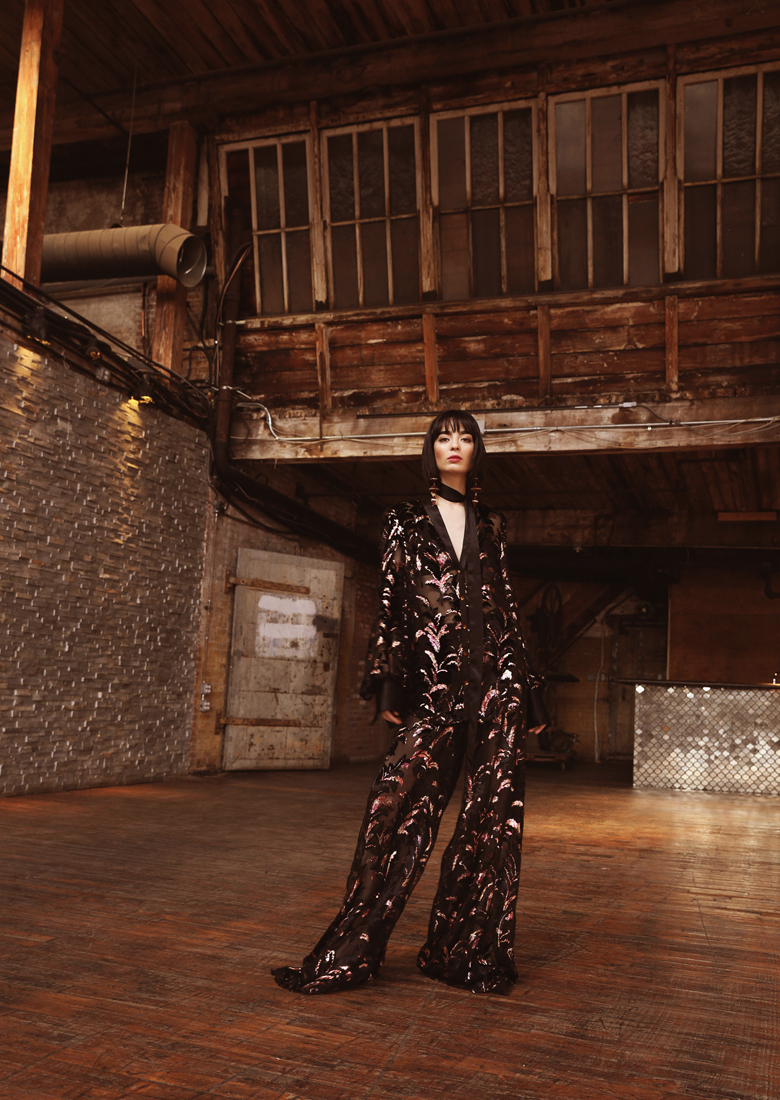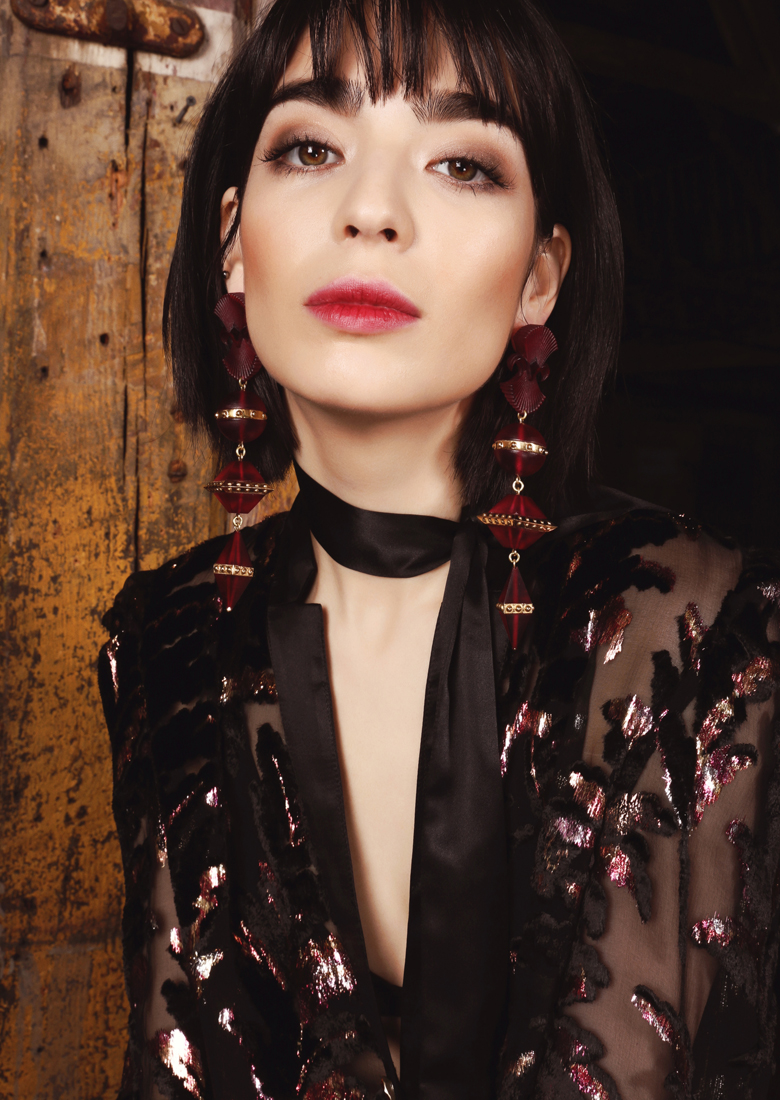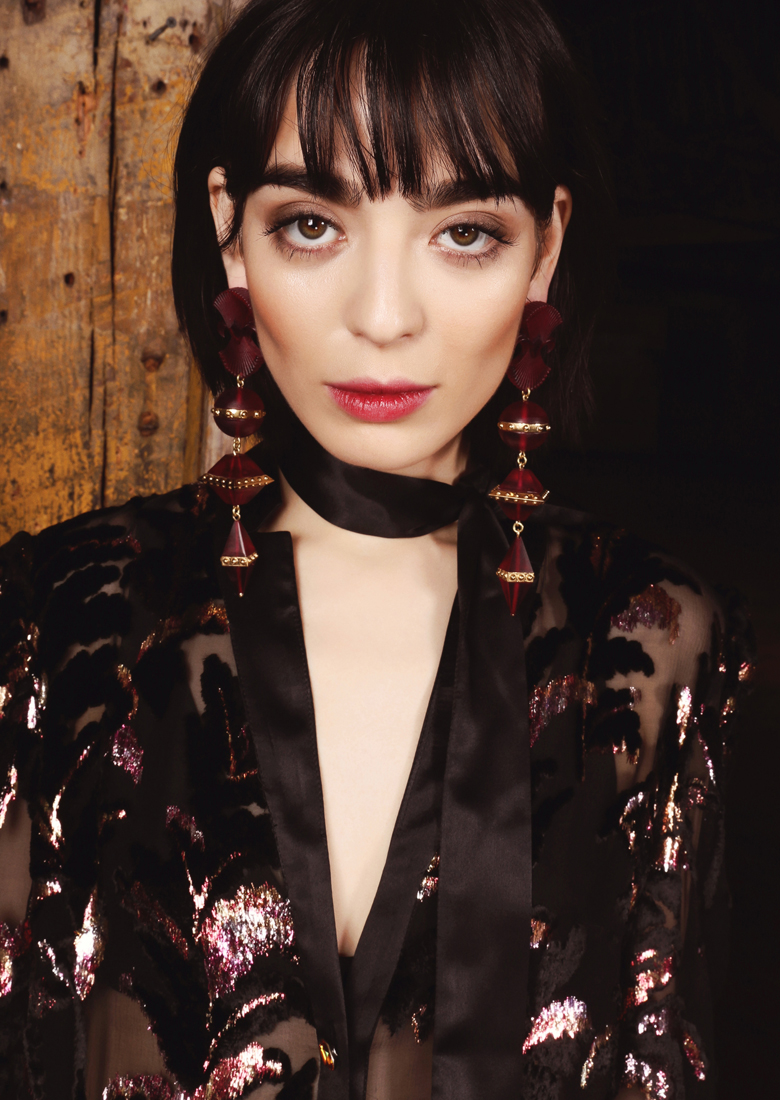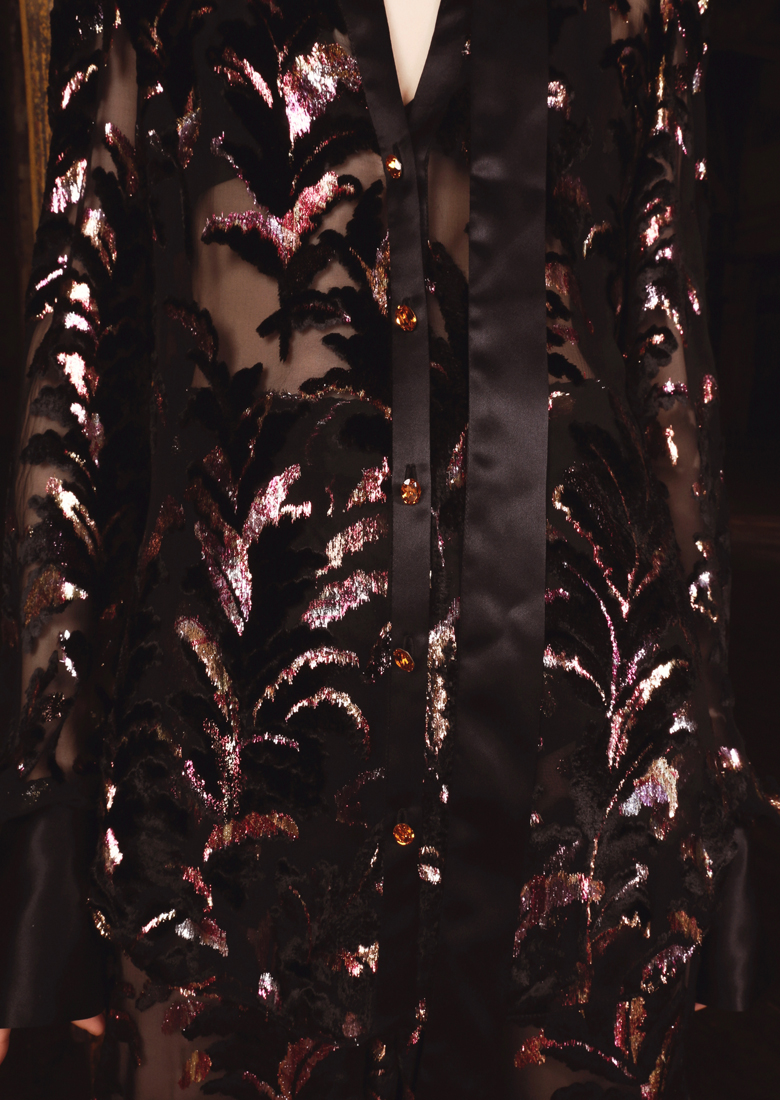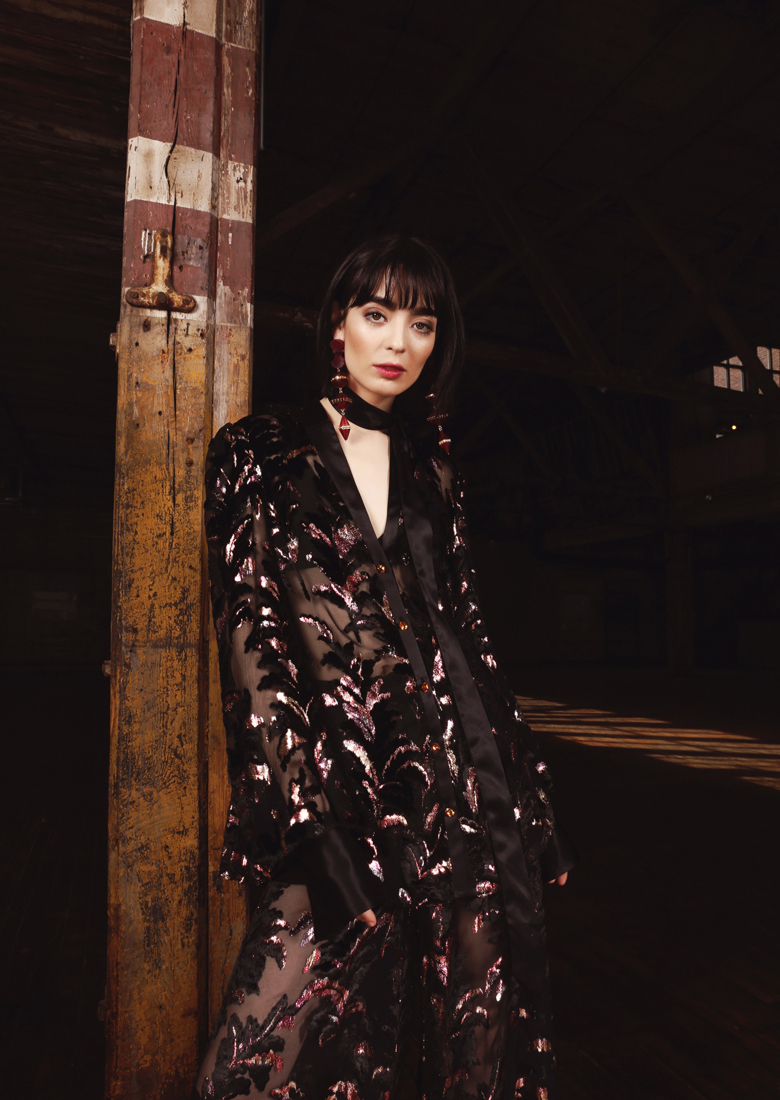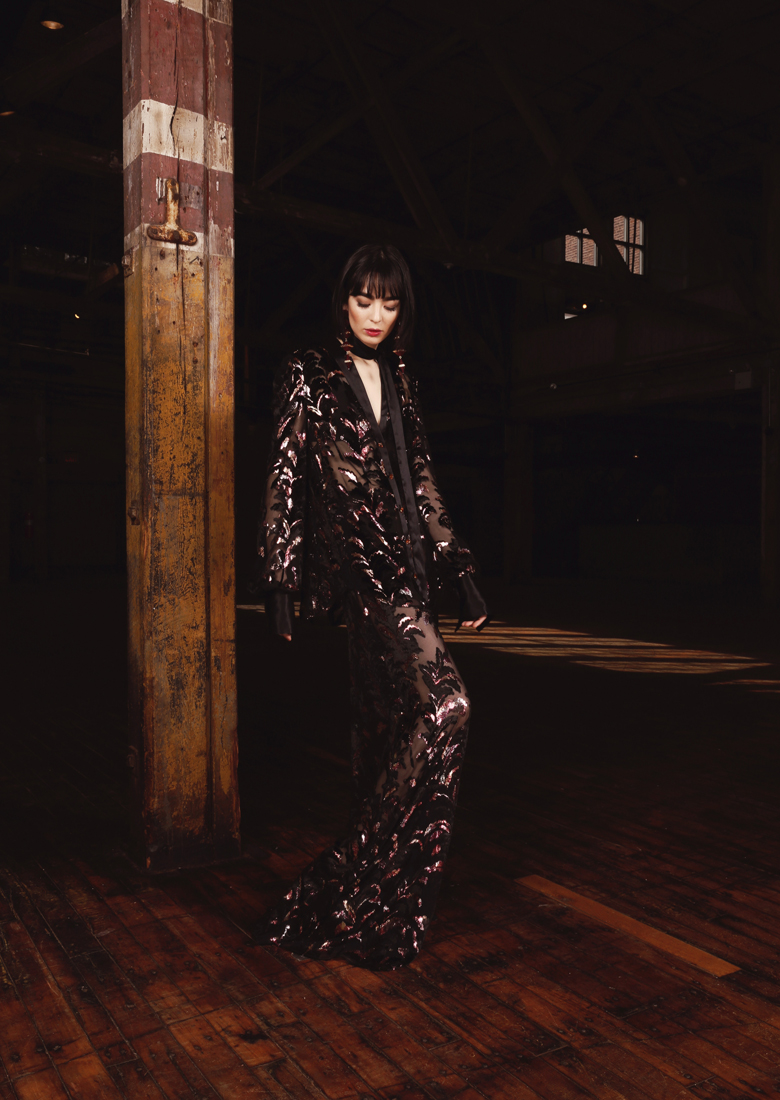 Look 23
Incarnadine Velvet Suit. Shown with Giant Orange Laser Cut Teardrop Earrings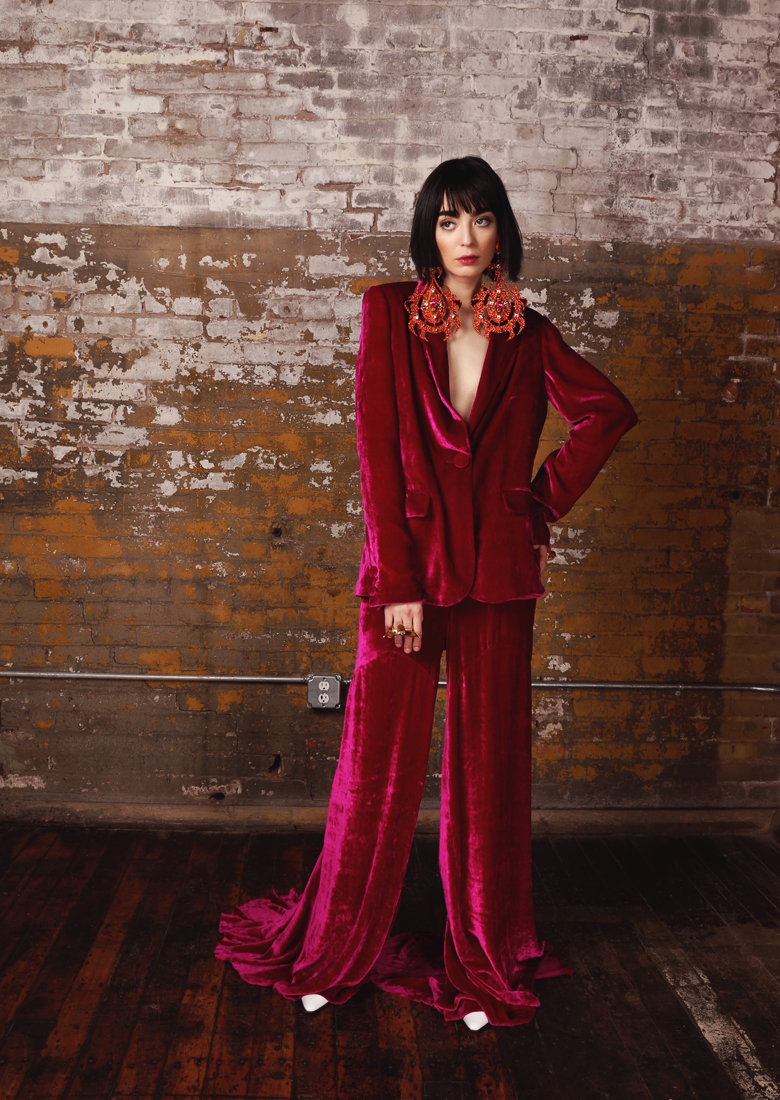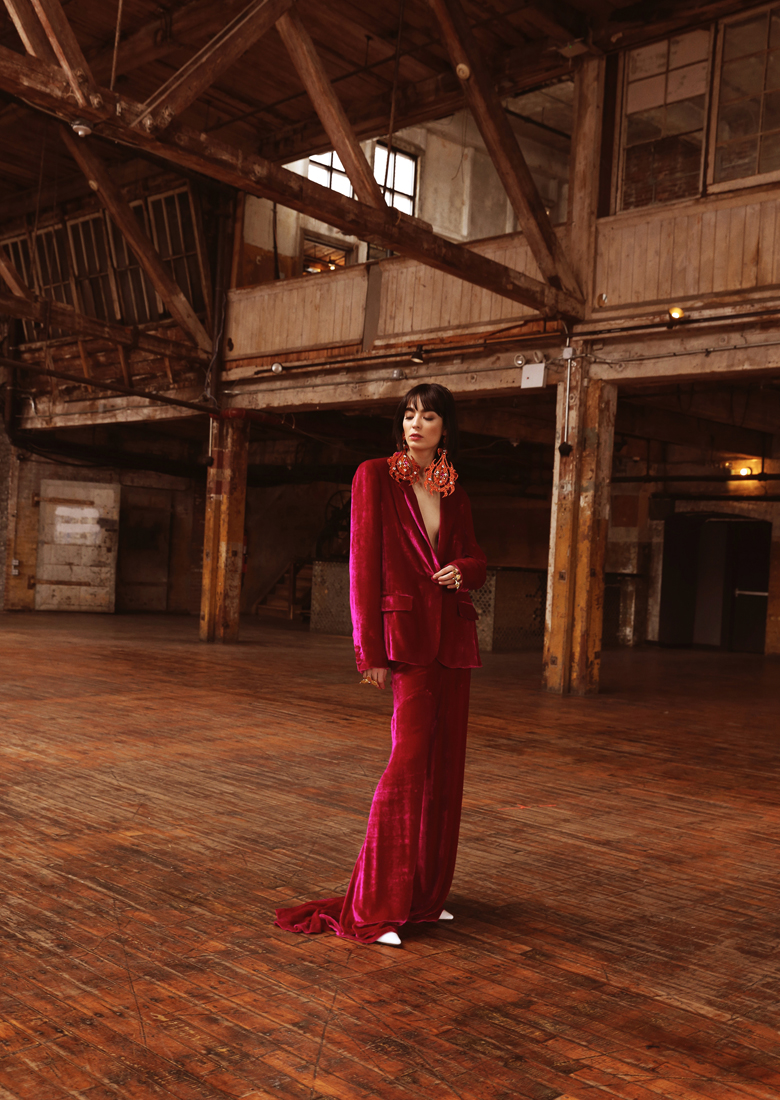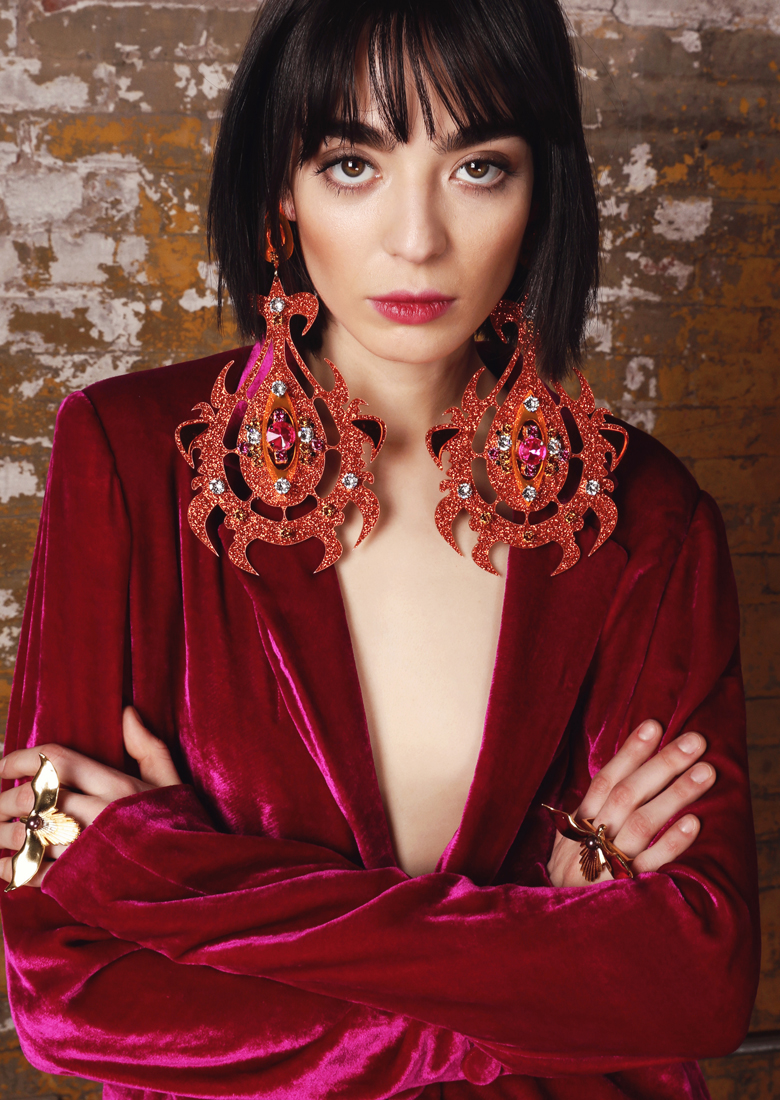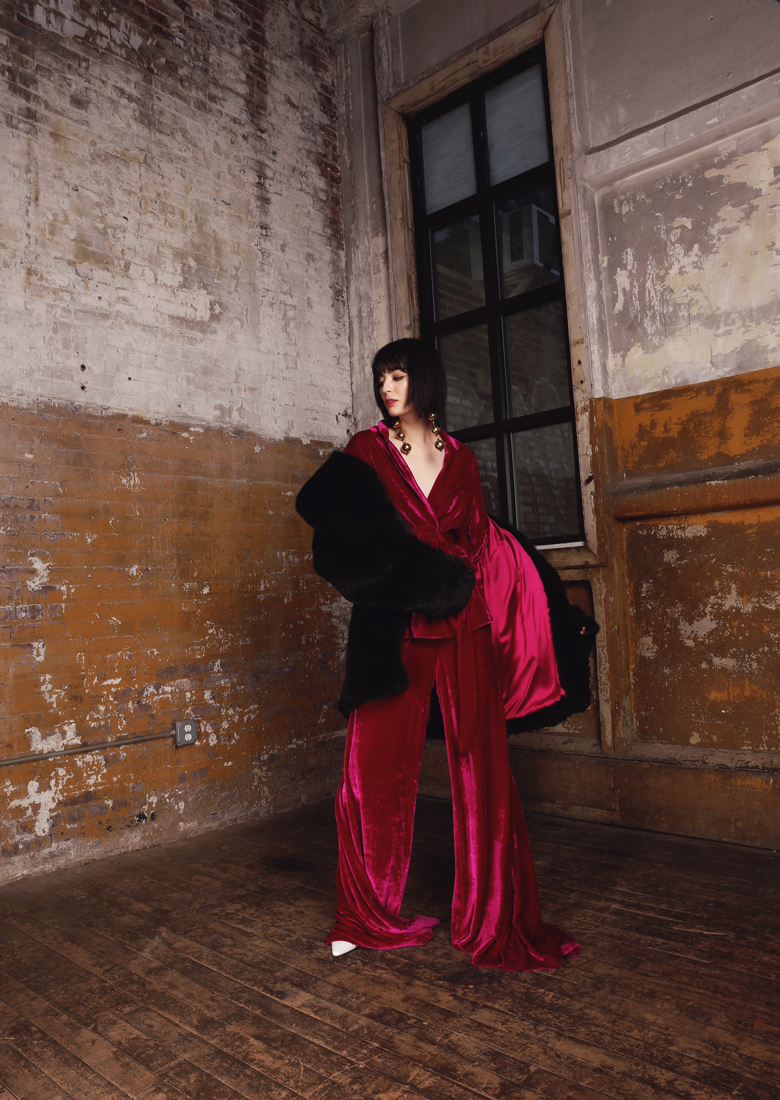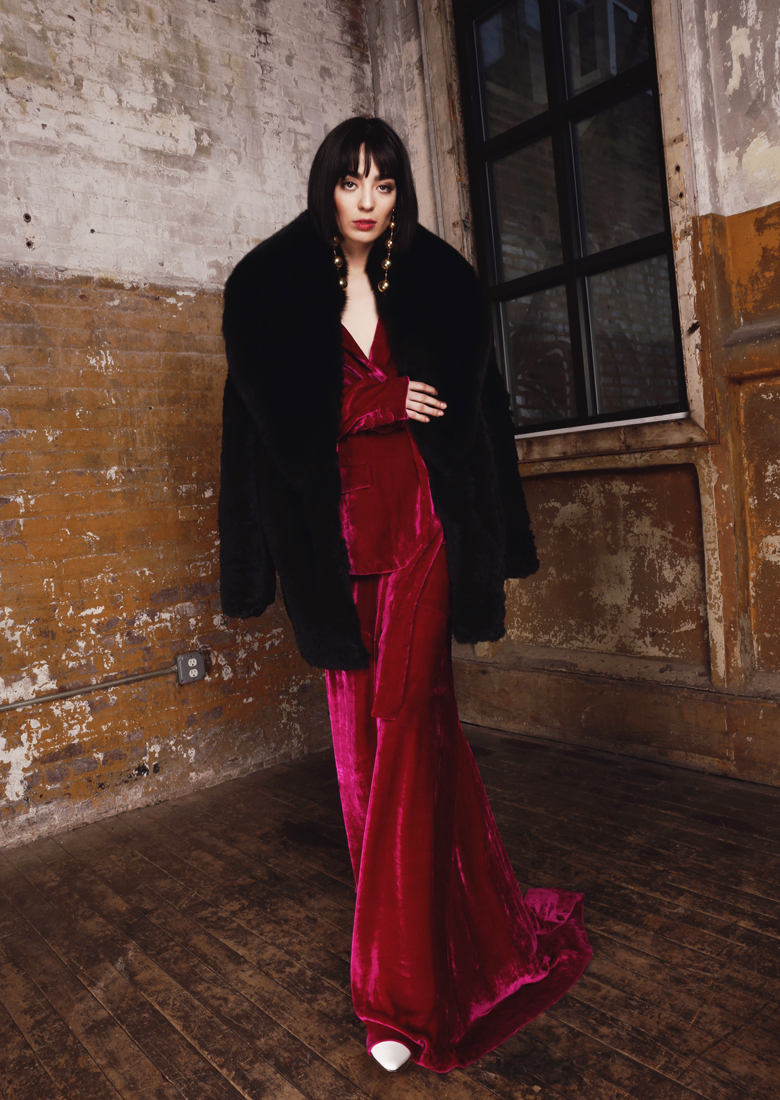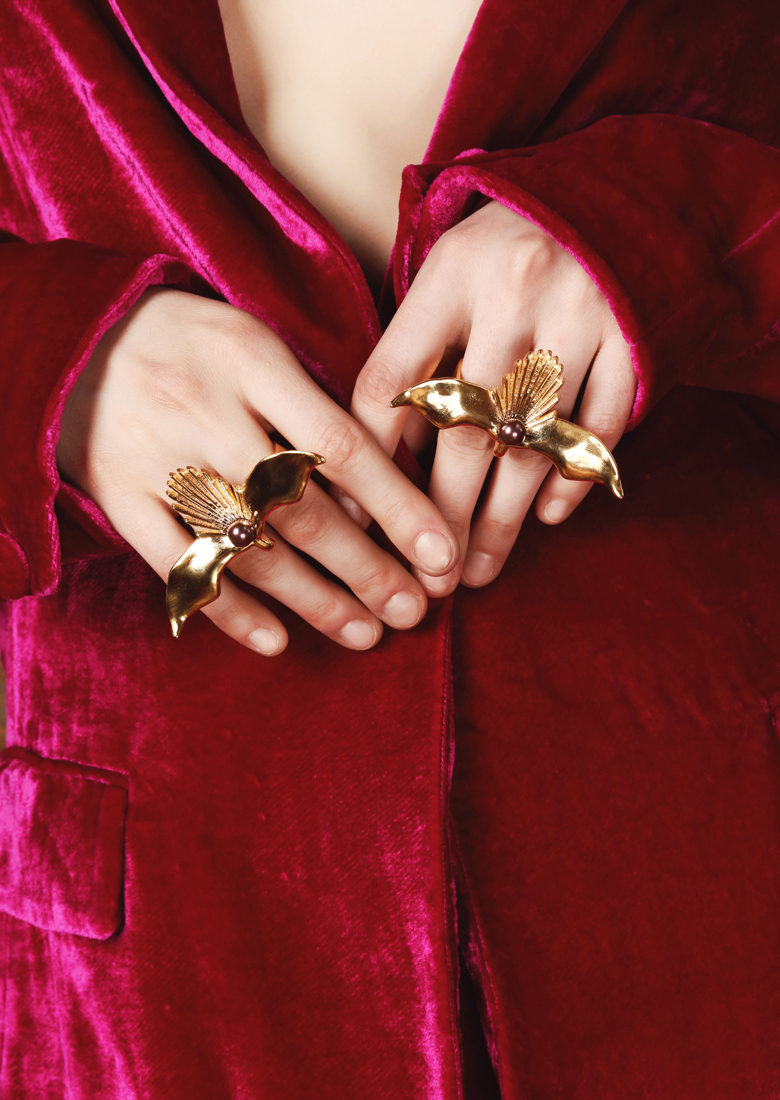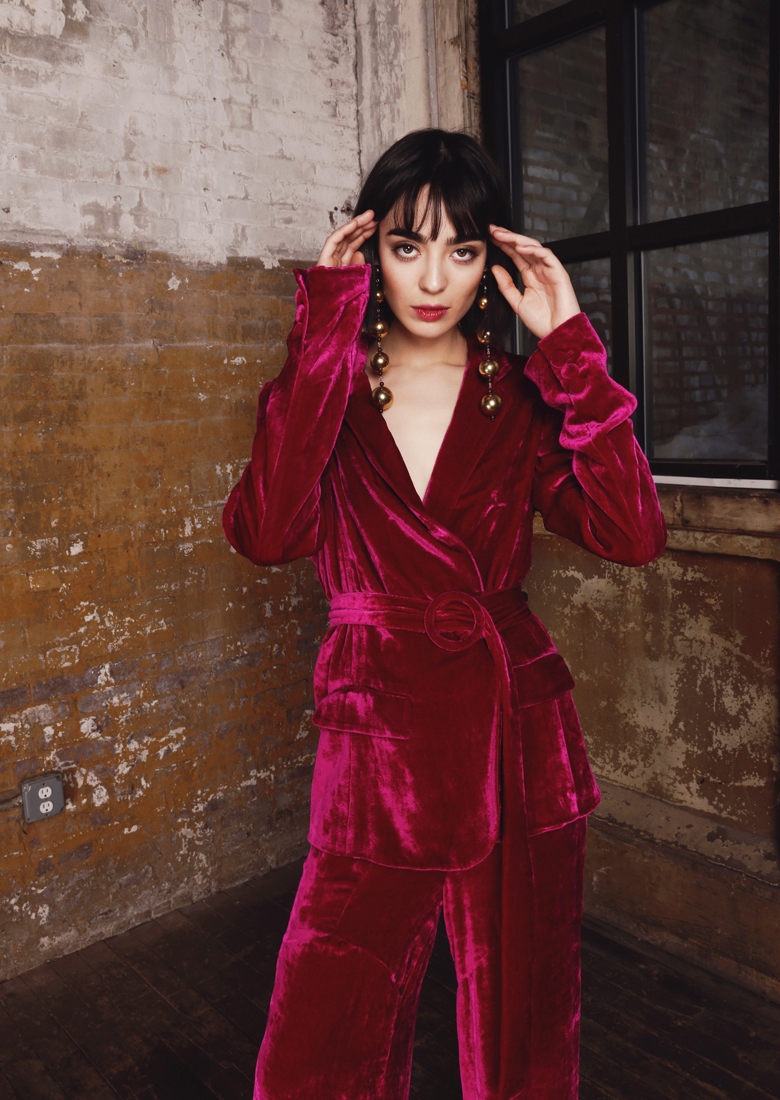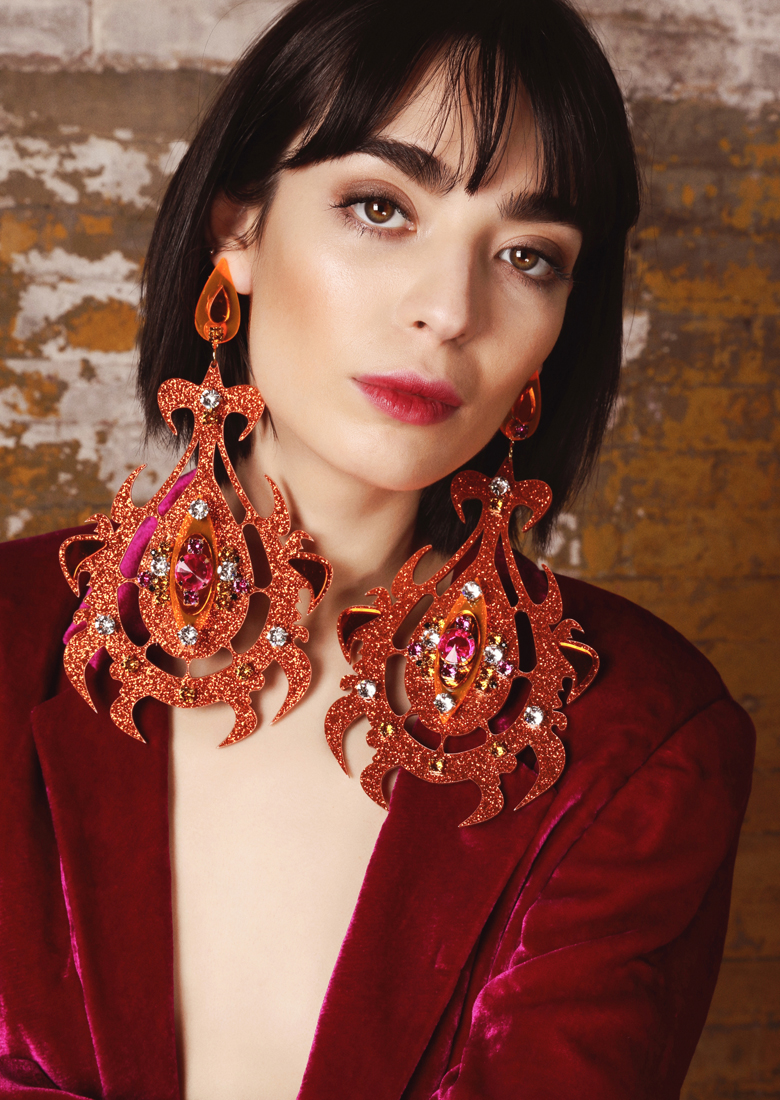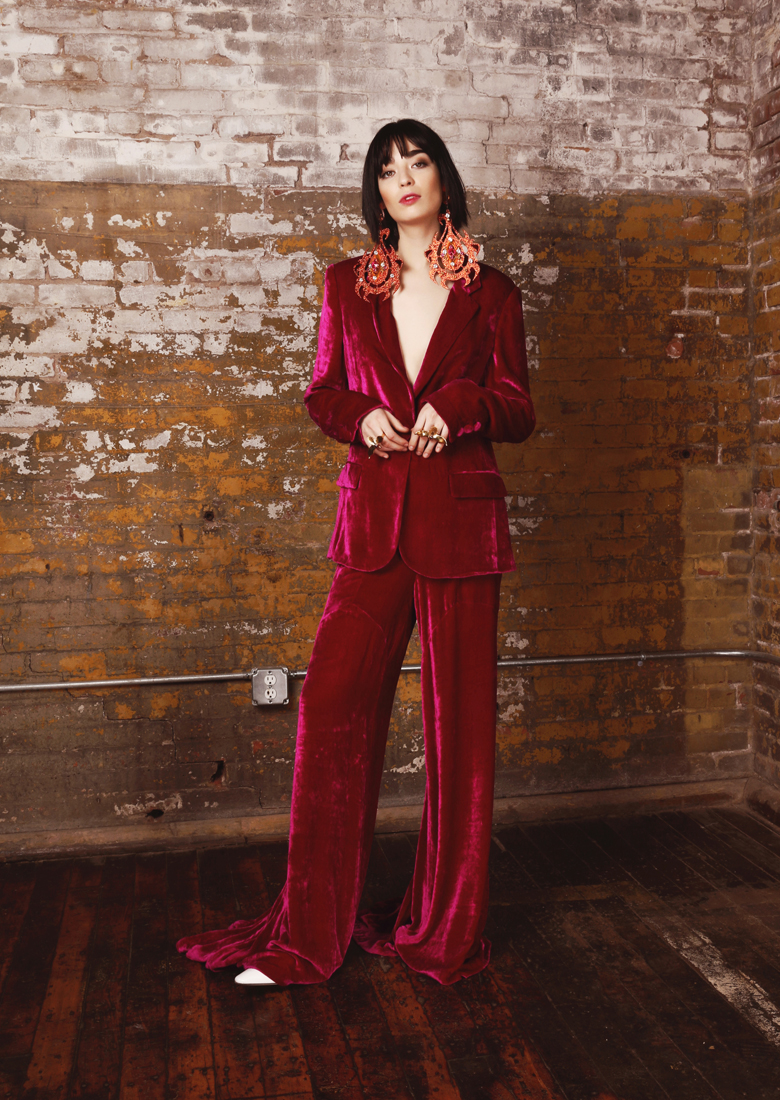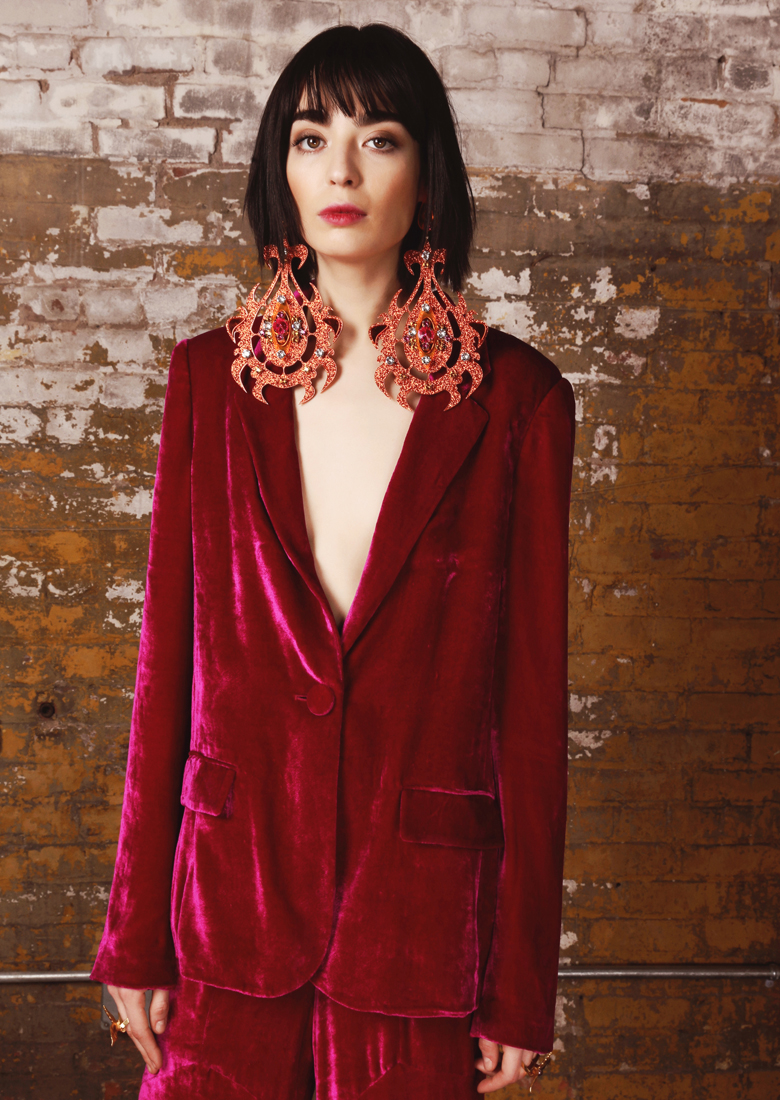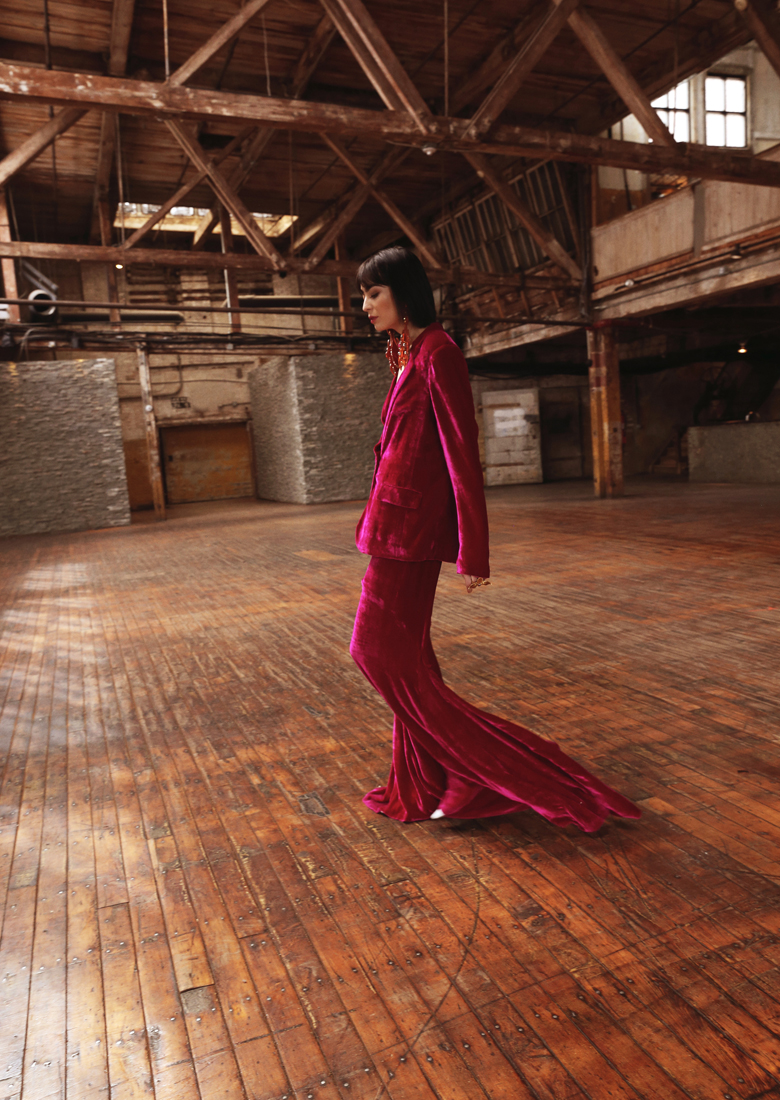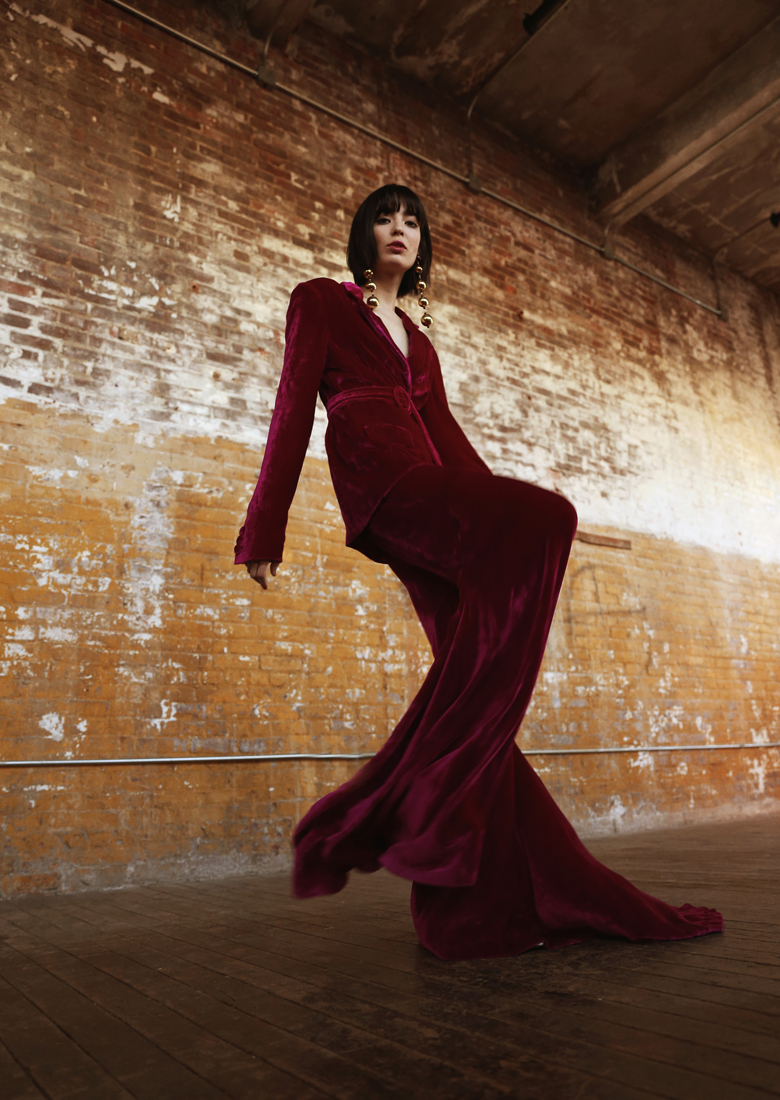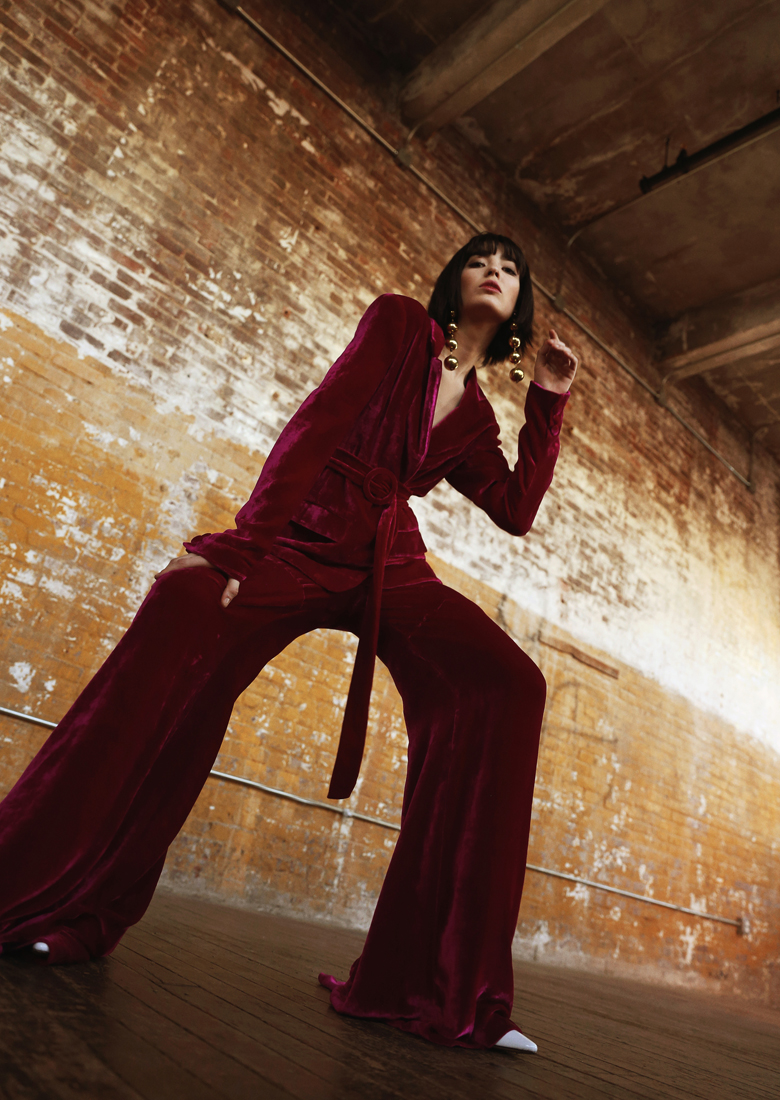 Look 24
Bayar tie-waist blouse in Magenta Crepe Back Satin with Magenta velvet side slit skirt. Shown with White Triangle Laser Cut Earrings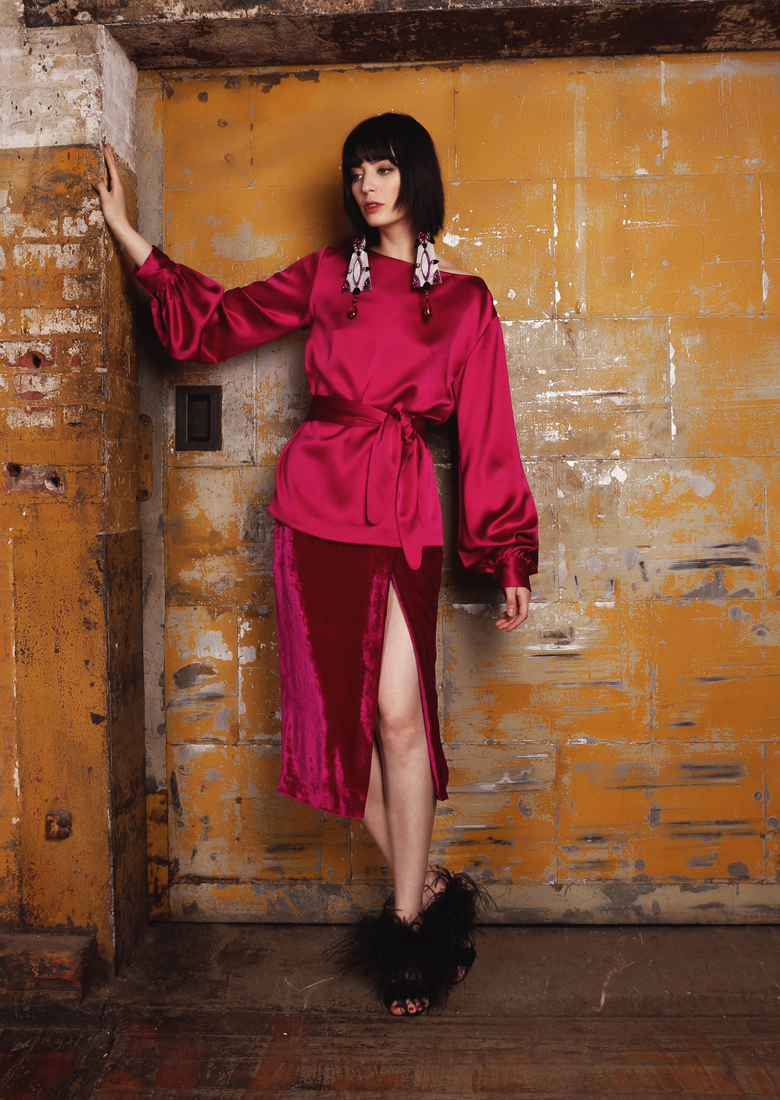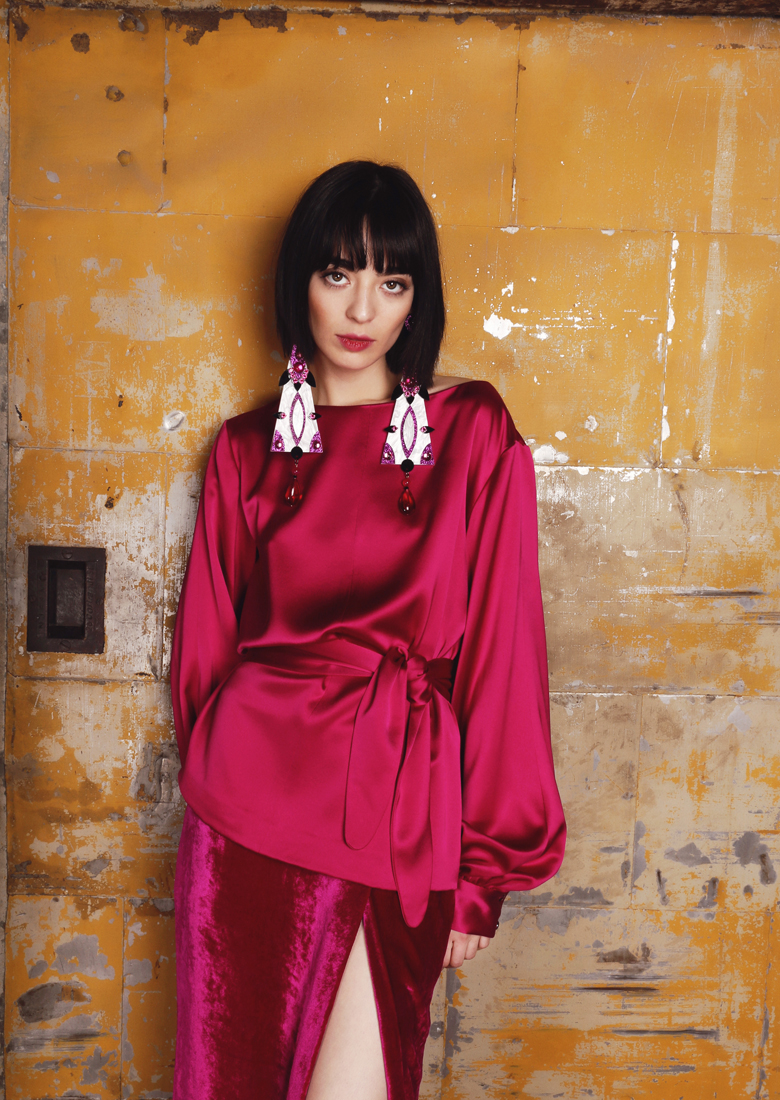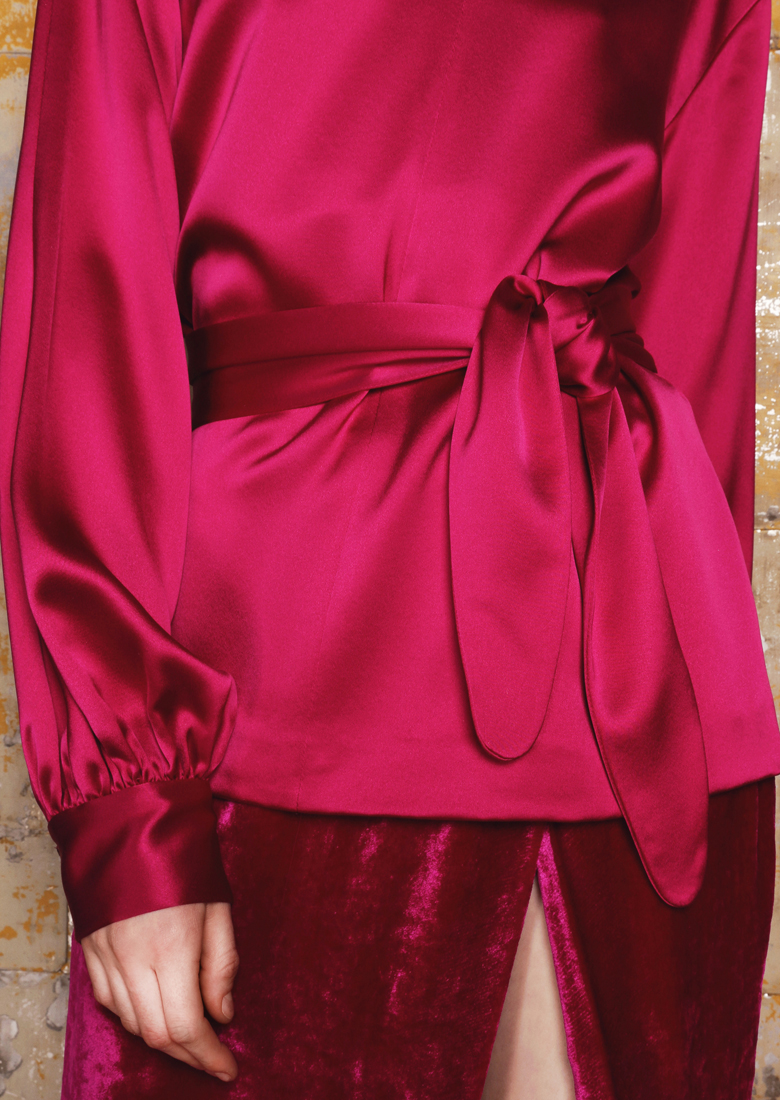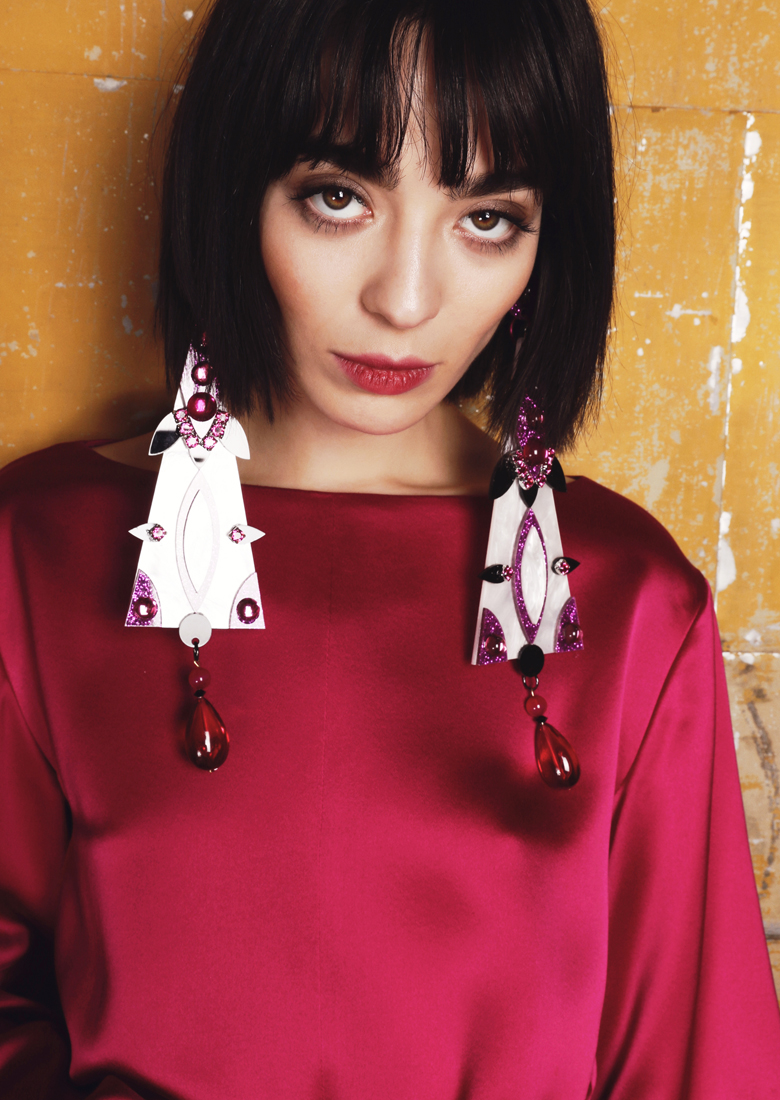 Look 25
Sophia Sheath Dress in Magenta silk wool with marabou hem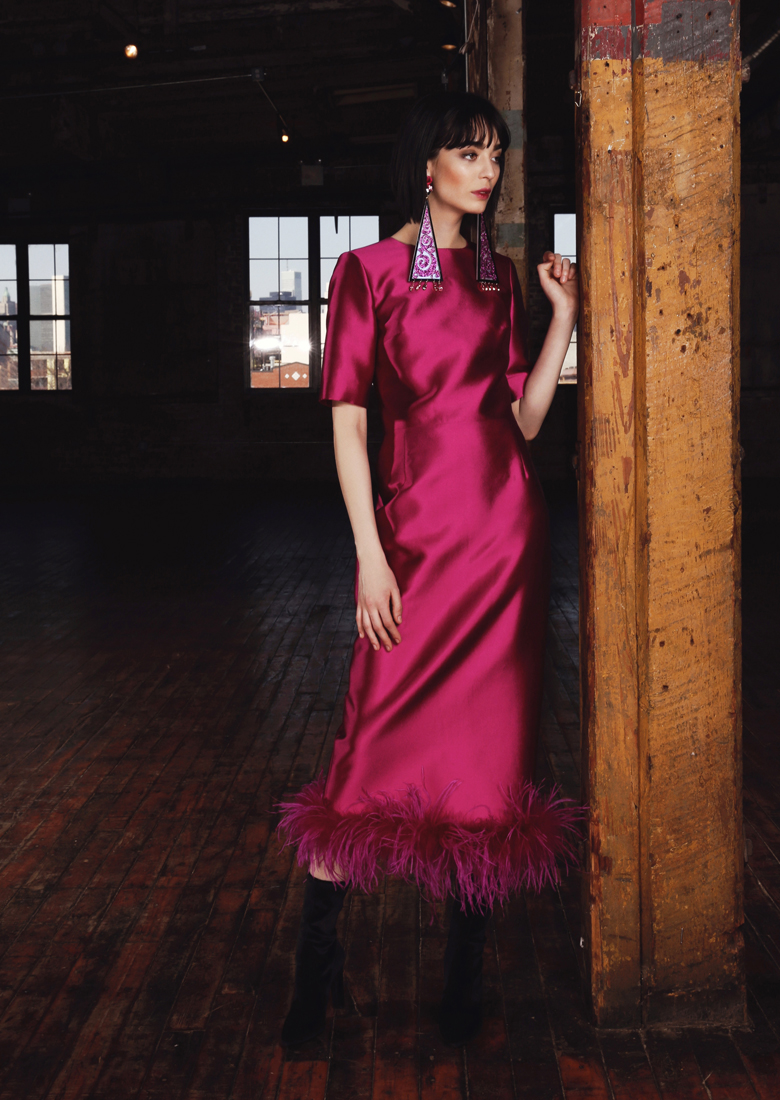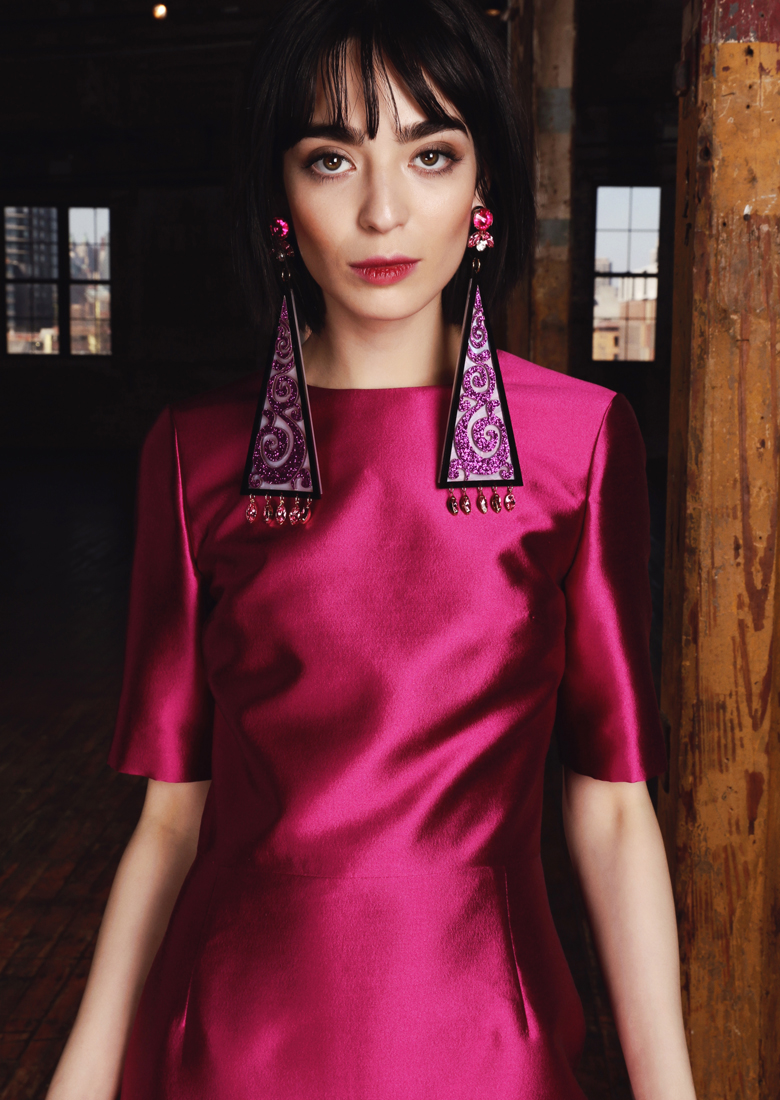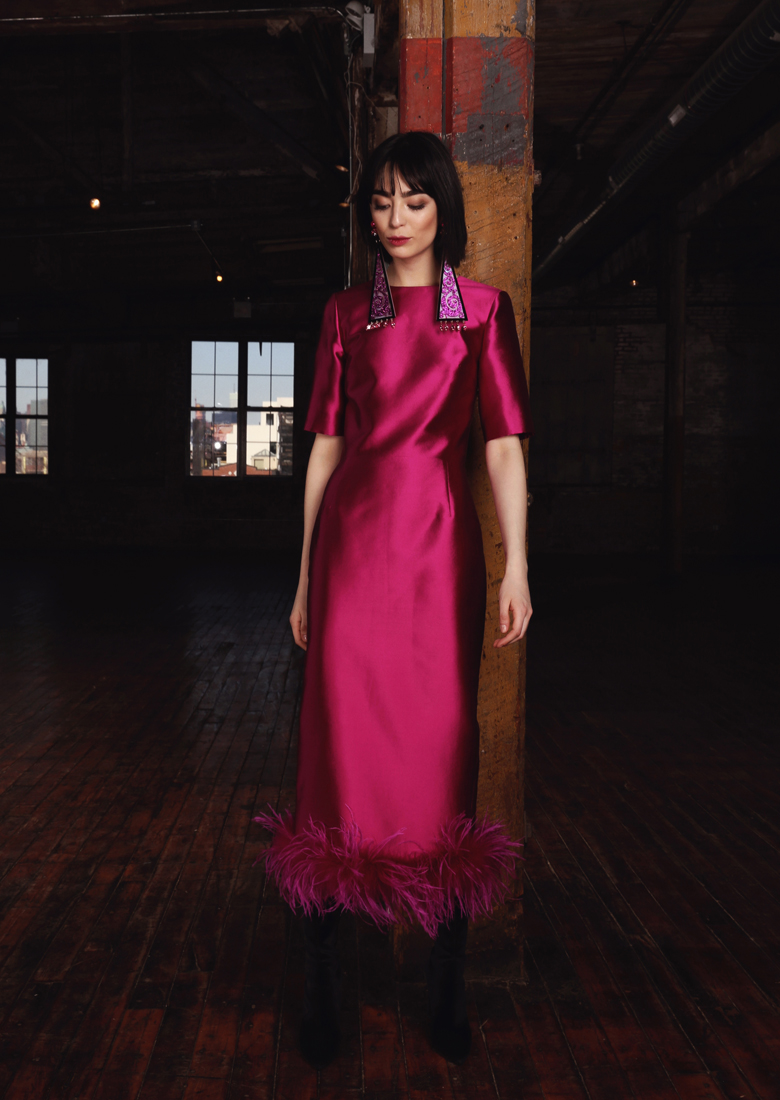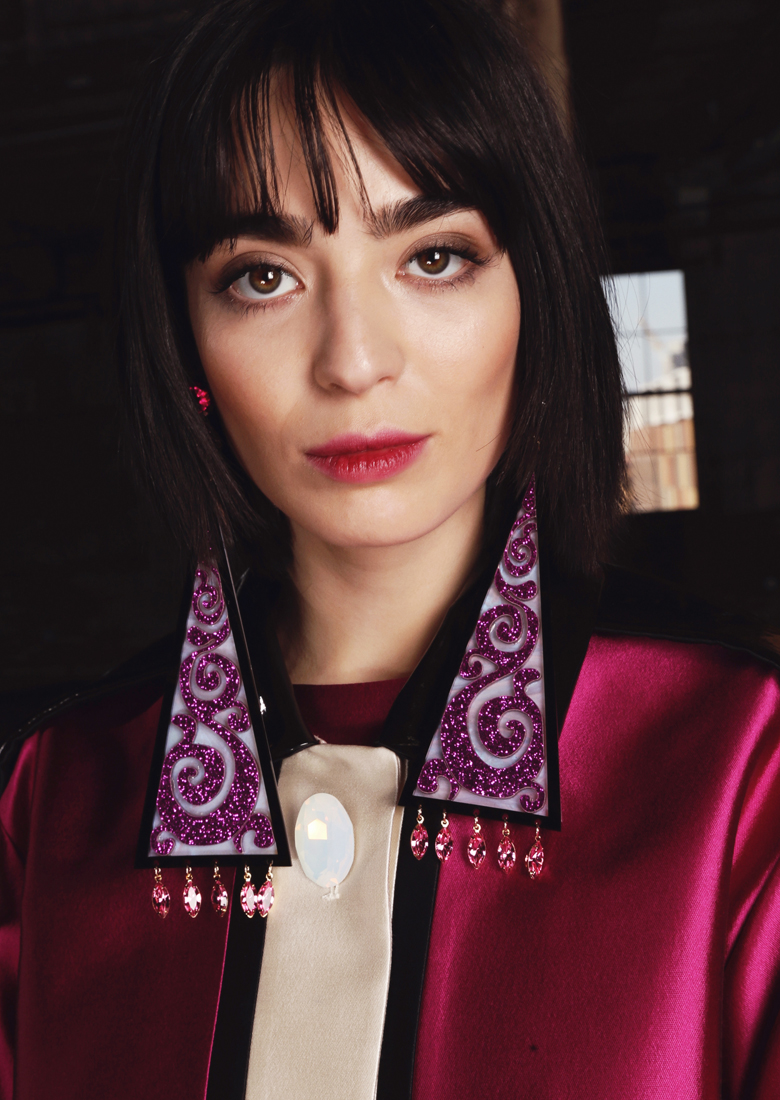 Look 26
Sophia silk wool color blocked coat. Shown with Magenta Laser Cut Swirl Earrings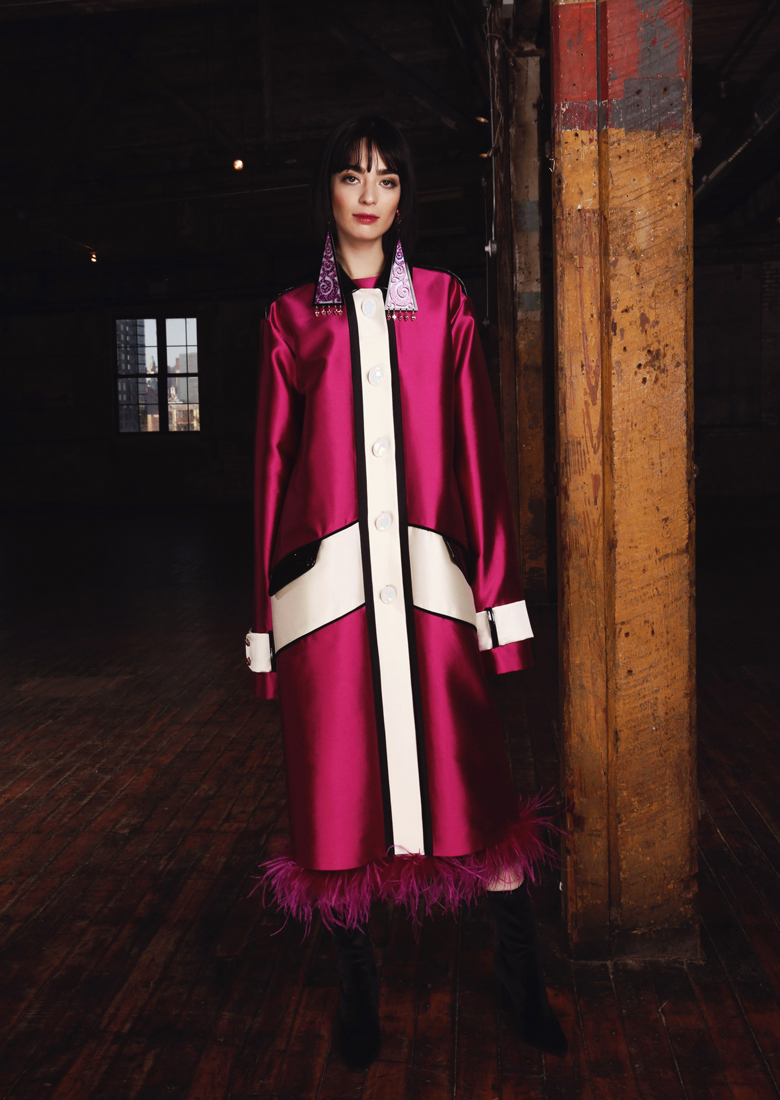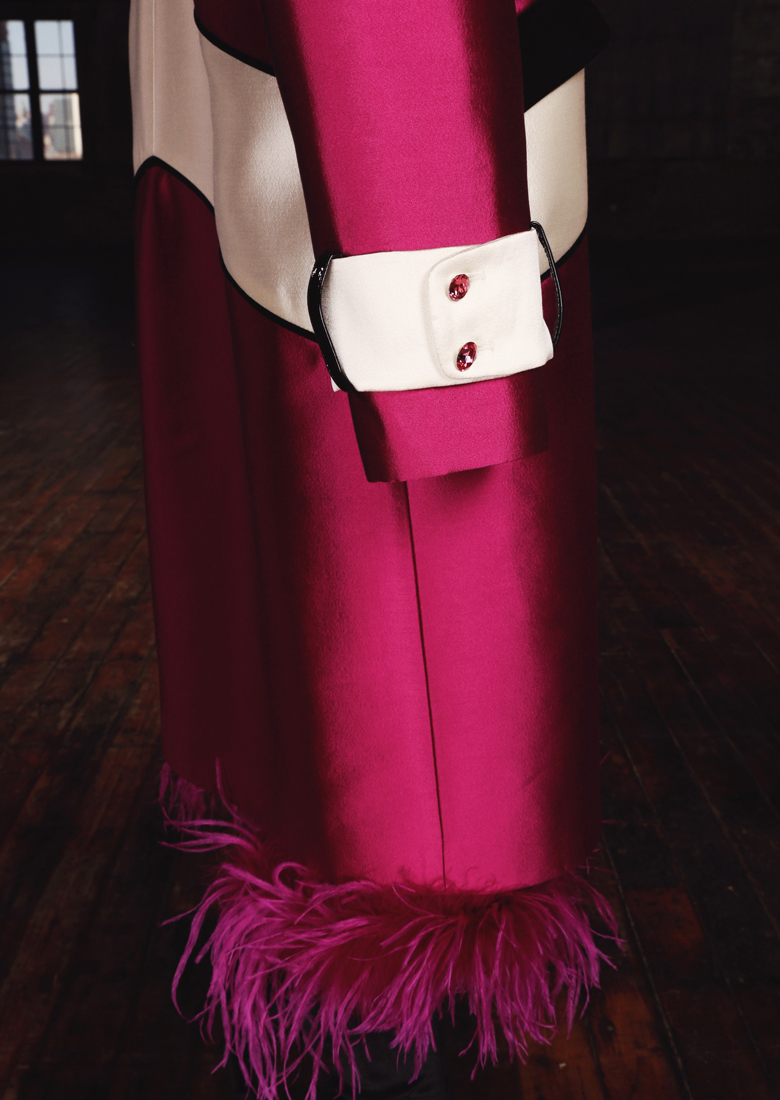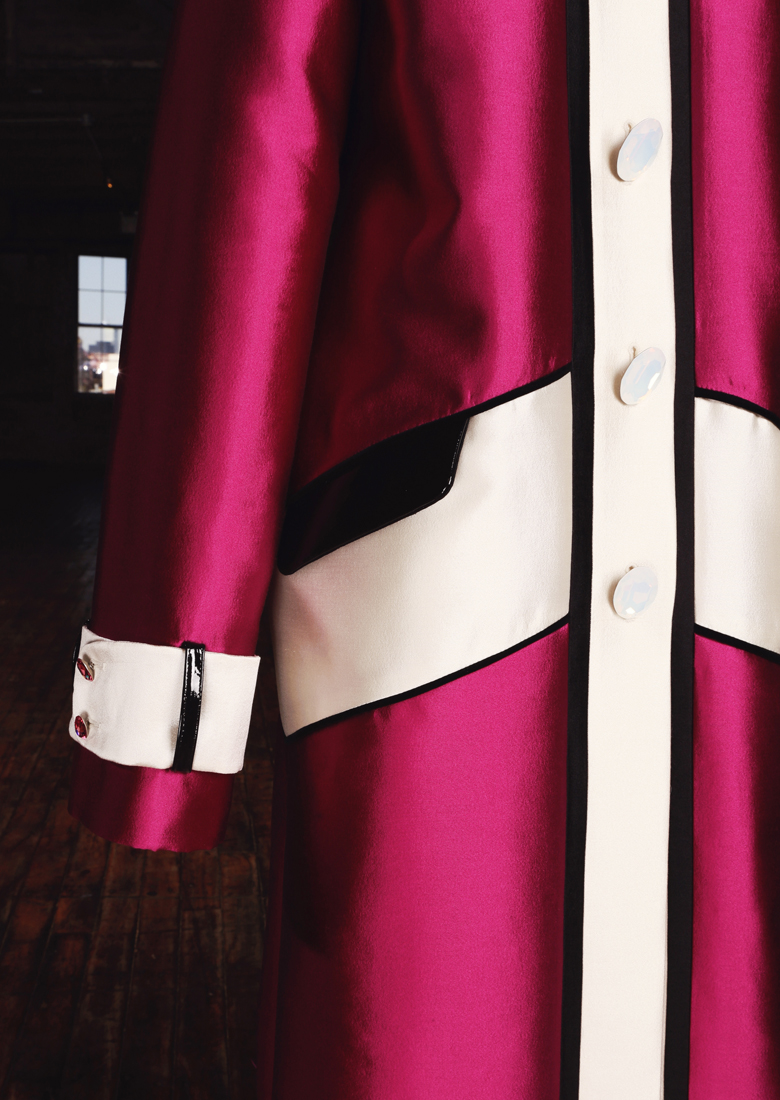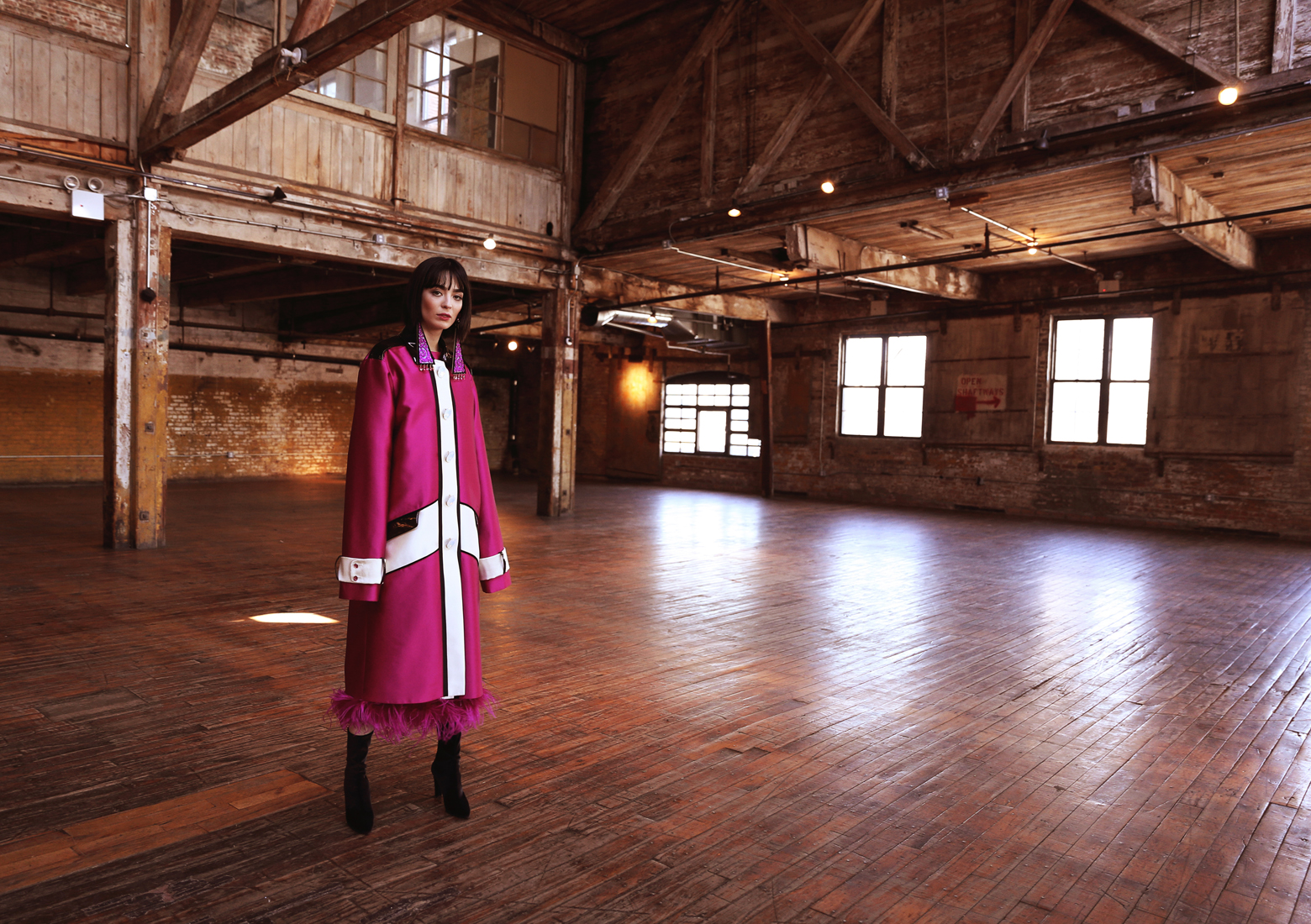 Look 27
Taiga Blouse and Cropped pant in Ivory cotton with hand embellished crystal hem and black feather trim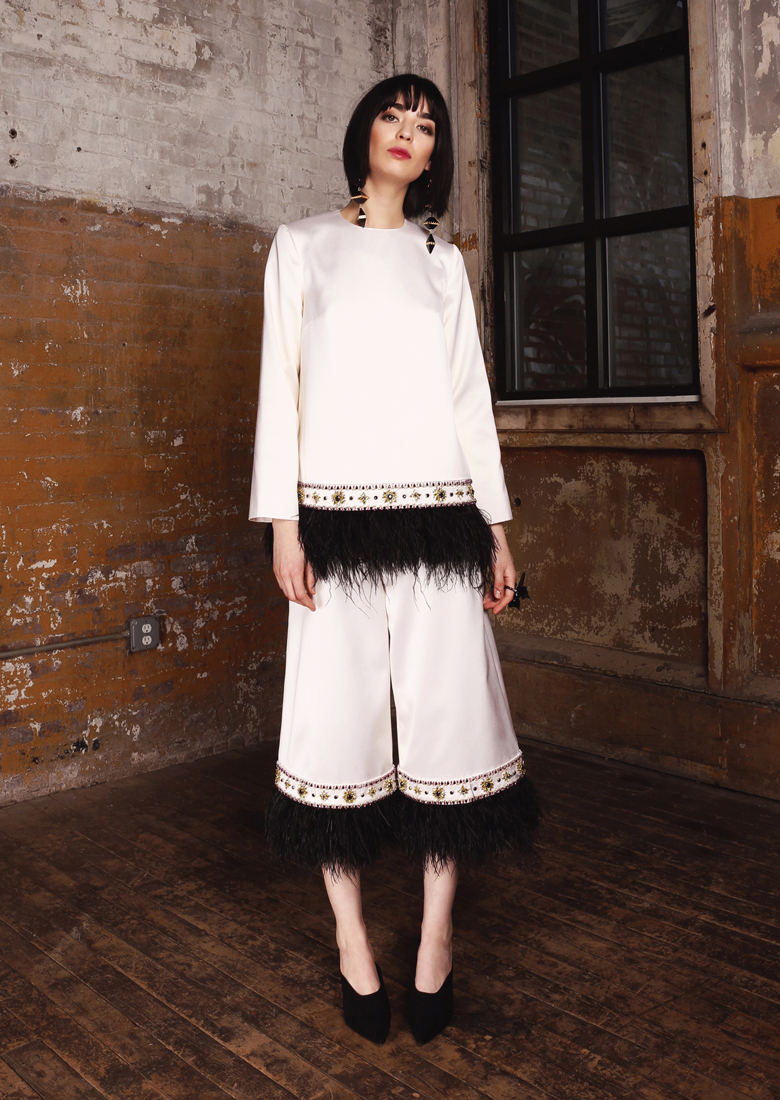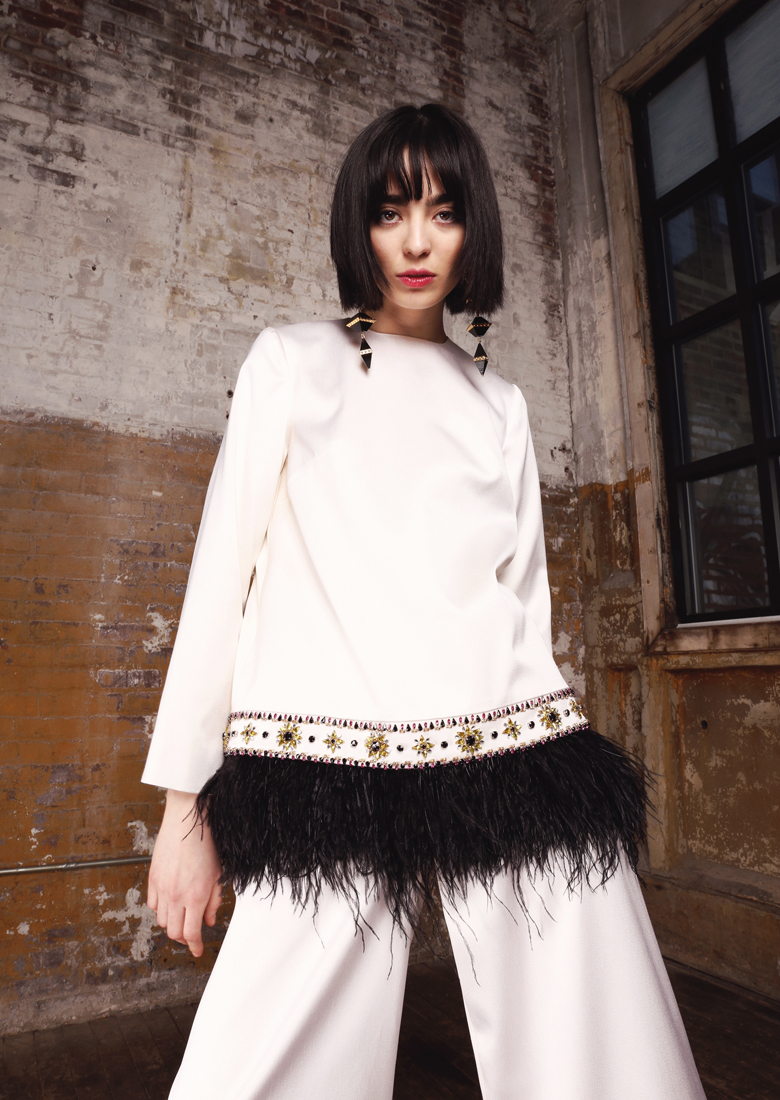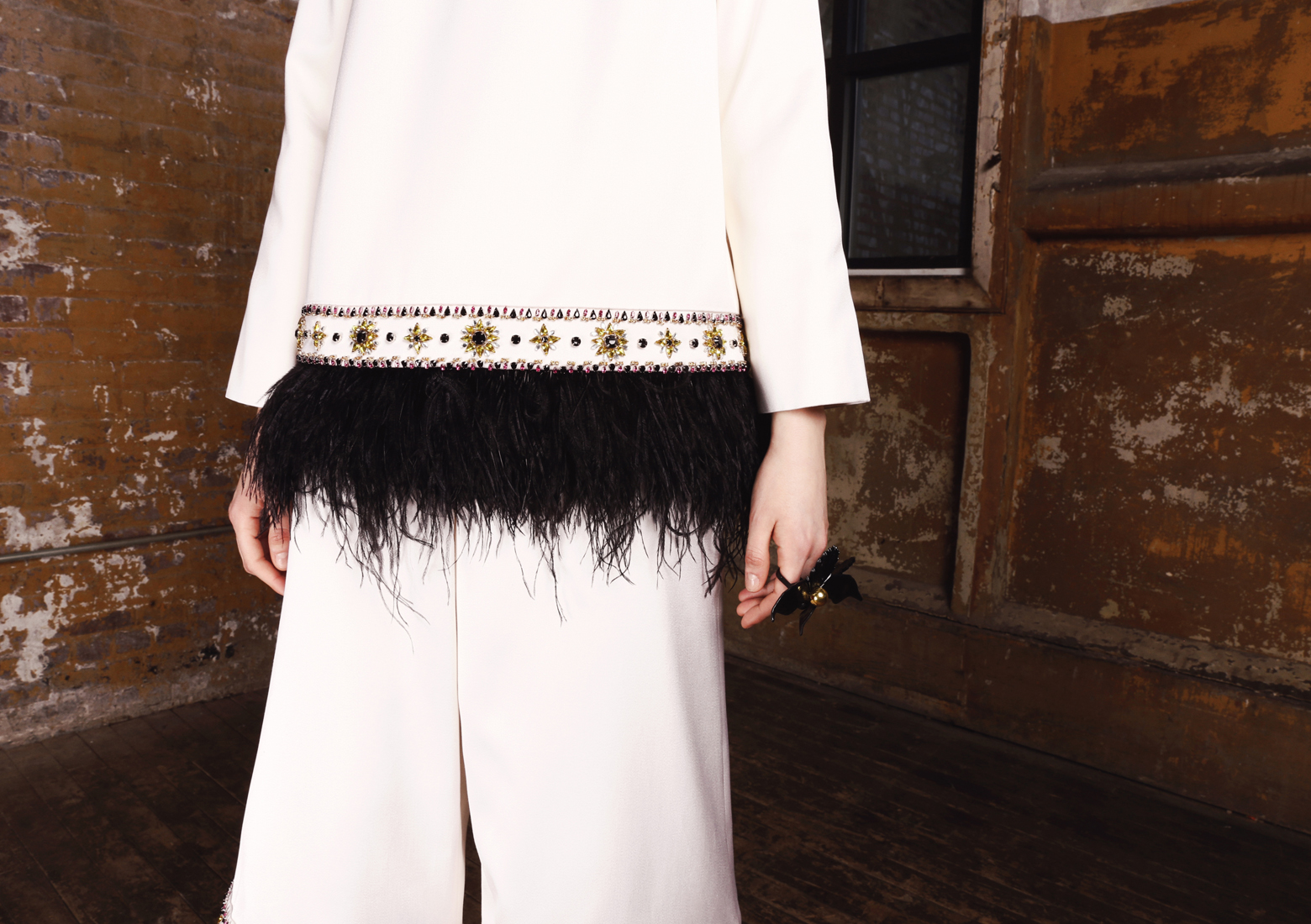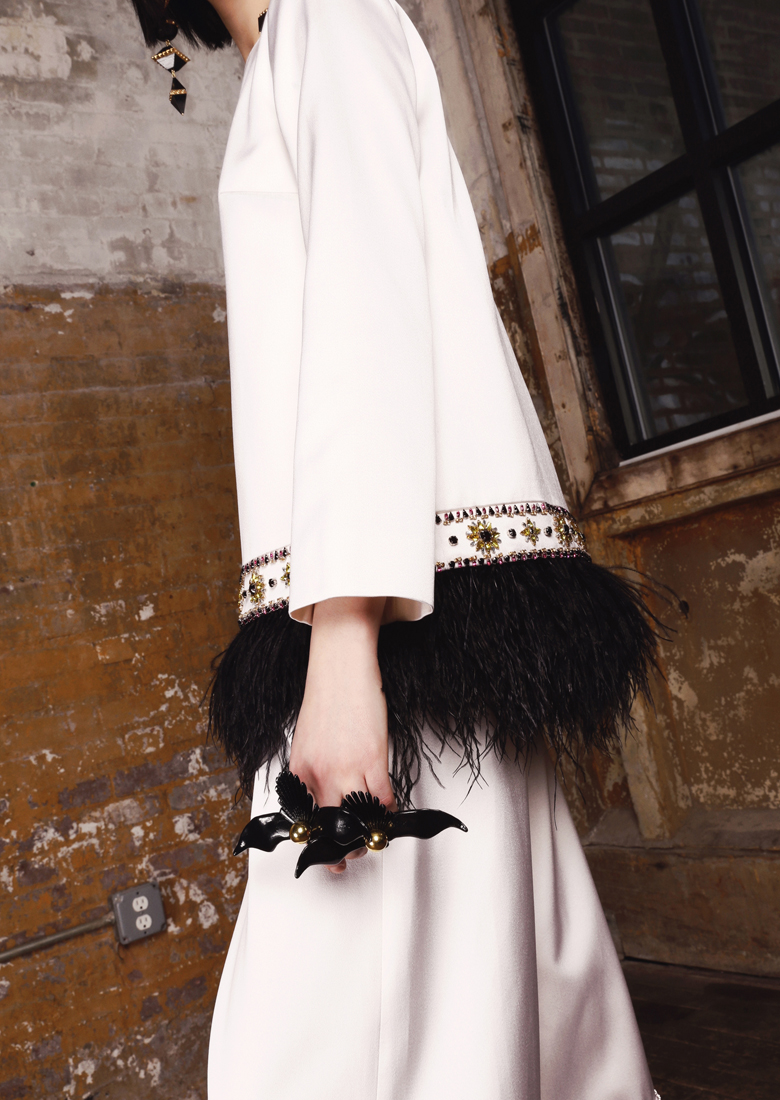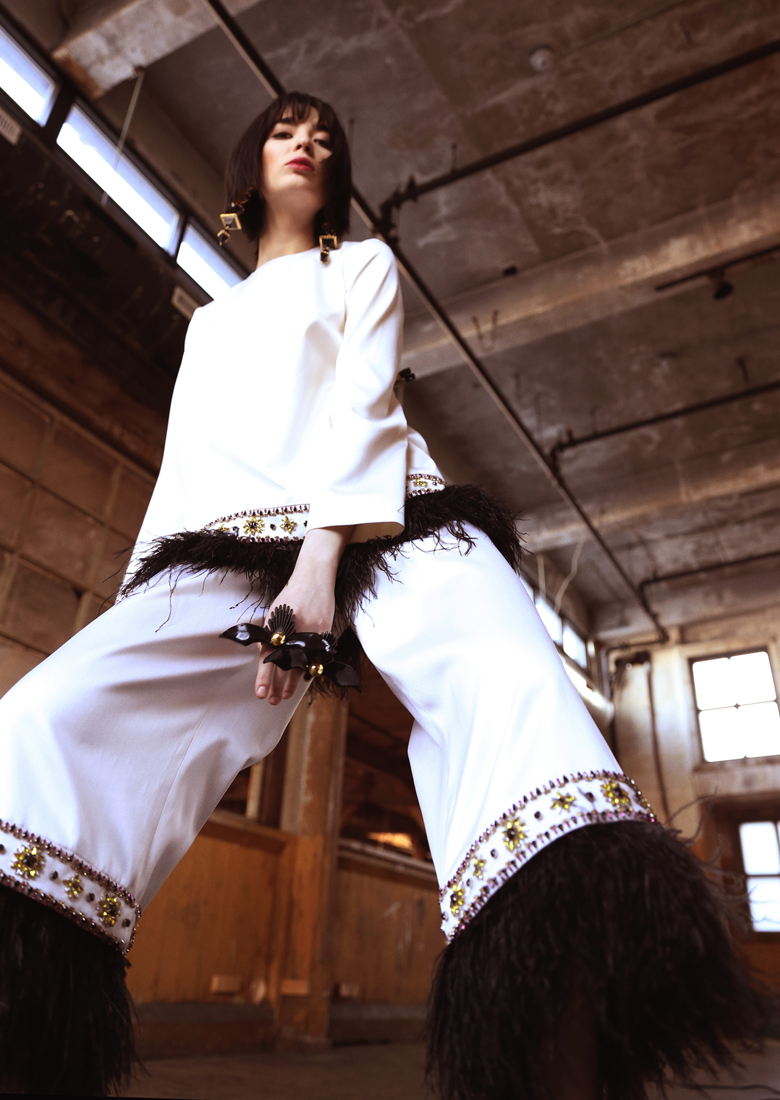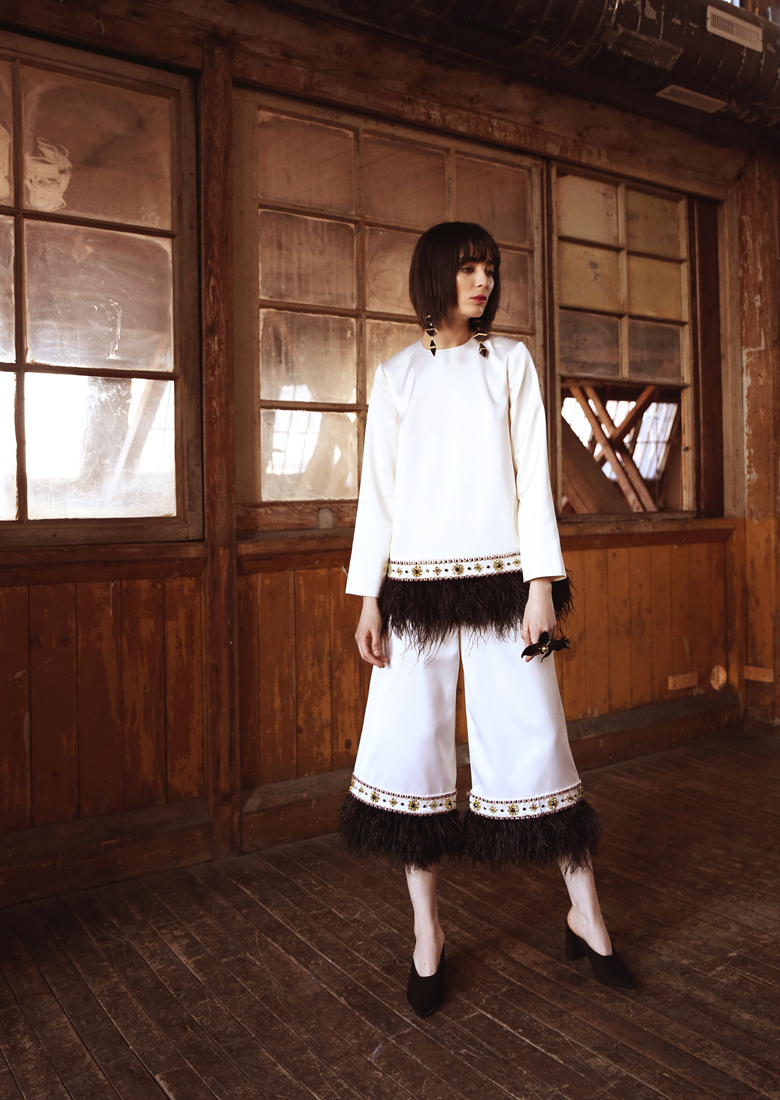 Look 28
Inka button front blouse in white georgette with embellished collar and cuffs. Tara Black Vinyl Embellished mini skirt. Shown with 3D printed black Scallop Earrings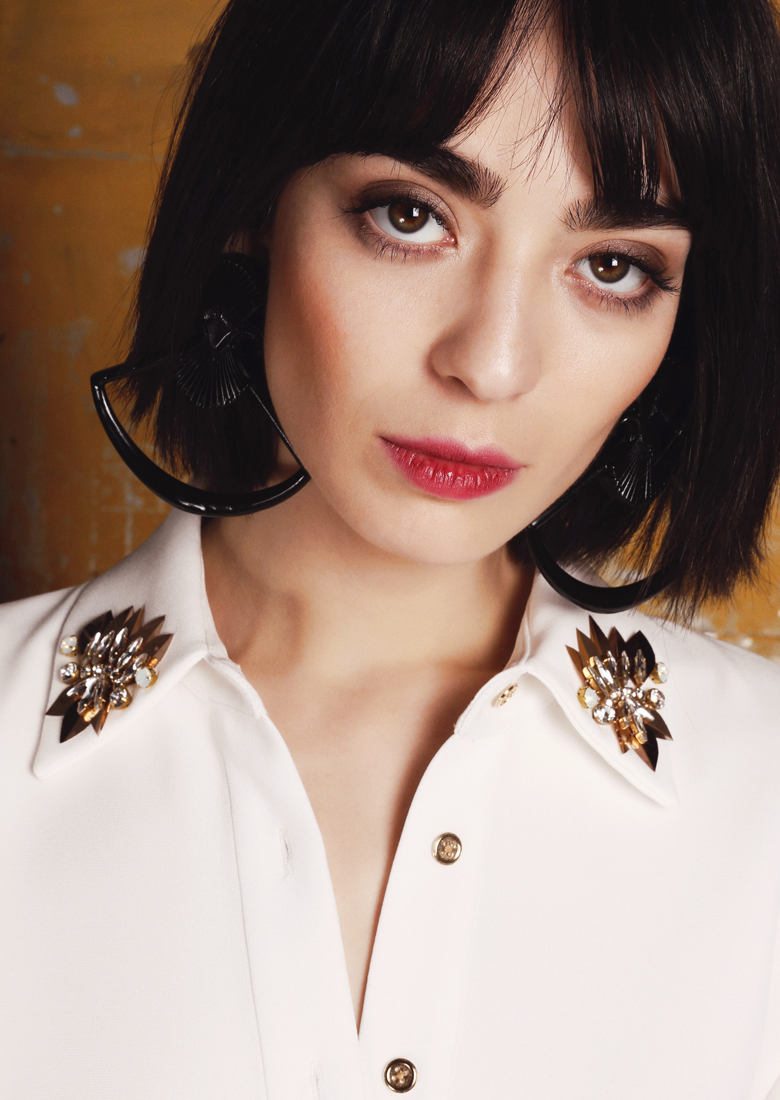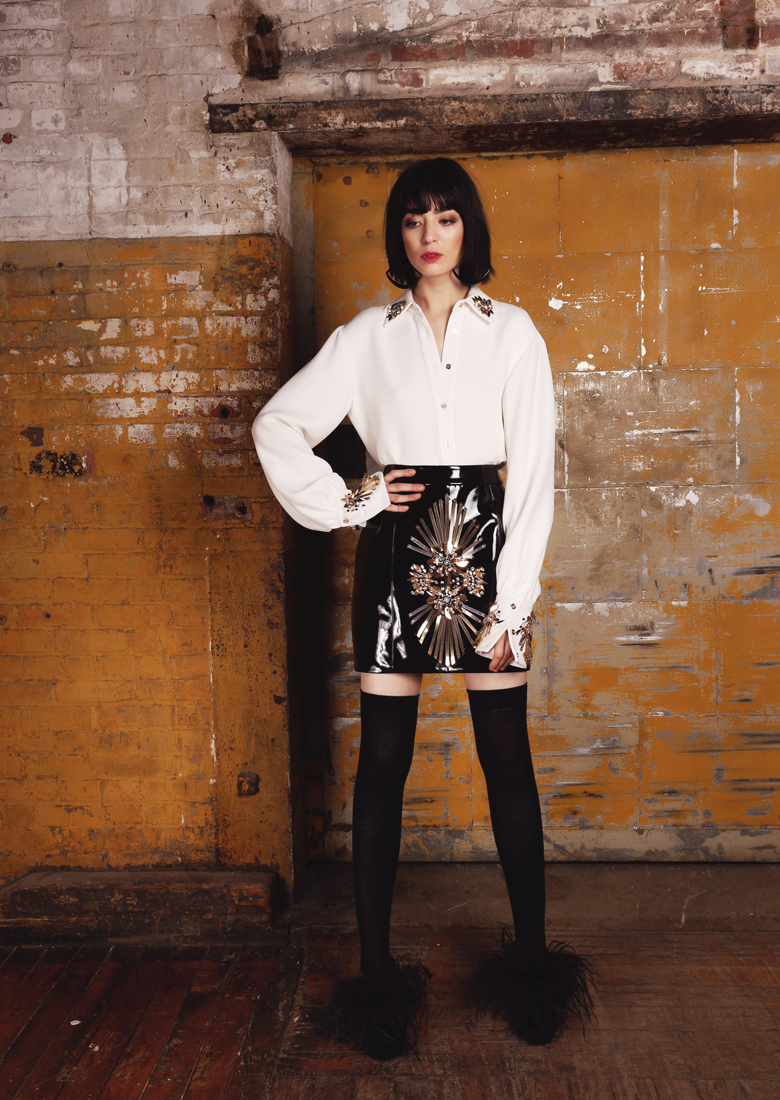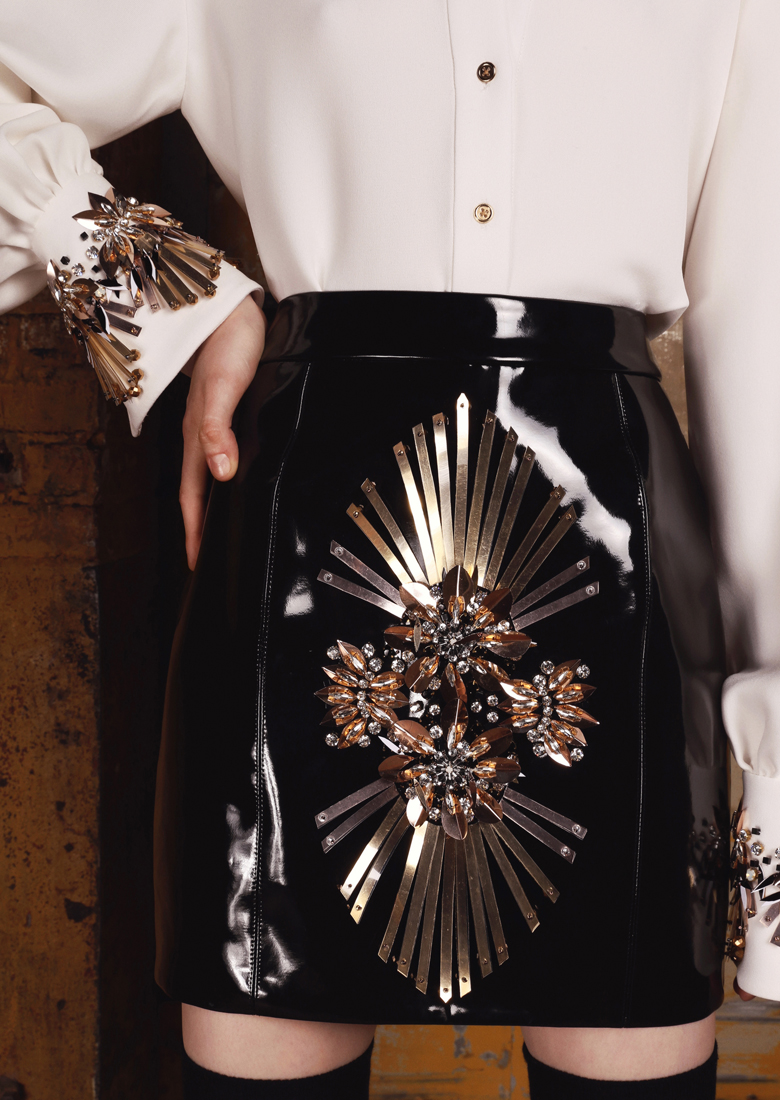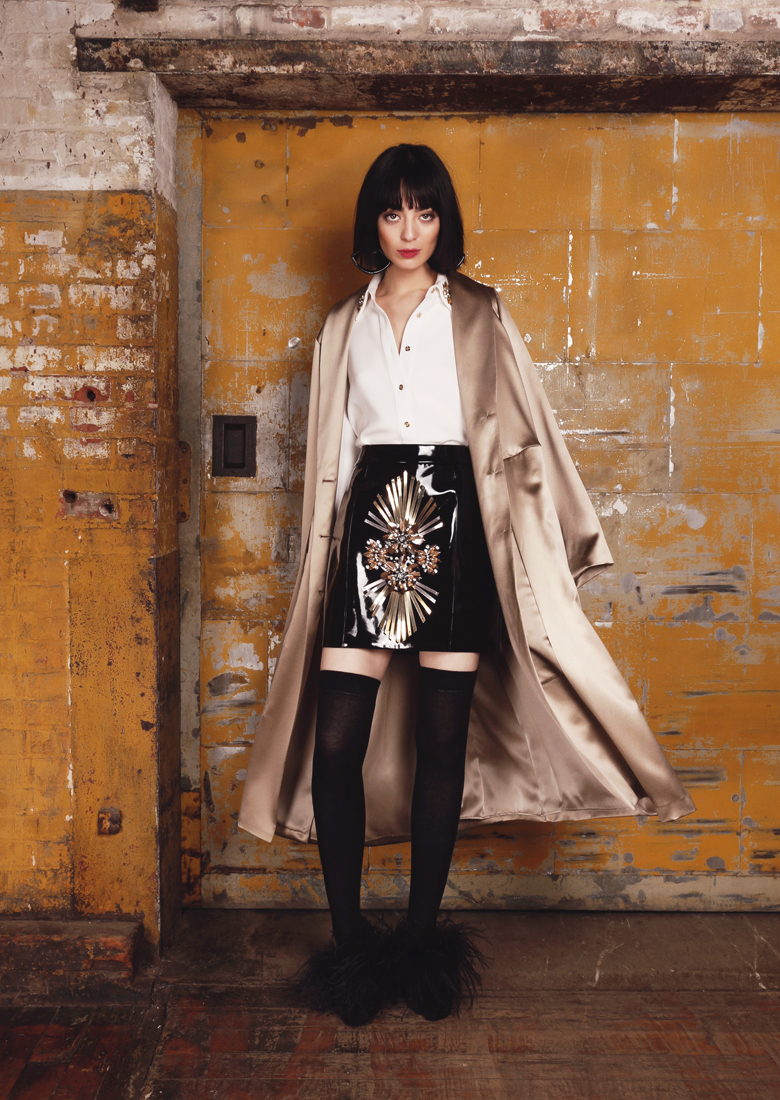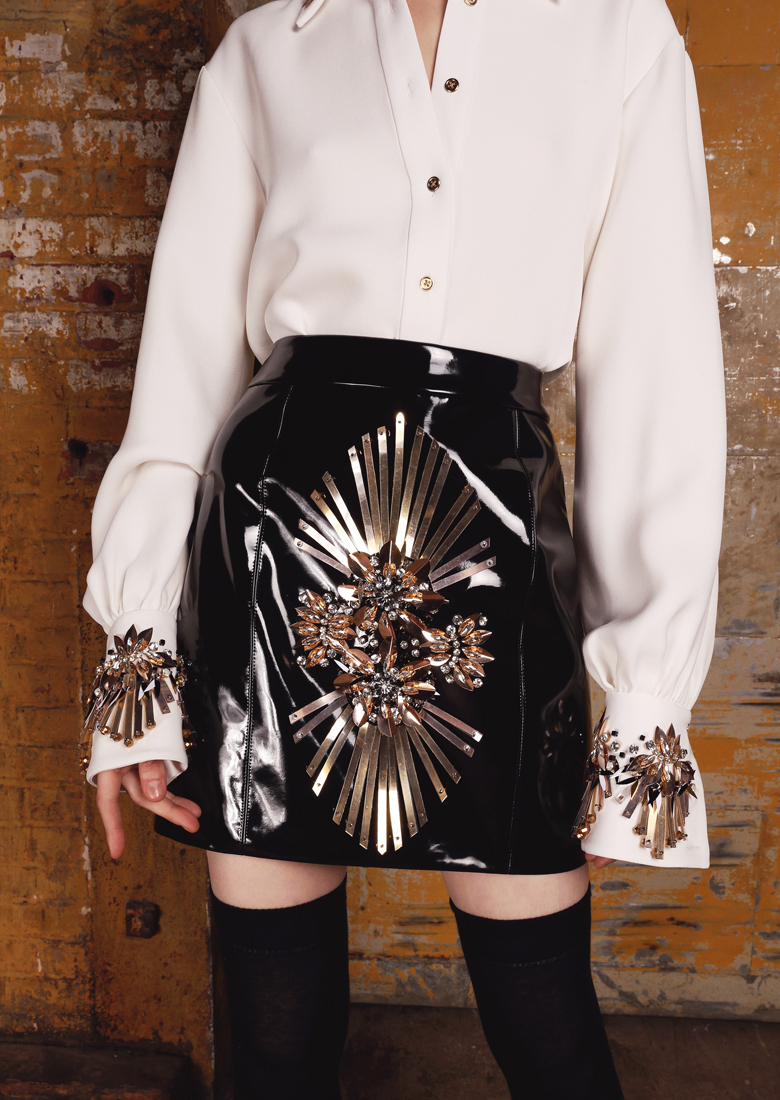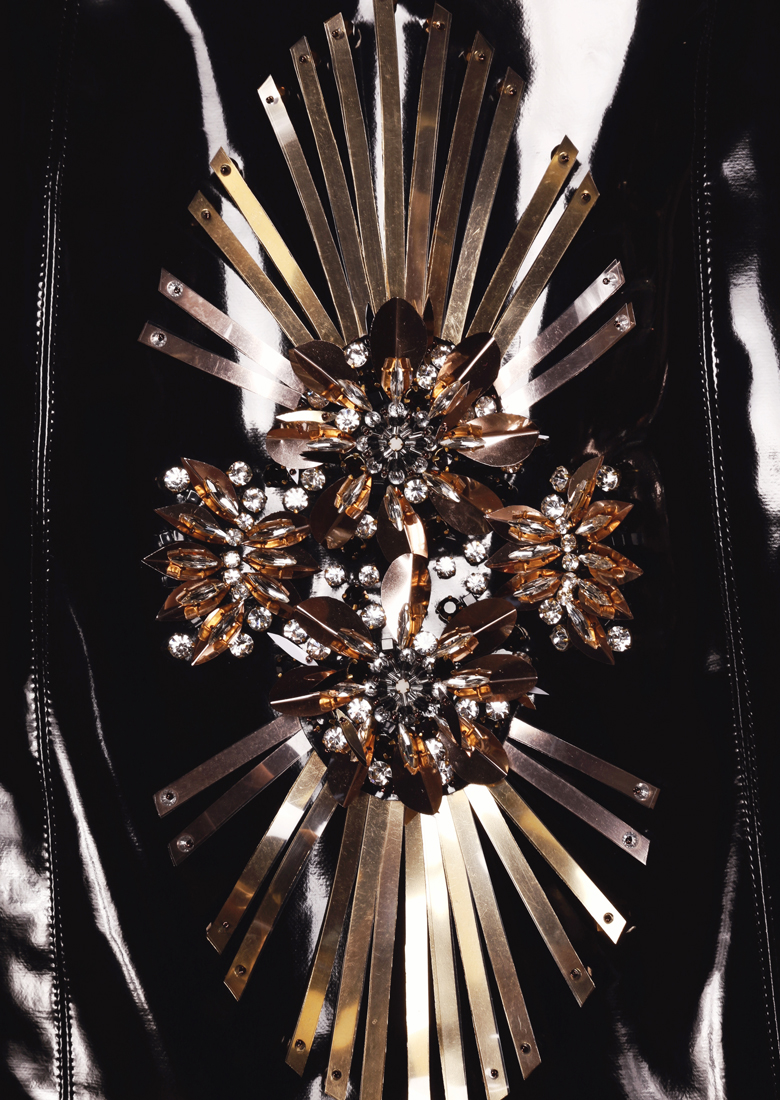 Look 29
Zoya blouse in Gold and Black Chiffon with Black Feather Cuffs. Zoya Gathered Chiffon Skirt. Shown with gold ball bead earrings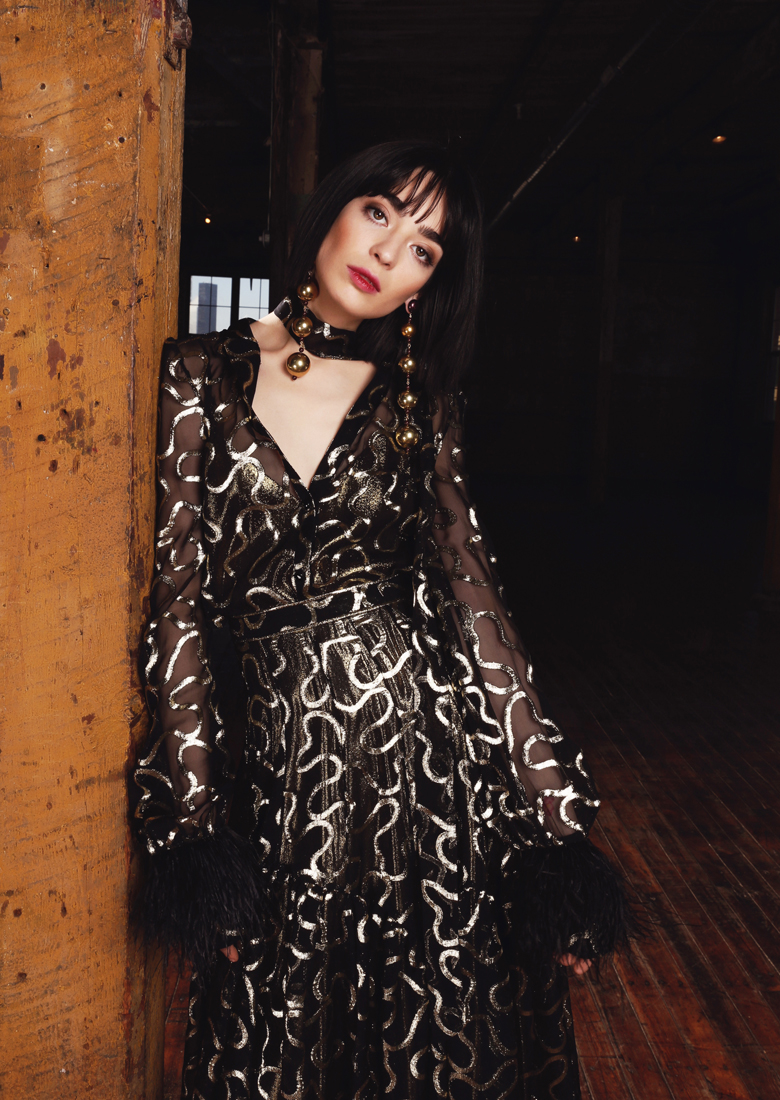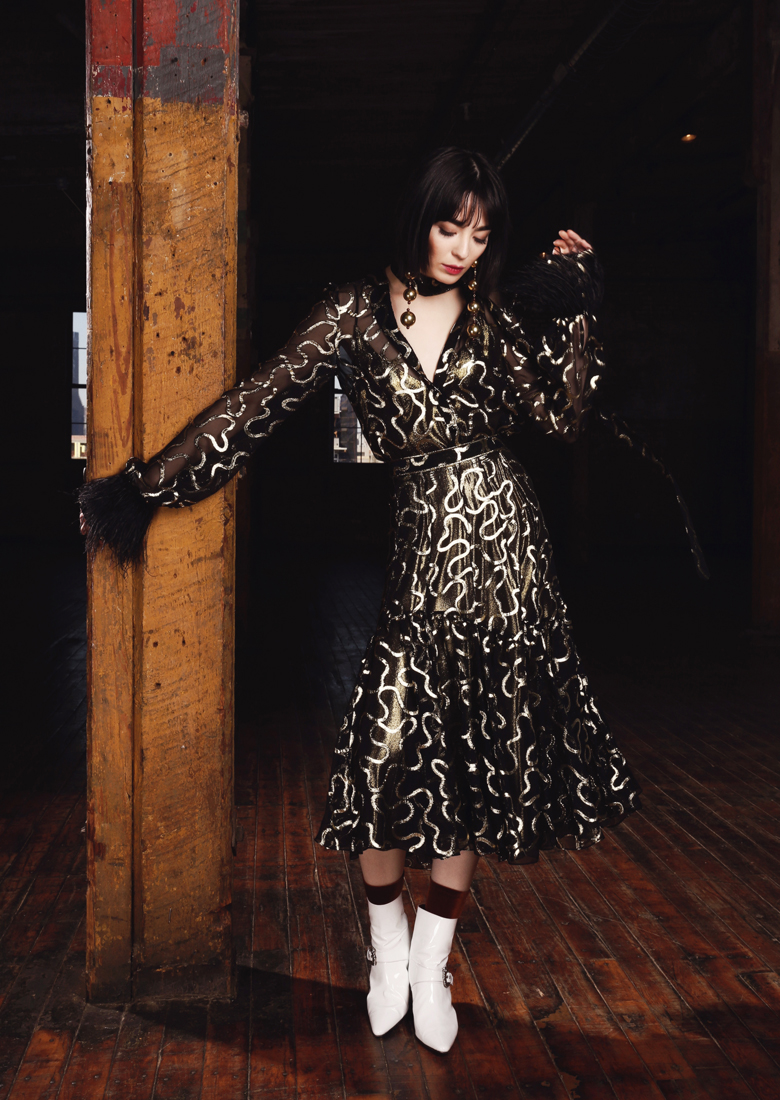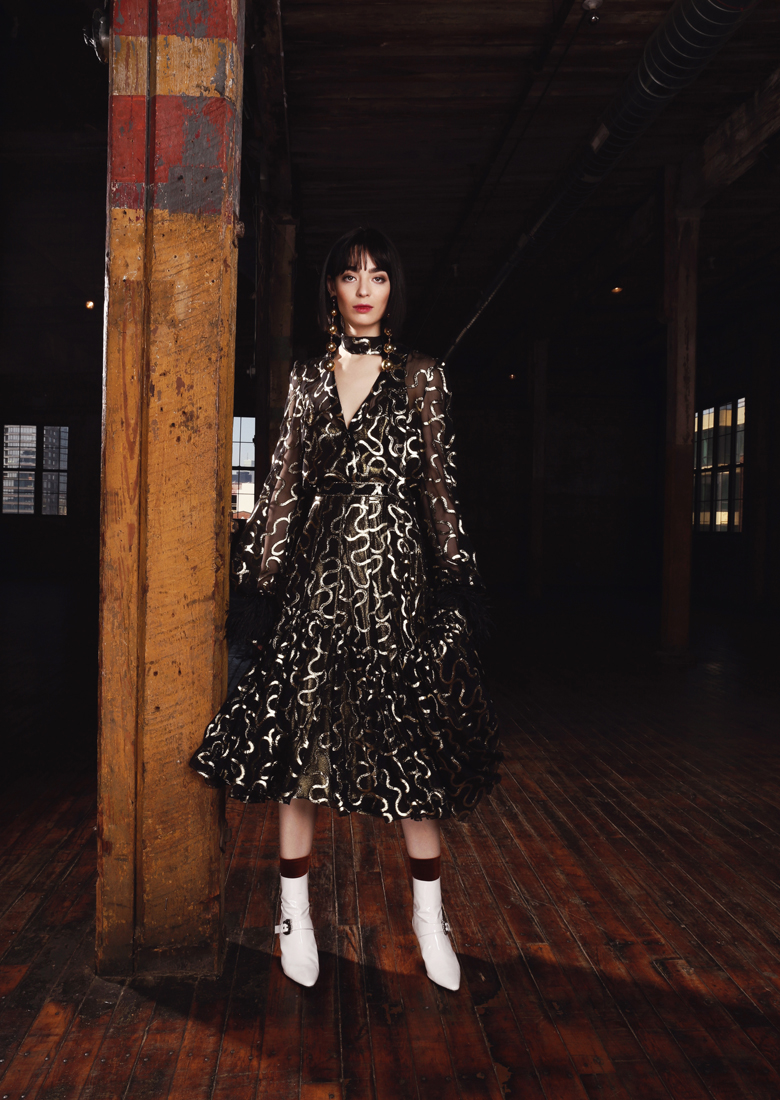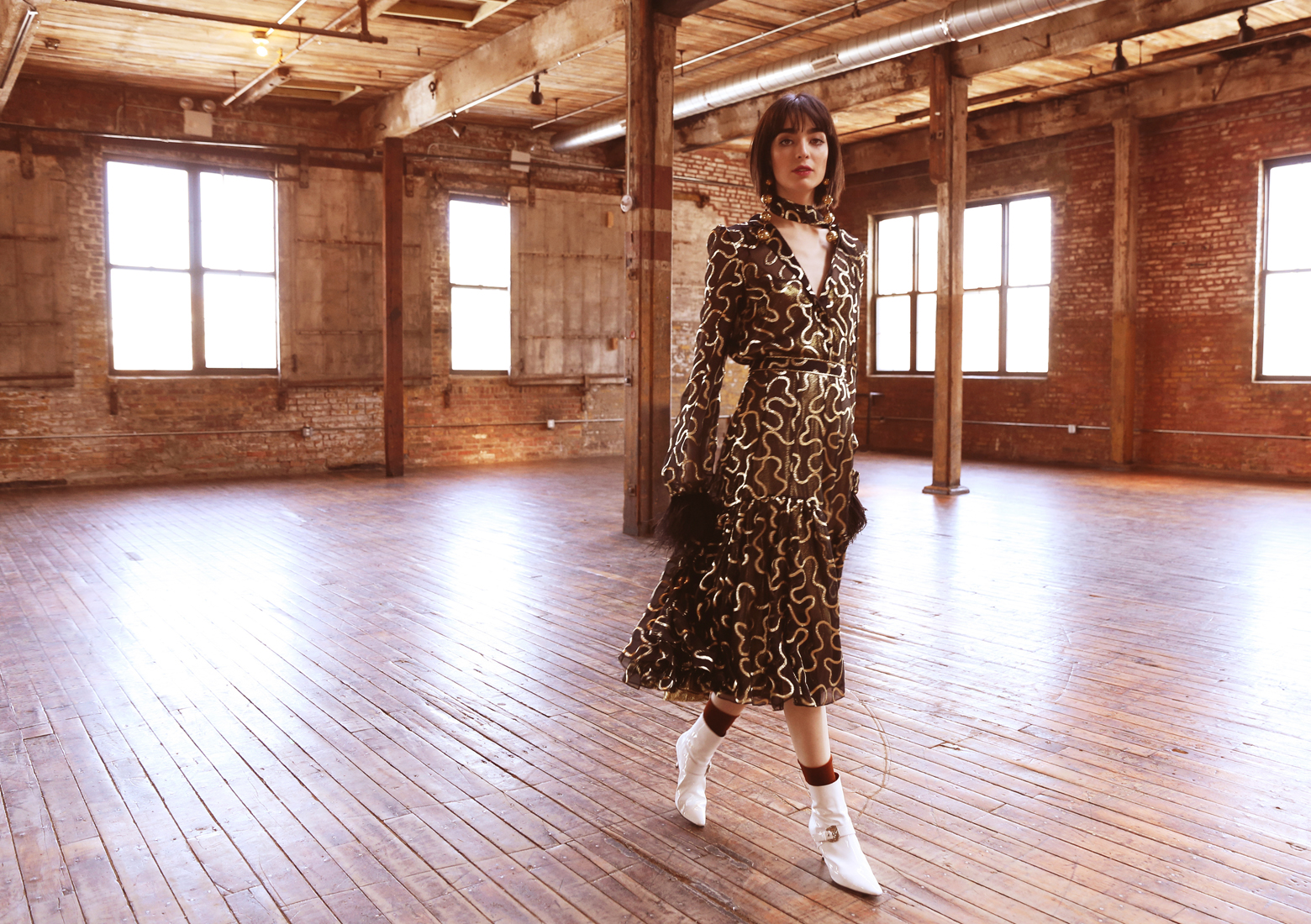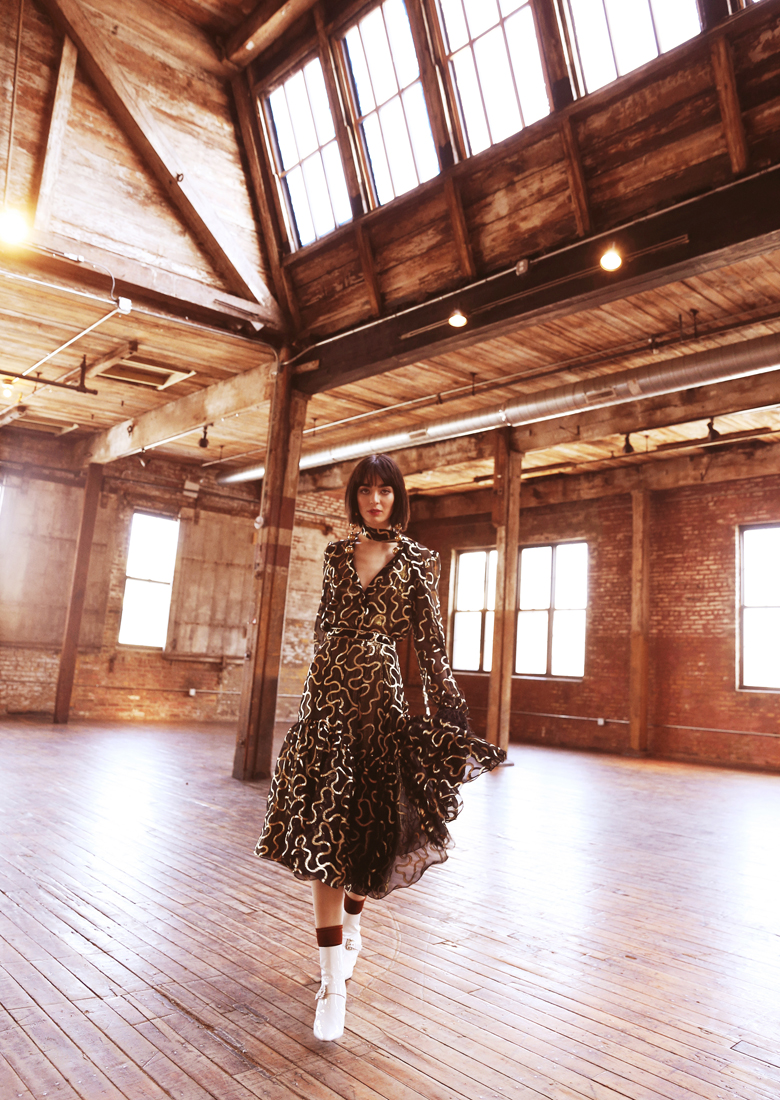 Look 30
Oro Wrap Front Tunic and Sport Pant. Shown with Black Mink Pompom earrings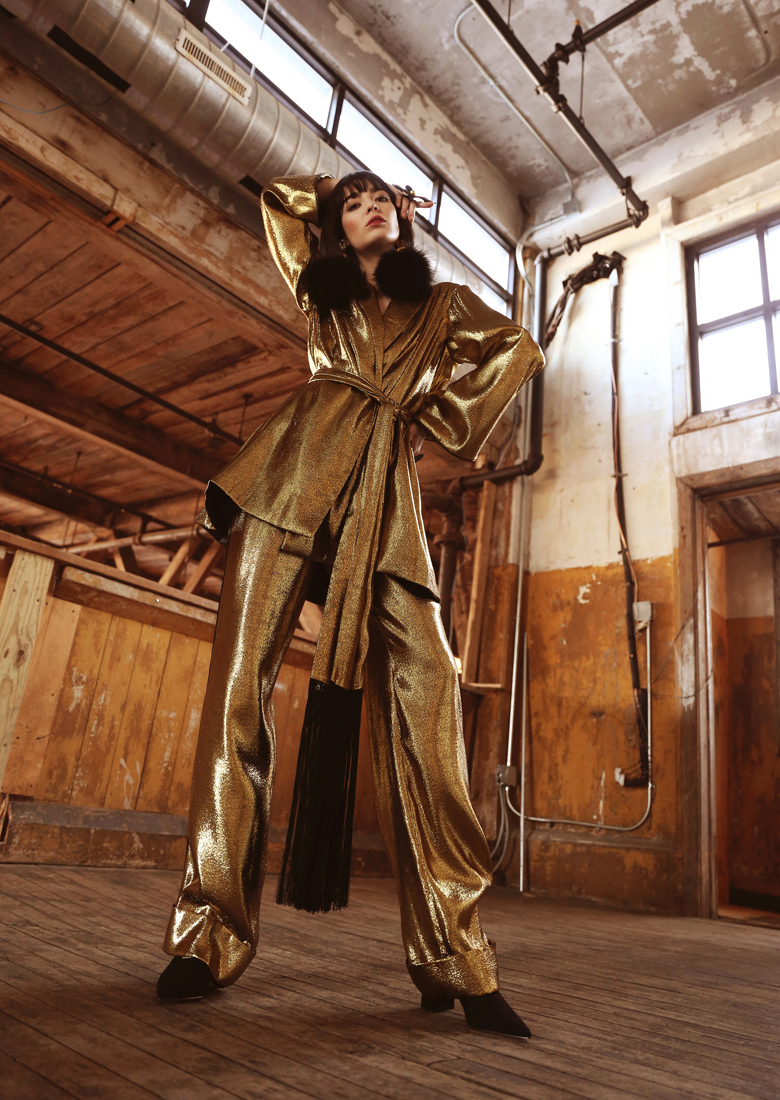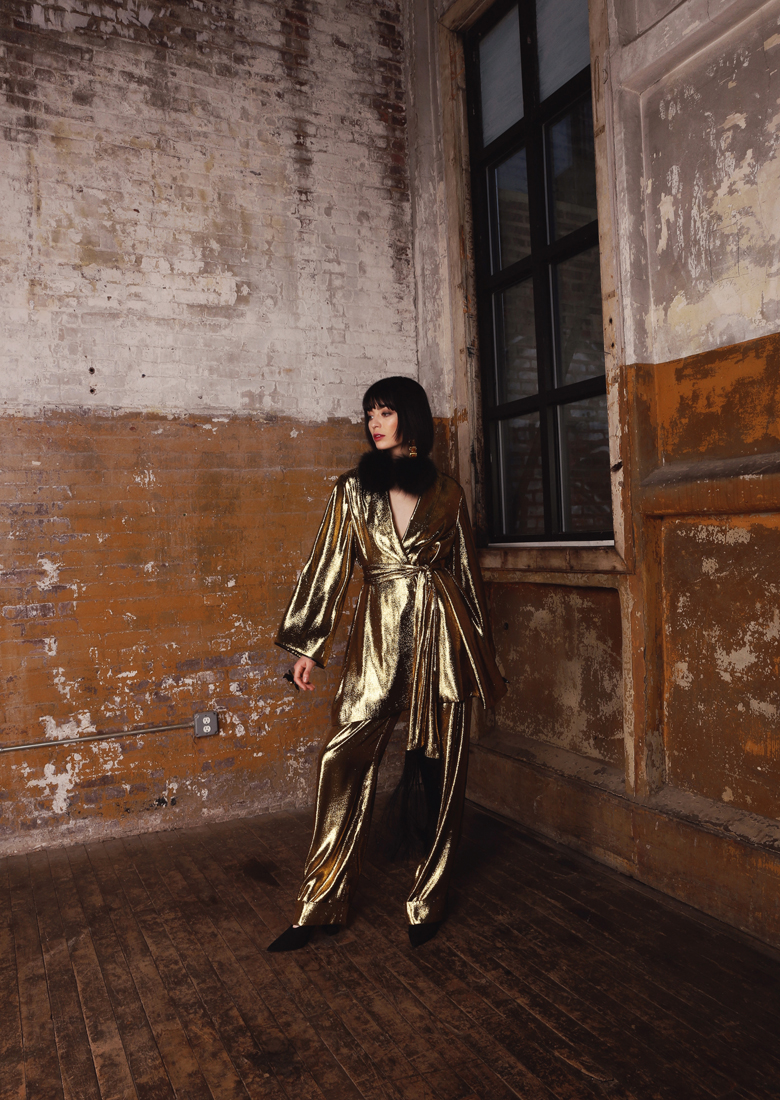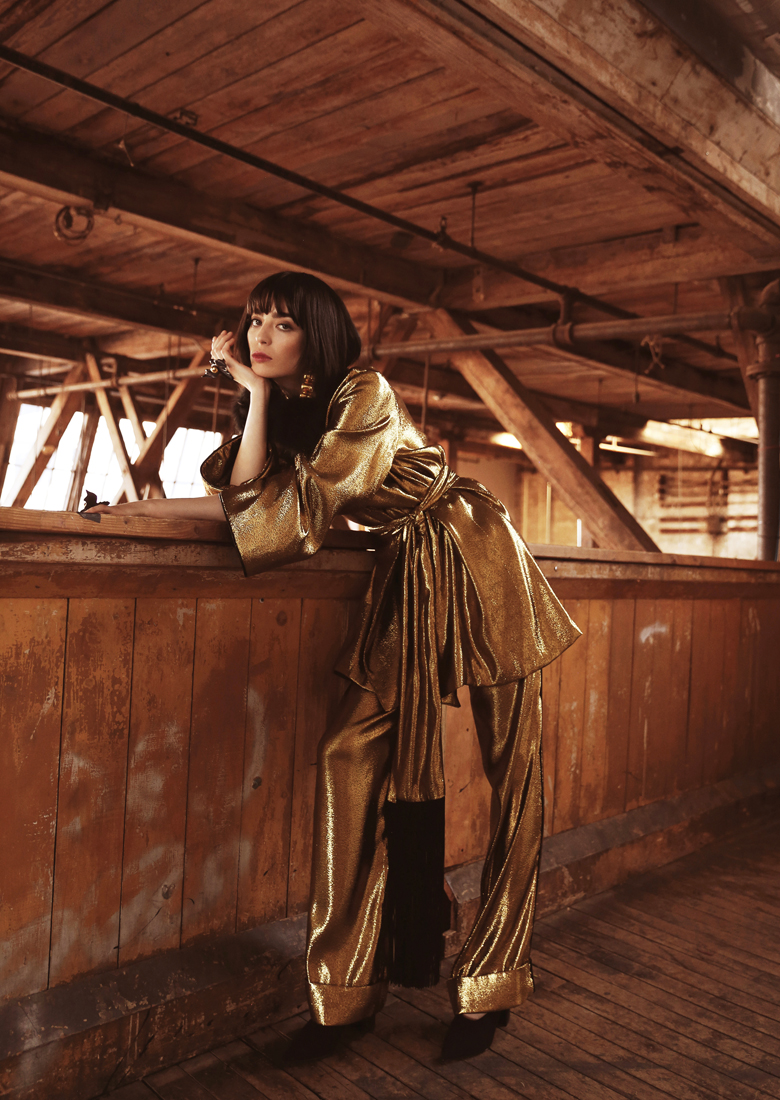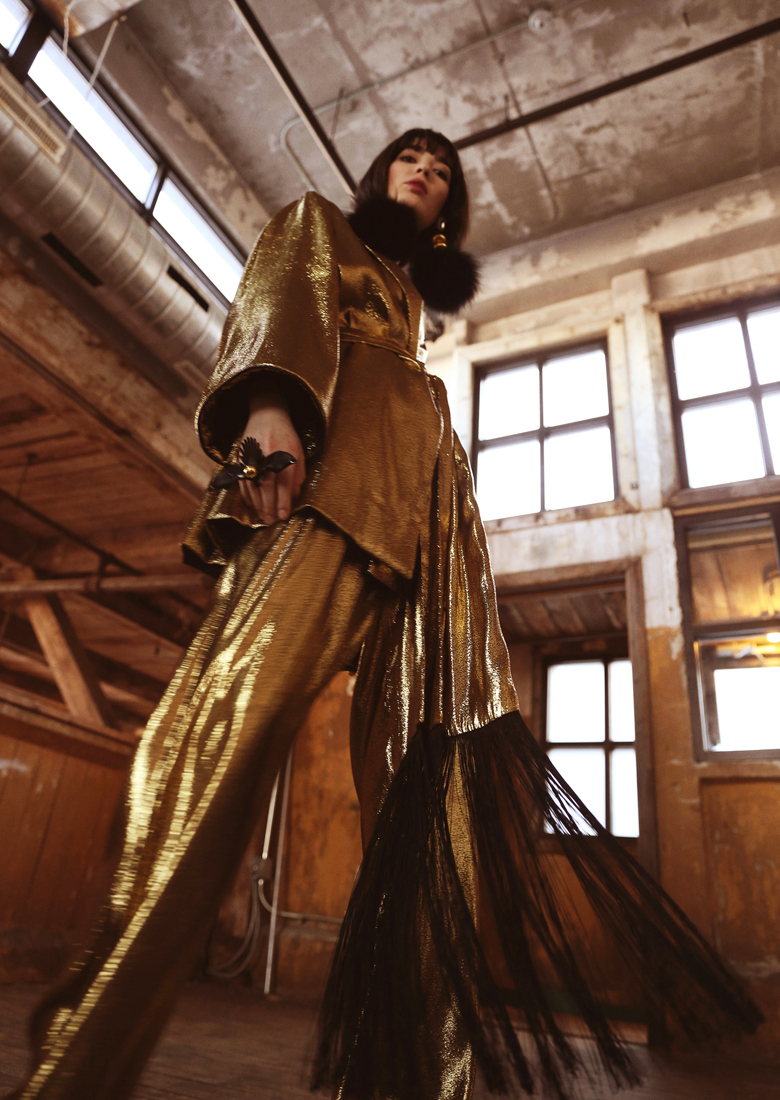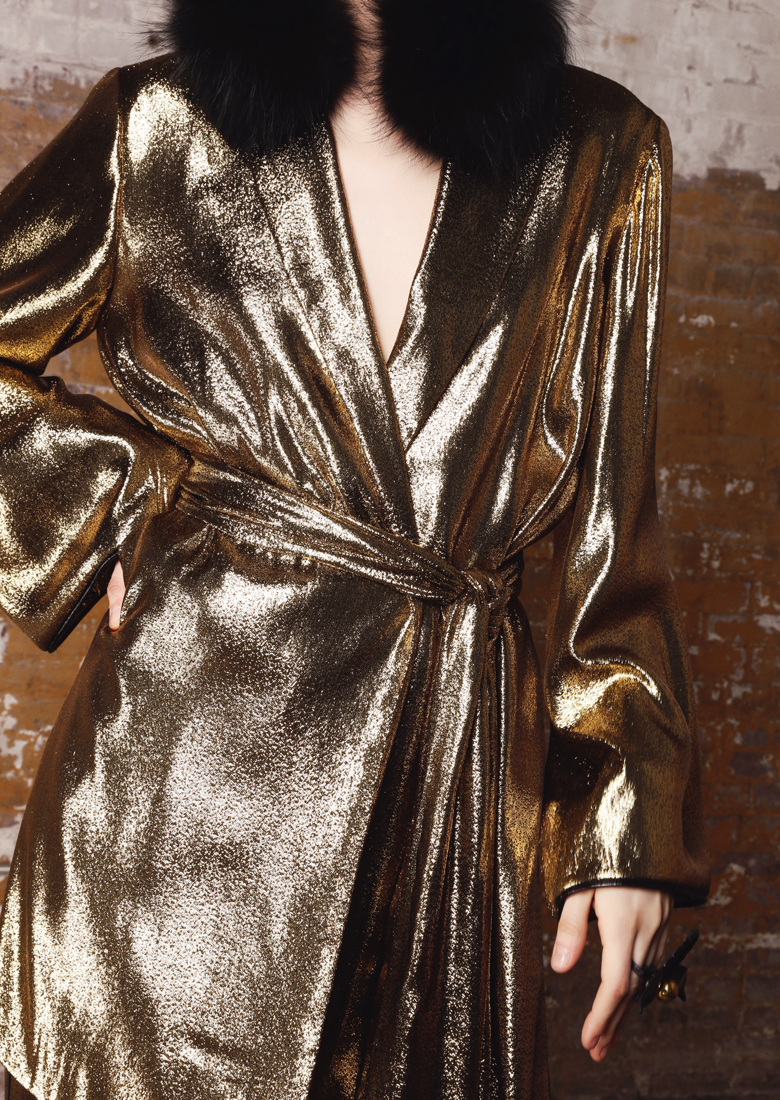 Look 31
Ira Tank Dress with Karina Burgundy Shearling Bomber Jacket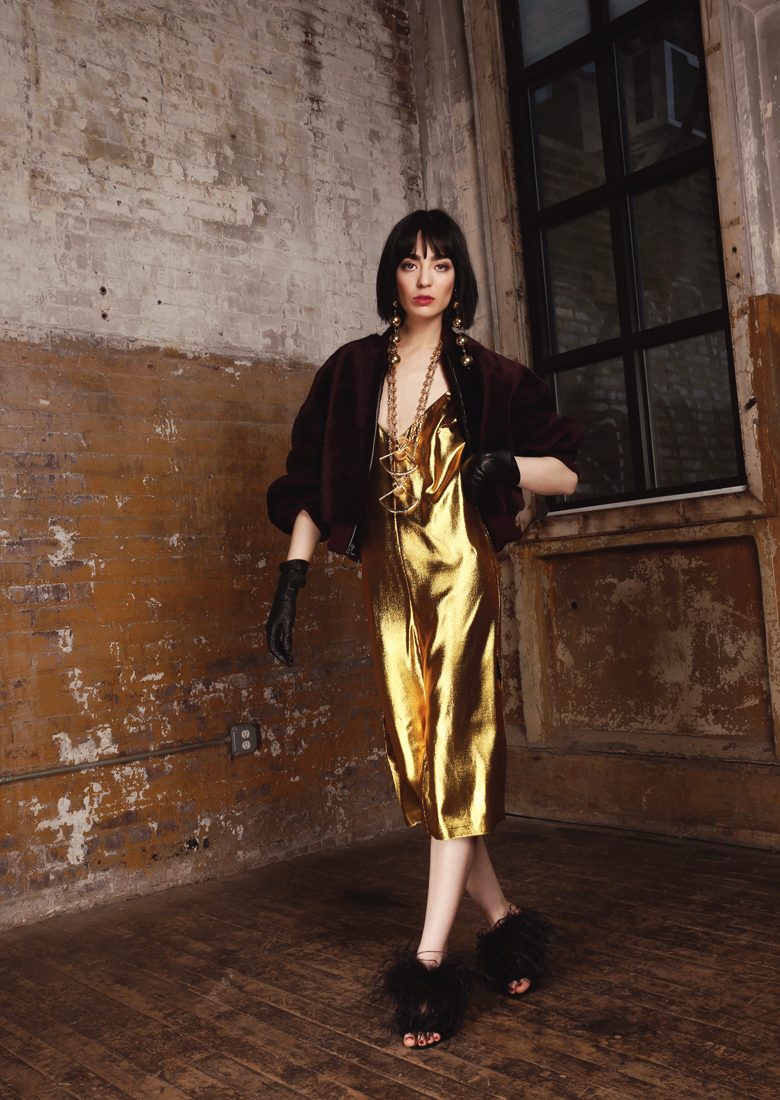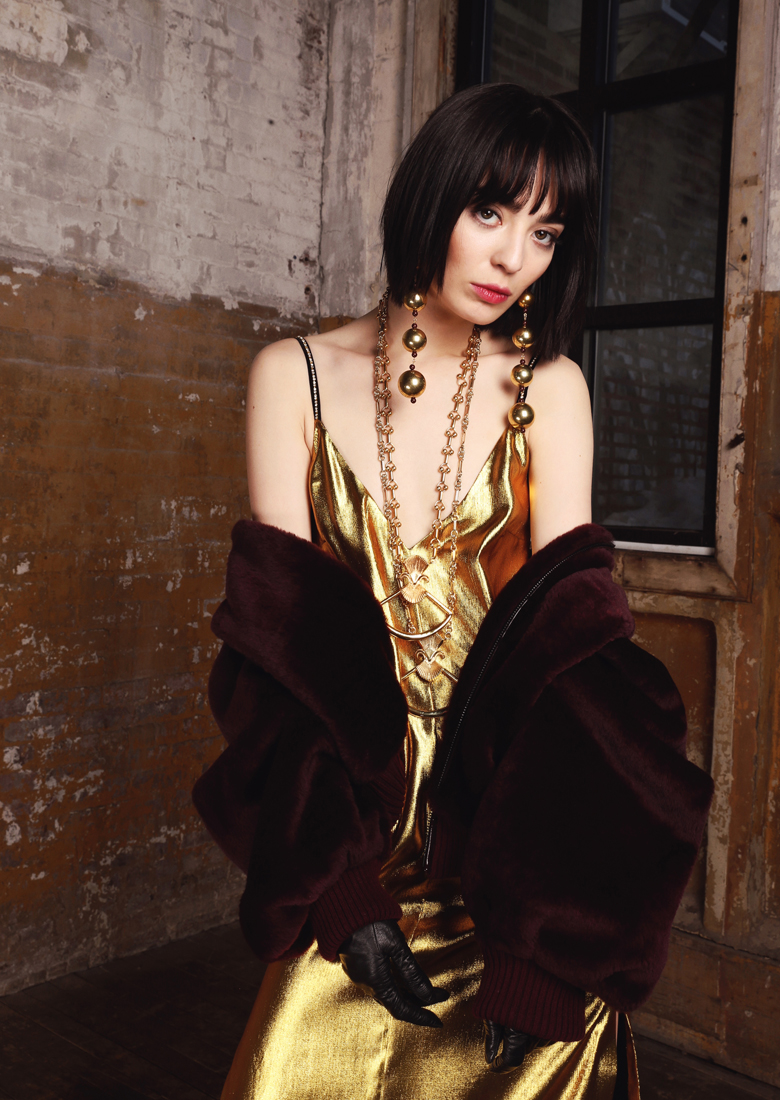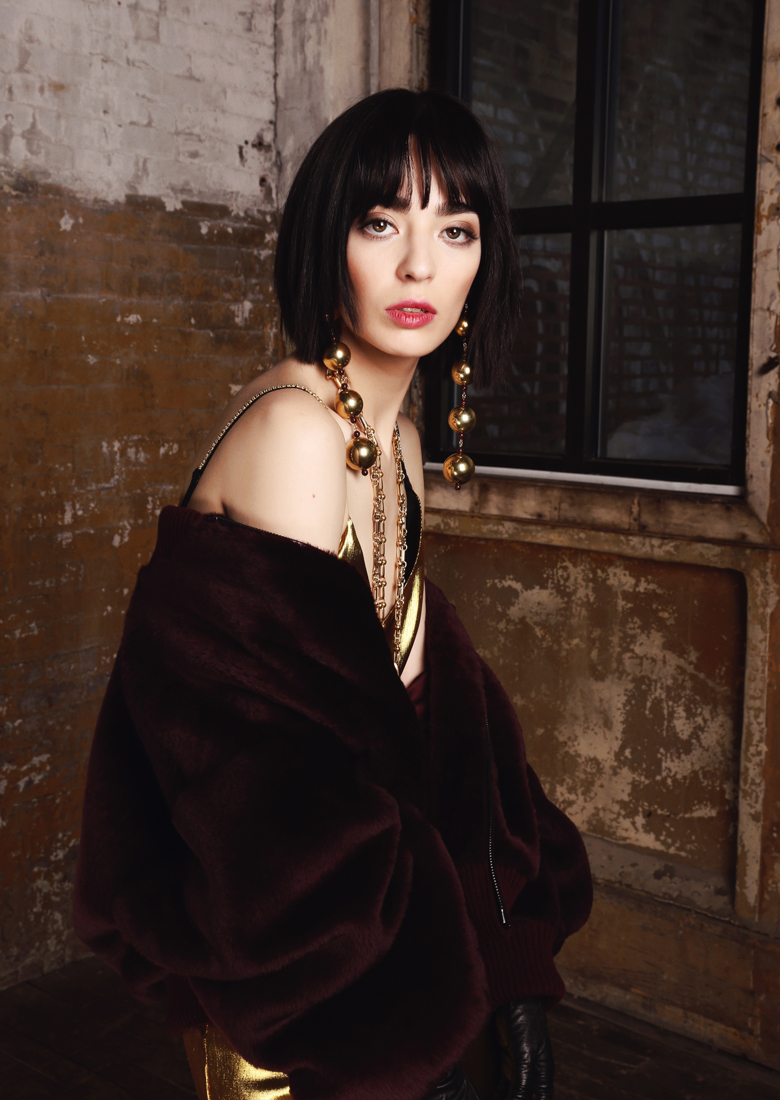 Look 32
Sera Gold Brocade Motorcycle Jacket and Cropped Pant. Shown with Altai Micro bag and black Mink Pompom Earrings.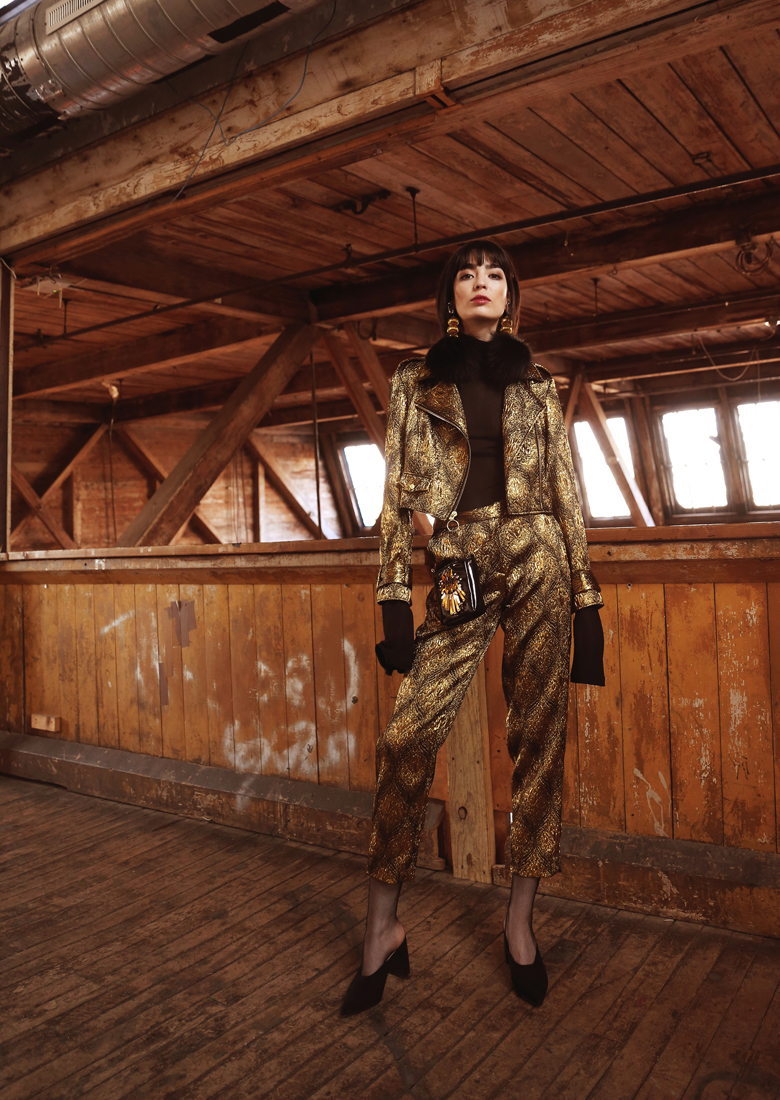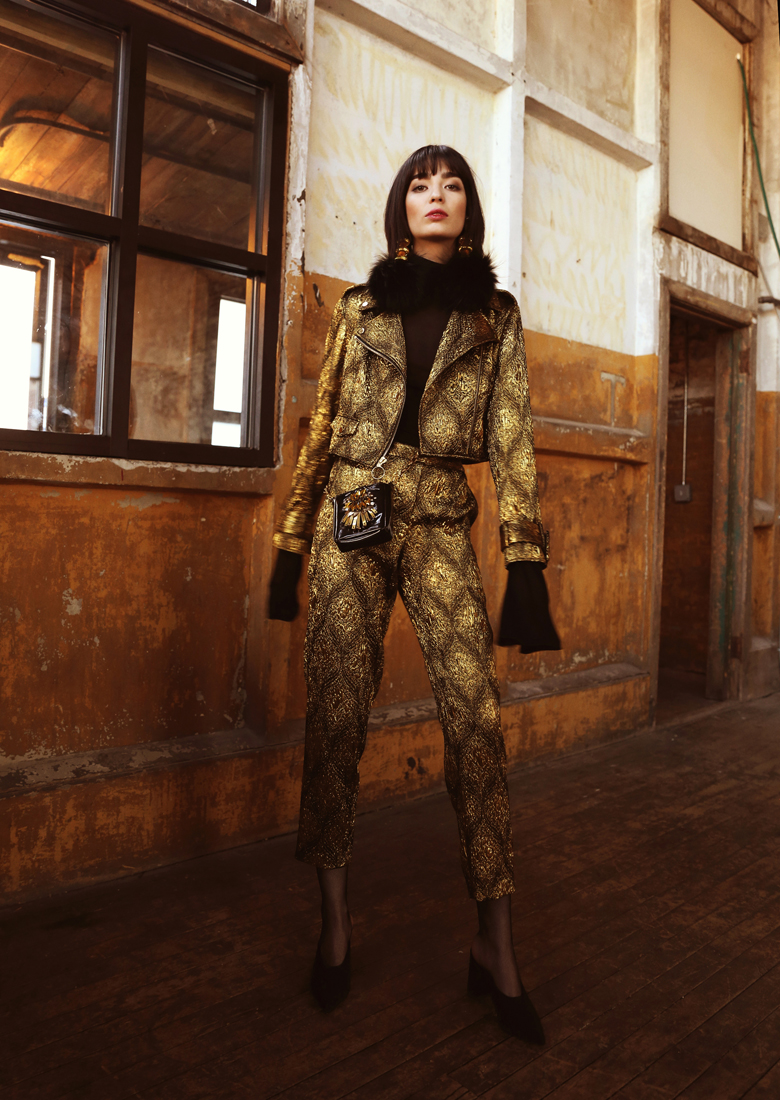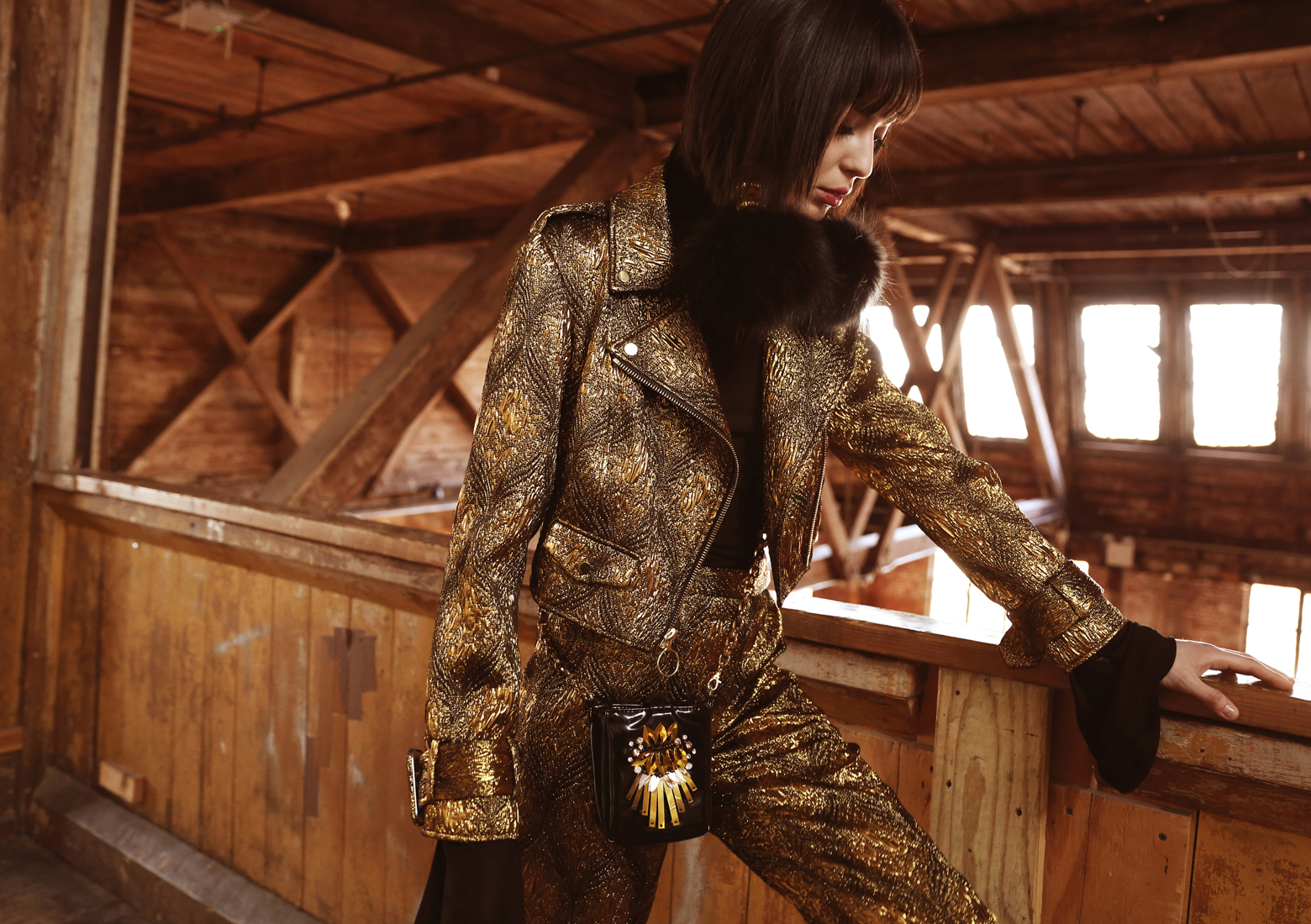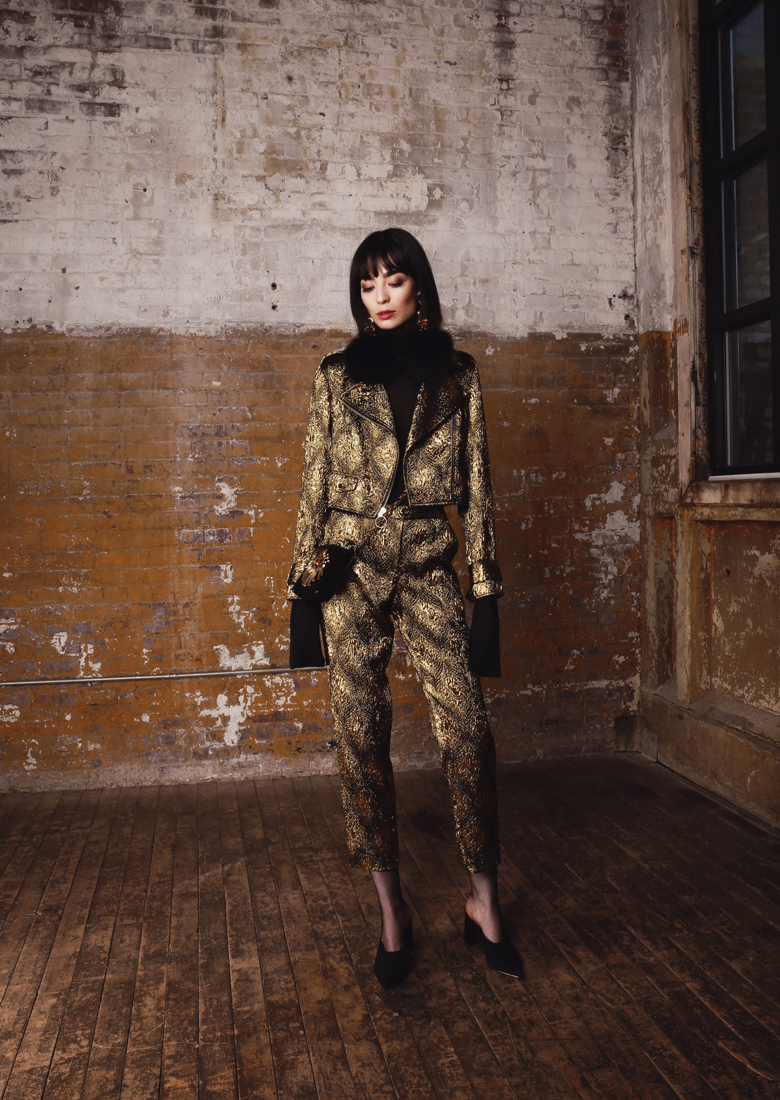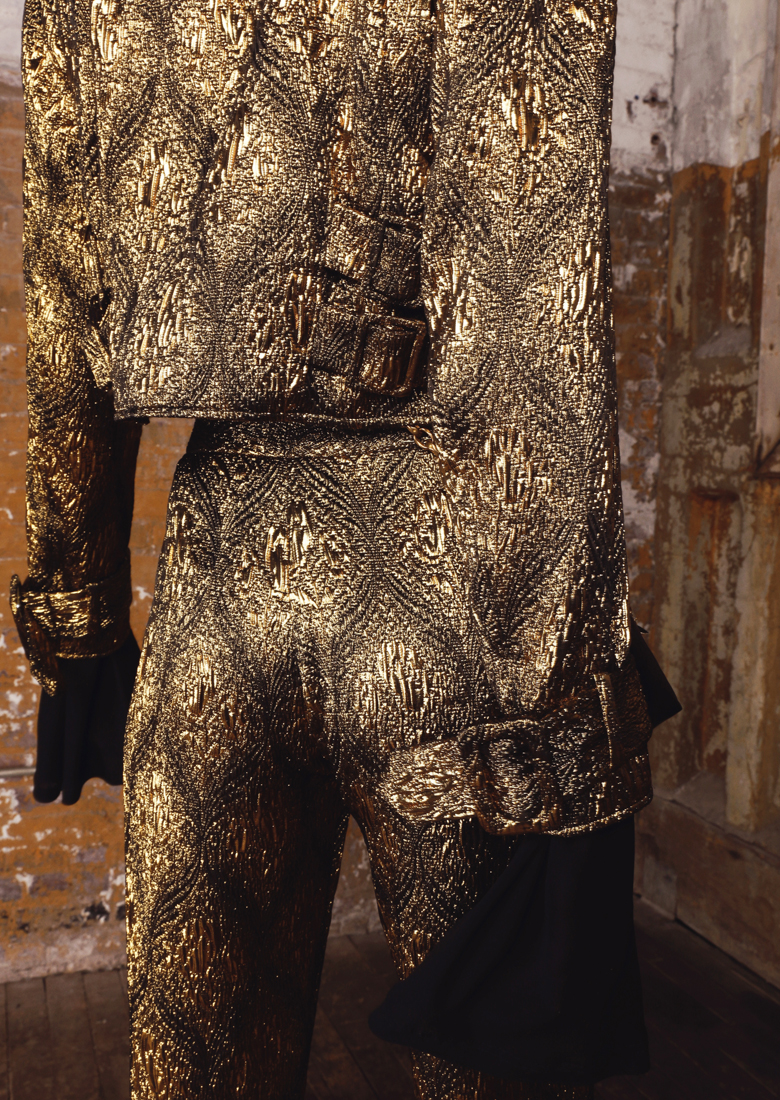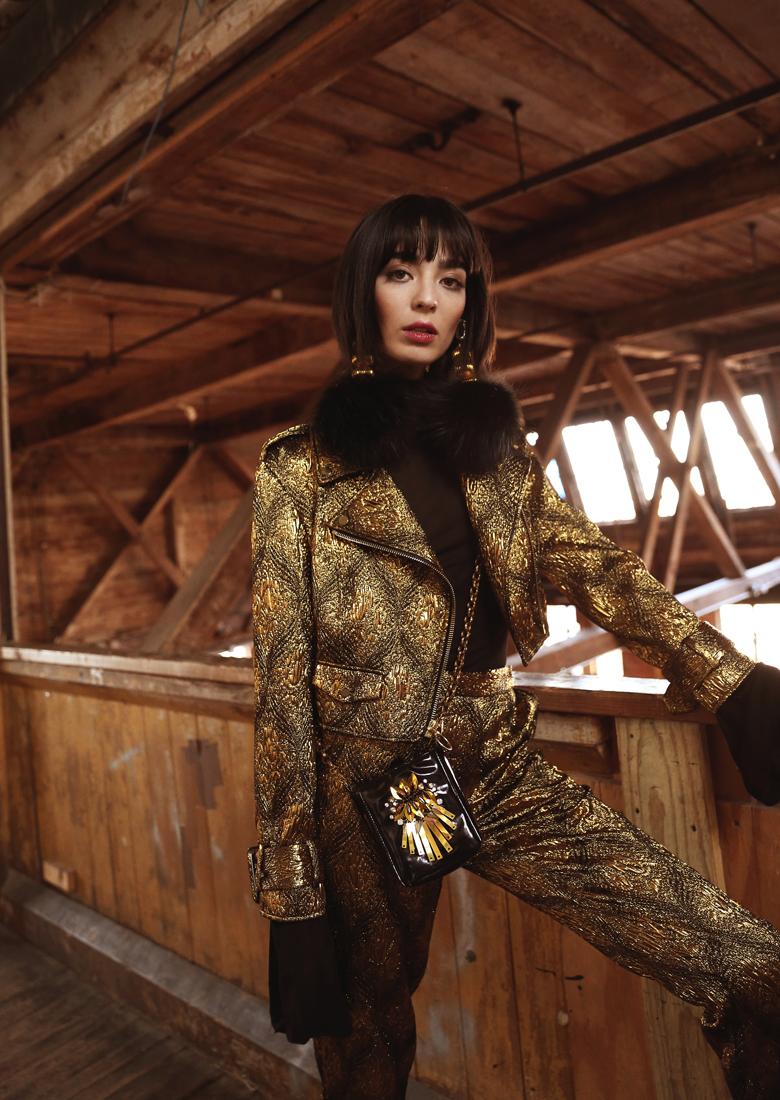 Look 33
Sera Gold Brocade Mini Dress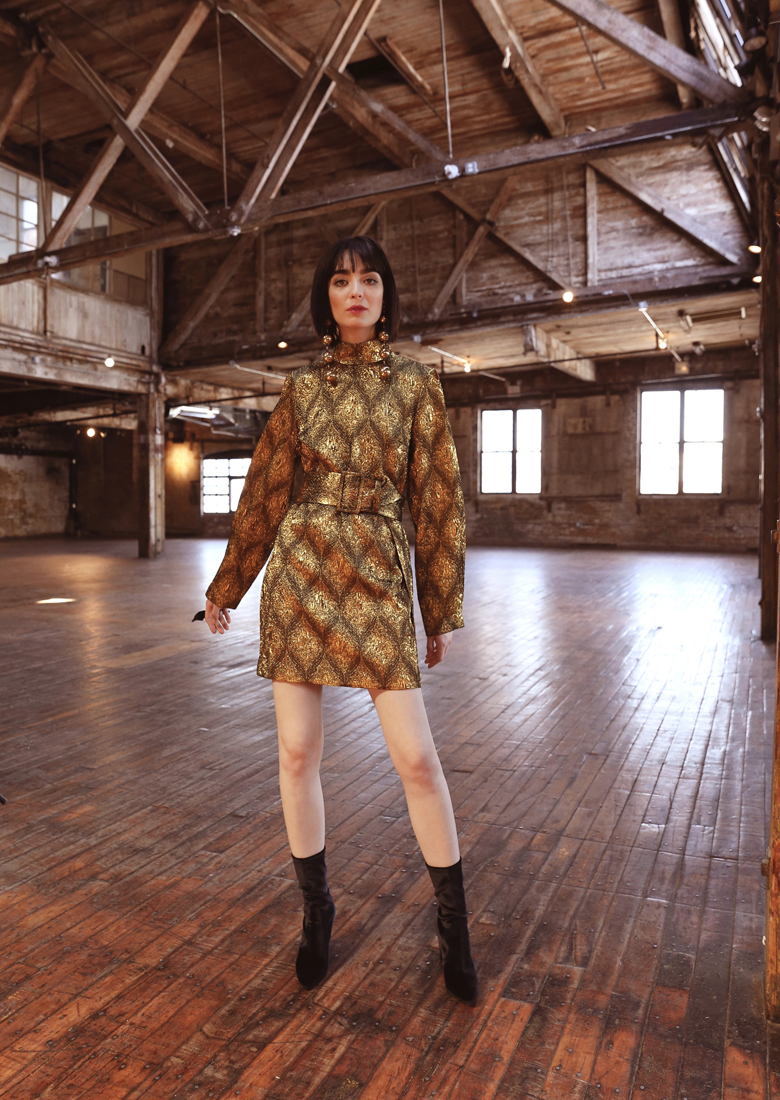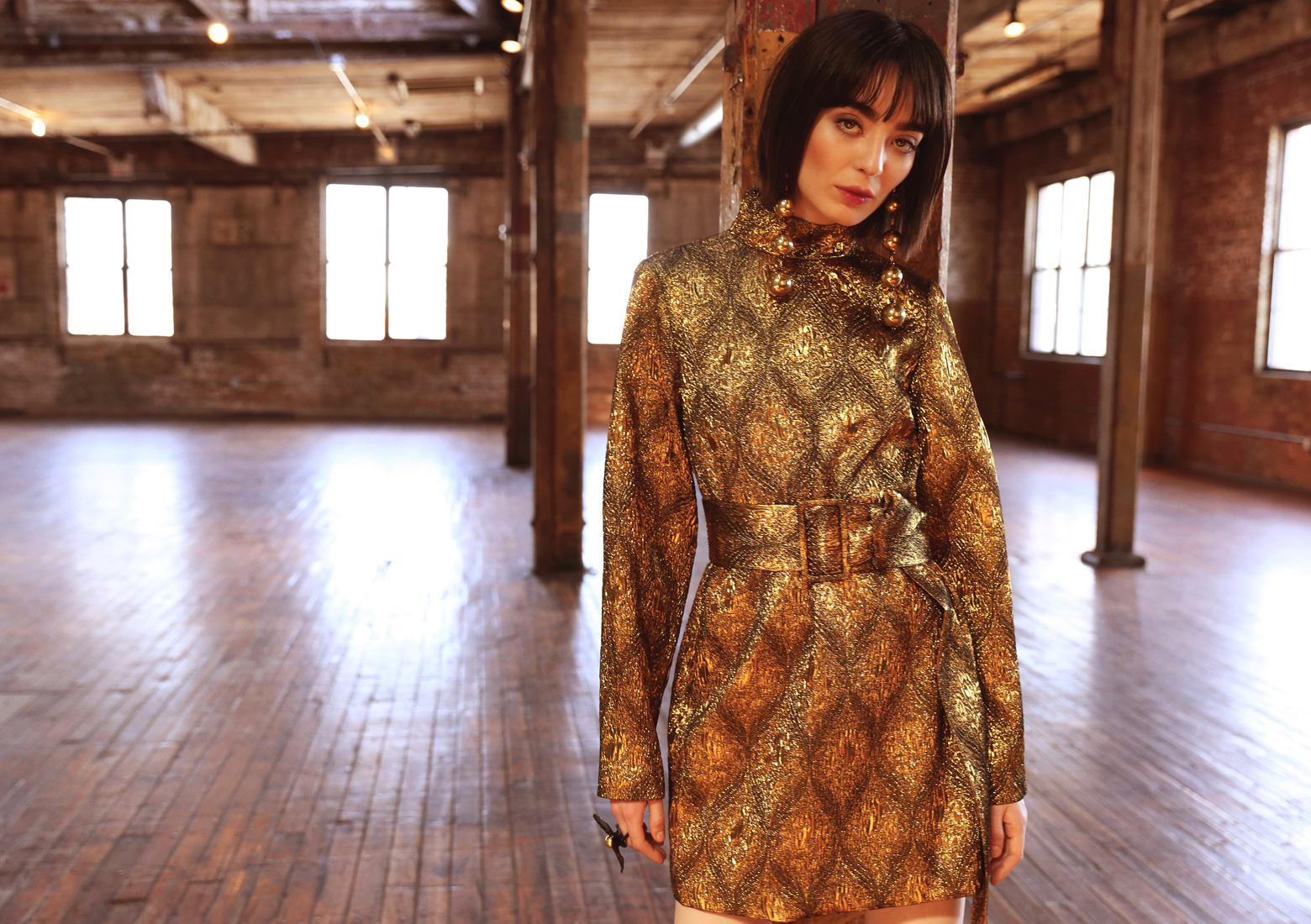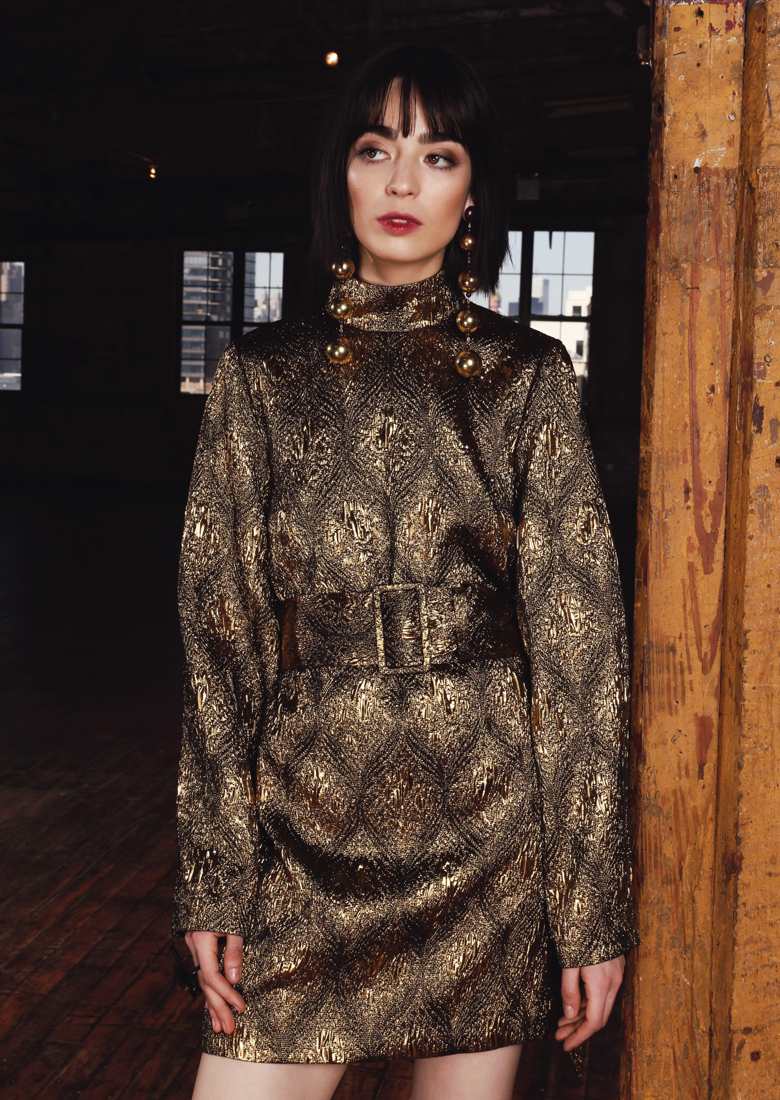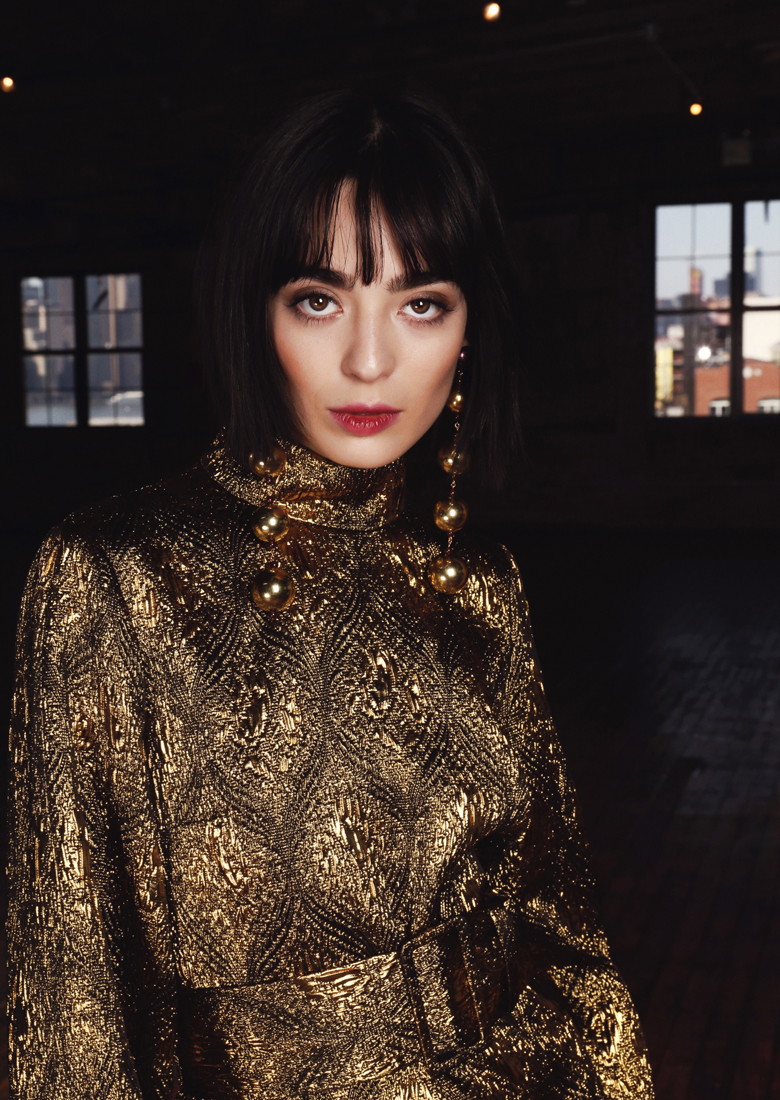 Look 34
Altai Sheath Dress and Altai Micro bag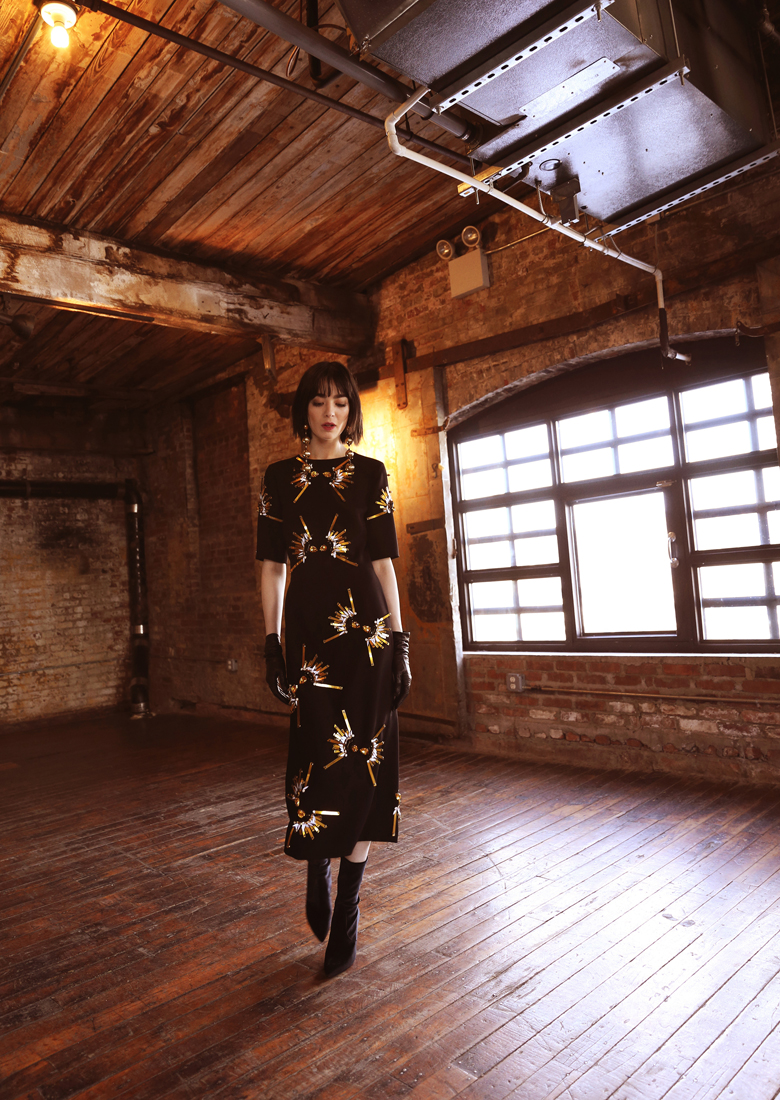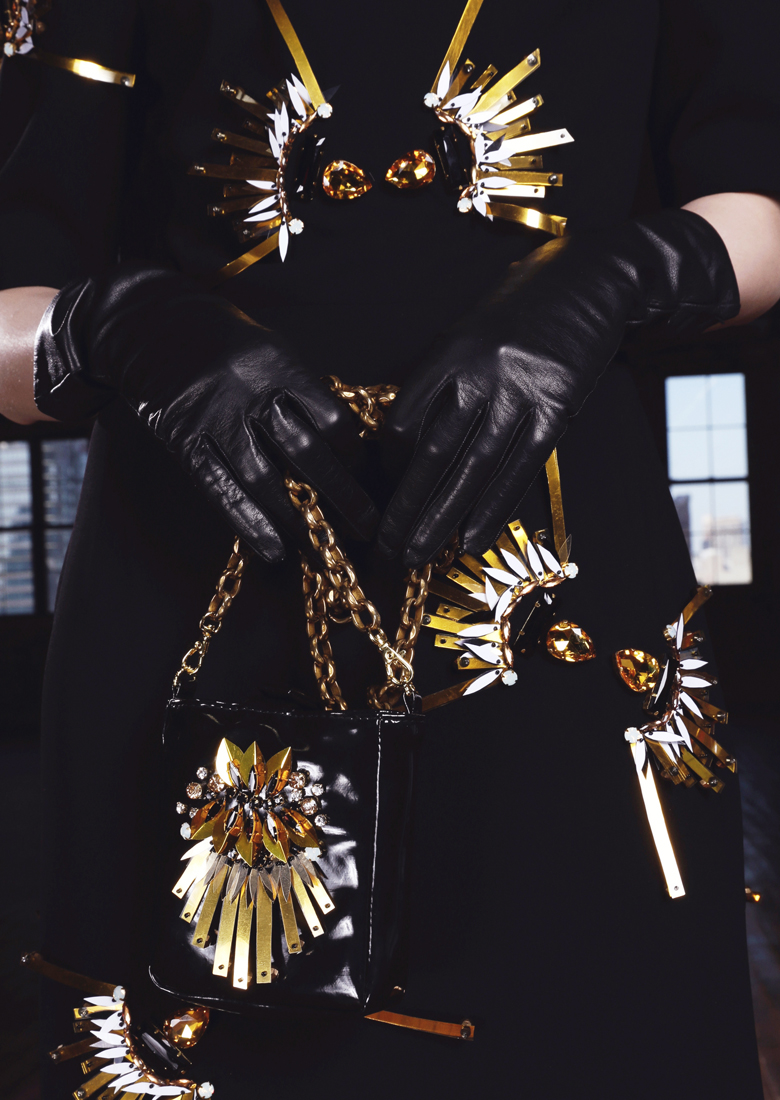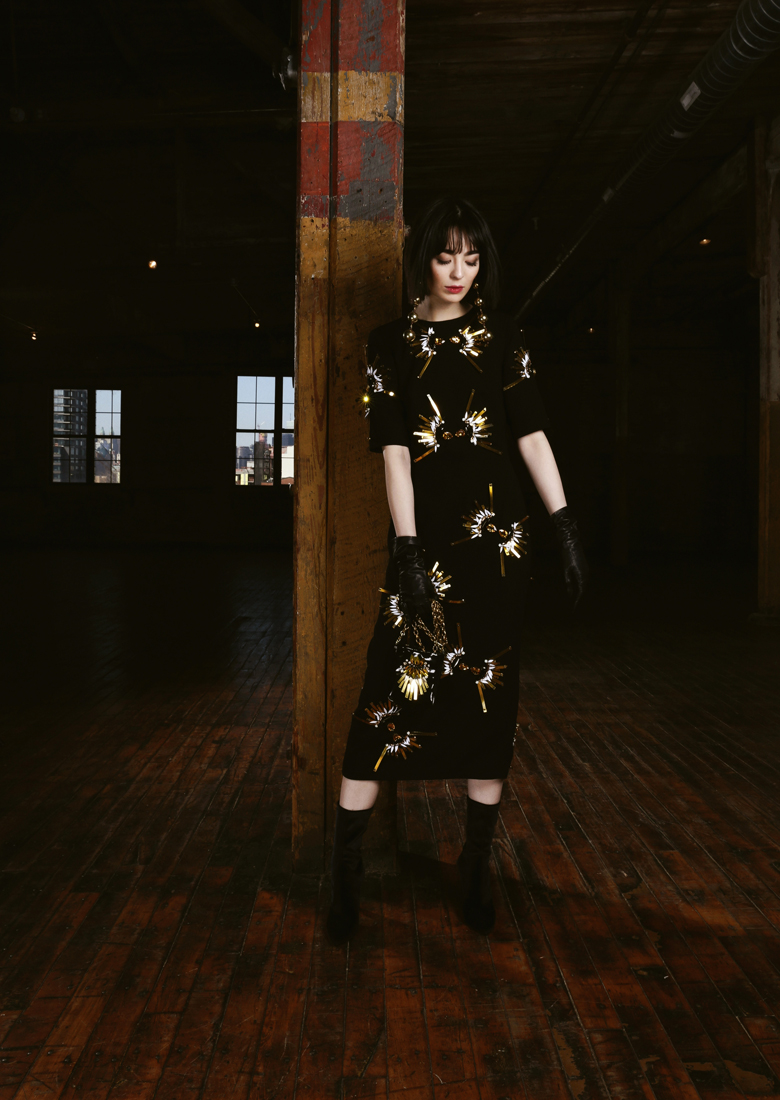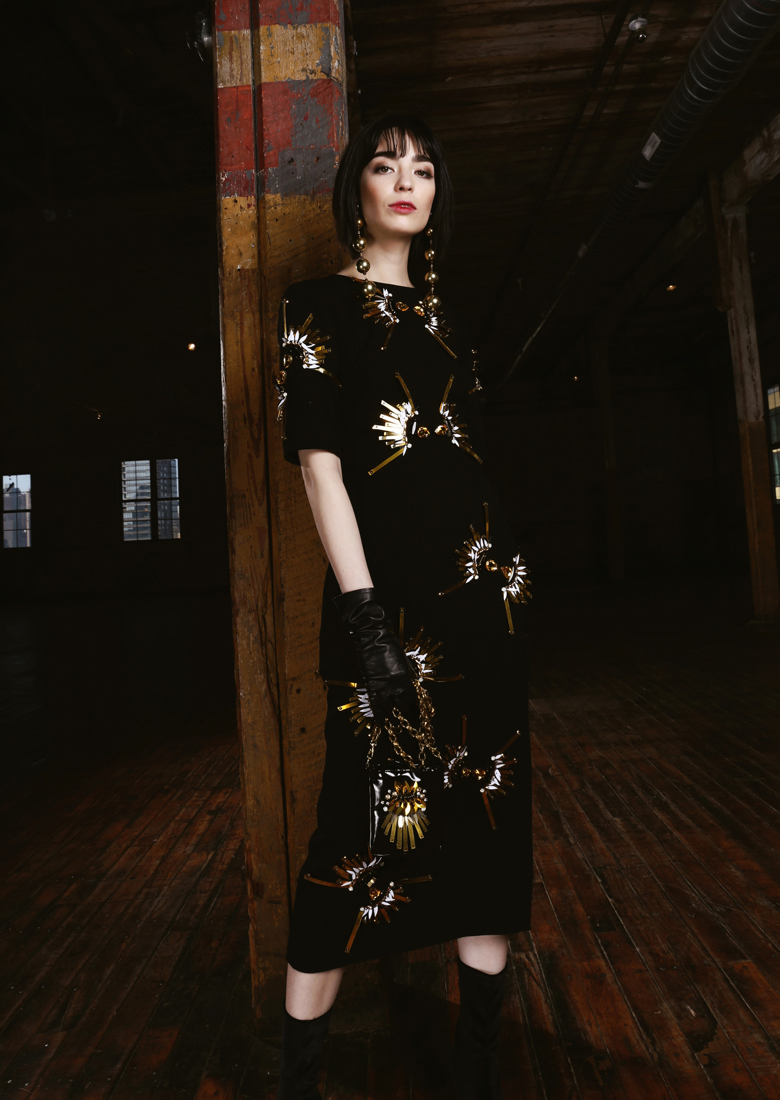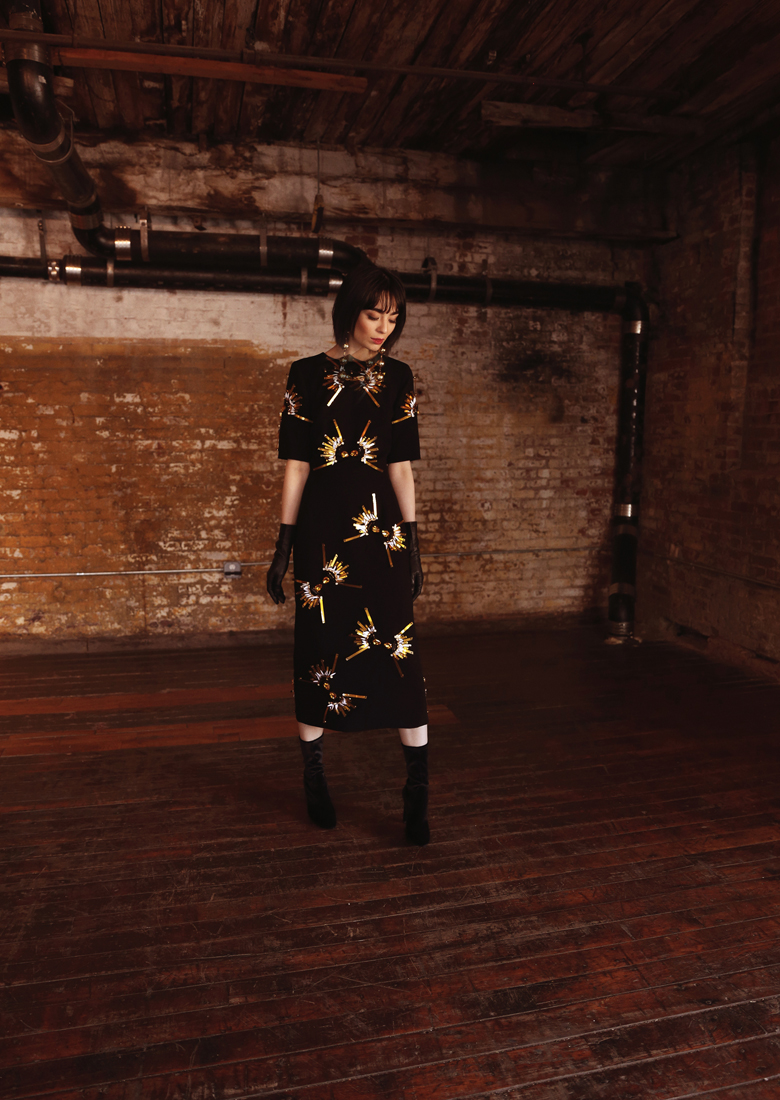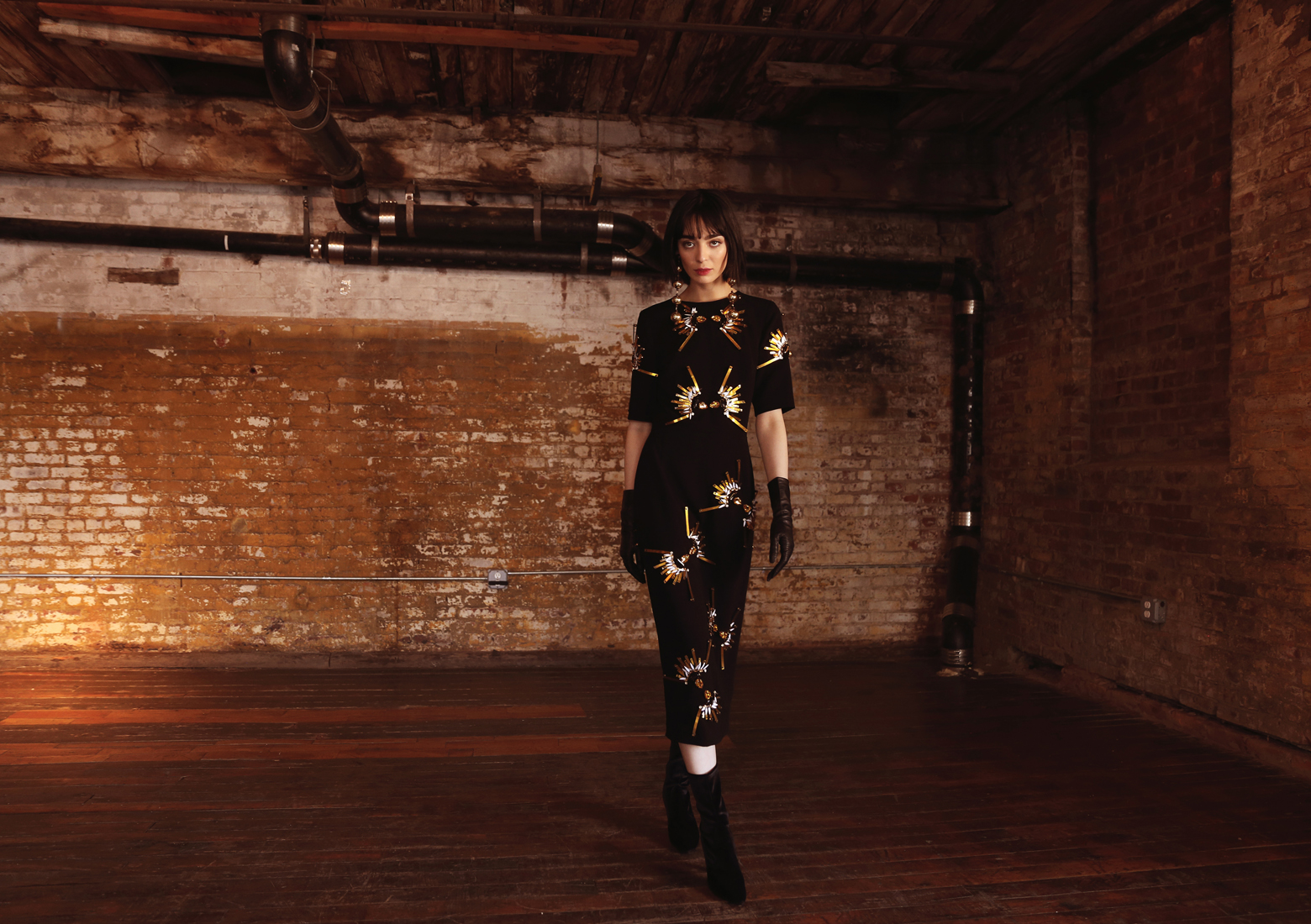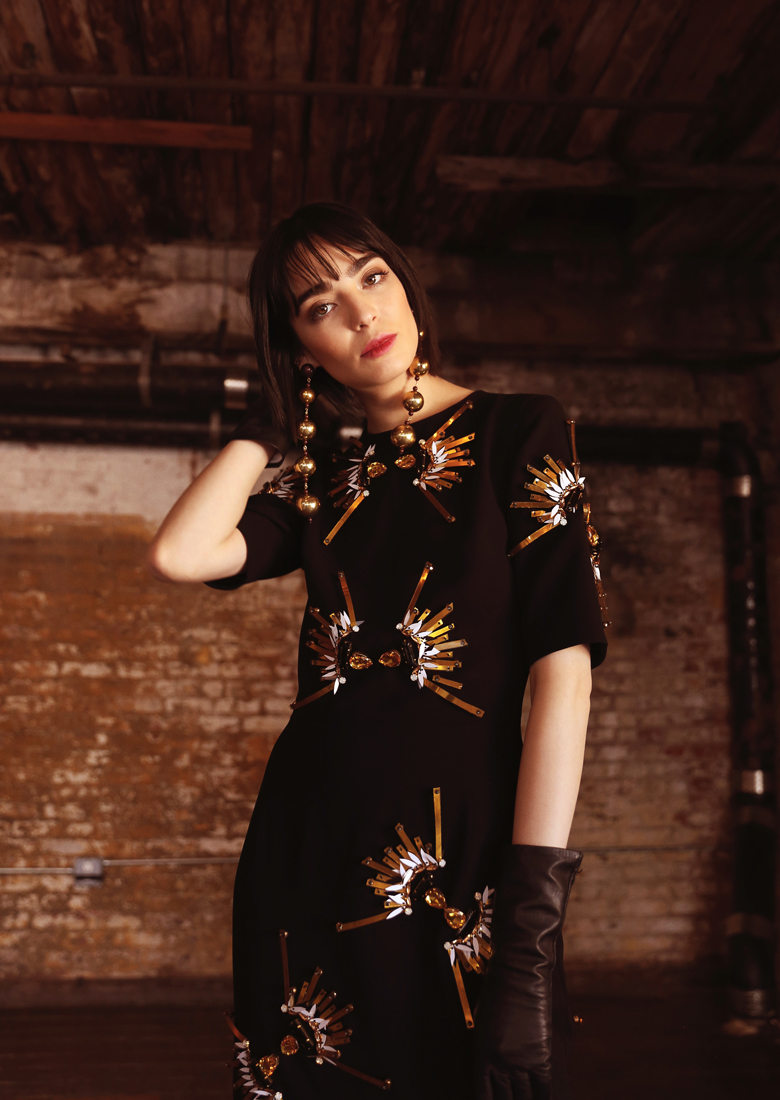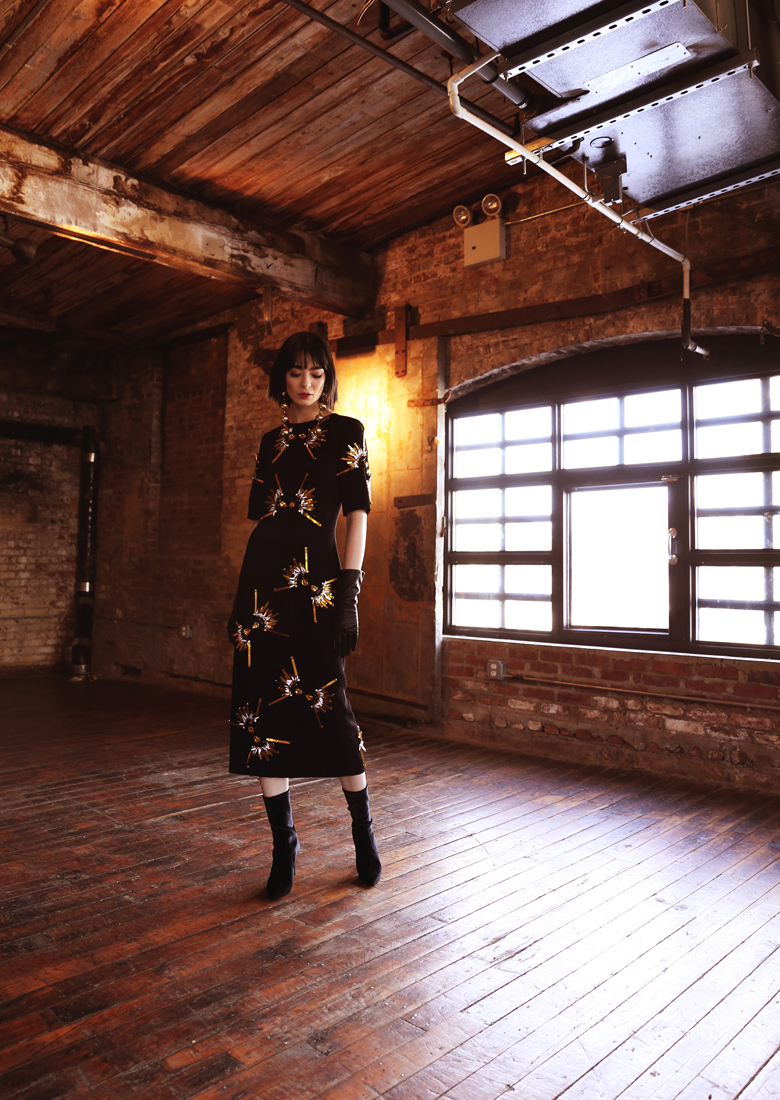 Look 35
Altan Bomber Jacket in Burnt Copper Brocade with Black Shearling Collar and matching Altan slit-front pencil skirt. Shown with Giant Gold Laser Cut Teardrop earrings.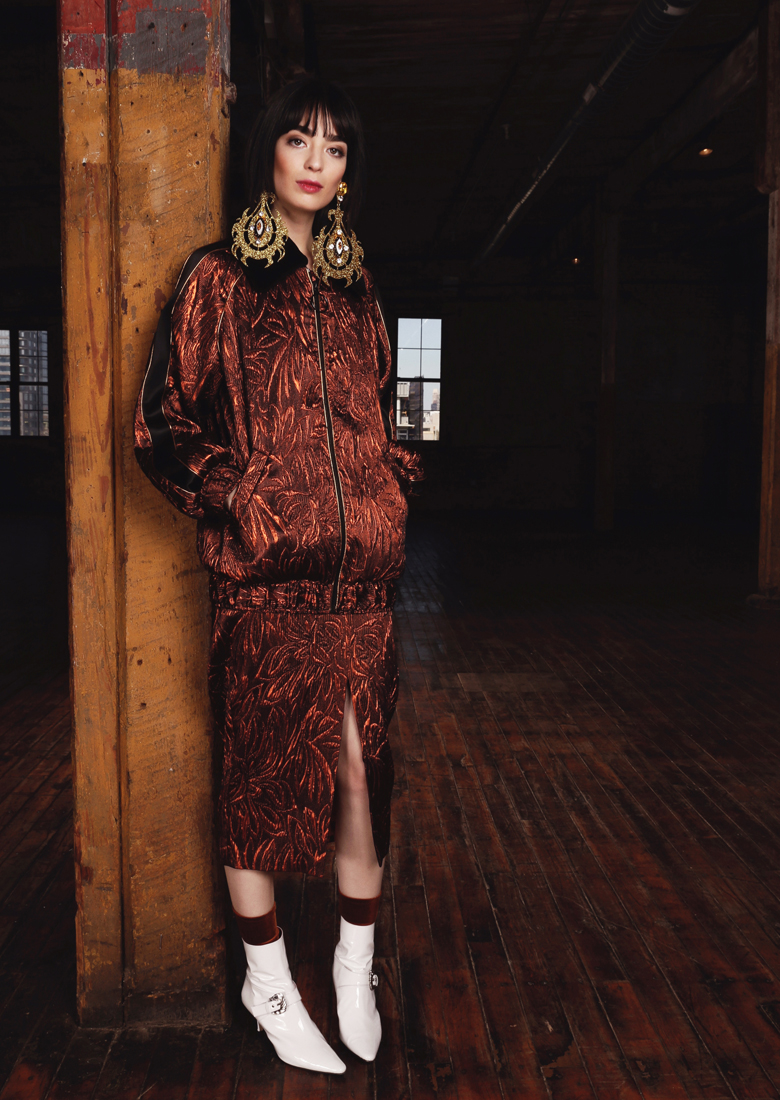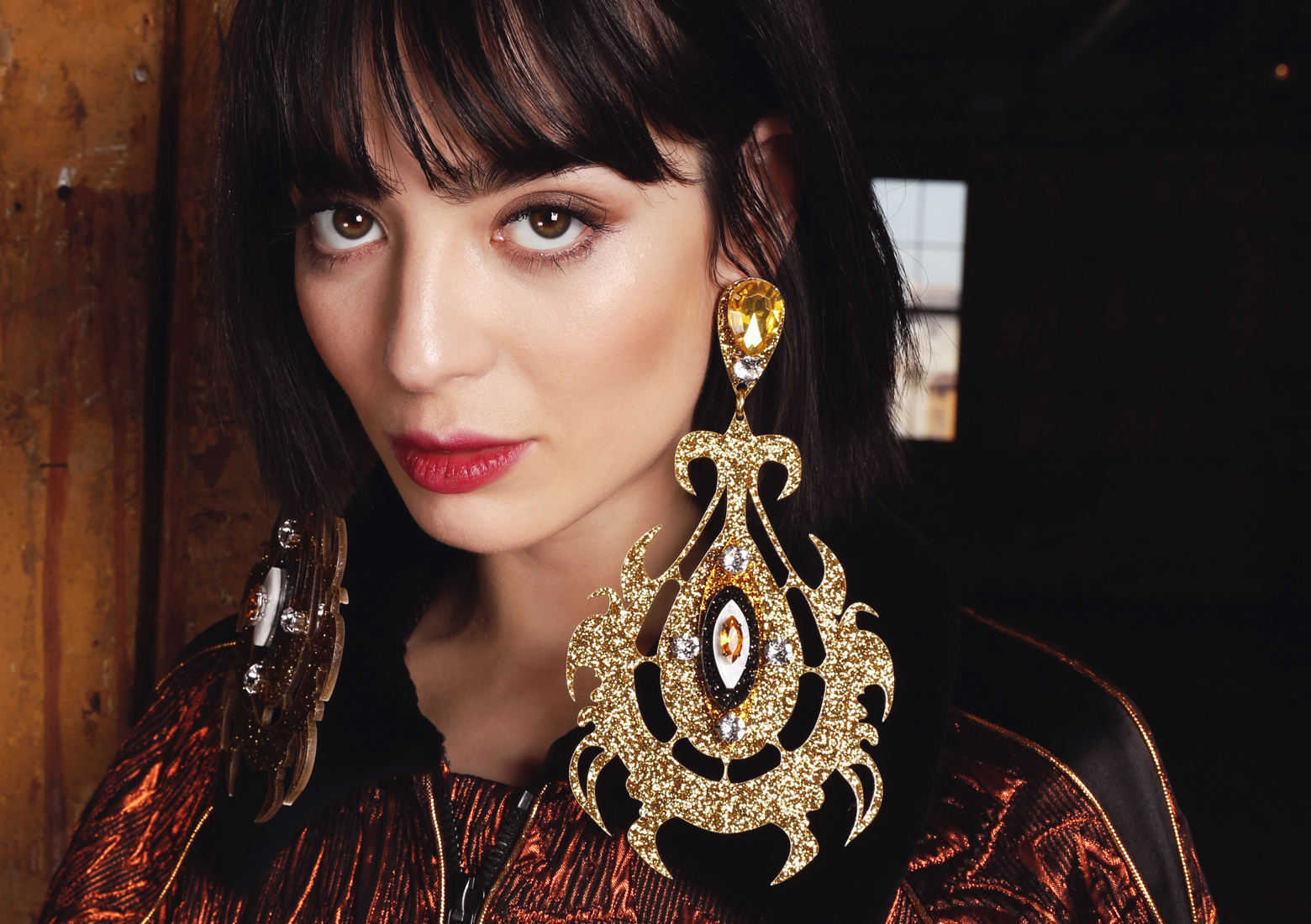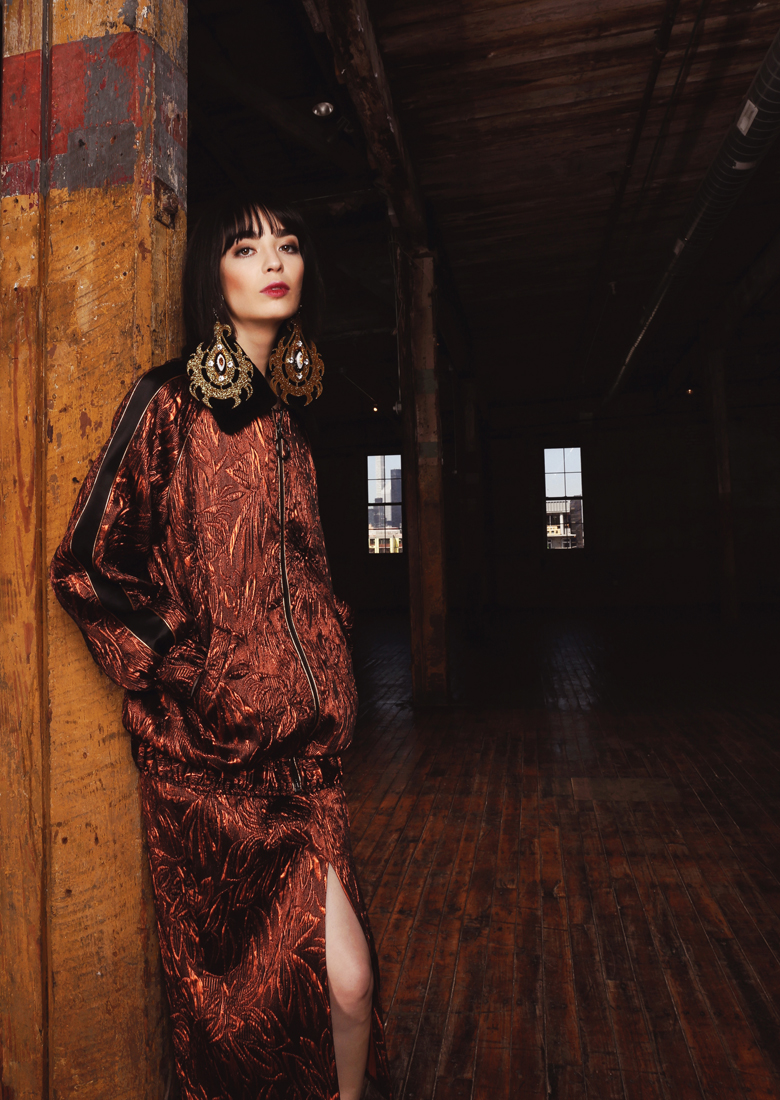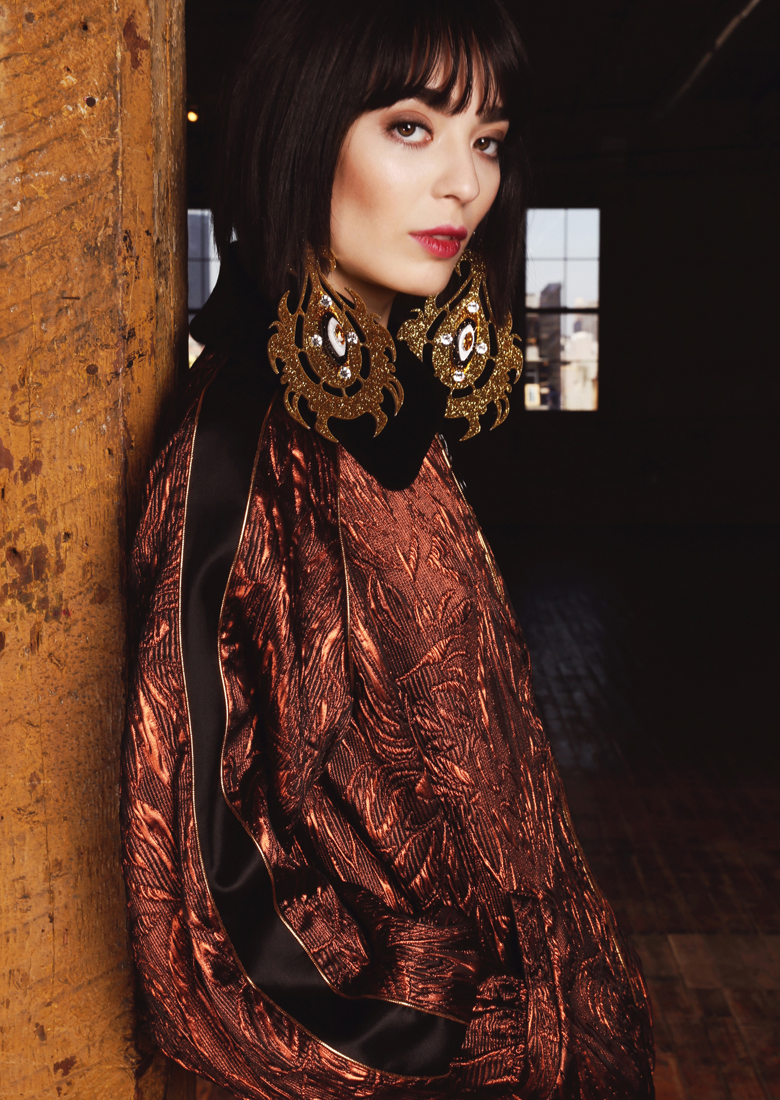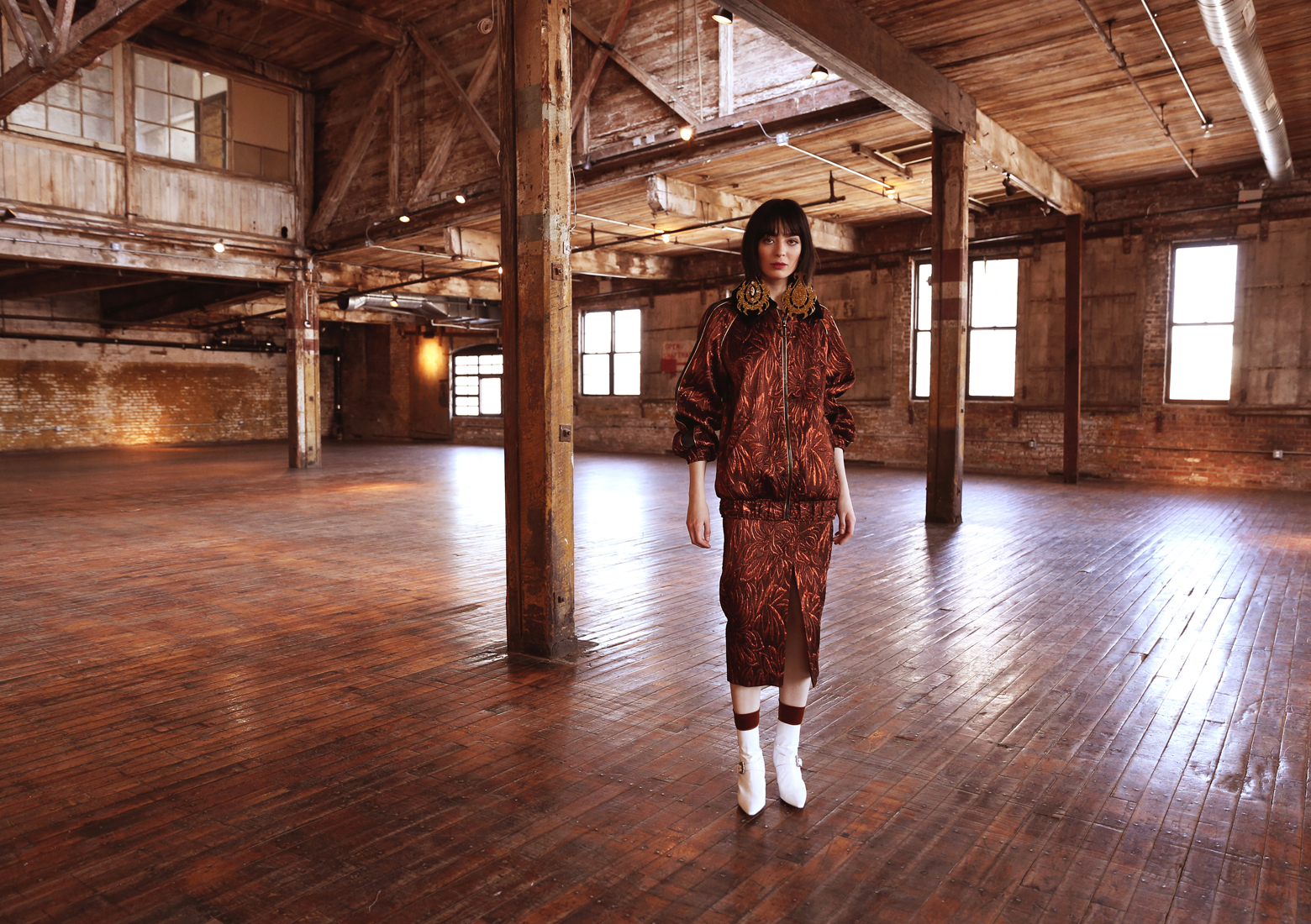 Look 36
Huntress Overcoat in Burnt Copper Brocade with Stretch Cigarette Pant and Laser Cut Swirl Earrings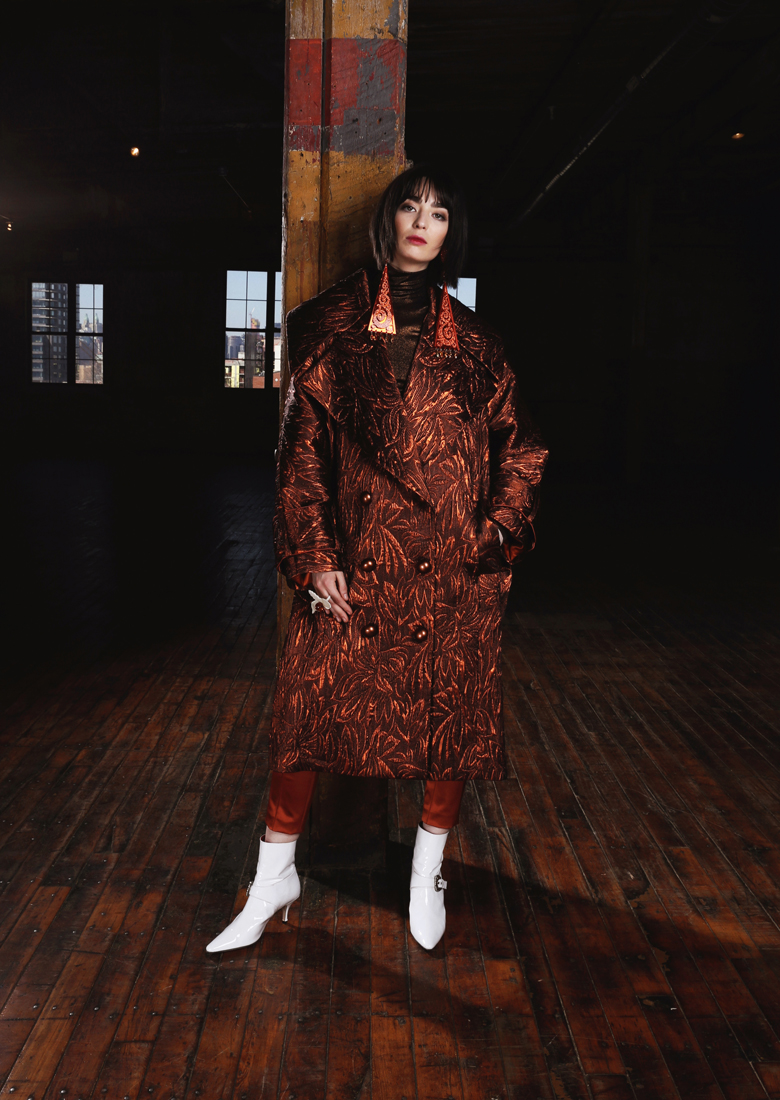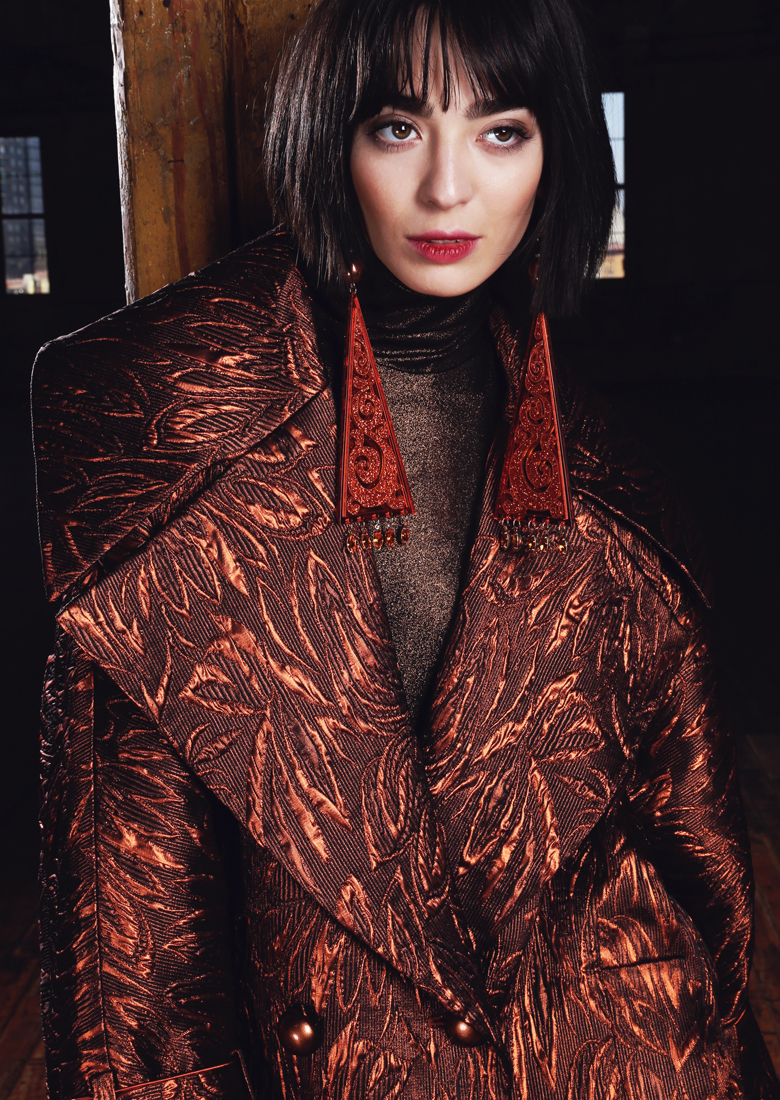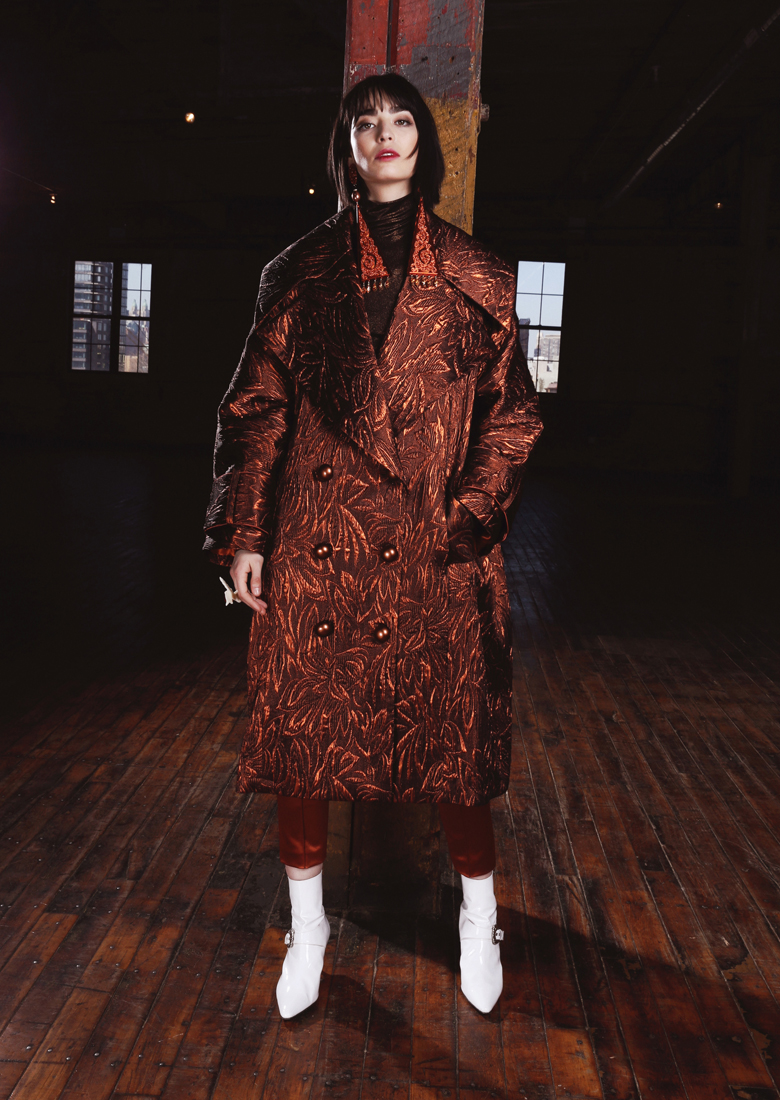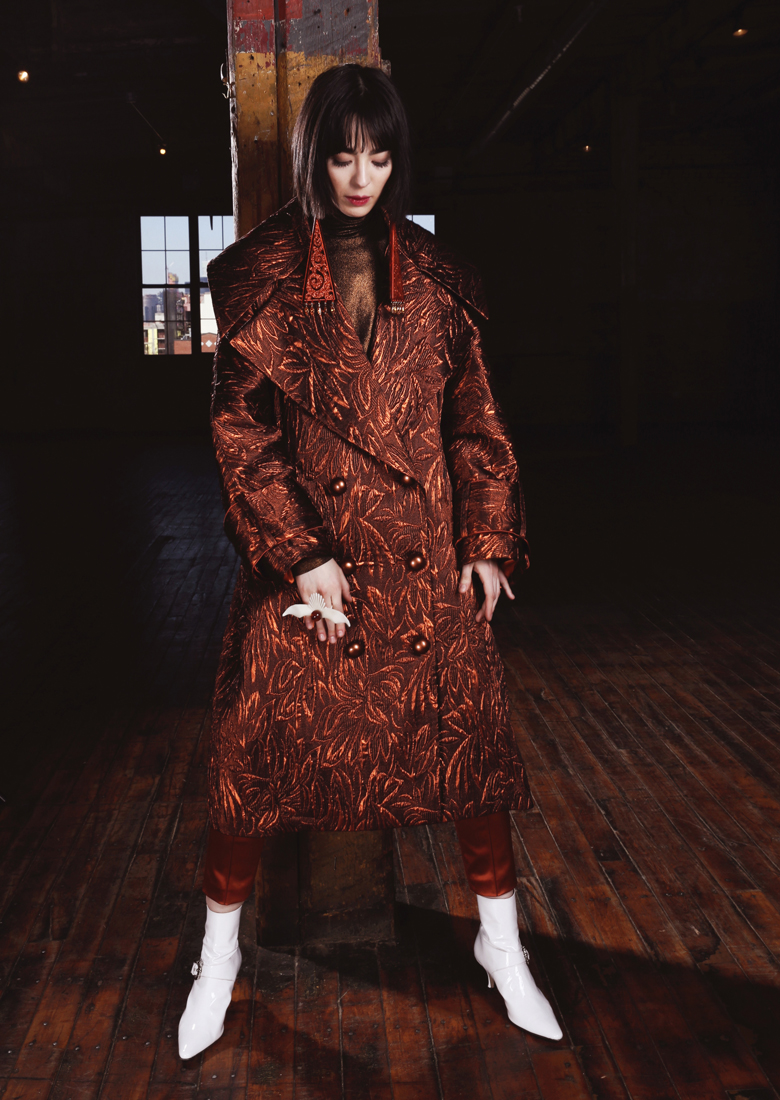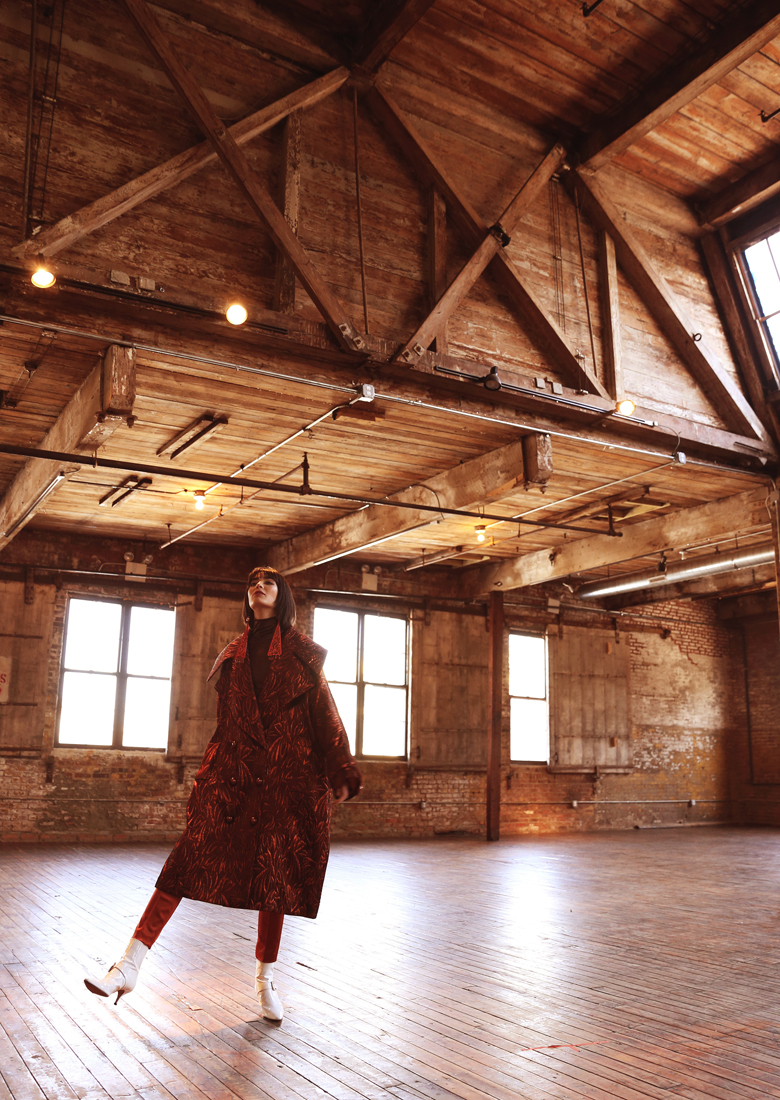 Look 37
Bayar Tie-waist blouse in Black Vinyl with Oro Paillette Pencil Skirt. Shown with Giant White Laser Cut Triangle Earrings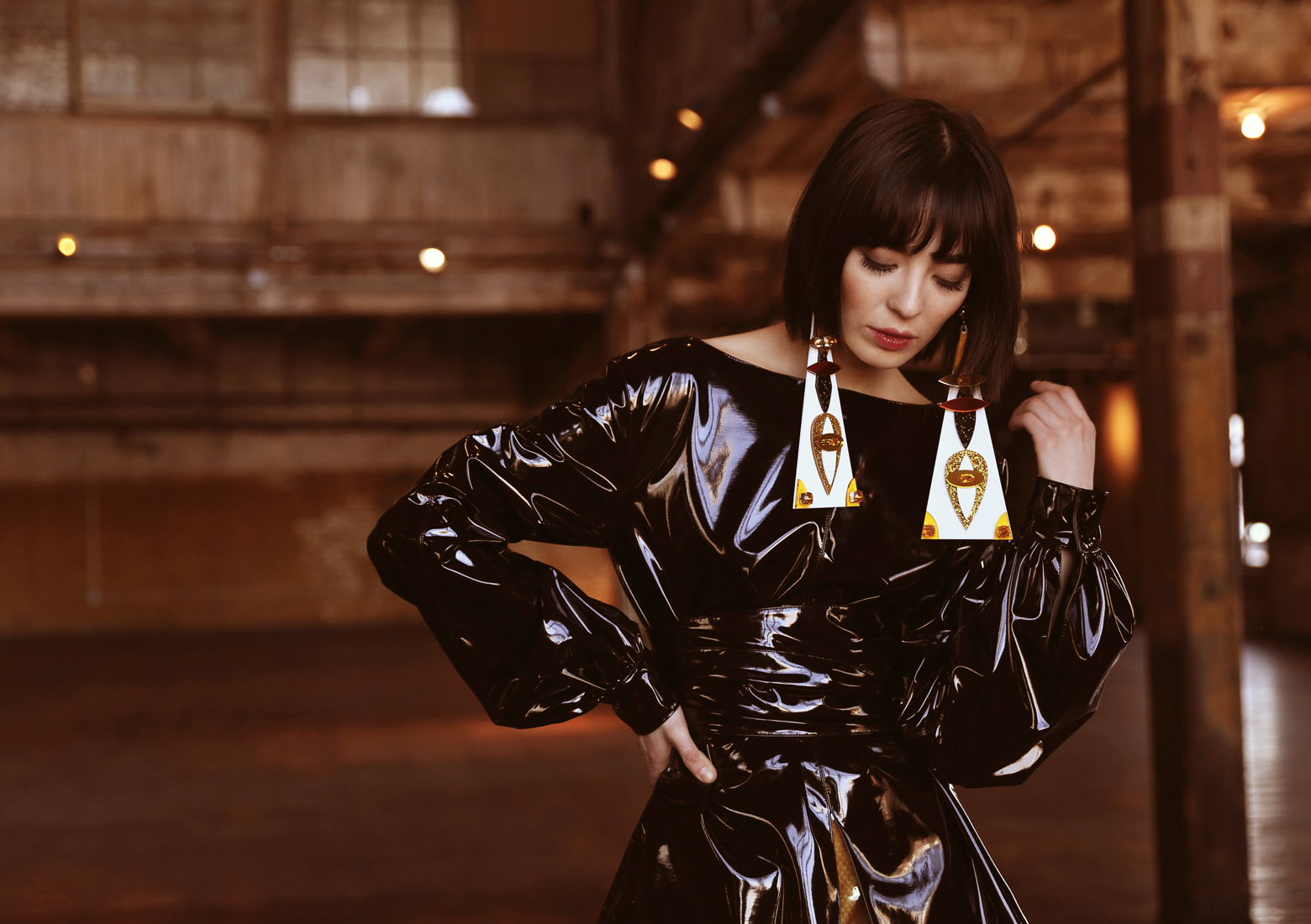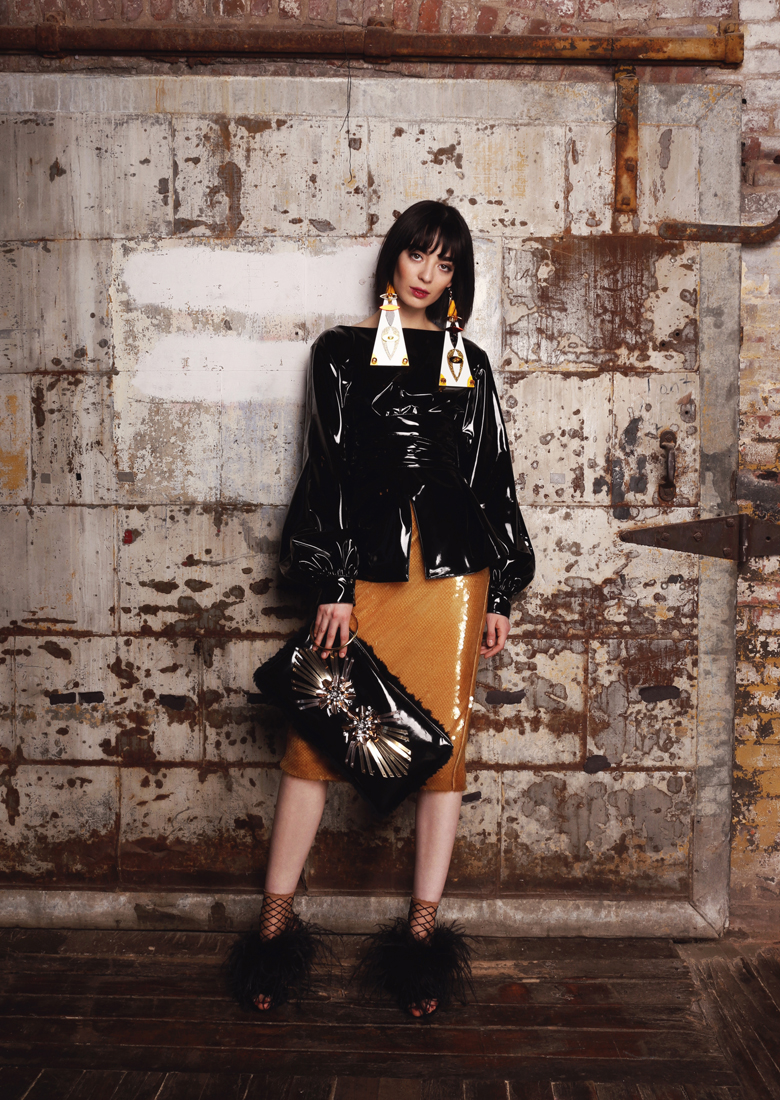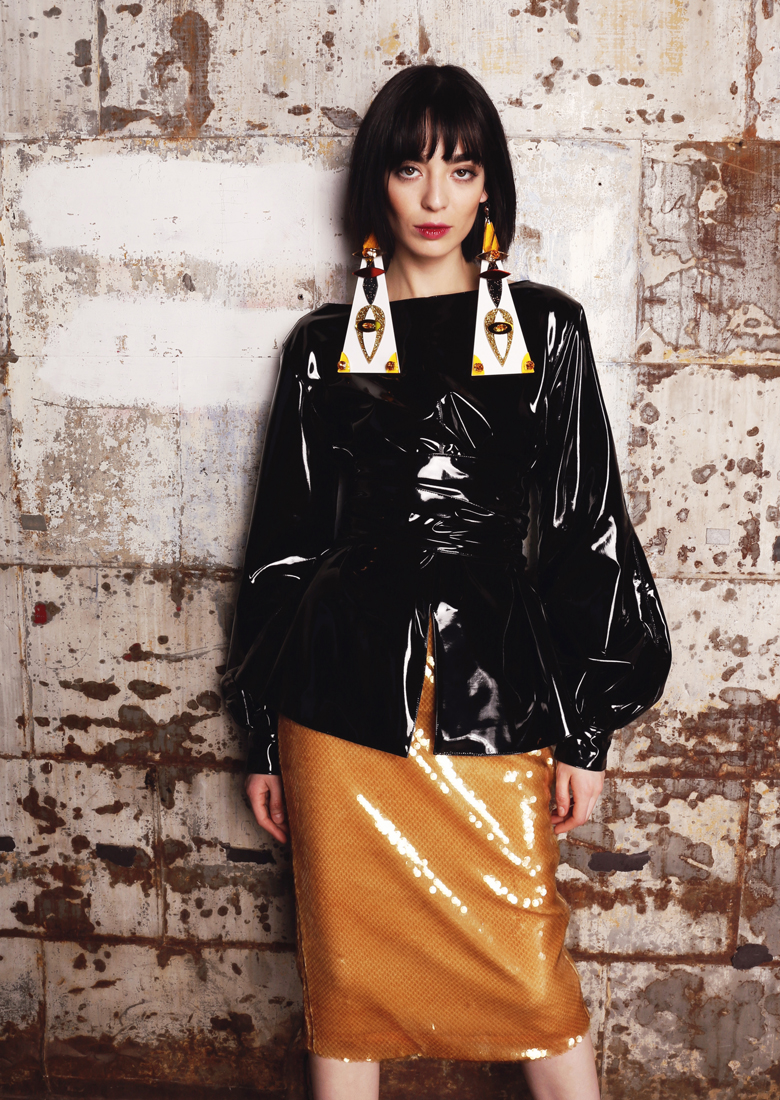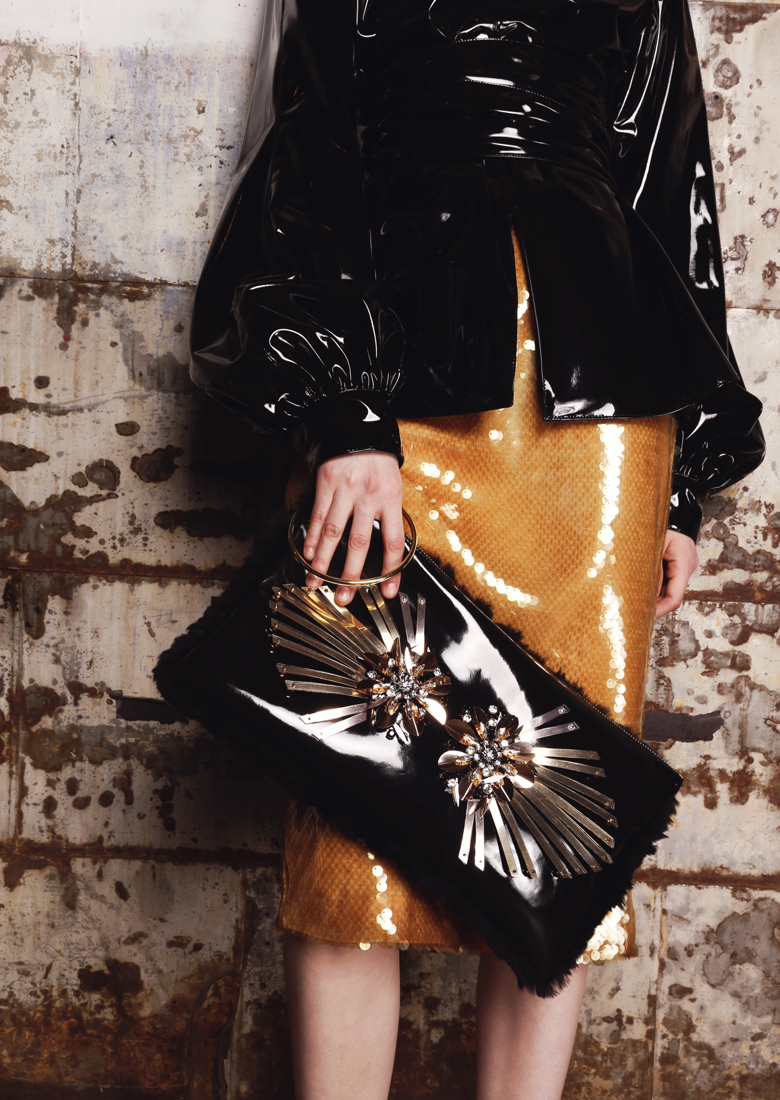 Look 38
Knot Sleeve Belted Trench Coat in Black Vinyl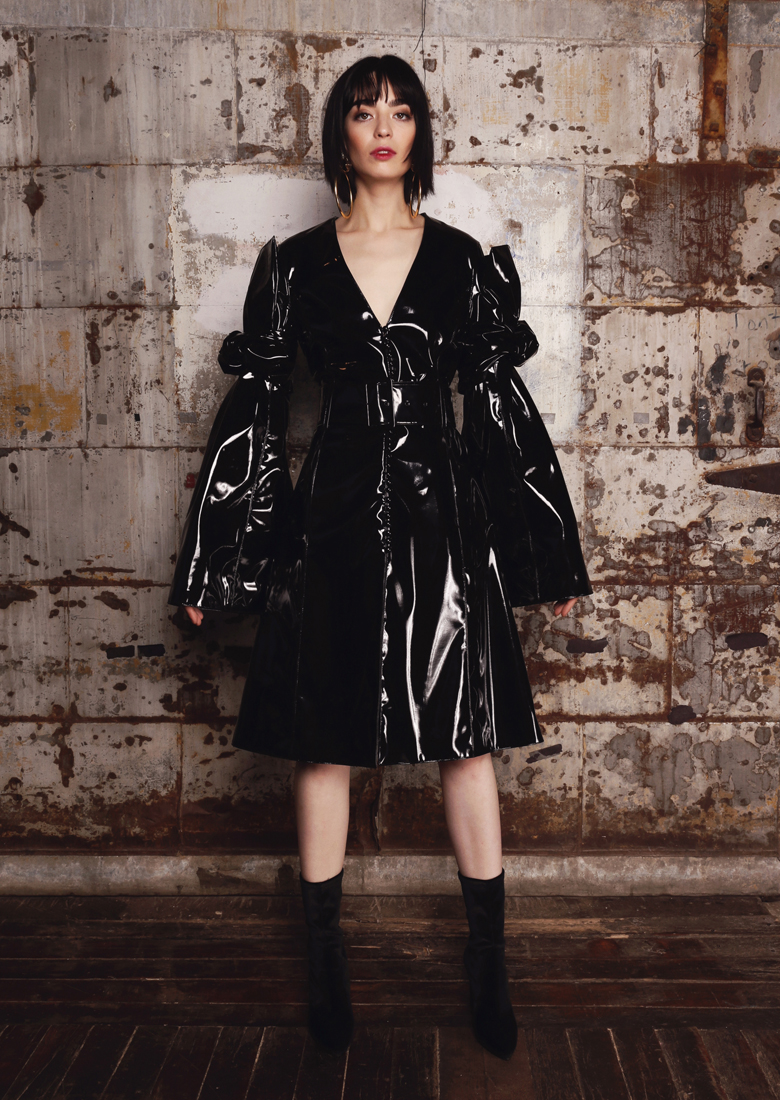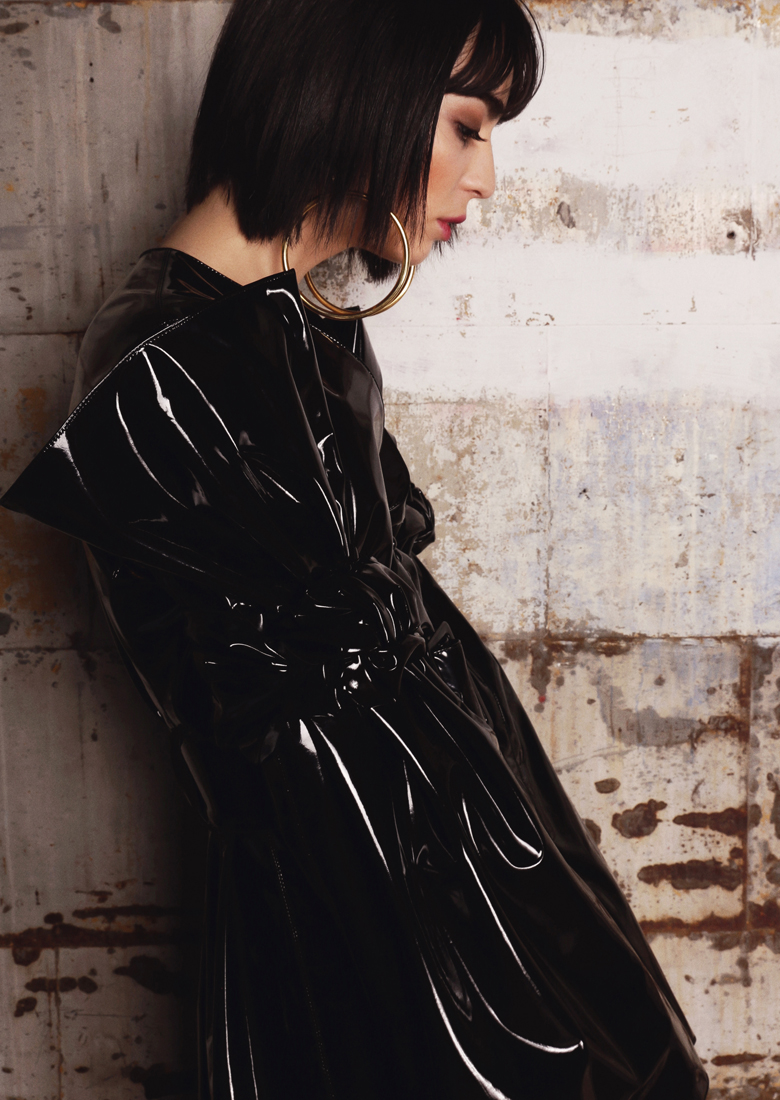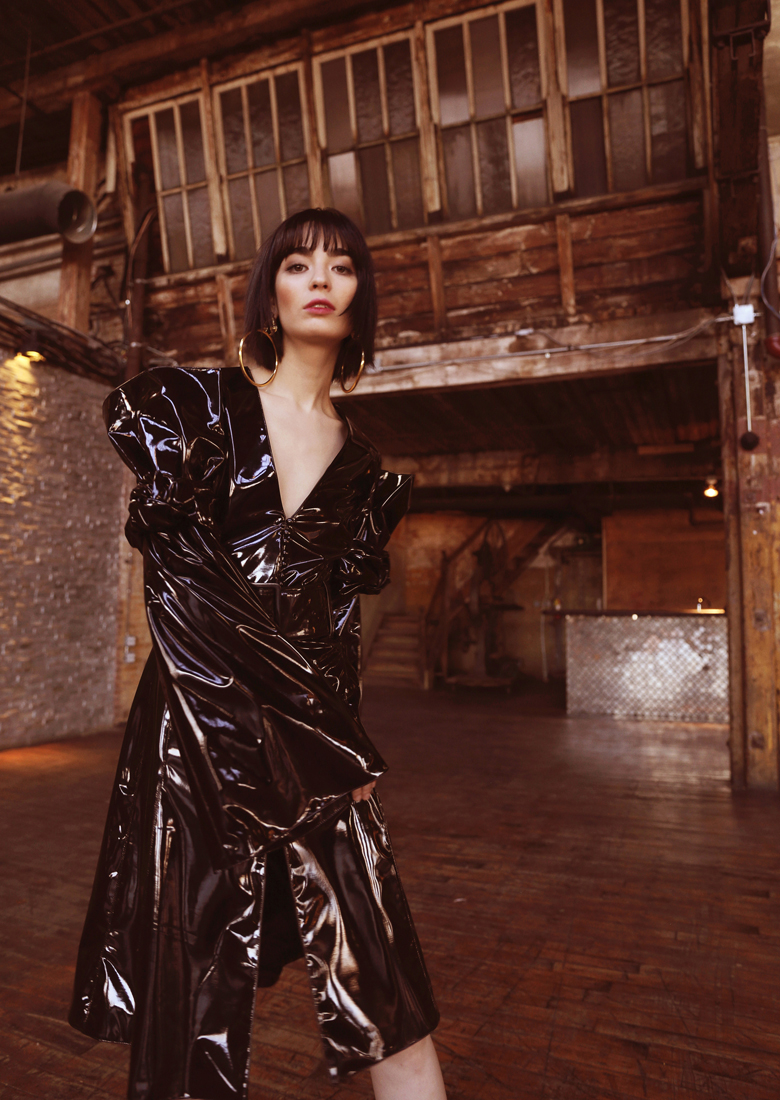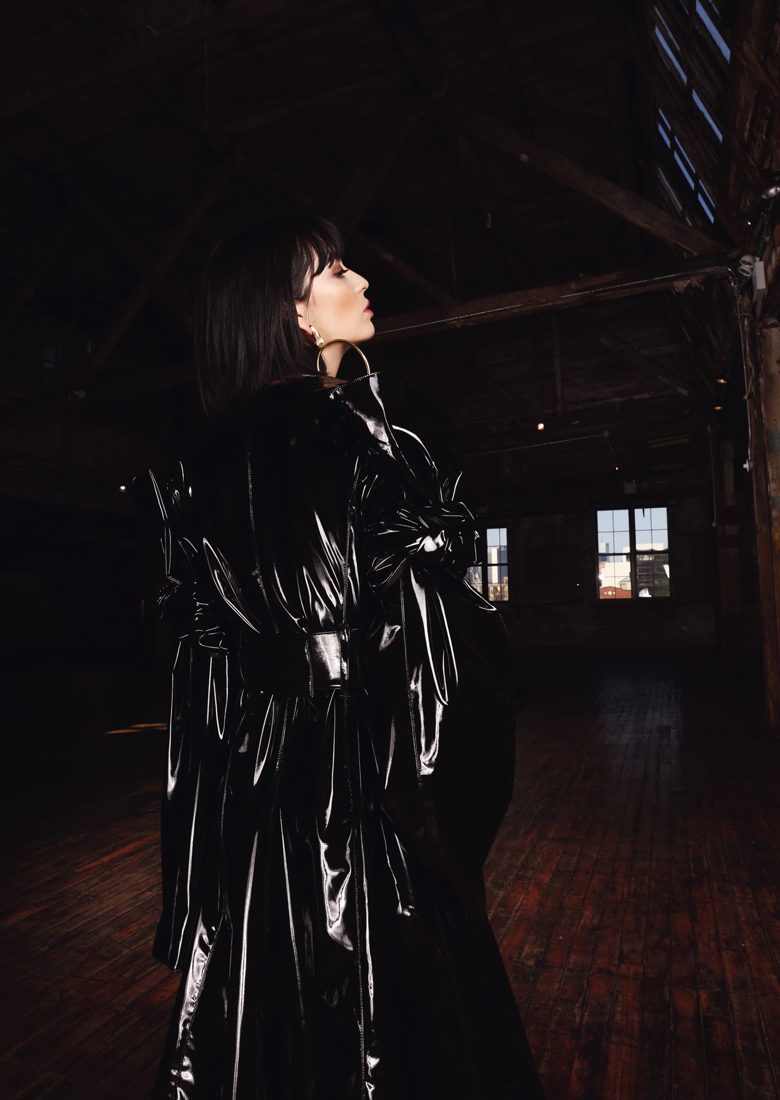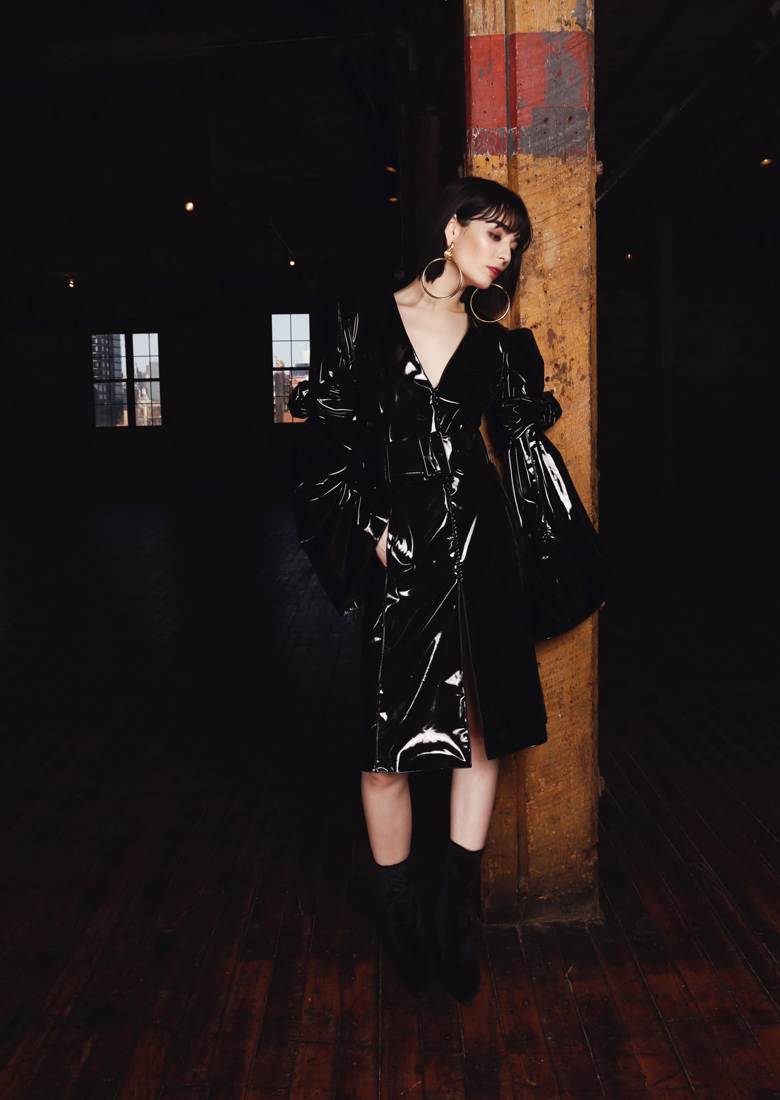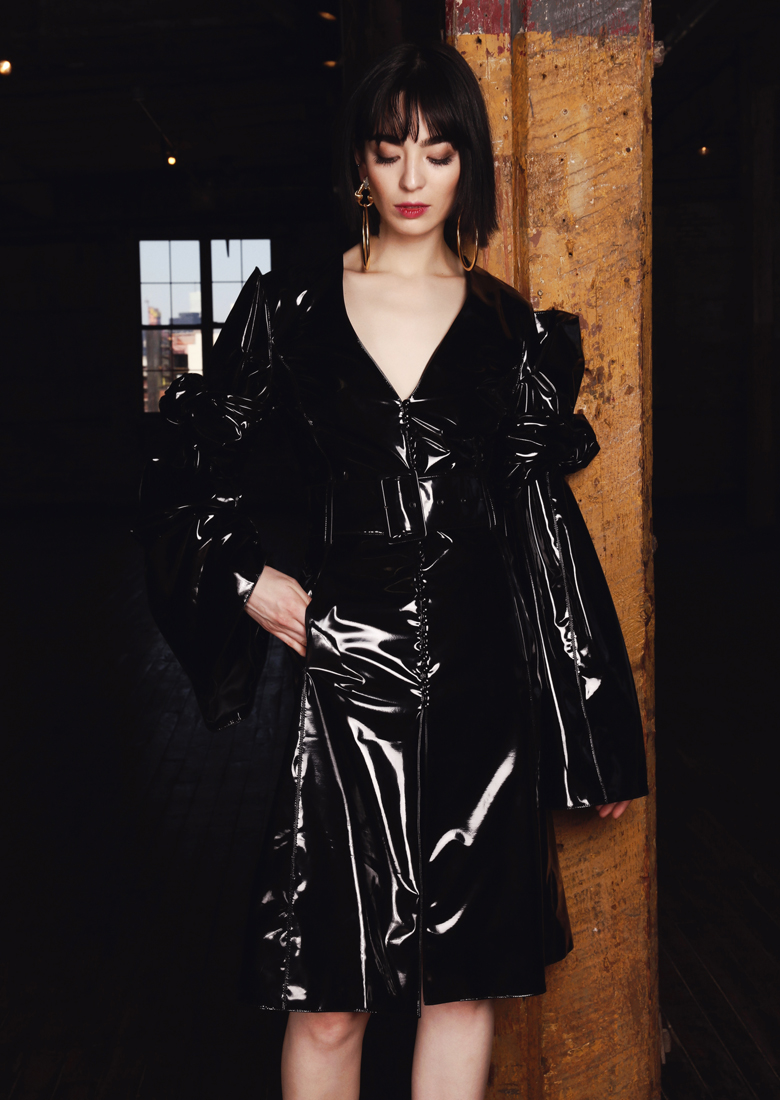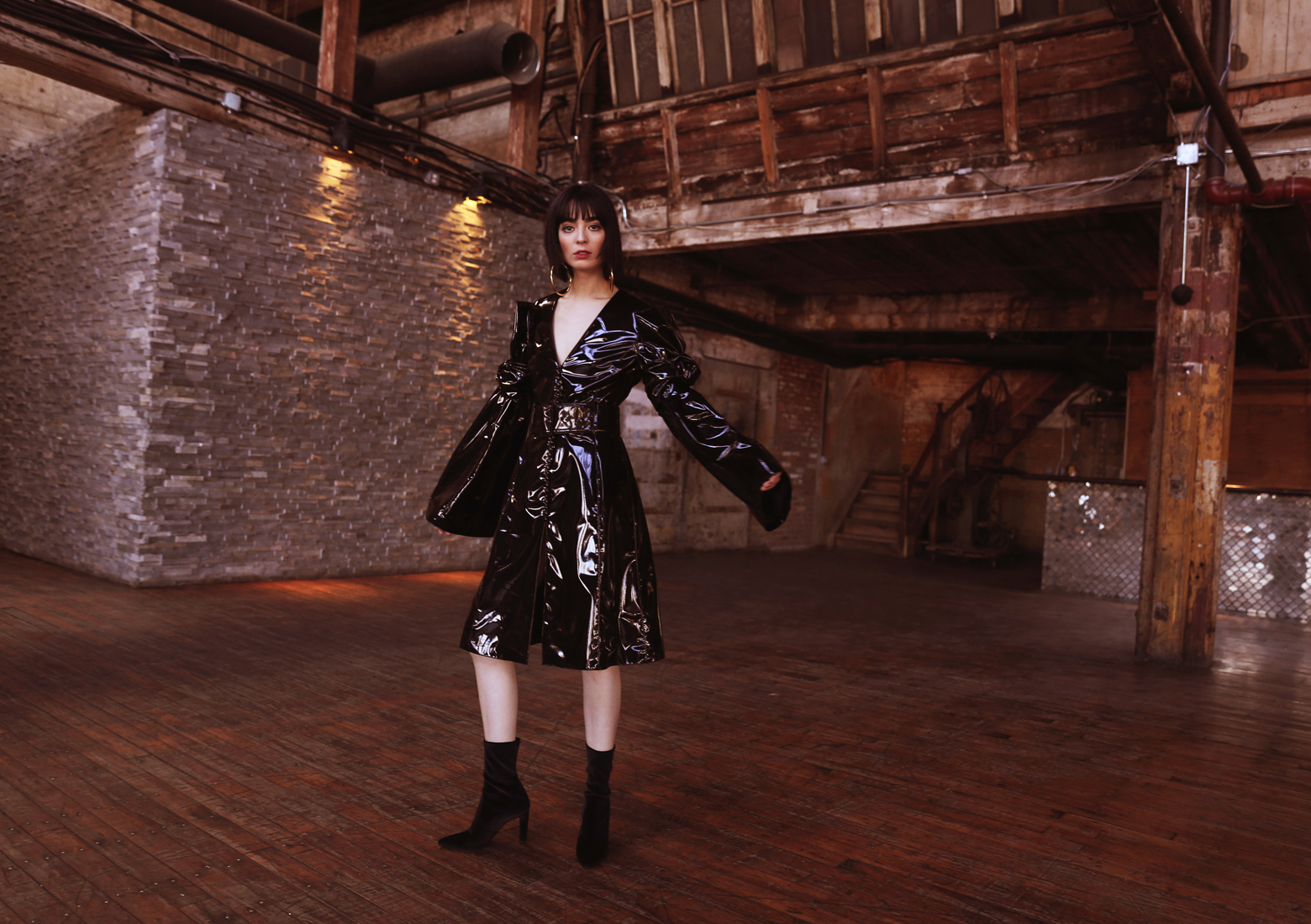 Look 39
Bayar Tie-waist blouse in Ivory Sueded Charmeuse. Shown with Giant Black Crystal Teardrop earrings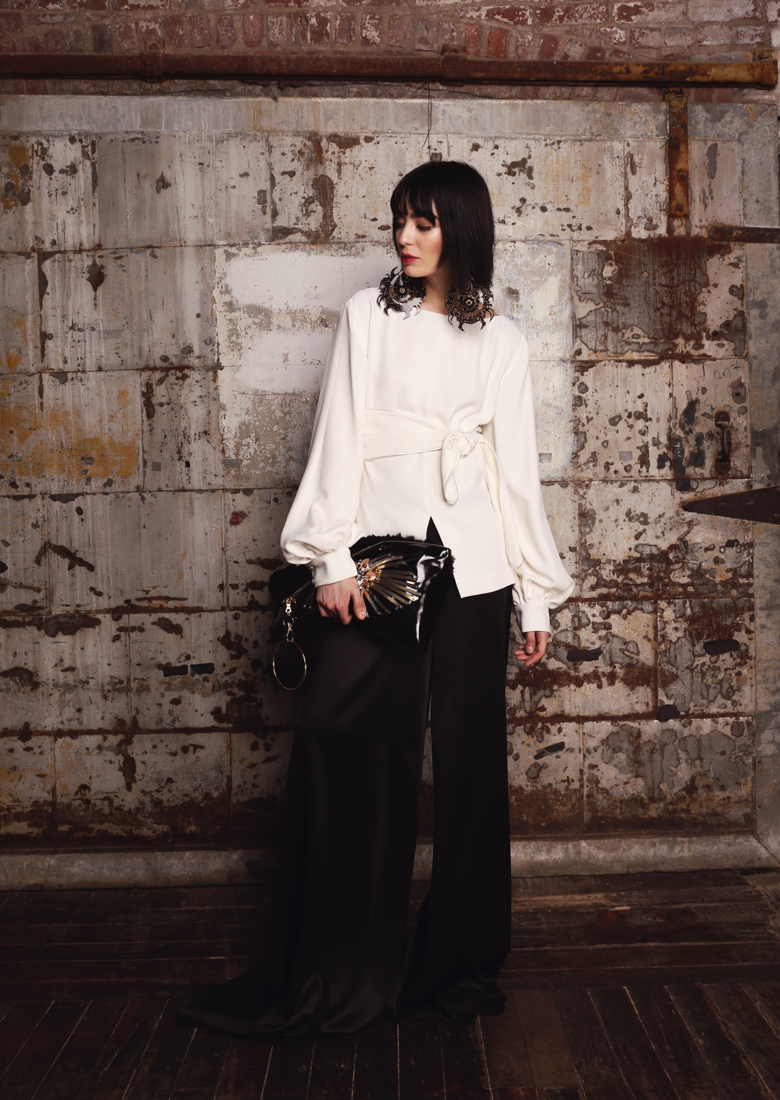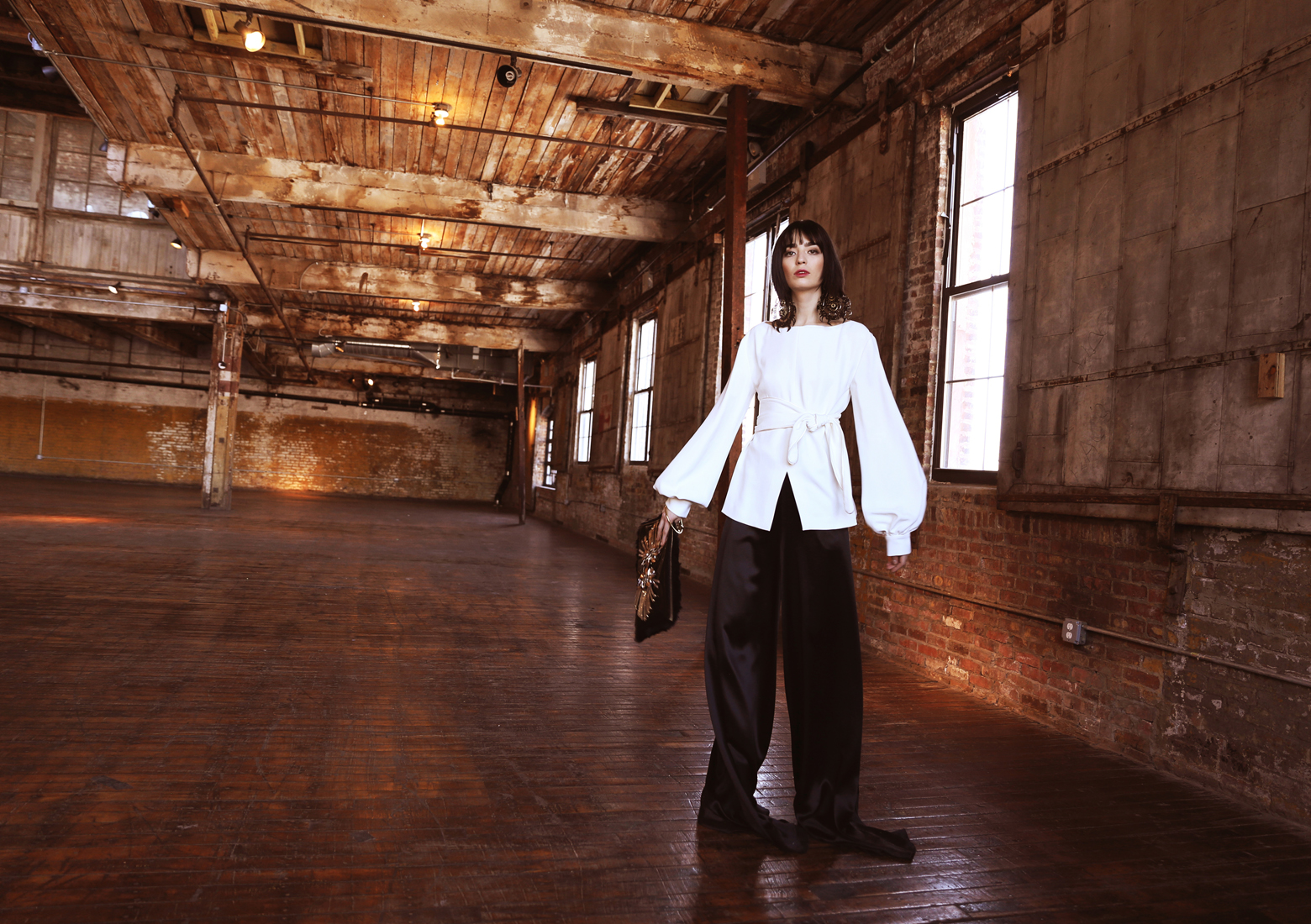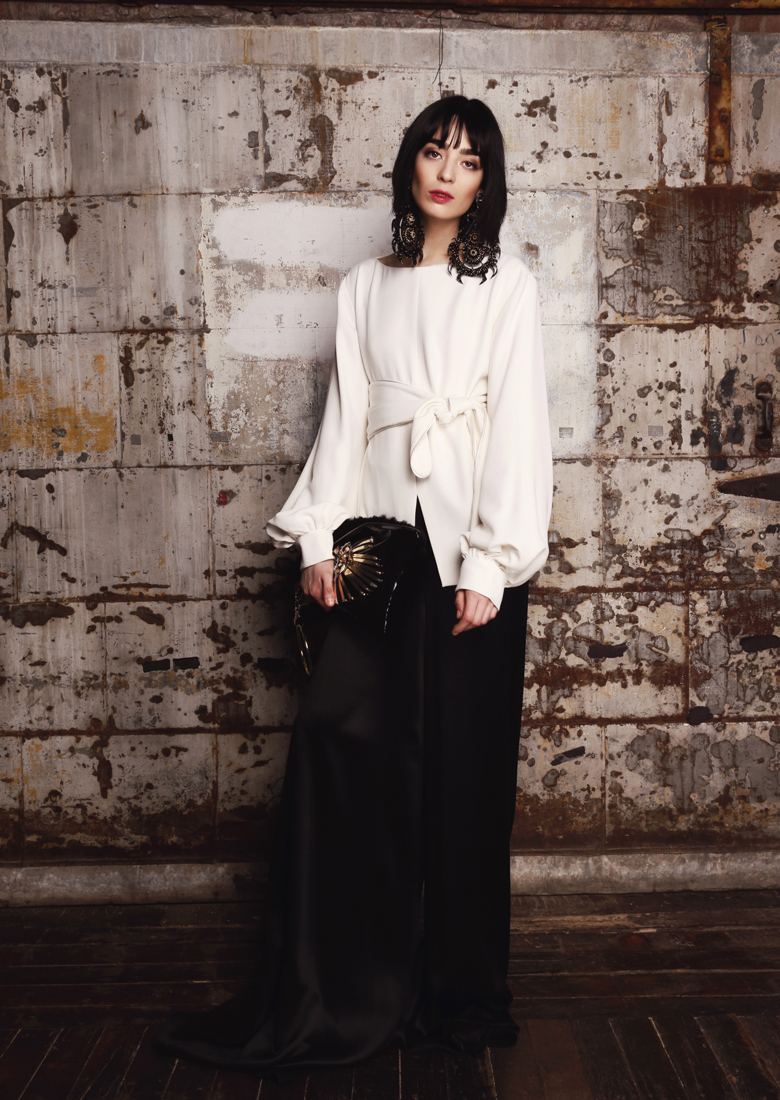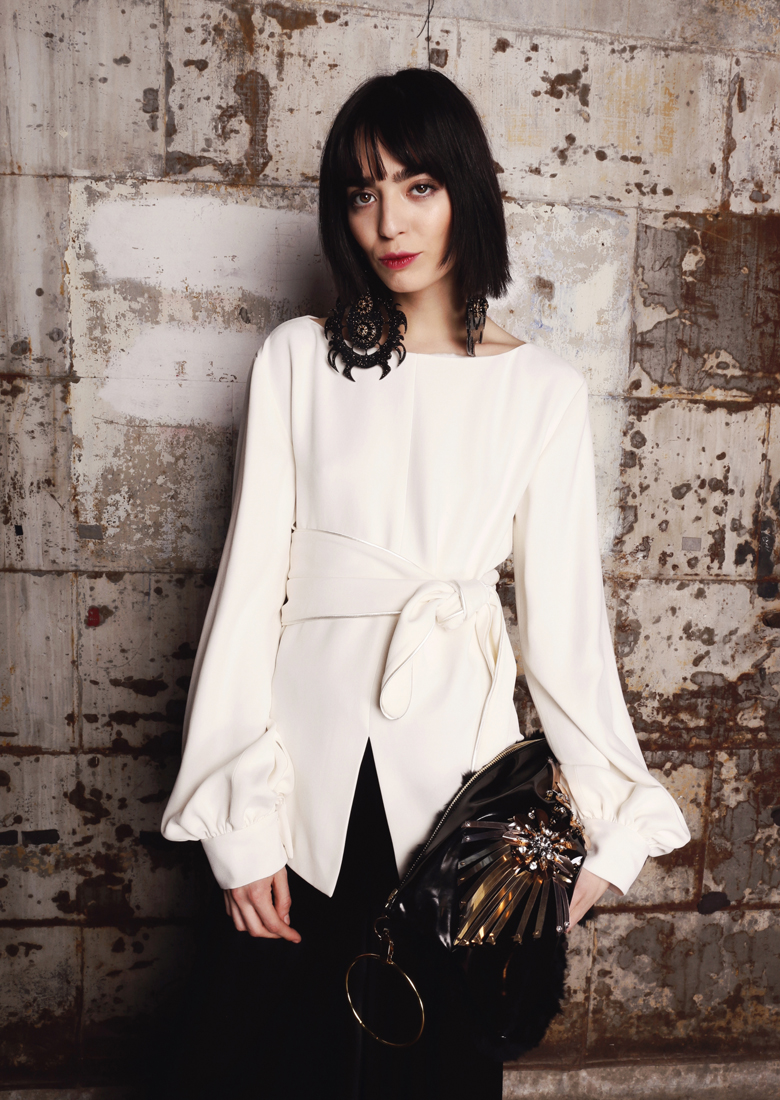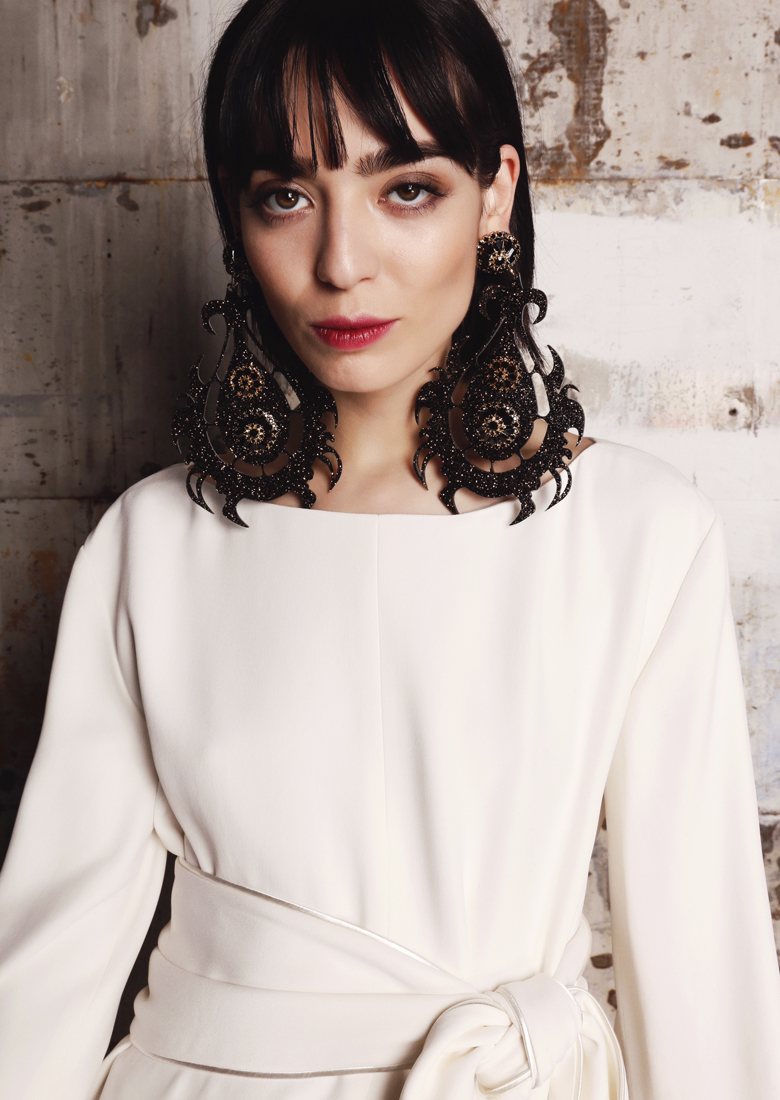 Look 40
Tamara Sequin Tunic Dress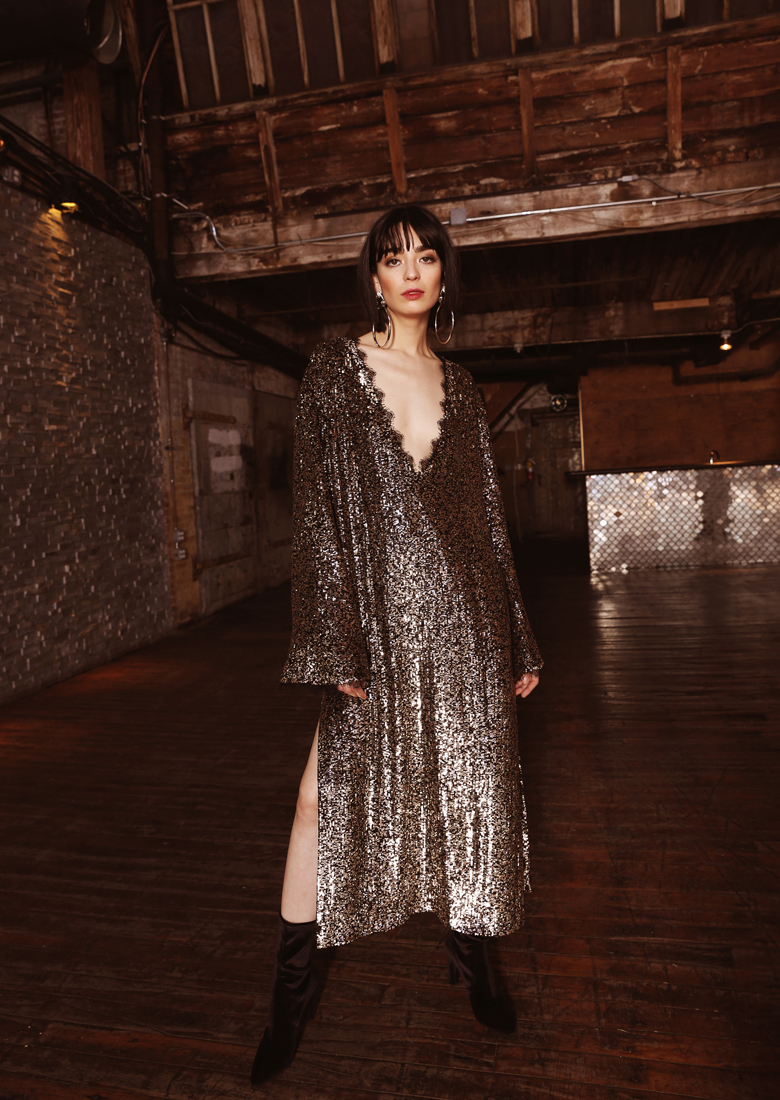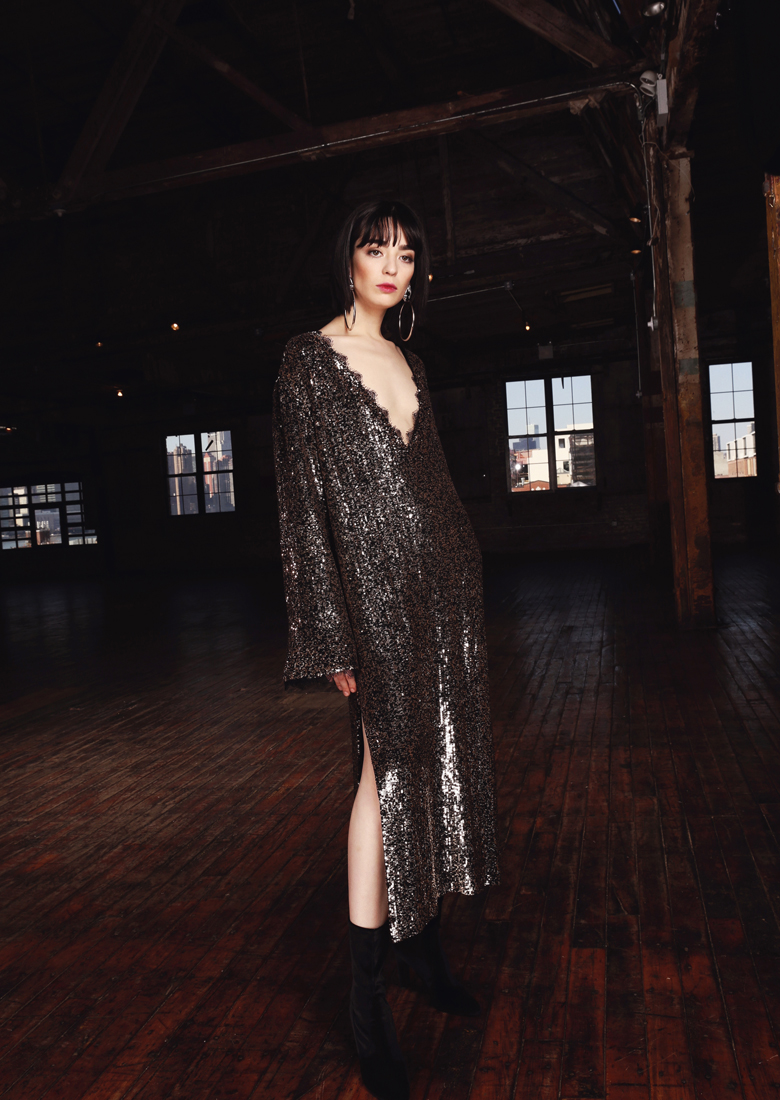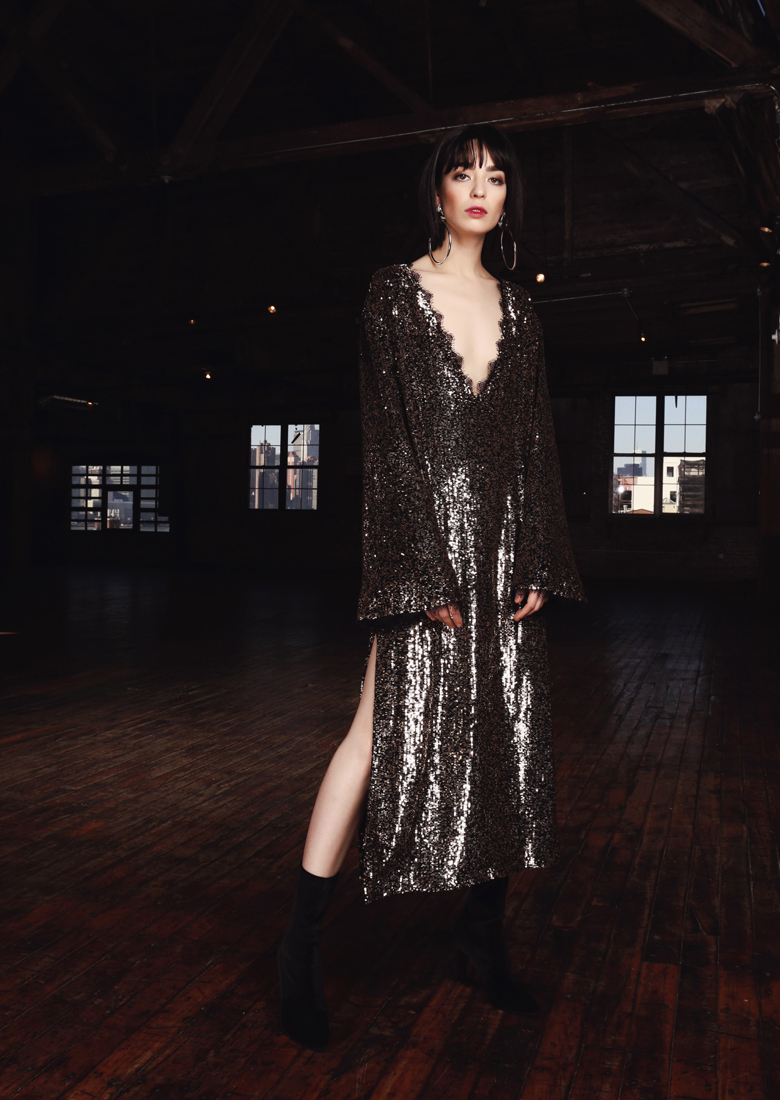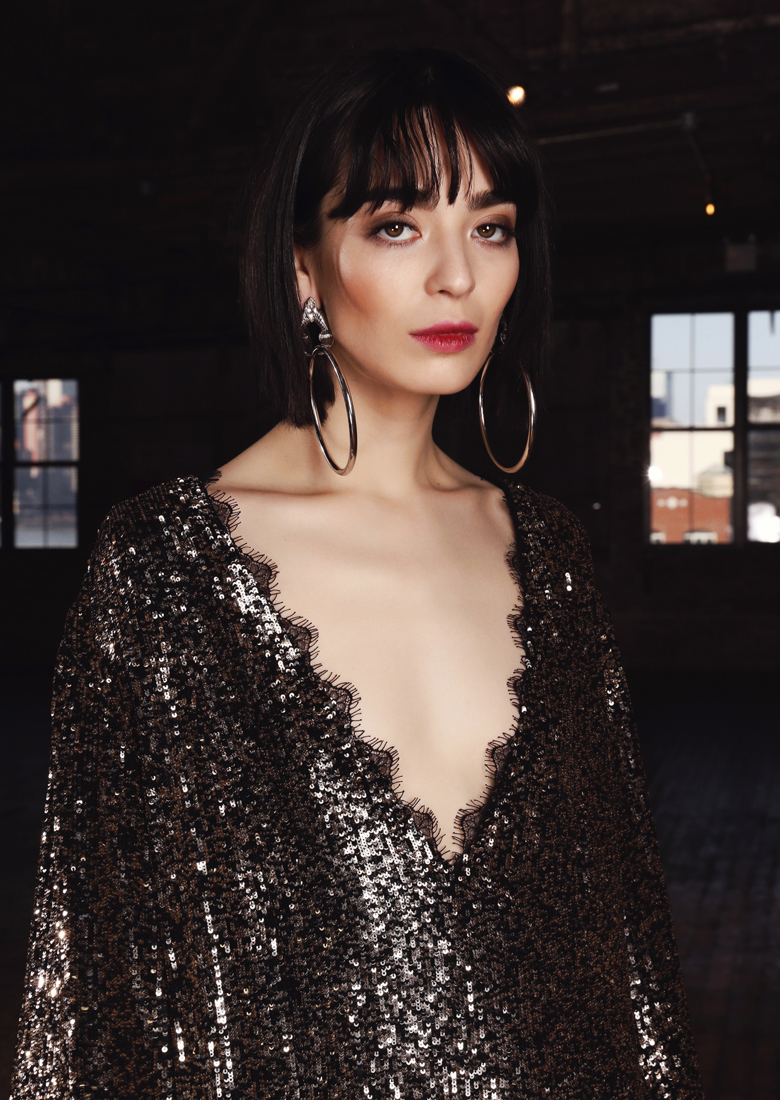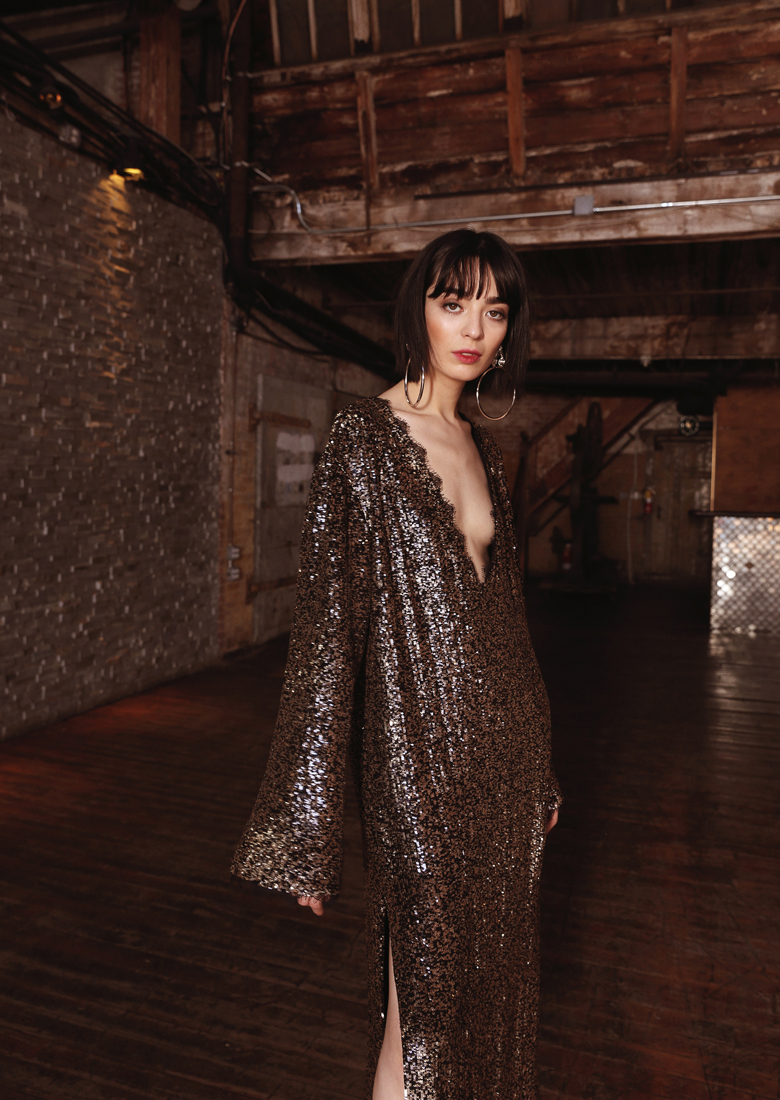 Look 41
Reverence Mini Dress. Hand Embellished Black organza framed on white silk wool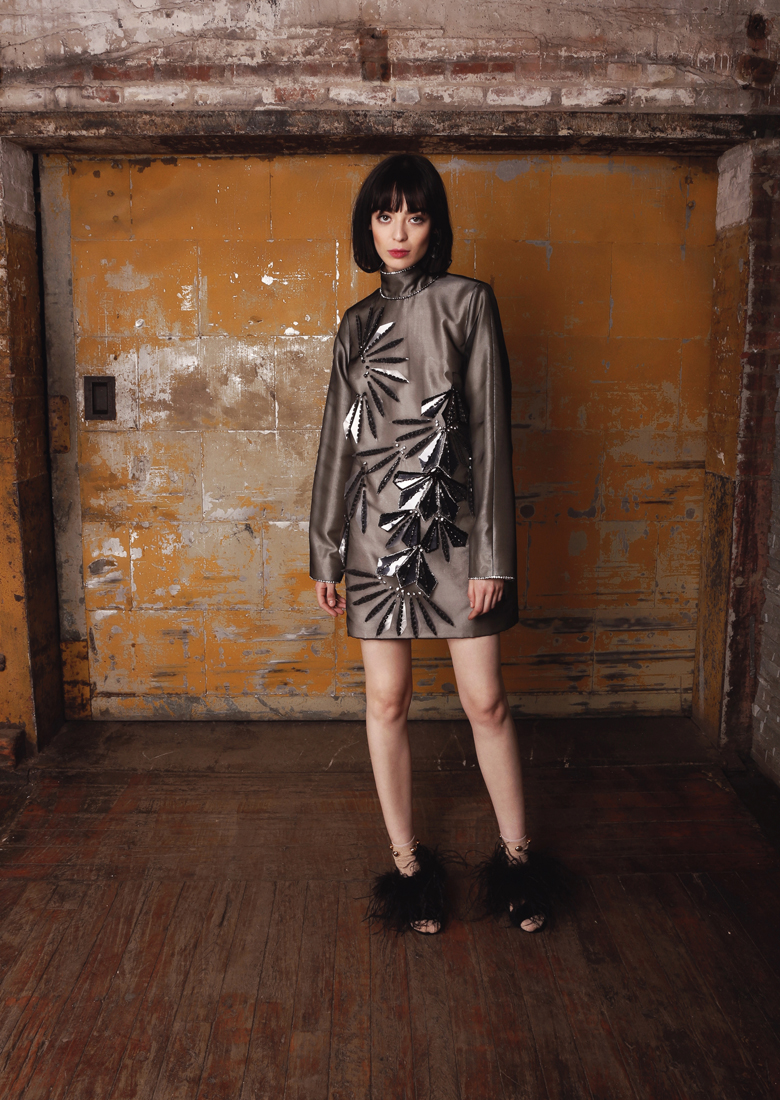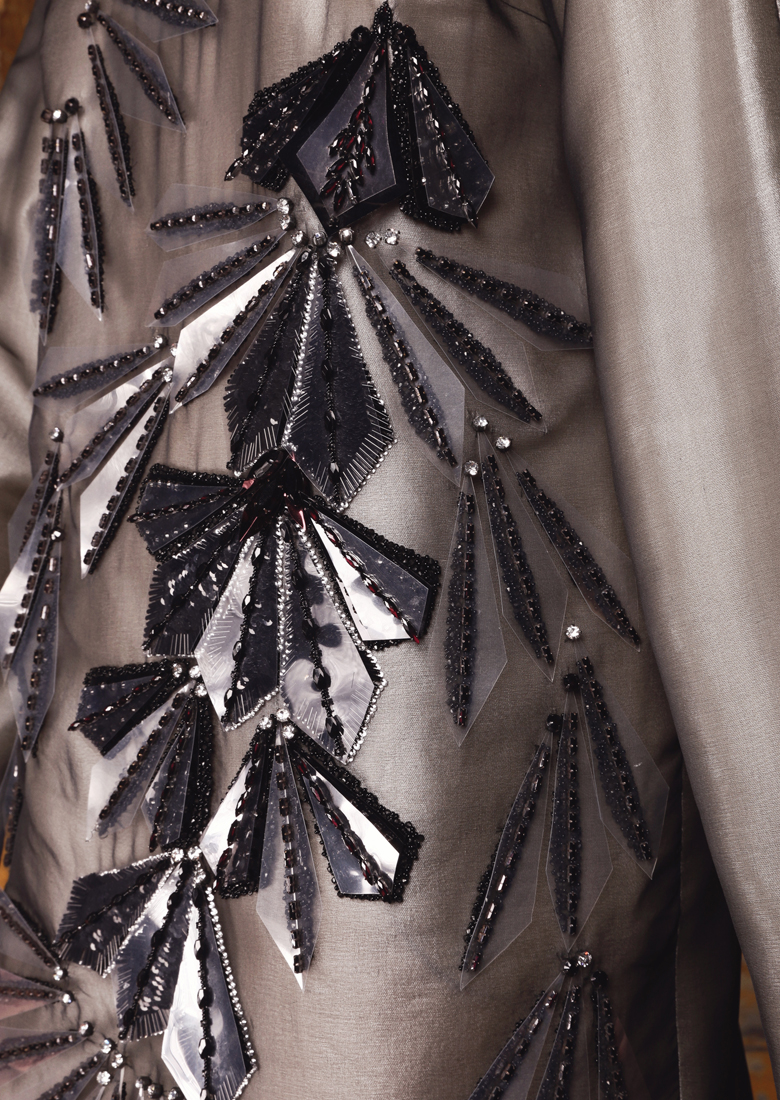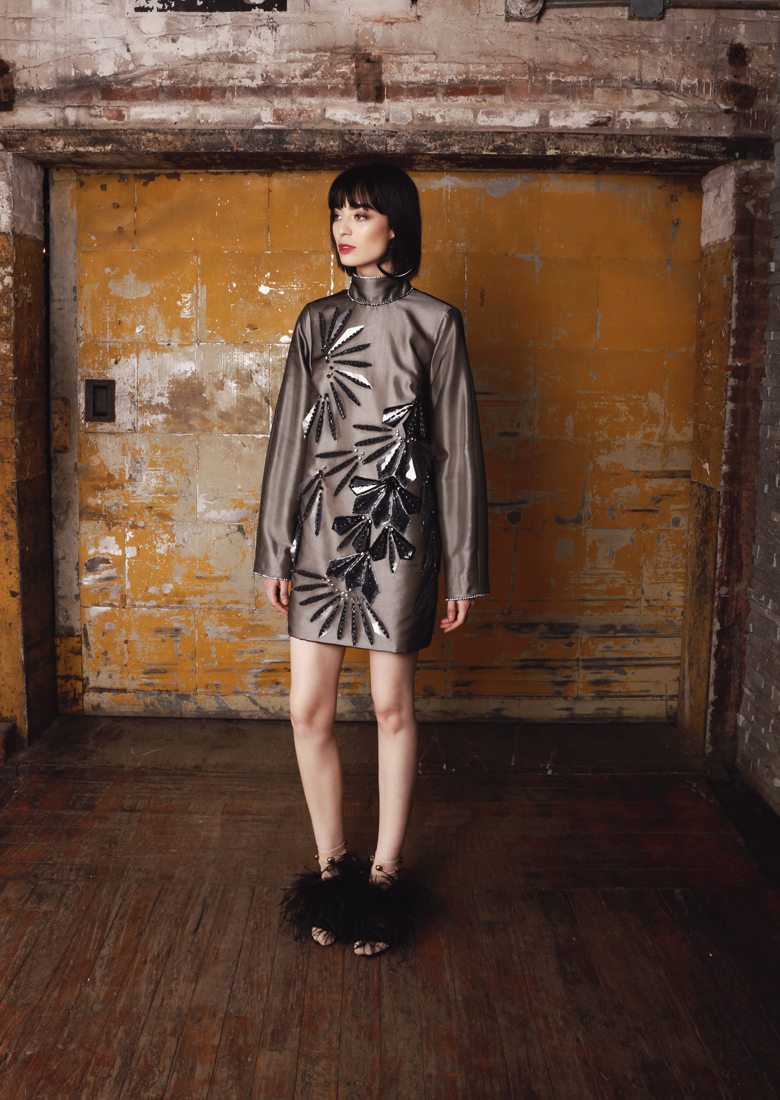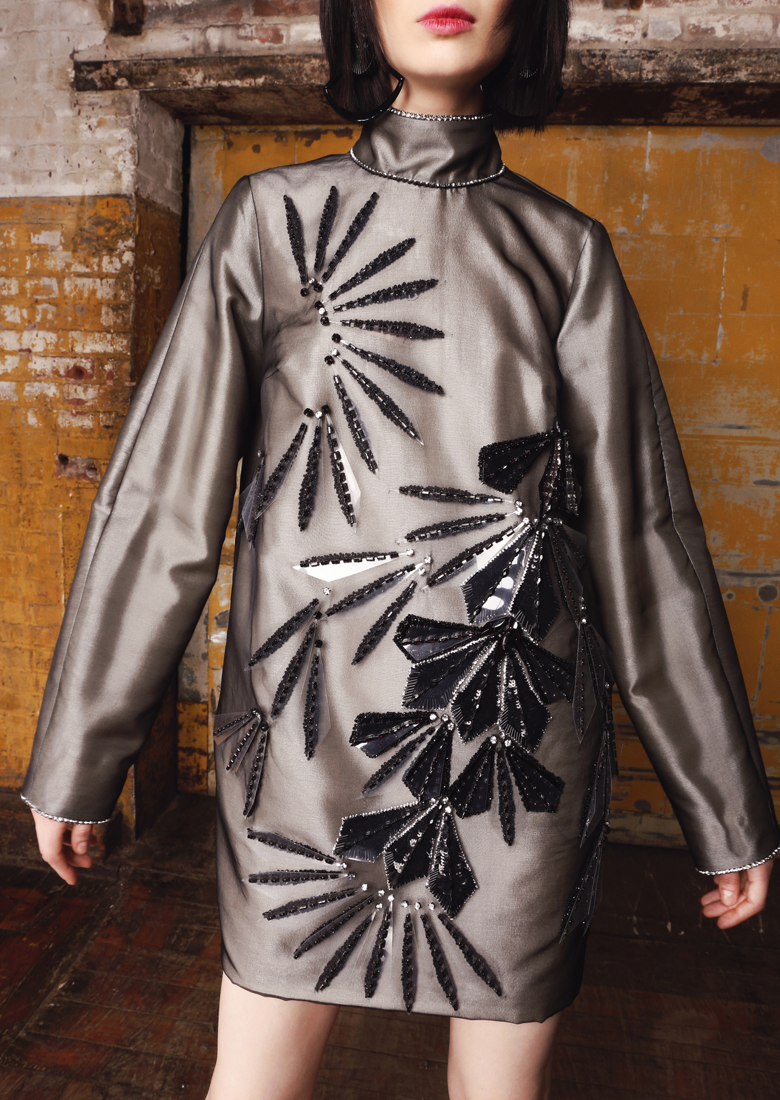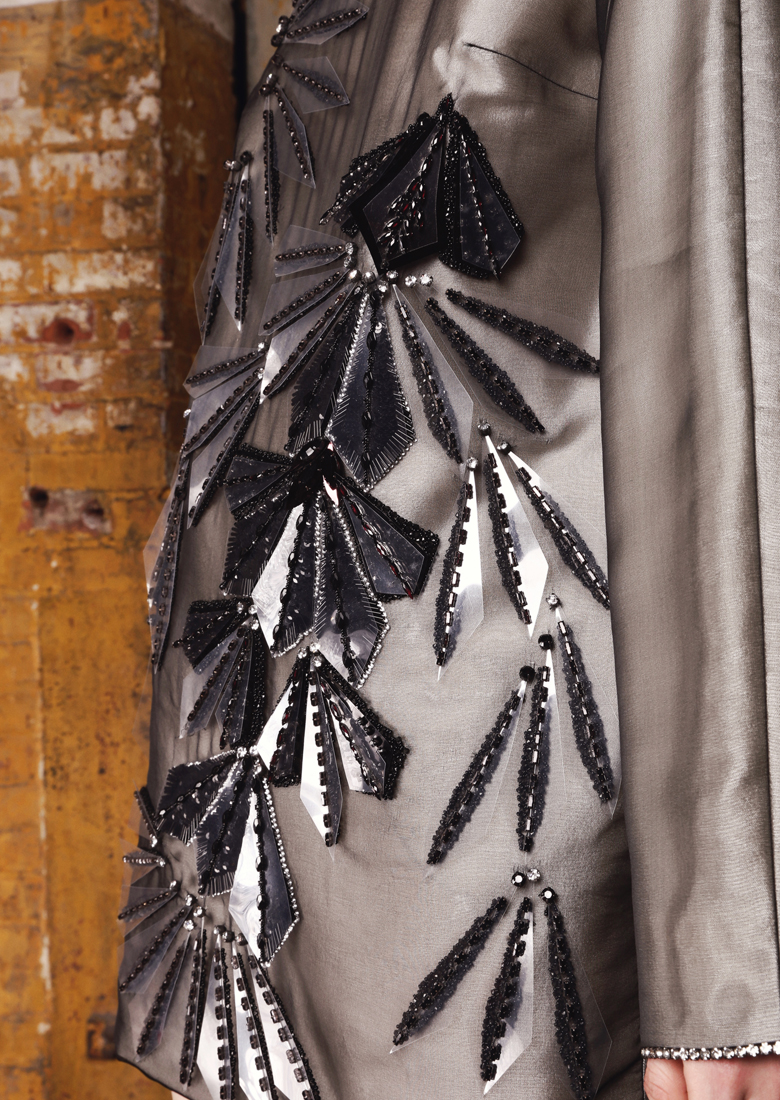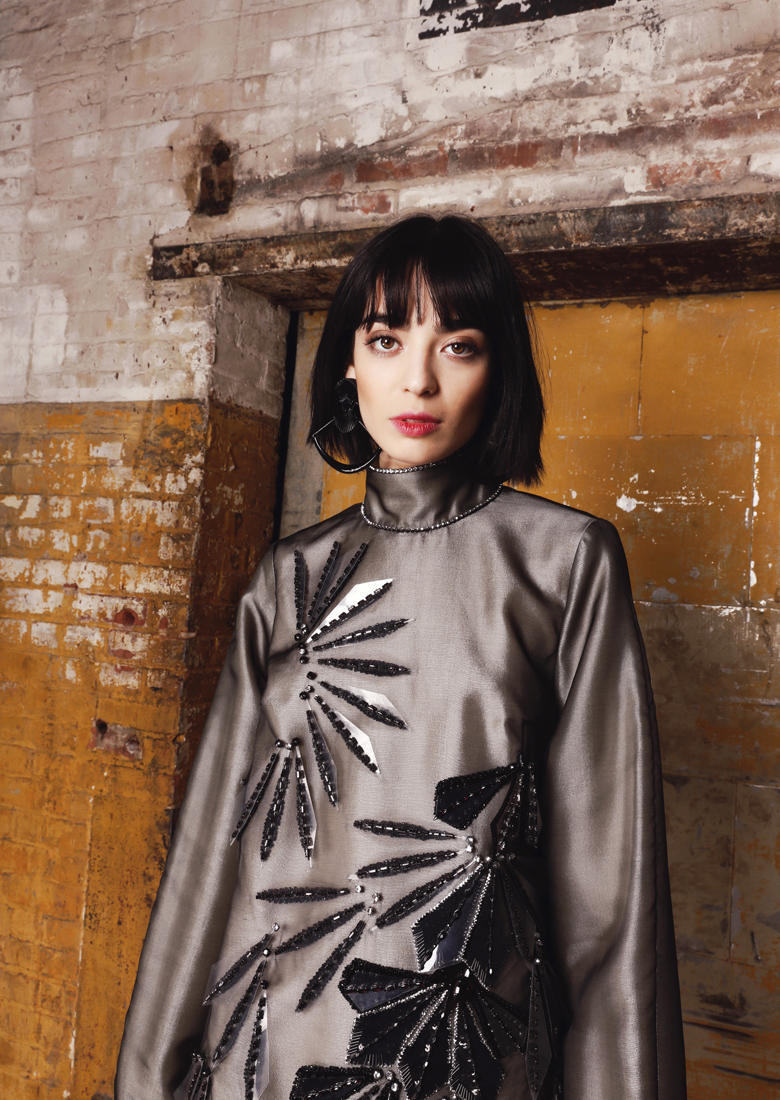 Look 42
Arman Sequin Tunic and cropped pant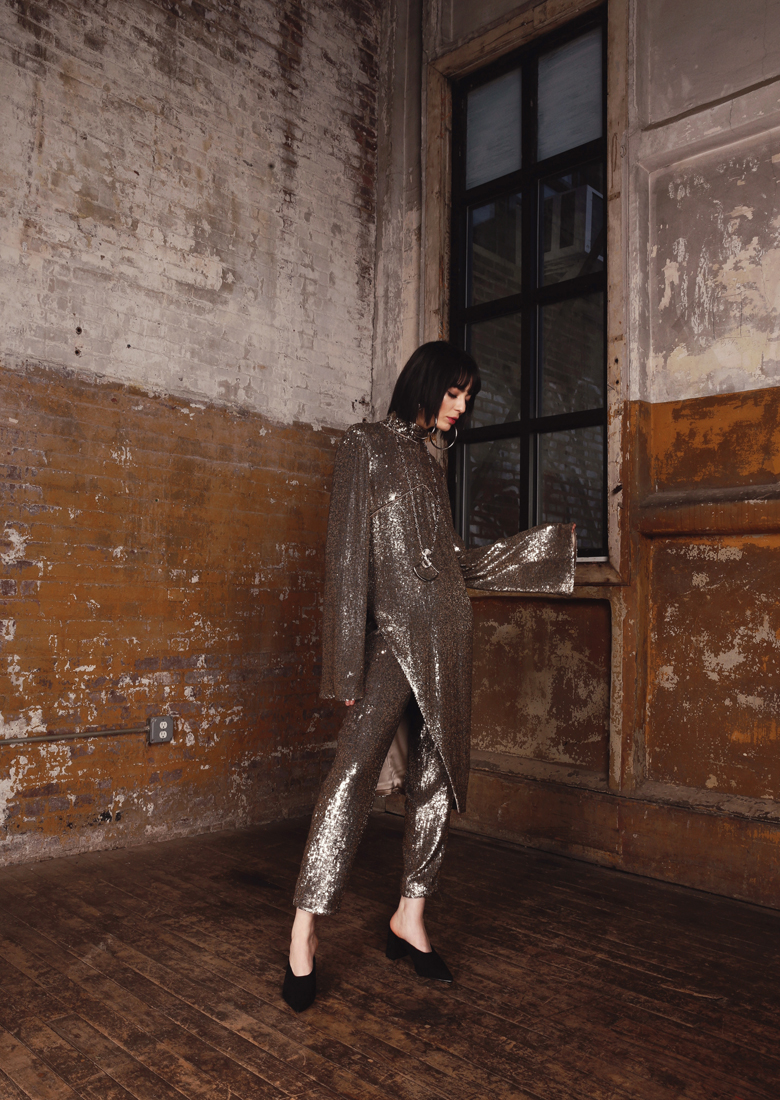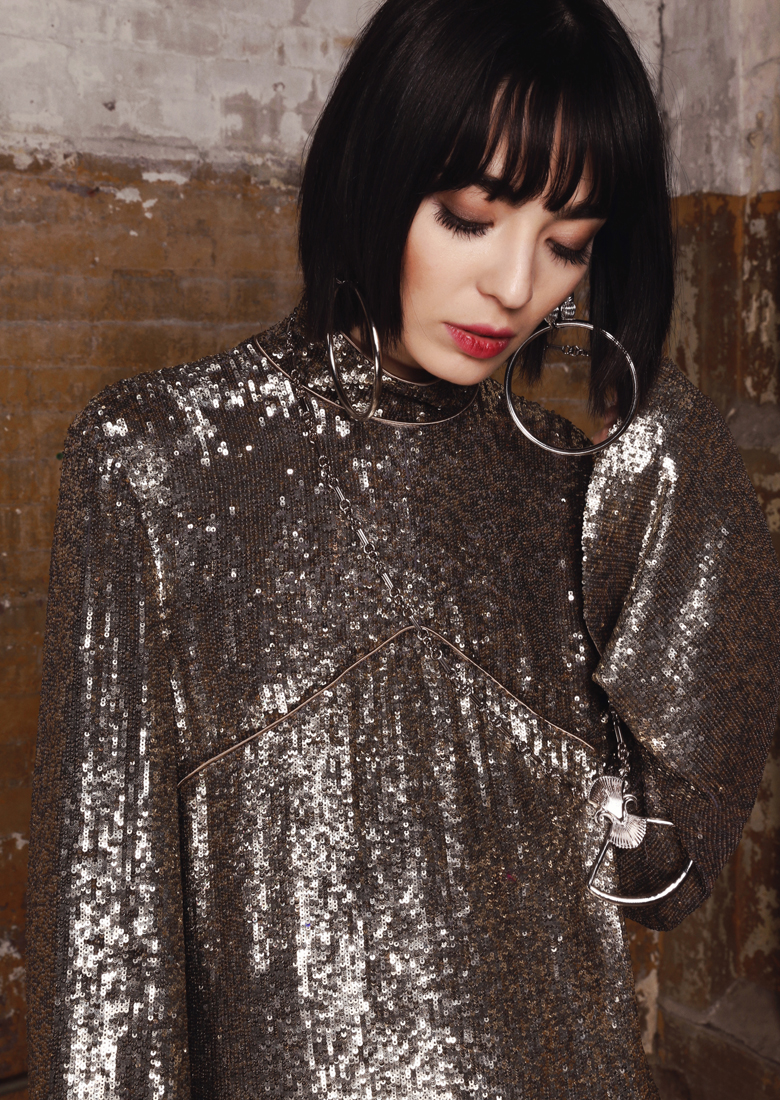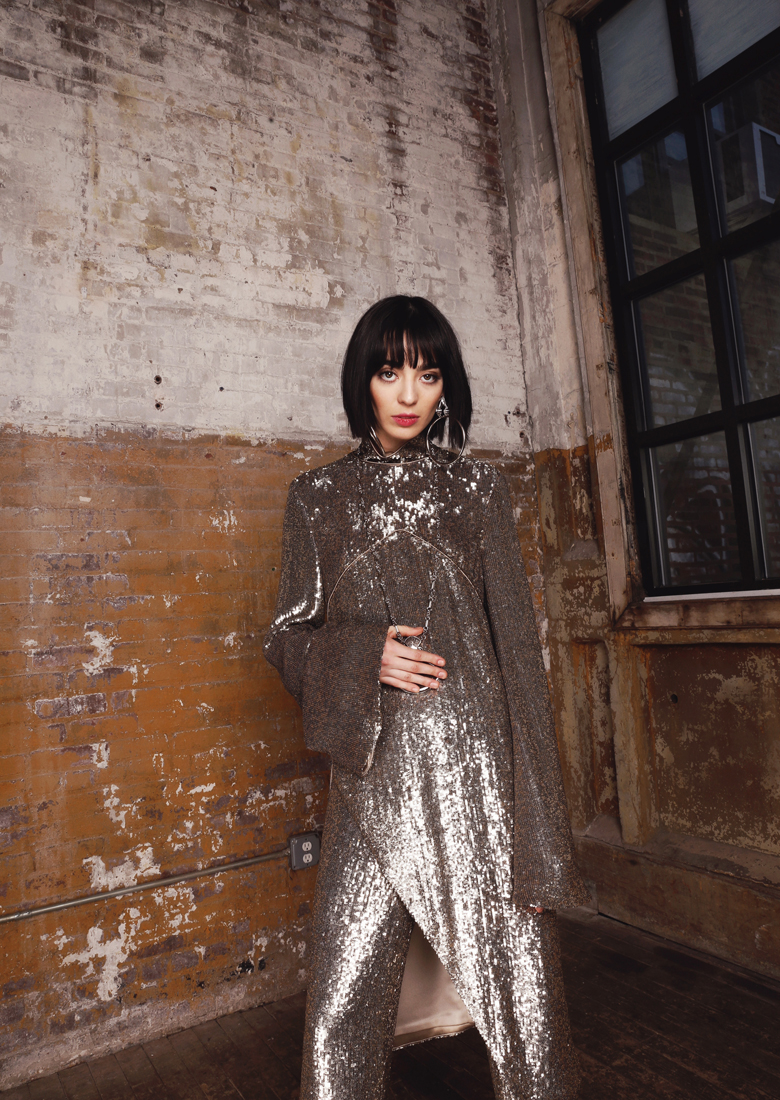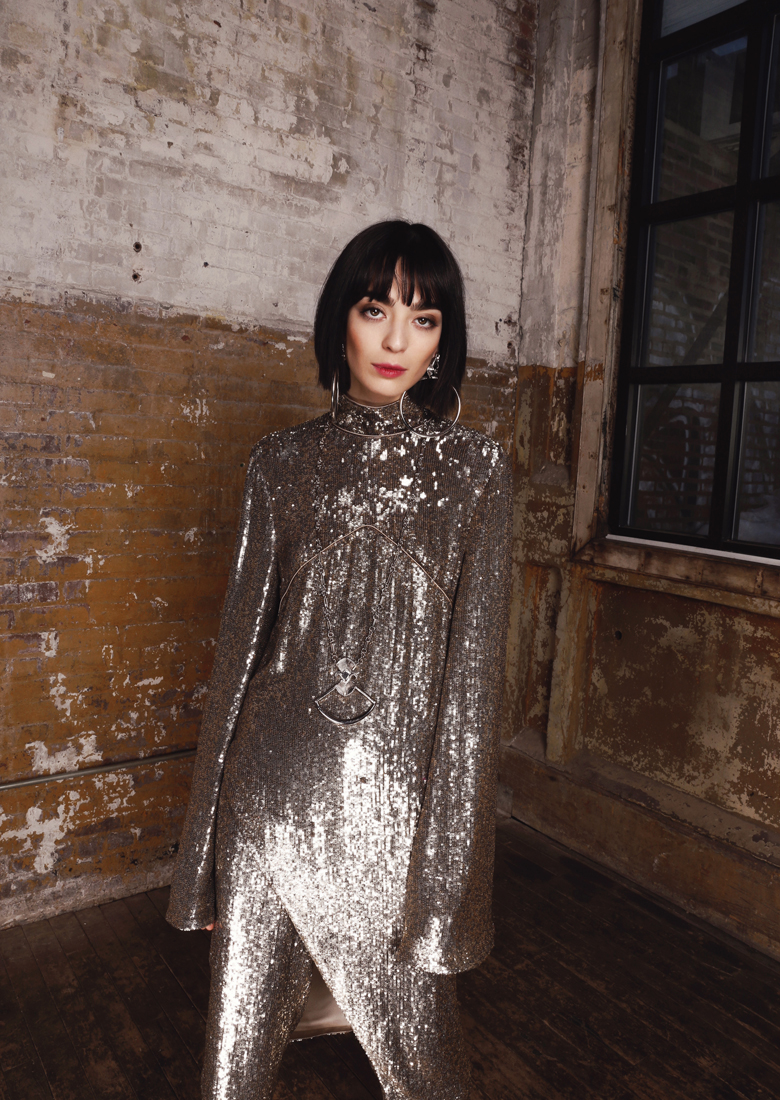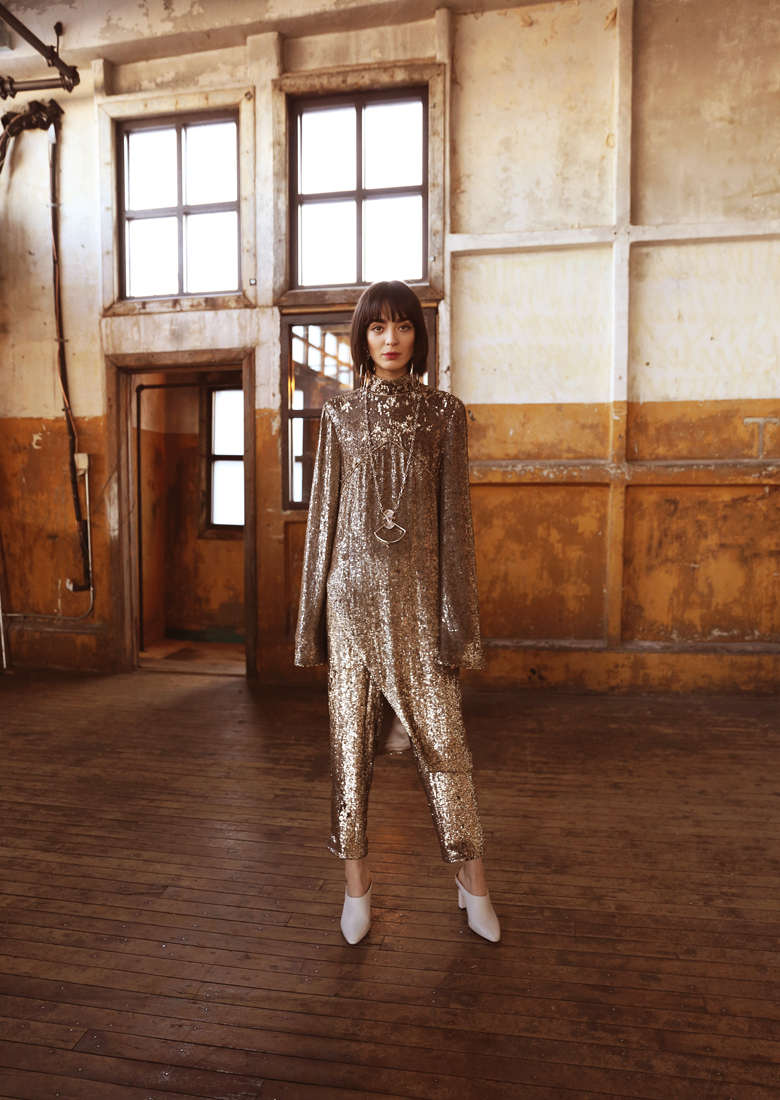 Look 43
Tristan Zip-front Turtleneck Dress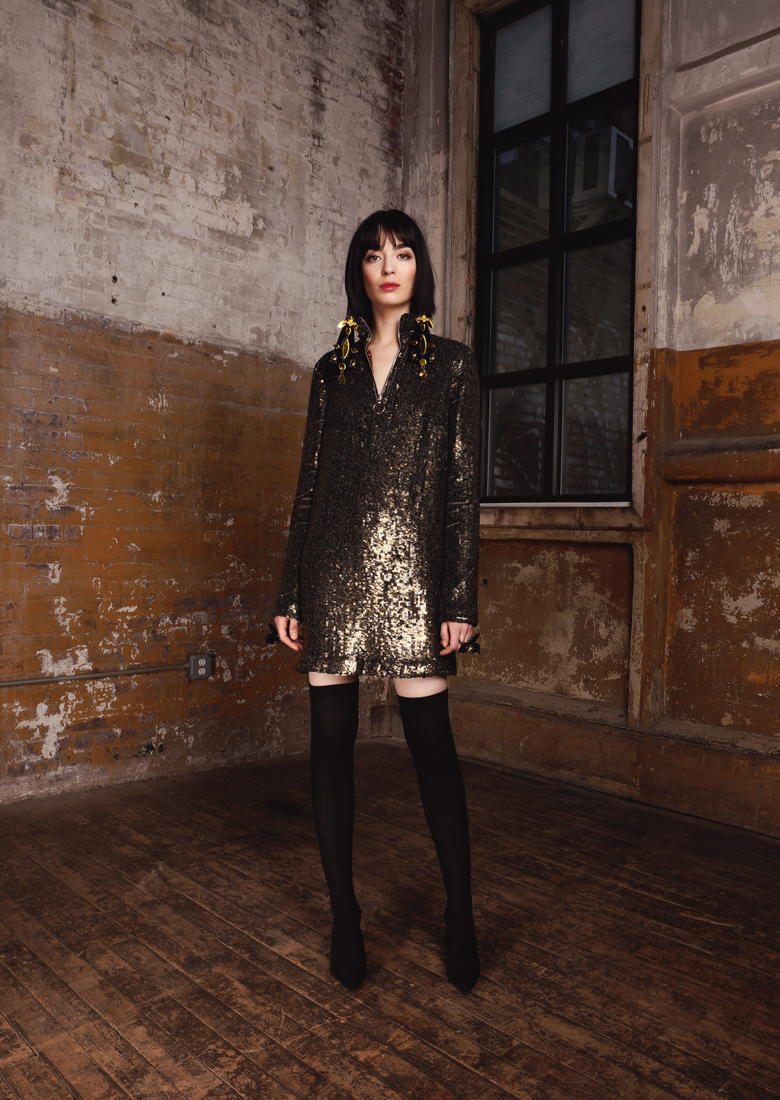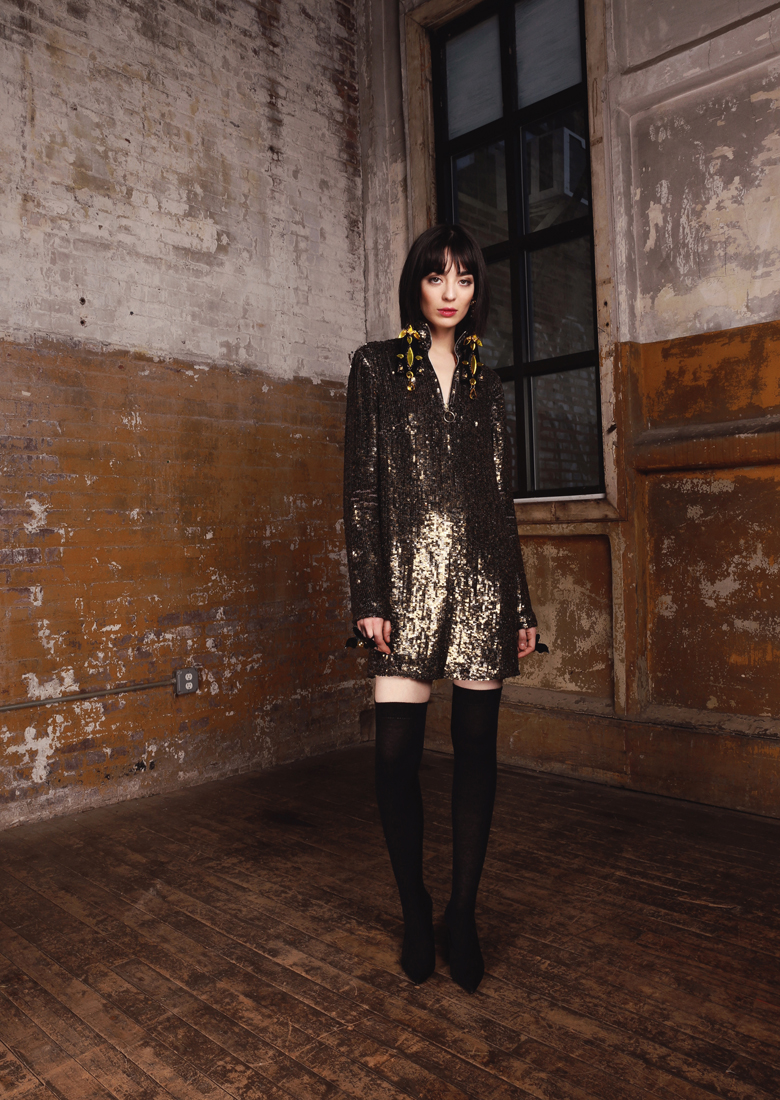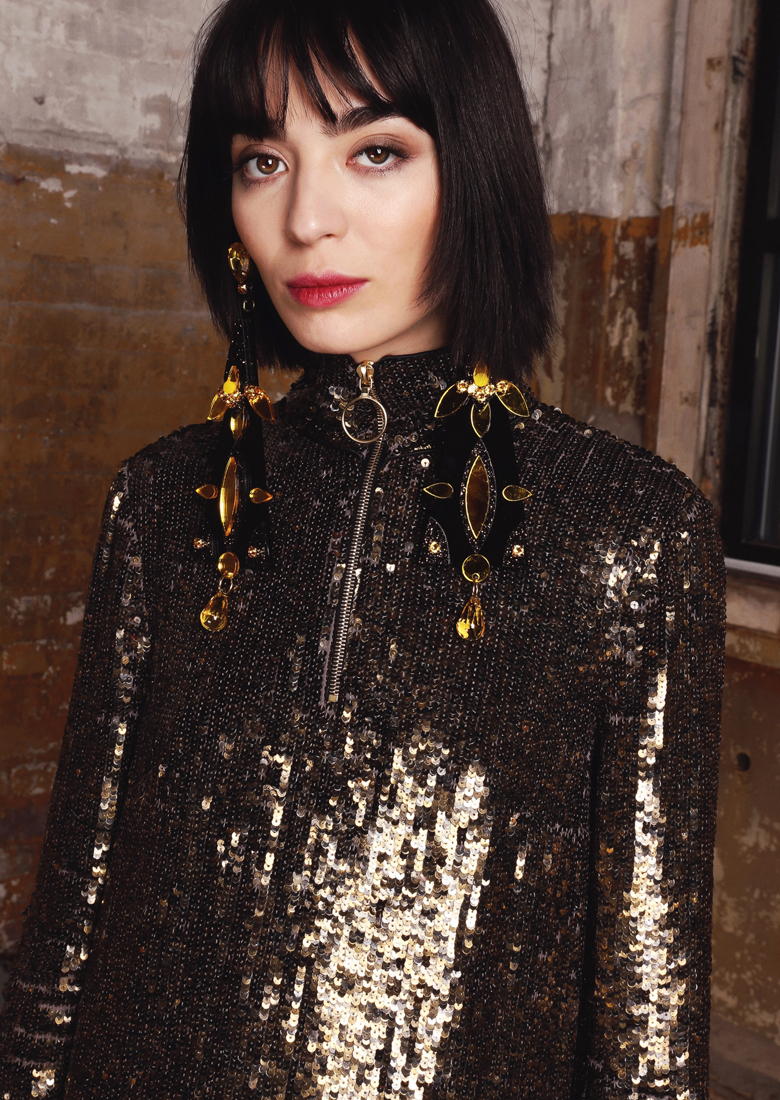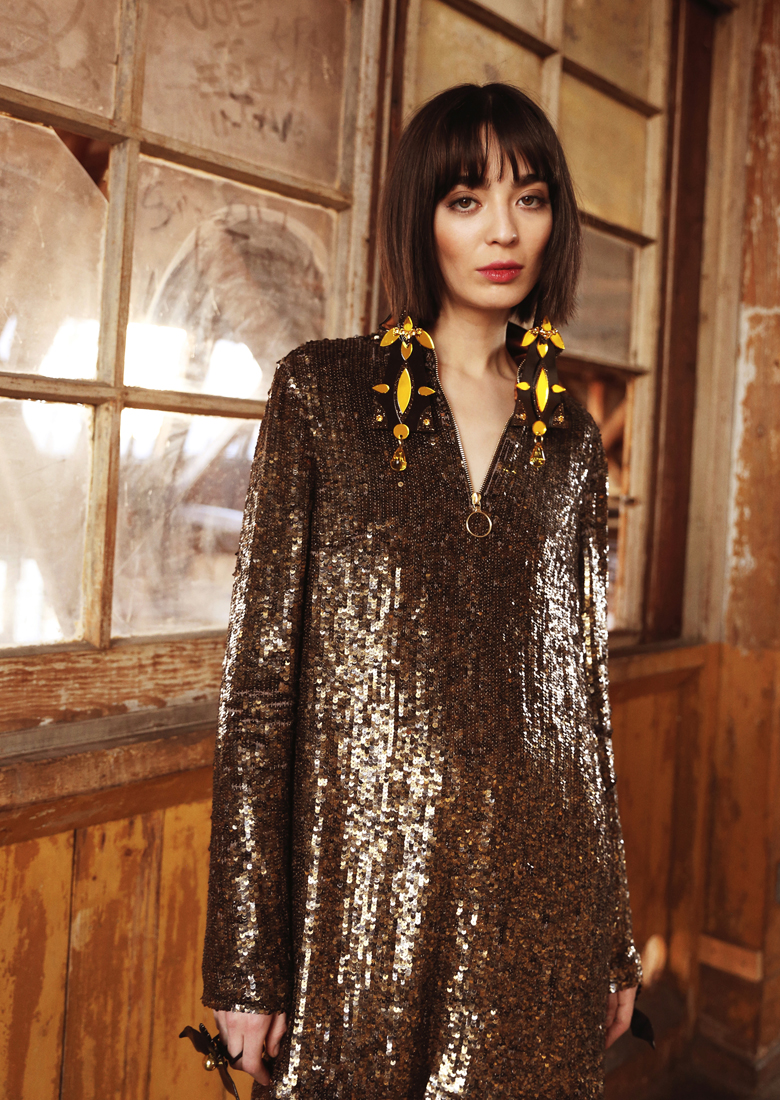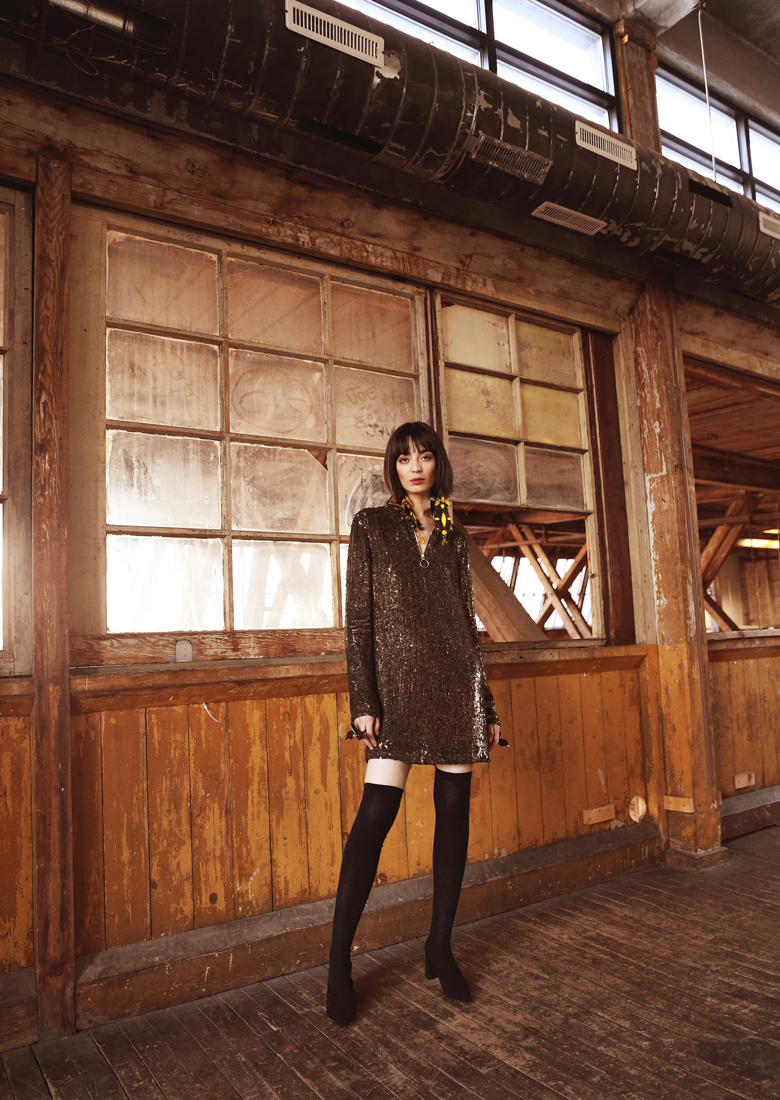 Look 44
Aisholpan Black Vinyl Embellished A-line Skirt with sheer black rib knit turtleneck.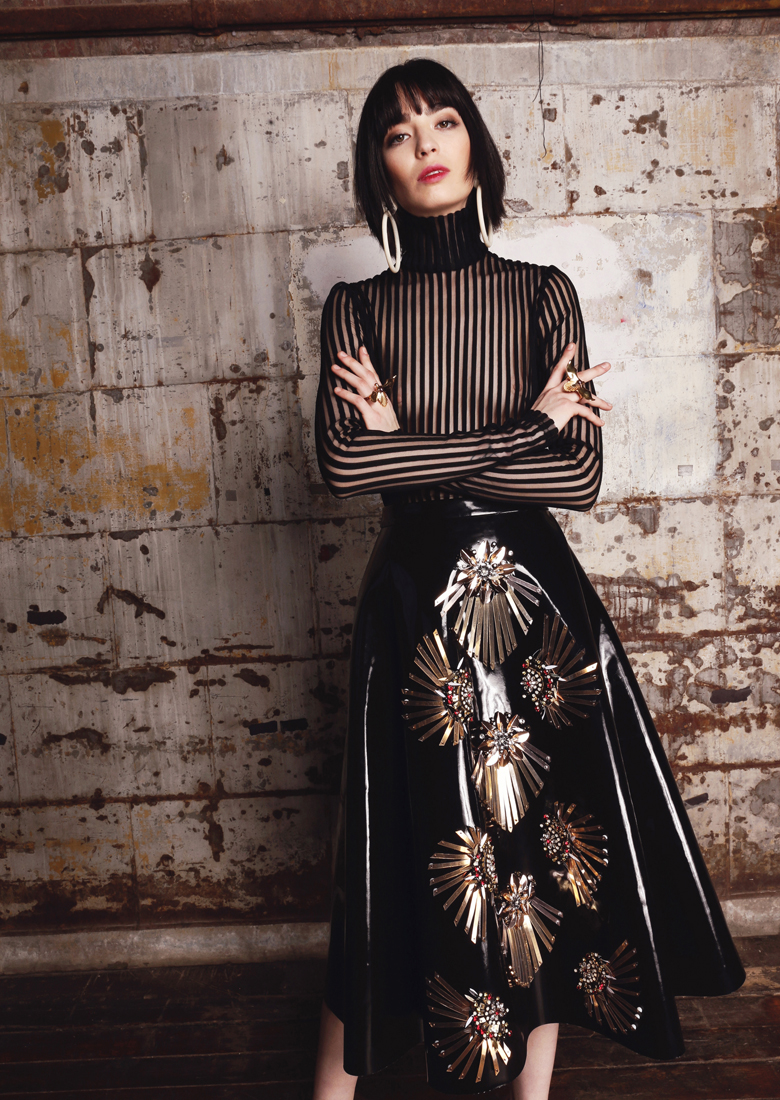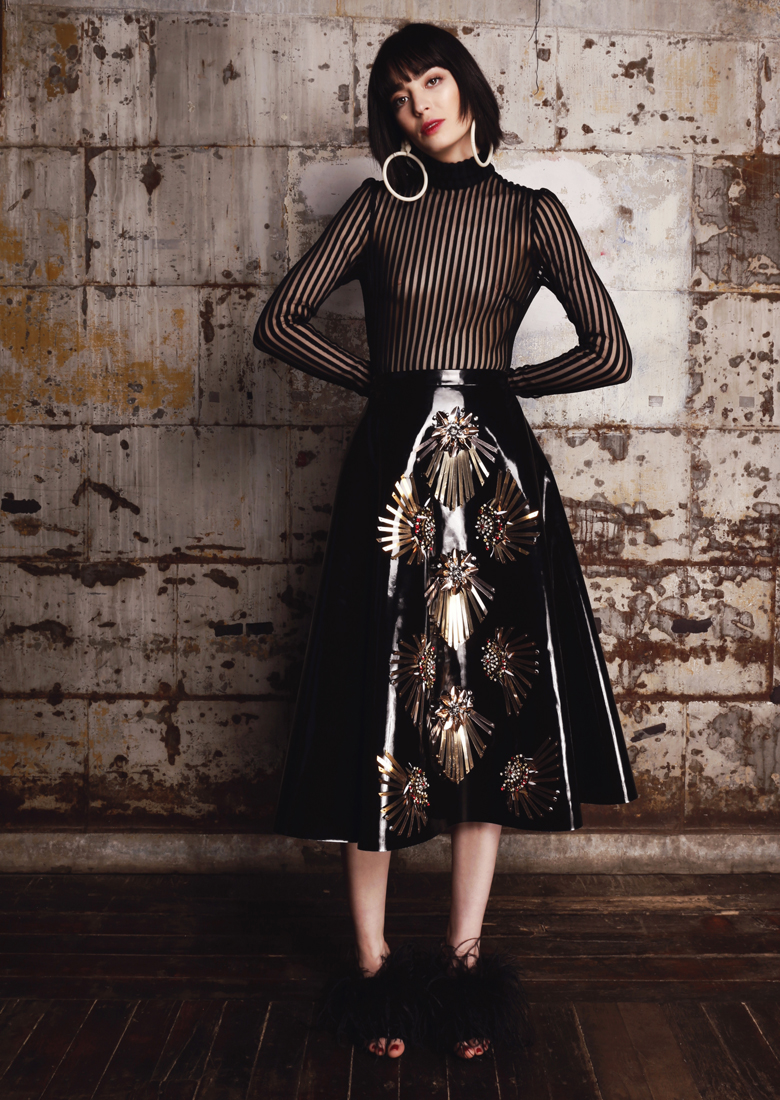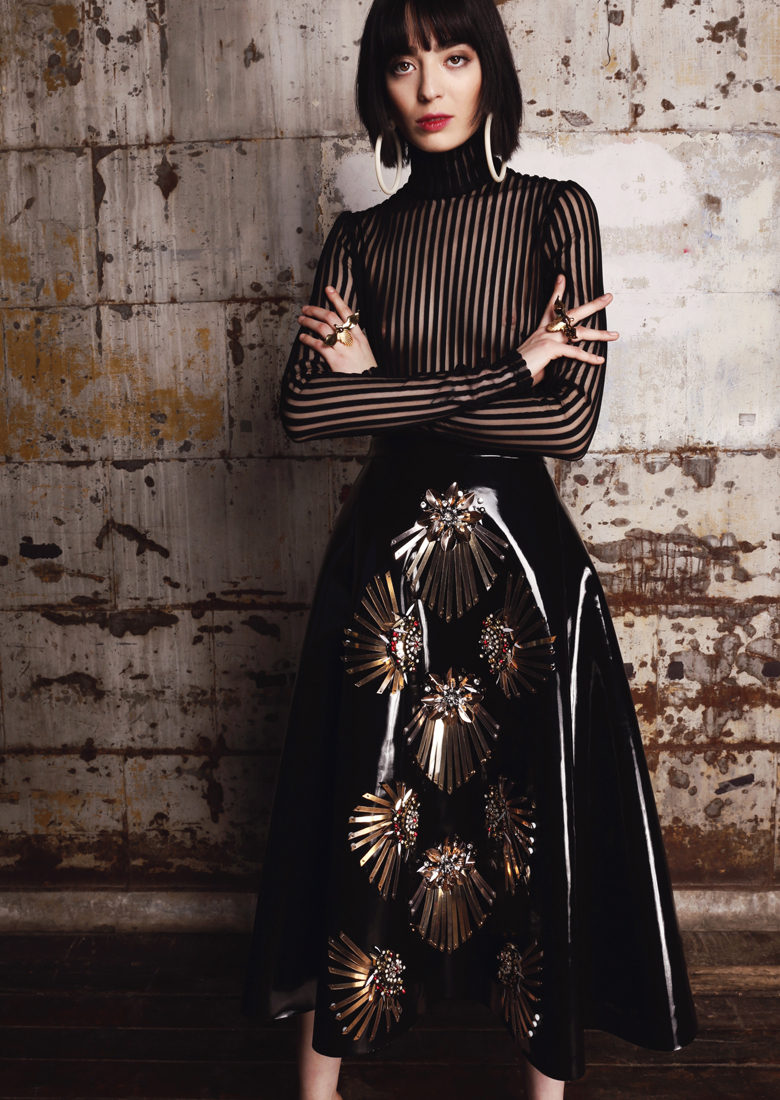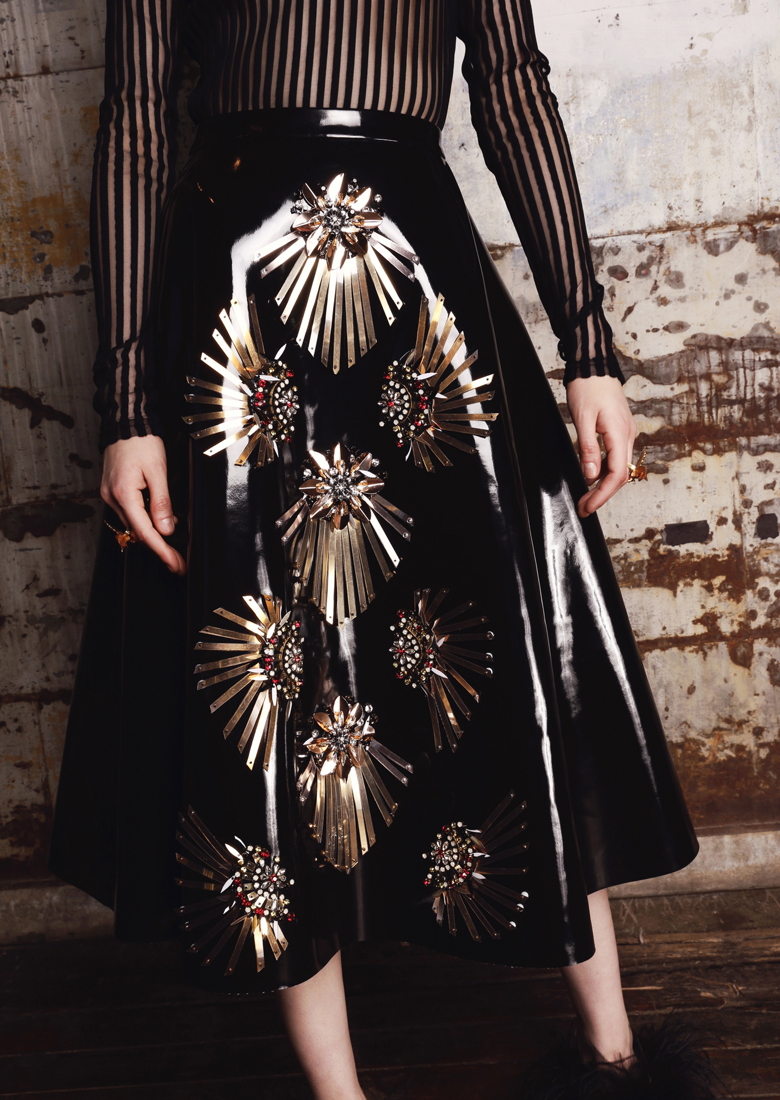 Look 45
Aisholpan Black Vinyl Embellished A-line Skirt with matching embellished cropped jacket